2021-2022
---
DAILY CHANTING (6th May to 19th June,2021)
Chinmaya Mission Mumbai, under the mentorship of respected Swami Swatmananda ji conducted a 45 day Spiritual Seva, as part of the Maximise Happiness program, to chant for the well-being of humanity, as we struggle to deal with the challenges of the pandemic situation.
Every day during this period, 2 sessions of chanting were conducted, wherein chanters from different zones of Mumbai, chanted the MAHAMRITUNJAYA mantra at 4.00pm daily and Chapters 2, 8, 12 and 15 of the BHAGAWAD GEETA at 9.00pm daily.
The programme was excellently organized and conducted by Smt. Sujata Murali and Shri. Mukesh Trivedi under the guidance of Smt. Meghana Patel.
Thanks to the selfless efforts of the coordinators and volunteers from all zones, the sessions were very well attended and appreciated by all participants, who expressed their gratitude for getting this sublime opportunity to be part of this collective offering. Om Shri Guru Bhyo Namah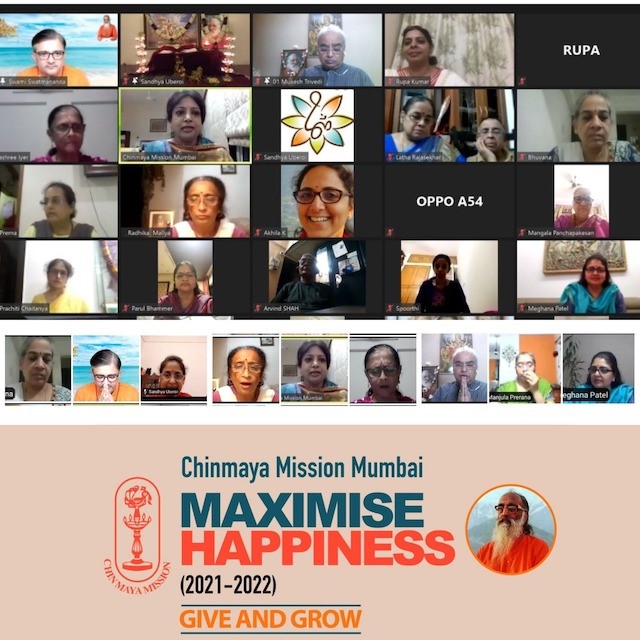 2020-2021
---
Online Balavihar for the Nehru Nagar children in Juhu
As part of the Maximise Happiness initiative for Cultural Seva, Chinmaya Prakash Zone started an online Balavihar for the Nehru Nagar children in Juhu.
Sevikas- Sitalakshmi ji & Sapna Amit conducted the class in Hindi, Tamil and English.
8 children were present in the zoom Balavihar class. Children enjoyed the class. More children are expected to join next week. These children belong to economically challenged families.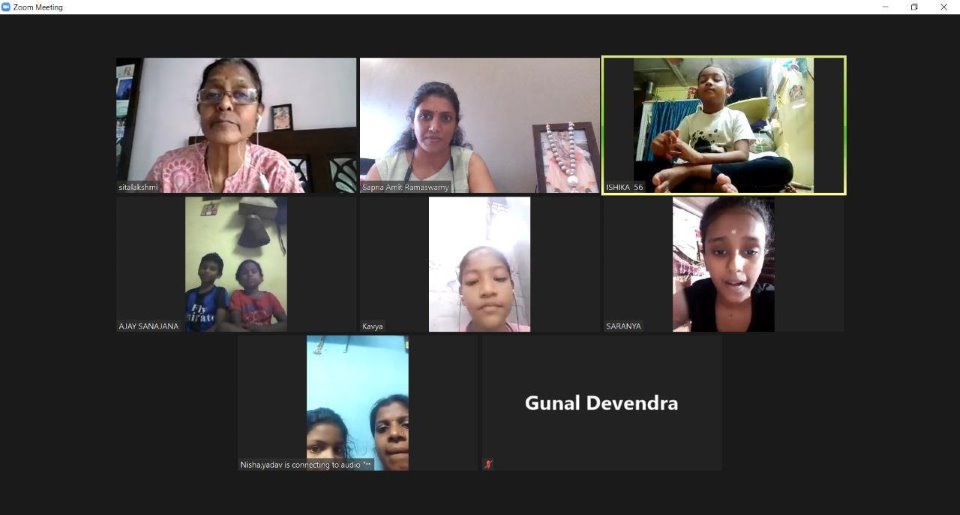 ---
The various causes that are going to be covered under Mental, Cultural, and Spiritual Seva are :
Conducting the Gita Chanting competition FREE OF COST to reach around 25000 participants across the city
Organizing Mental transformation and Drug awareness workshops in Schools, Colleges FREE OF COST
Spreading cultural awareness through Chinmaya Pradeep
Developing mental fortitude and igniting patriotic fervour through weekly classes, camps, festival celebrations, discussion groups, etc.
Organizing 40-50 FREE Lecture Series in a year and Corporate Workshops to enable the use of spiritual principles to empower oneself Physically, Mentally, Intellectually, and Spiritually based on the Bhagawad Gita and other Vedantic Texts