Sadhana for Week 28
Intellect Level: Ask for a Cause
This week, approach at least 1 potential person daily and tell them about Chinmaya Pradeep Project and request them to make a contribution. To ask is to be humble. It is a great Sadhana.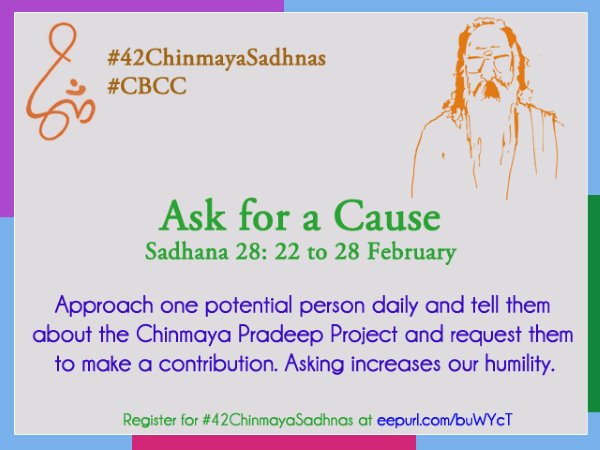 Quote:
Live in the minimum, create the maximum.
Give the entire thing to the world outside.
True loving is not a passive "taking"
But a dynamic 'giving".
Anecdote 1 (the cause and the service should be selfless):
In the early 80s Poojya Gurudev announced that he would share that year's gurudakshina with all the centres of the West. At that time Poojya Gurudev's dakshina was the main source of income for Chinmaya Mission West. The treasurer joined in asking for the funds for the headquarters.
Poojya Gurudev looked at her and asked, "Are you running low on funds? Are you not receiving contributions for devotees? After all, you are doing the Lord's work."
After a brief pause, he said, "Examine yourself again, and look for what you may have done to displease the Lord. When He is displeased or unhappy, Lakshmi (Goddess of Wealth) will turn her back on you. She will not send wealth in your direction."
The devotee did not understand what Poojya Gurudev meant and she looked at him questioningly. He gently replied, "You (that is, Mission workers) must carry out the Lord's work without ego or ego centric desires, dedicating every thought, word and deed as an offering to Him. And above all, you must treat the Lord's devotees with great respect, love and kindness. That will please him more than any other offering you can give to Him. When He is pleased, He will smile at you, and Lakshmi will rain wealth on you through your roof."
Anecdote 2 (chose to be His instrument):
Once a local businessman came to Poojya Gurudev after the jyana yagna and handed him a gurudakshina envelope.
Next an administrator from one of the Chinmaya Vidyalayas came to complain about the lack of funds for a project they were undertaking.
Poojya Gurudev gave him the envelope of Rs10,000 that the businessman had given him.
He then said, "He gives, and He takes away."
Turning his hands inside out, Poojya Gurudev laughingly showed his empty hands and said, "Nothing stays in these hands! If you remain empty, you will be His vehicle to serve the world."
Why Ask?
1. When we identify with a higher purpose and ask for support, especially financial support, it is a Sadhana because it helps one to put aside one's ego and doership. It inculcates humility.
2. It also strengthens our identification with the higher purpose and we learn to express the need for the project in a convincing way to others. Many times we don't ask because we ourselves are not convinced about the need, importance and benefits of the project/ higher purpose. When we have to ask someone, it deepens our conviction about the higher purpose.
3. Not everyone we approach will be convinced to support the higher purpose. Some people will come forward definitely. This helps us to practice equanimity in the face of rejection as well as positive response.
4. It ignites the donor's mind also and provides an opportunity to be a part of a noble cause and contribute selflessly.
5. We also realize the value of money and spend it judiciously because it is not easy to raise funds.
What is Chinmaya Pradeep?
Chinmaya Pradeep - Illumining a Timeless Vision.
Chinmaya Pradeep is a First of its kind Permanent Outdoor Experiential Multi-Medium & Multimedia Museum In India. Its a tribute to Swami Chinmayananda In His Birth Centenary Year

Vision of Chinmaya Pradeep
Chinmaya Pradeep is to illumine the ideals & the vision that inspired Swami Chinmayananda to dedicate himself to the higher way of life and raise the standard of life in the society through individual transformation.
Chinmaya Pradeep is not a biographical journey of Swami Chinmayananda. Its an exploration of the grand vision that he had for the unfoldment of the individual, for Chinmaya Mission, for Hindu Culture, For the Nation and for the whole world.
Its a first-of-its-kind permanent outdoor museum in India, reflecting the knowledge of Vedanta, Bhagavad Geeta & Hindu Culture through the life, work and teachings of Poojya Gurudev Swami Chinmayananda.
To watch a video promo of Chinmaya Pradeep / listen to a talk about Chinmaya Pradeep, please click here: http://www.chinmayamissionmumbai.com/chinmaya/chinmaya-pradeep/cp
Concept
Chinmaya Pradeep is based on the 11 verses of 'Kritajnataa'(Gratitude) by Poojya Guruji Swami Tejomayananda and depicts 5 facets of Swami Chinmayananda:
1. A Visionary & A Missionary
2. A Sannyasi
3. As a Teacher
4. As the Knower of the Self
5. As Swami Chinmayananda
Location: Sandeepany Sadhanalaya, Powai, Mumbai.
Chinmaya Pradeep will be located at Chinmaya Mission's first ashram and Sandeepany Sadhanalaya, at Powai, Mumbai, which is the headquarters of Chinmaya Mission Worldwide, which has Swami Chinmayananda's first Kutia and the temple of Lord Jagadeeshwara
Chinmaya Pradeep will be made around Swami Chinmayananda's Kutia, which will be retained as it is and will be the culminating point of Chinmaya Pradeep to express our gratitude to HIM.
Highlights of Chinmaya Pradeep
1. Installations depicting Swami Chinmayananda in 5 facets
2. Decline of Hindu Culture & its revival
3. Saraswati Culture – Our Roots
4. Ganga/Saraswati river installation & Lotus Pond
5. Freedom Fighter & Journalist Panels
6. Swami Sivananda & Sannyas of Sw.Chinmayananda
7. Learning at the feet of Swami Tapovanam & 4 Mahavakyas Installations
8. Chinmaya Mission Fountain & Snow Peak Tensile over Tapovan Maharaj
9. Tree of Hinduism
10. BMI Chart exhibits
11. Glory of the Gnana yagnas
12. Sandeepany Sadhanalaya exhibit
13. Grassroot activities exhibits
14. Man of Perfection – Sthitaprajna Lakshana Exhibits
15. Chinmaya Moorti(Realistic)

• Smart Phone App, Multimedia installations with audio commentary will also be a part of this Museum.
Why Chinmaya Pradeep?
For 42 years Poojya Gurudev worked tirelessly without a break for the cultural revival and spiritual upliftment of the people. He put in more than 18 hours daily – classes, lectures, administration, answering letters, travelling over the world reaching out to people to help alleviate their pain and suffering, to remove it from the roots – to acquaint and empower them with the knowledge of the Self.
He was a great social reformer who broke all barriers of caste, creed, community, gender etc. and brought the knowledge of the Geeta, Upanishads and Vedanta philosophy to everyone without any exception.
He wanted an army of workers who would work as full time missionaries to revive the Hindu Culture and for National Integration. Sandeepany Sadhanalaya, was built in 1962 entirely through yagna collections and private donations offered by numerous supporters of Chinmaya Mission. It was the fulfillment of a long cherished dream of Poojya Gurudev.It became the First Ashram that He built, with the first temple being Jagadeeshwara Temple.
His entire life was dedicated to spread the knowledge of Vedanta. Though he founded the Chinmaya Mission which has centres across the world, he owned nothing, except his "one square inch of assets" (the phrase with which he often referred to his tongue). In Poojya Gurudev's words, "Our mission work is to replace the "beast" in us with the "best" in us."
The funds of the Mission are used to spread the knowledge of Vedanta through jyana yagnas, spiritual camps, and for social work projects, schools & educational institutes, all aimed at uplifting the moral values of the individual.
To offer a tribute to this Great Master in His Birth Centenary Year(2015-16) Chinmaya Mission, Mumbai has envisioned Chinmaya Pradeep. Keeping in view our Motto "Maximum Happiness to Maximum People for Maximum Time", Chinmaya Pradeep intends to reach maximum people, from all ages through the Vision Park and create an awareness of our culture and values.
To know more about the need for Chinmaya Pradeep, please click here: http://www.chinmayamissionmumbai.com/chinmaya/chinmaya-pradeep/why-chinmaya-pradeep
How to?
1. Read up about the Mission and its activities, especially about Chinmaya Pradeep.
Be convinced the Mission serves the society selflessly and that Chinmaya Pradeep is a project that will awaken and help revive our culture, values and tradition through the life and teachings of Poojya Gurudev, a Patriotic, a Visionary, a Teacher, a Guru, A Vedantan, a Patron of Indian culture, dance, music, literature. For 42 years His causeless infinite compassion benefitted the world.
2. Make a list of people you know.
The list should include people who share similar values and views as yourself. Include people who are philanthropic, who want to make a difference to society, those who are influential and may know someone else who could contribute. Think, think, and think – these could be your immediate family, friends, business associates, gym mates, club acquaintances, just about anyone.
3. Prepare yourself
Firstly get the appeals from your nearest centre. Or you can download it from here: https://drive.google.com/file/d/0Bxw0YpWTMWp6YzU2M2dxZmJ4V28/view?usp=sharing
Read through it and if anything is not clear ask. Go through the options and decide from the list prepared above which option of donation would fit which person the best. Decide what you would like to say to whom.
In your mind and heart Chinmaya Pradeep should invoke the same feeling like if you were involved with collecting funds for building a shelter for the needy. The only difference is that the need here is more subtle and people are not even aware of their needs!
4. Overcoming ego
Often we hesitate to ask someone for something because it makes us feel "needy" and hence dependent. Our pride and ego comes in the way. Here it is important to tell yourself that you are asking for a cause and not for yourself. A cause that will benefit many people, it is selfless service. To ask is a great sadhana, it reduces the ego and makes us humble.
5. Do it!
Most of us will reach step 4 but, step 5 requires both courage and conviction. This is the real sadhana, to actually ask each and every day. Ask small amounts to begin with and then go to bigger amounts.
INR Cheques can be made in the name of Chinmaya Seva Trust. Those residing outside India and who want to contribute, may please contact [email protected]
6. Accept the result
The other reason we fail to ask is because of the fear of rejection - What if he/she says no! We feel slighted. Our ego is hurt. It is a great sadhana to continue to do what is required despite the odds against success. To do or act is in our hands, not the result.
If unable to follow step 6, the mind is agitated, hurt, disappointed, go to step 7.
7. Chinmaya Mission Pledge
Remind yourself about the Mission Pledge. Silently repeat it in your mind and remind yourself the oath you have taken:
We stand as one family, bound to each other with love and respect.
We serve as an army, courageous and disciplined, every ready to fight against all low tendencies and false values, within and without us.
We live honestly, the noble life of sacrifice and service, producing more than what we take.
We seek the lord's grace to keep us on the path of virtue, courage and wisdom.
May Thy grace and blessings flow through us, to the world around us.
We believe the service of our country is the service of the Lord of lords, and the devotion to the people is the devotion to the supreme Self.
We know our responsibilities; give us the ability and courage to fulfill them.
Om Tat Sat!
Beginners and Advanced:
Beginners:
1. Do as above advised
Advanced seeker:
1. Try and raise higher amounts for Chinmaya Pradeep.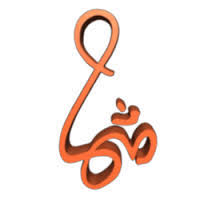 UNTO HIM OUR BEST