2021-2022
---
Flood Victims Chiplun and Kolhapur
Chinmaya Mission Mumbai has carried out various initiatives to help people face the difficult times during pandemic.
Continuing its efforts, Chinmaya Narayan Zone joined hands with Dr. Anjana Thadani, Director, PEHL, ( an NGO ) to ease the challenges faced by Flood Victims in and around Chiplun and Kolhapur.
PEHL had undertaken a seva of giving dry ration kits consisting of rice, dal, oil and other household utility items to around 600 families from Bhamate, Nanaundre, Alate villages in Kolhapur district and 3 villages from Chiplun district.
Chinmaya Mission Mumbai, Narayan Zone under the Maximise Happiness 2021-22 initiative, sponsored 100 such kits. The volunteers from PEHL visited the flood affected villagers and handed over the kits.
The timely help was appreciated by the families suffering due to the recent floods in Konkan and Kolhapur area.
Dr. Anjana has also expressed her gratitude towards Chinmaya Mission for the support.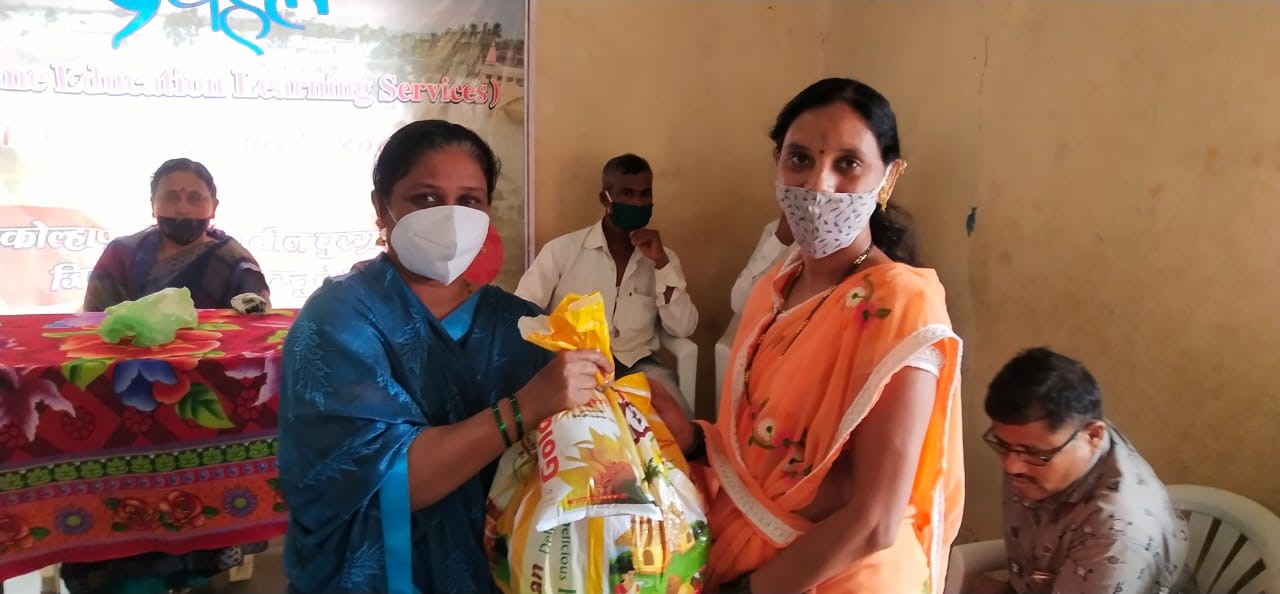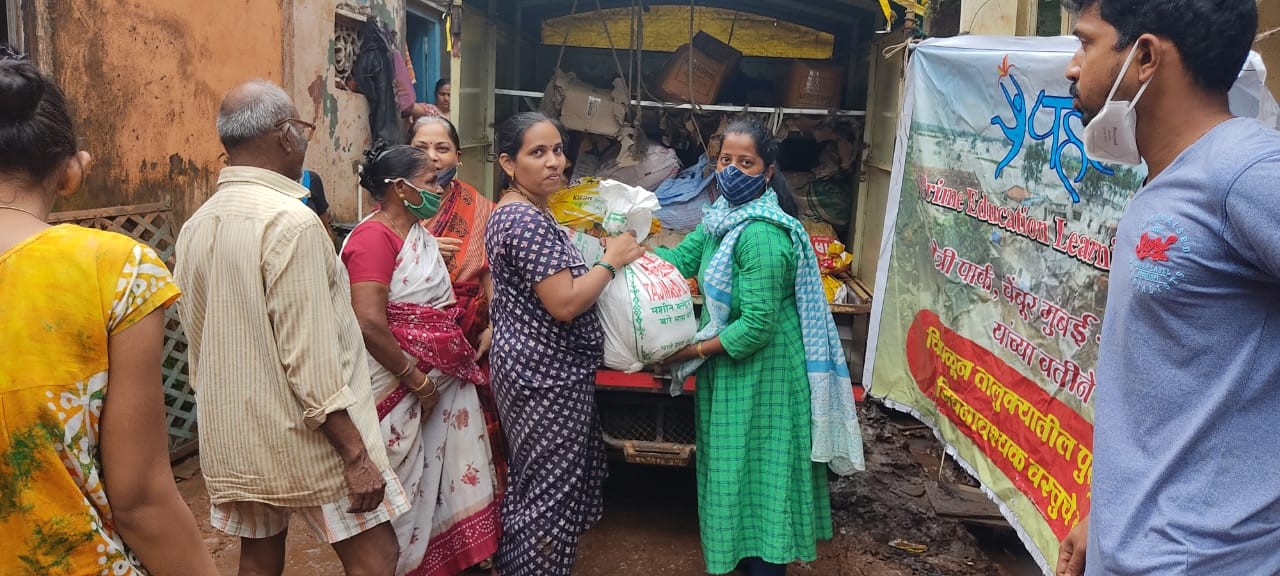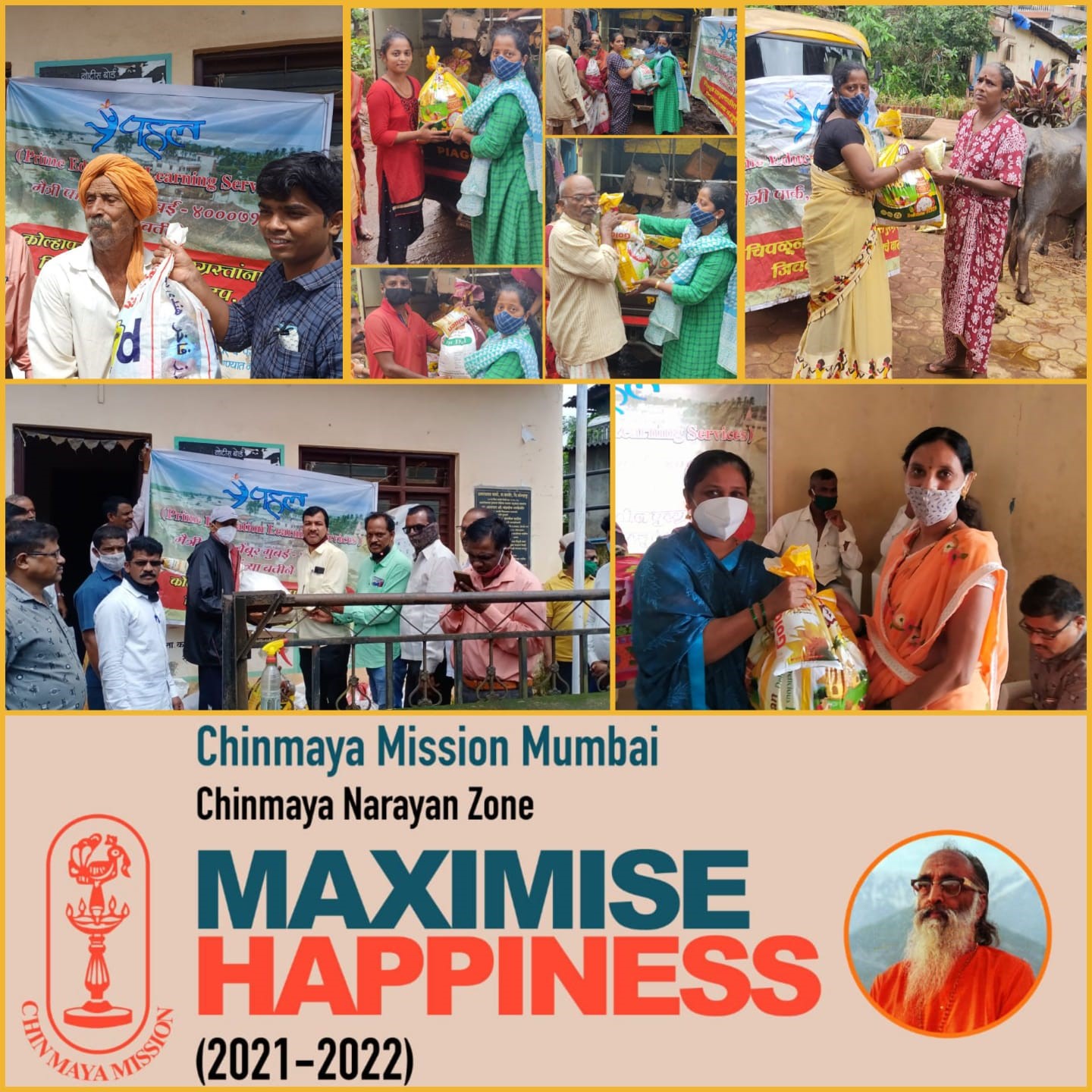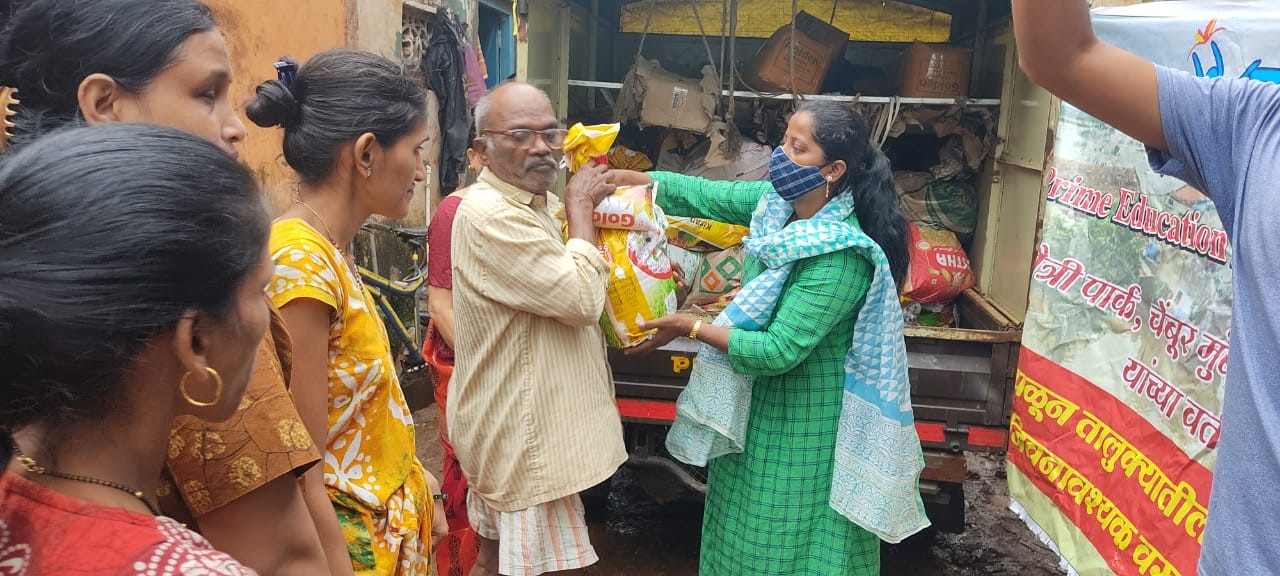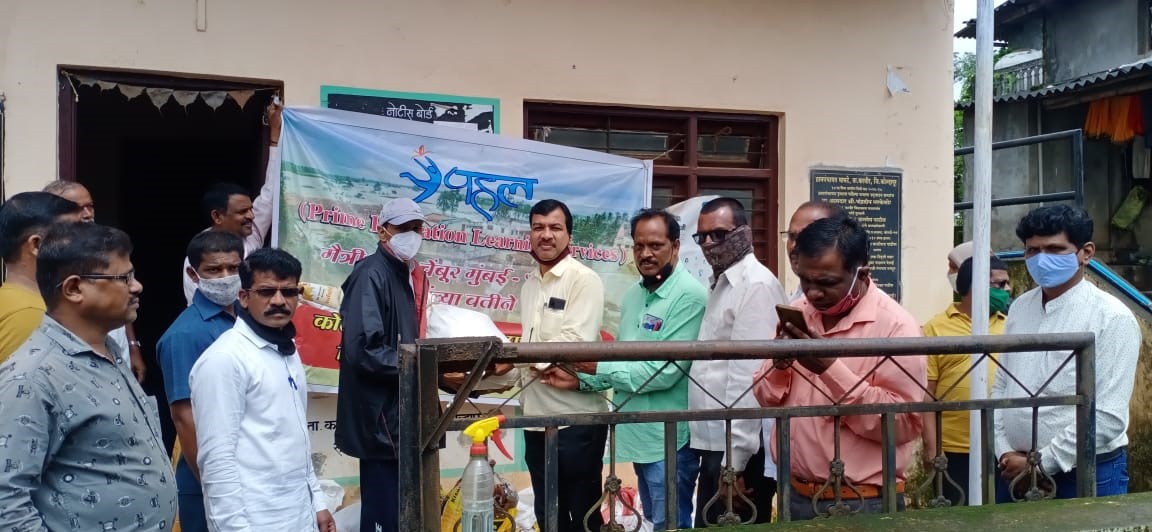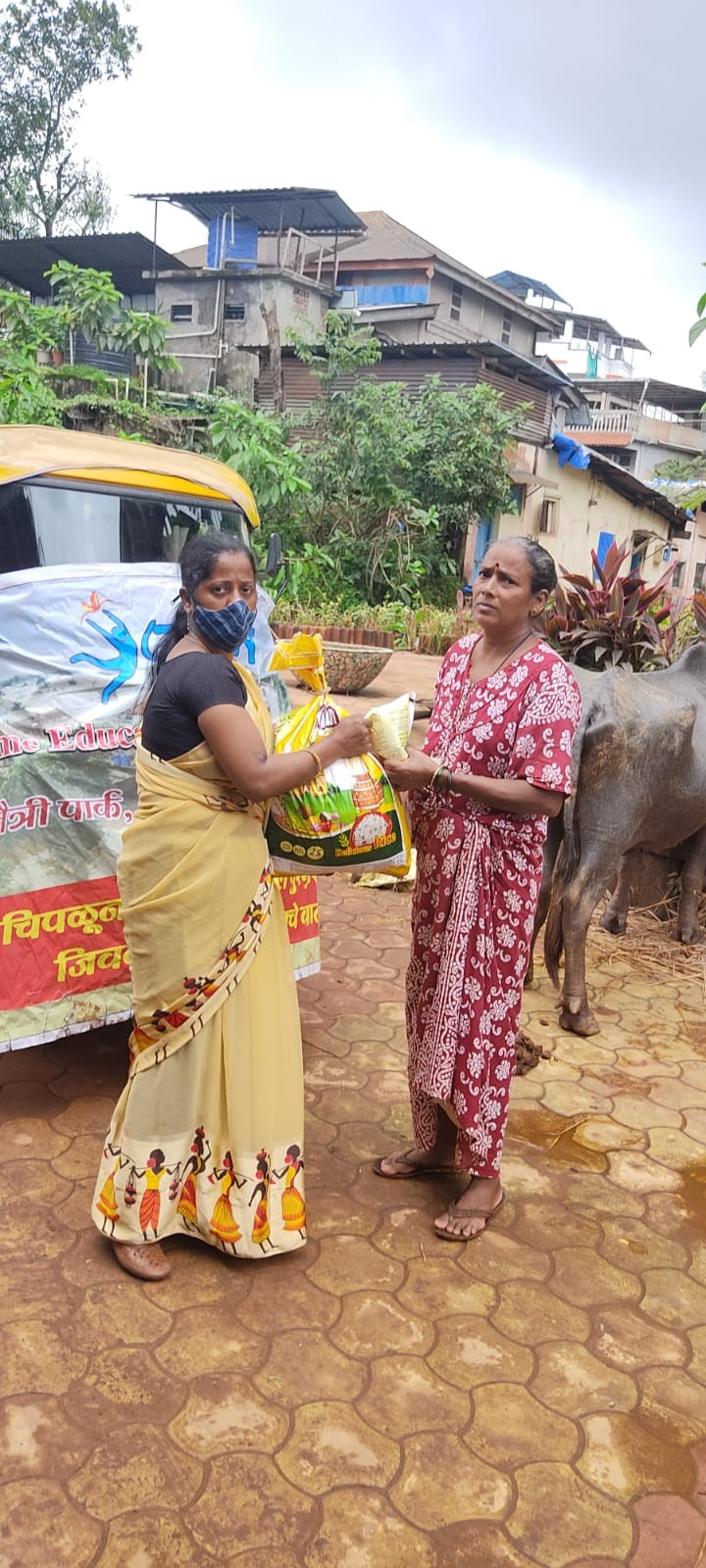 ---
Annadaan Seva at Stree Mandal Mumbai to 220 families on 7 July 2021
Chinmaya Mission Mumbai, Sagar Zone under the Maximise Happiness Campaign completed the last Annadaan Seva at Stree Mandal Mumbai to 220 families on 7 July 2021.
Stree Mandal's President's Message – "Thank you so much for your support in the last 6 months. Looking forward to partnering again with you for the noble cause and seva which can serve 225 families."
Dr Chandni Hitkari and Shri. Vipul Dalal were present on behalf of Sagar Zone.
Stree Mandal were also keen on doing a Dental Seva Initiative under Chinmaya Mission Mumbai Sagar Zone to be supervised by Dr Chandni Hitkari and coordinated by Shri. Vipul Dalal.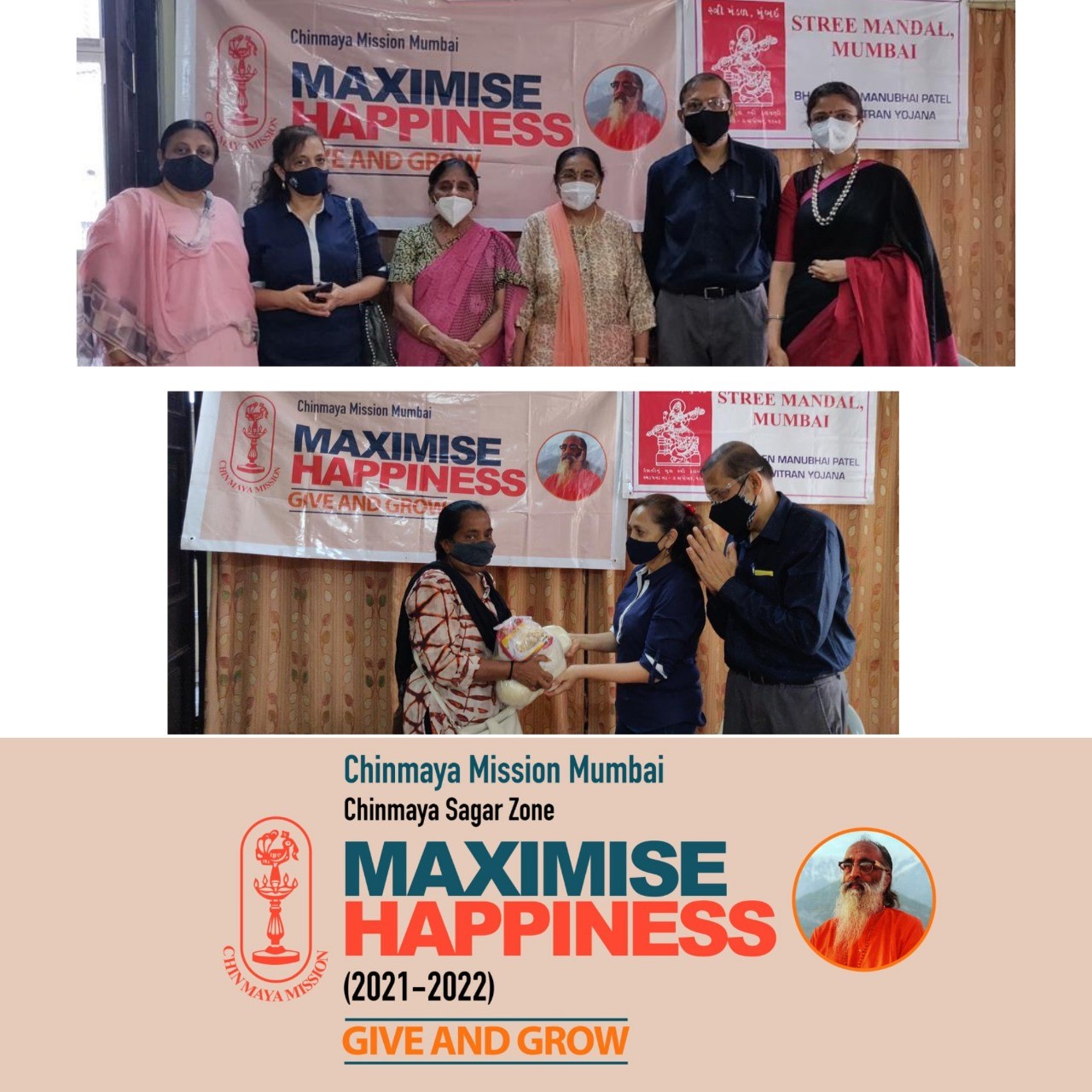 ---
Annadaan and Vidya daan seva at BMC School on July 5, 2021
On 5th July 2021 under the initiative of Maximize Happiness, Jayam zone performed Annadaan and Vidya daan seva at BMC school, Santacruz East which conducts four different centers, Baljeevan Trust- a daycare for the 35 under privileged children, Gharkul an NGO for 20 Blind children, 19 hearing impaired children and 26 mentally challenged children.
In all there were 100 beneficiaries. Annadaan kits were same for all children whereas the stationary kits were different for each group according to their requirements. Annadaan kits comprised of Rice, all four dals, wheat flour, tea powder, sugar and oil weighing 10 kg. Stationary kits contained school bag, note books, drawing books, colours, compass box and craft material.
The programme was organised by Smt. Pratibha Shah and Mr. C. S. Manohar ji with the help of Social worker Mr. Sunil Satpute.
We are thankful to Sunil ji and his whole team. The distribution was assisted by other volunteers. The whole event went on smoothly with the grace and blessings of Gurudev.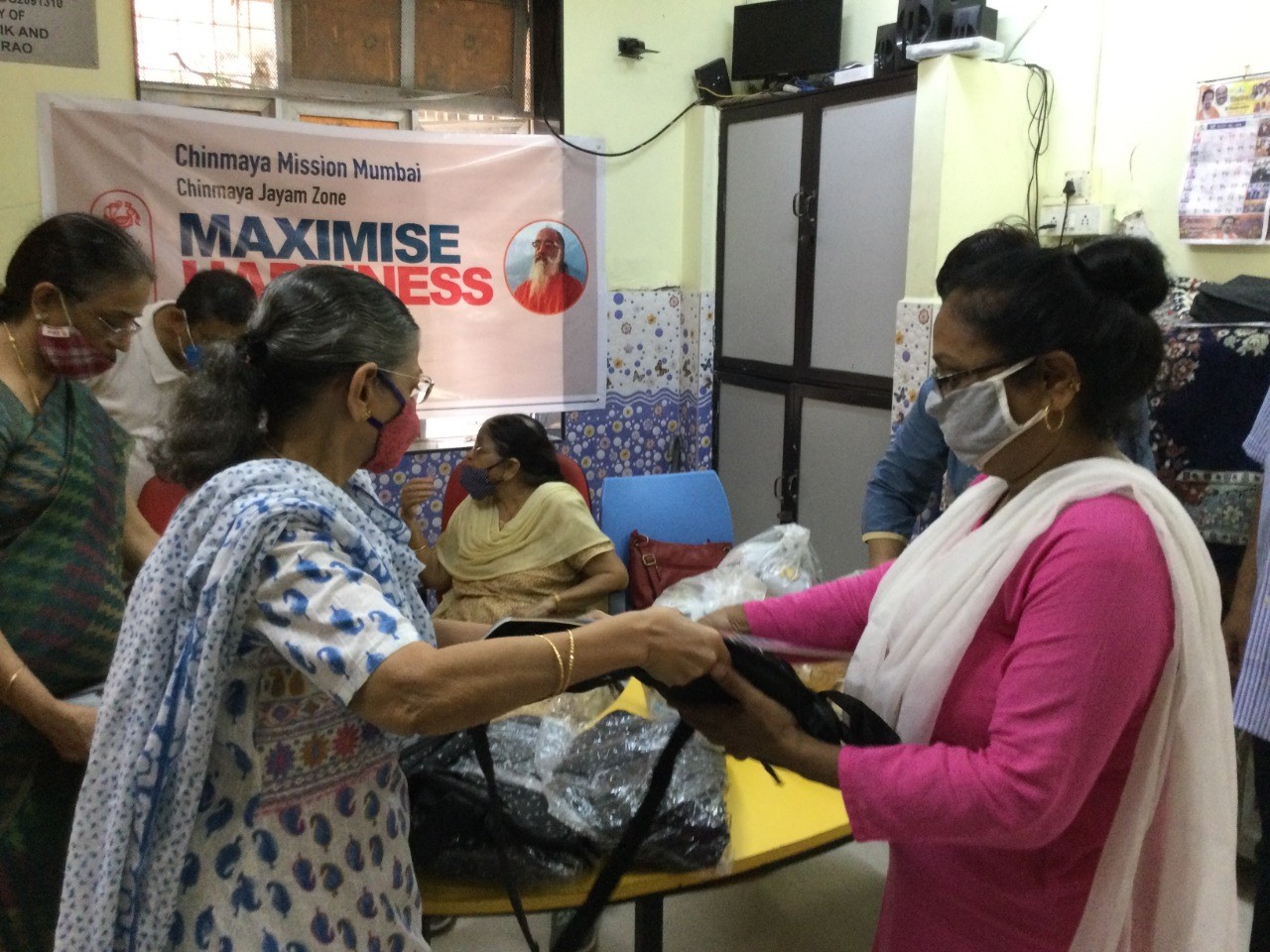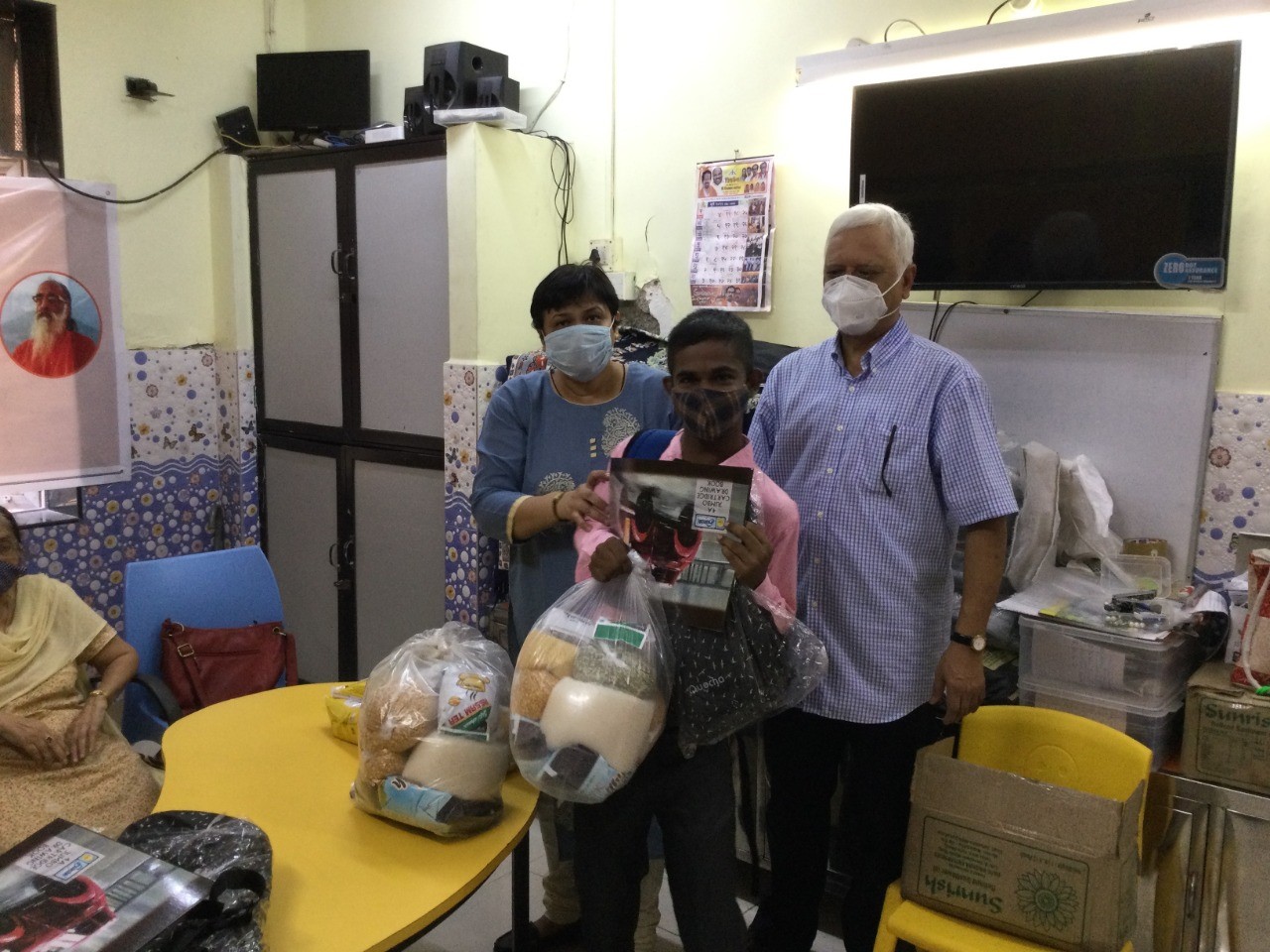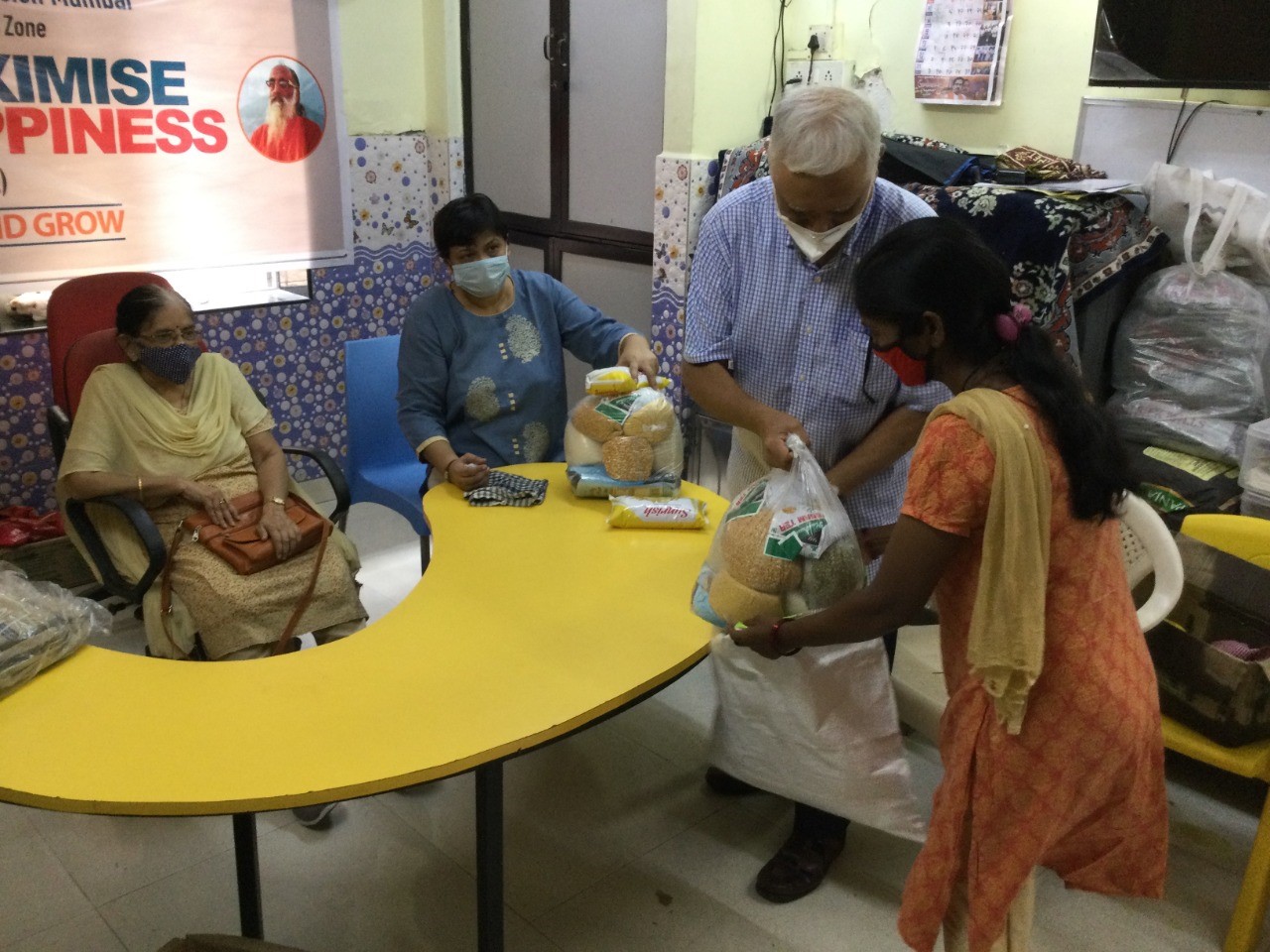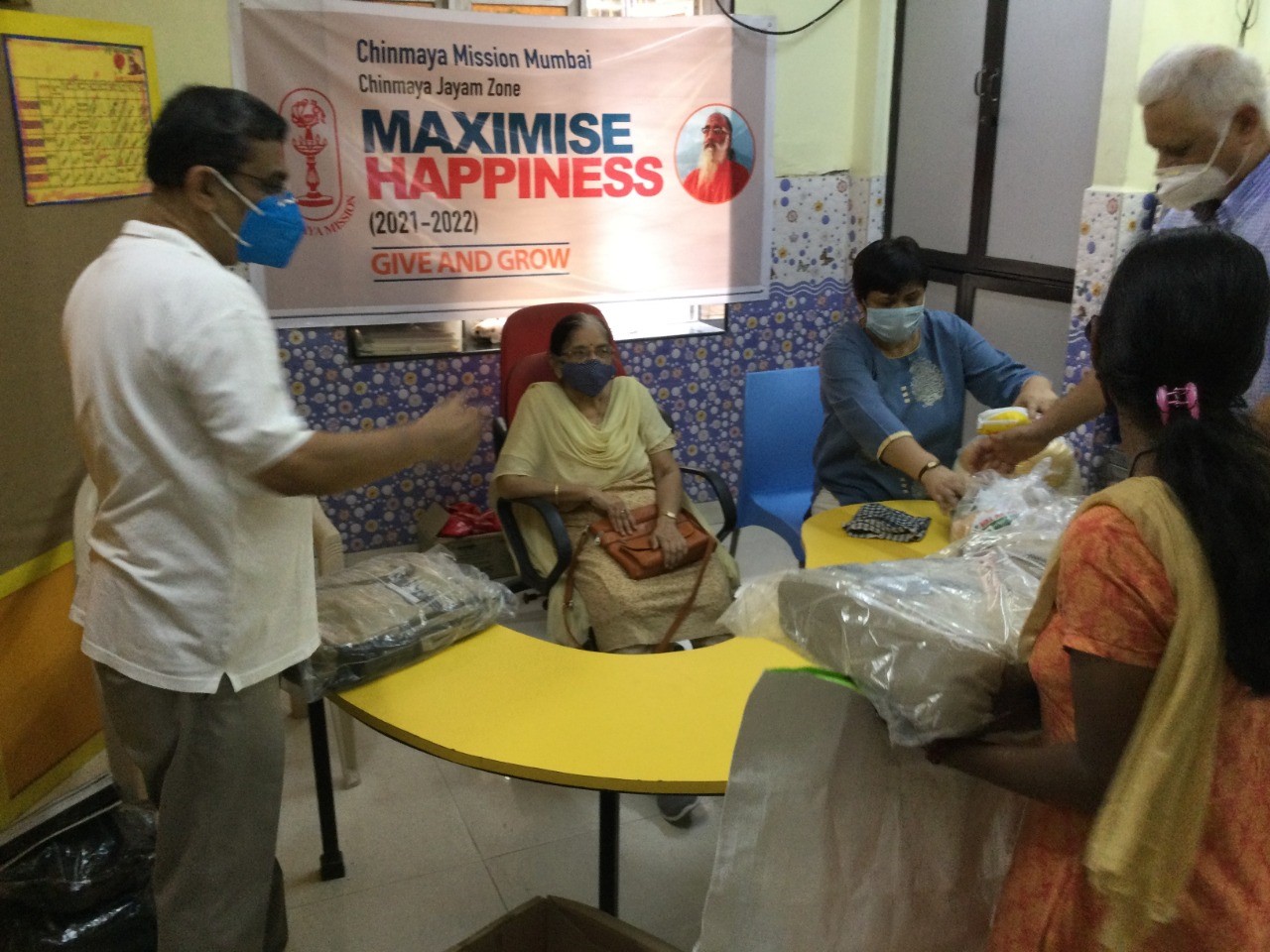 ---
vaccination drive at Rajawadi Hospital
120 inspired & inspiring students, serving under the banner of NSS as covid warriors, managing the vaccination drive at Rajawadi Hospital, Ghatkopar, Mumbai, experienced the teachings of Bhagavad Gita Chapter 2 Verse 47.
??????????????????? ?? ????? ????? |
?? ?????????????????? ?? ????????????????? ||
They were felicitated by the NSS chapters of their respective colleges and also the Municipal Corporation of Greater Mumbai for the selfless service they had rendered during the difficult COVID times, by presenting them a certificate of appreciation.
Captain Swaminathan has been guiding the students to manage the services for vaccination at Rajawadi hospital for the last 4 months. Chinmaya Mission Mumbai joined hands with Captain by offering to gift the students rain jackets and a 16GB pen drive under the Maximise Happiness 2021-22 initiative.
The students who had gathered to collect the certificate were in for a surprise when they got rain jackets with Gurudev's signatory Om and pen drives to facilitate their online studies. They thanked Chinmaya Mission for the thoughtful gift.
In 3 different events organised on 5th and 6th July at Somaiya college, Pune Vidya Bhavan and R. Jhunjhunwala college, Shri Prasad Deole and Smt. Manisha Deole from Narayan Zone of Chinmaya Mission Mumbai visited the students and congratulated and motivated them.
The students have voluntarily participated in organising various social initiatives like Annadaan, Blood Donation Drives, making of paper bags, counselling the needy and managing the crowd as well as the registration process at Rajawadi hospital during vaccination. Kudos to their motivated efforts!
Many of these children faced difficulties convincing their parents to allow them to carry on the selfless work. Some of them are first generation learners and had challenges on various other fronts too.
The college authorities have requested Chinmaya Mission to have more frequent interactions with these students.
Seeing this work of the students, one is reminded of the famous saying of Gurudev Swami Chinmayananda - ' Youth are not useless but used less'.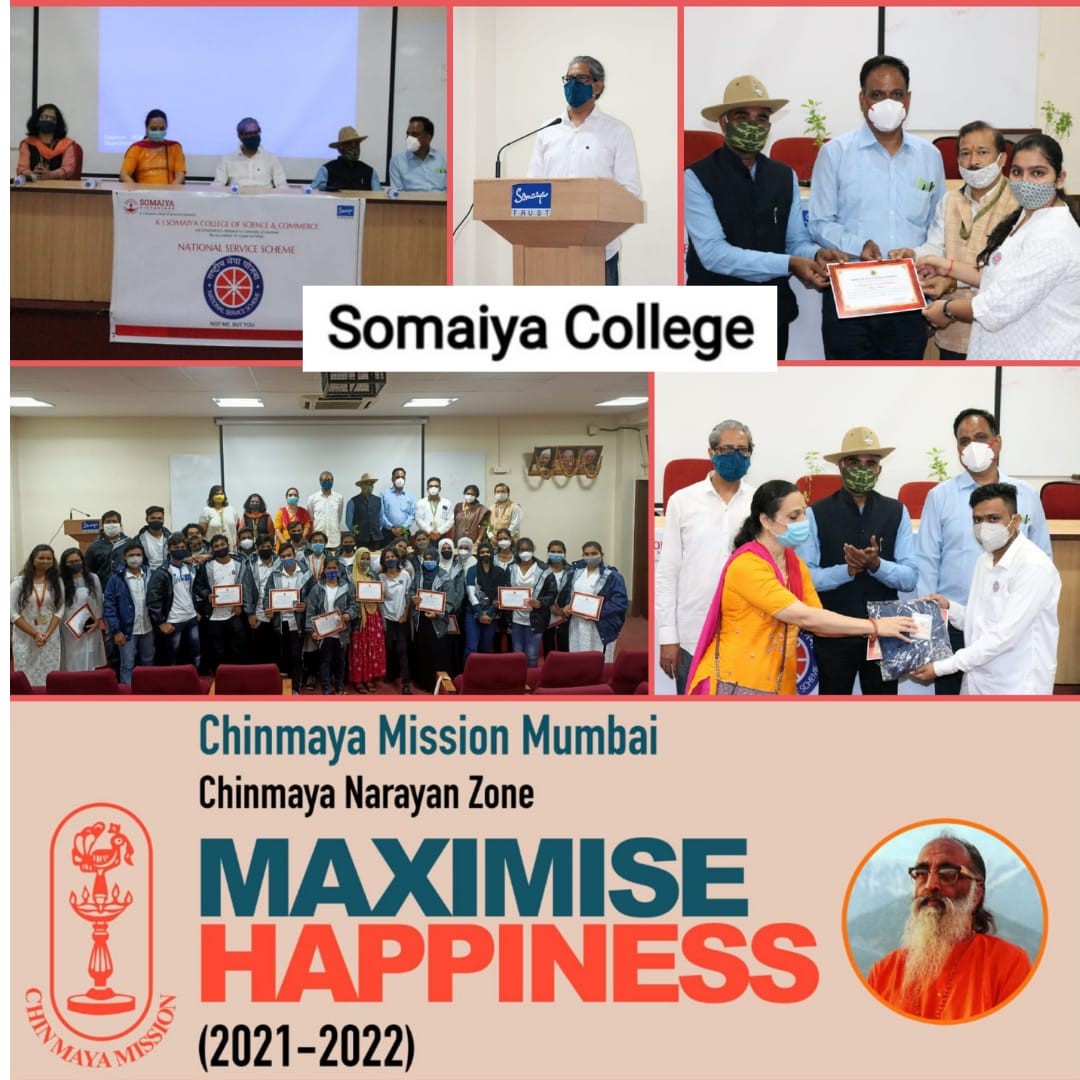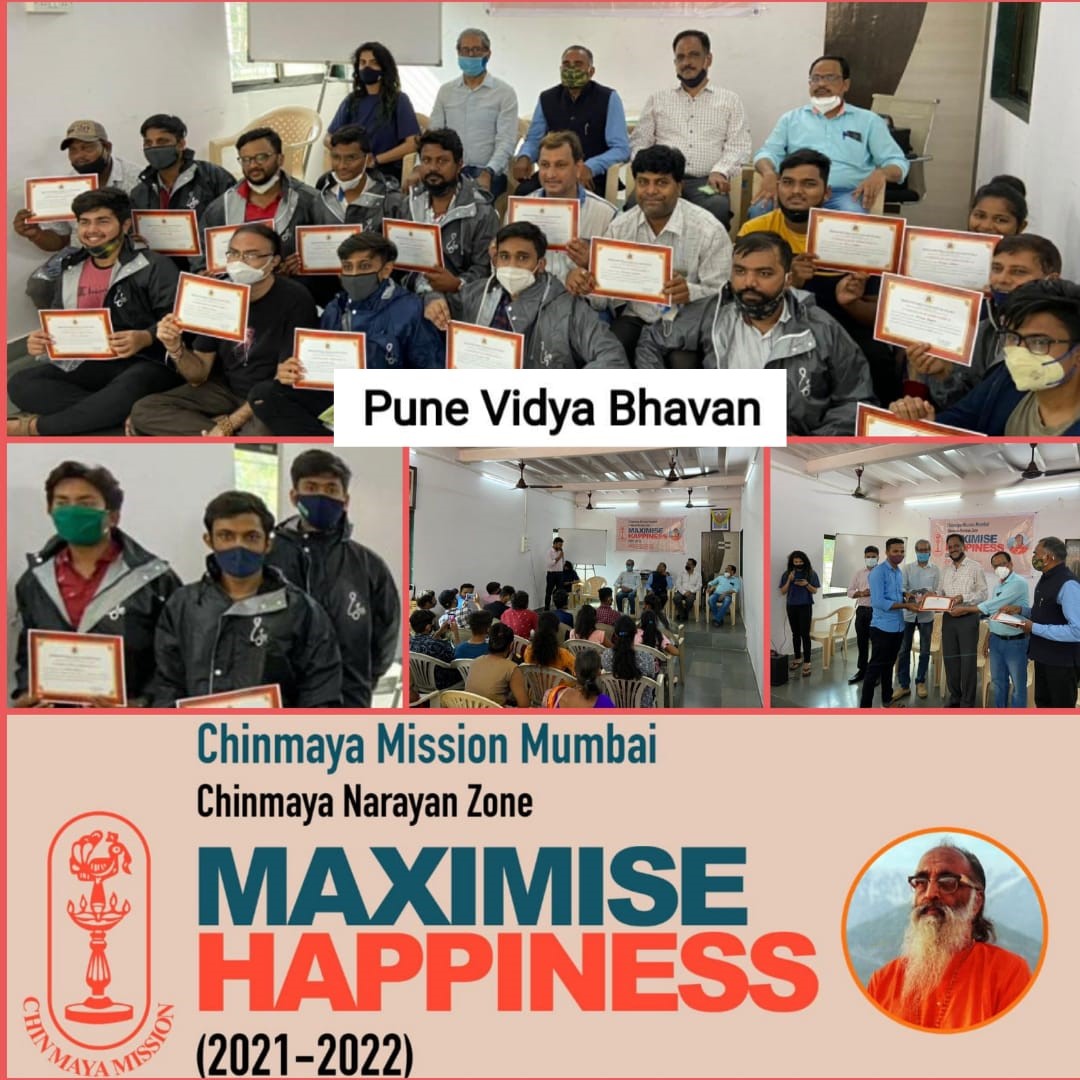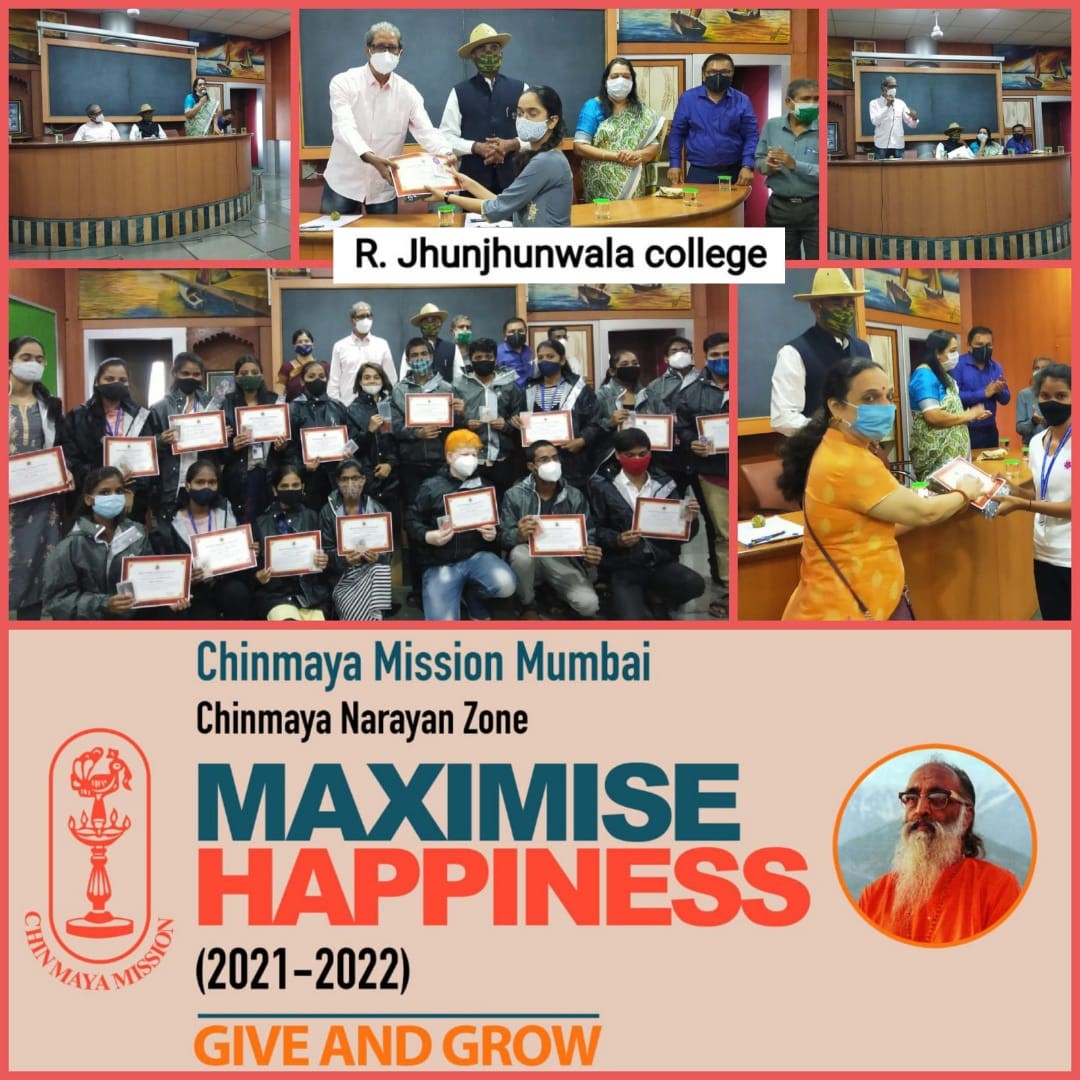 ---
Annadaan Seva at Girija Homes, Kharghar on June 20, 2021
Chinmaya Mission, Prerana Zone offered Annadaan Seva under Maximise Happiness programme at Girija Homes, Kharghar. Girija Welfare Association is home to about 60 senior citizens, family abandoned adults and 30 orphan children.
Due to pandemic situation, the fund flow at Girija homes was hugely affected. Under the Maximum Happiness program 3 Months grocery, daily need consumables, Diapers and pending medical bills have been donated to Girija Homes.
The beneficiaries received grocery items, daily needs items etc in three instalments in the month of June-2021. They thanked Chinmaya Mission and the other organising team for doing this noble work during pandemic times.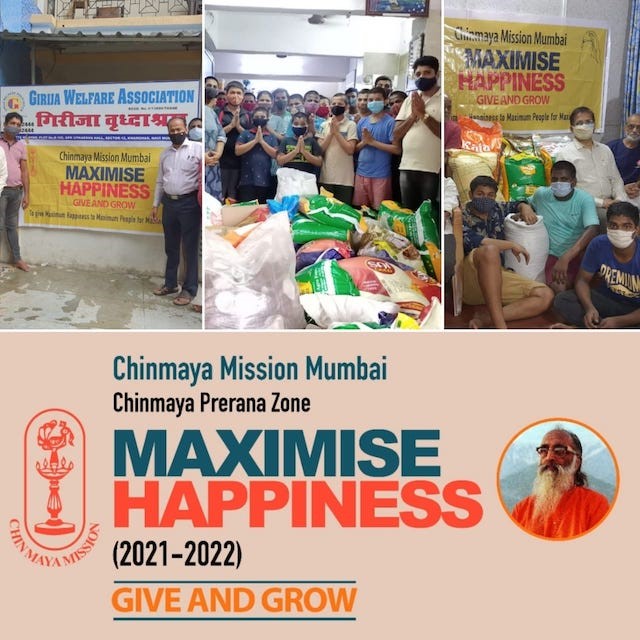 ---
Annadaan Seva at Sankalp Seva Sangh, Ghatkopar East on June 16, 2021
Chinmaya Mission Mumbai - Narayan Zone completed the third and final seva of Annadaan under Maximise Happiness programme on 16th June at Sankalp Seva Sangh, Ghatkopar East.
Shri Prasad Deole from Chinmaya Mission and Shri Vinayak Kamath, Vice president, BJP -Mumbai briefed the beneficiaries about the importance of vaccination and urged the people to commit to receive the vaccination in case they had not done it so far.
The previous two sevas happened on 6th June at Bhajan Samaj, Ghatkopar and on 15th June at Saraswati Vidyalaya, Chembur.
The beneficiaries thanked Chinmaya Mission for this timely support!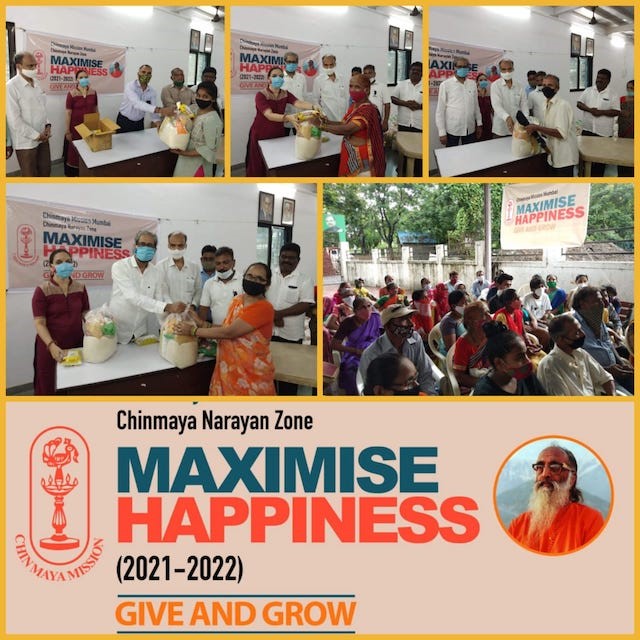 ---
Annadaan Seva at Saraswati Vidyalaya, Chembur on June 15, 2021
Chinmaya Mission Mumbai, Narayan Zone conducted a second Annadaan seva on Tuesday, 15th June, 2021 at Saraswati Vidyalaya, Chembur.
The zone had identified 100 families who had lost their occupation because of the pandemic. The President of the zone Sri. Rajsekhar, Sri. Prasad Deole, Smt. Manisha Deole and Smt. Shyamala Acharya were present to support this seva activity. As always, the staff of the school also lent their helping hands to make the seva smooth.
The beneficiaries thanked Chinmaya Mission for this most timely support.
---
Annadaan Seva at Stree Mandal on June 7, 2021
Under Chinmaya Mission, Mumbai's Maximise Happiness Initiative, Chinmaya Sagar Zone conducted Annadaan Seva for the 5th time this year at Stree Mandal, on June 7, 2021 where 220 low income group beneficiaries received rations.
All Covid related precautions were adhered to during the distribution.
The next Annadaan Seva at Stree Mandal is scheduled for July 7 2021.
The trustees at Stree Mandal are ever grateful to the Chinmaya Mission family for the timely help during these extraordinary times and offer their Pranaams.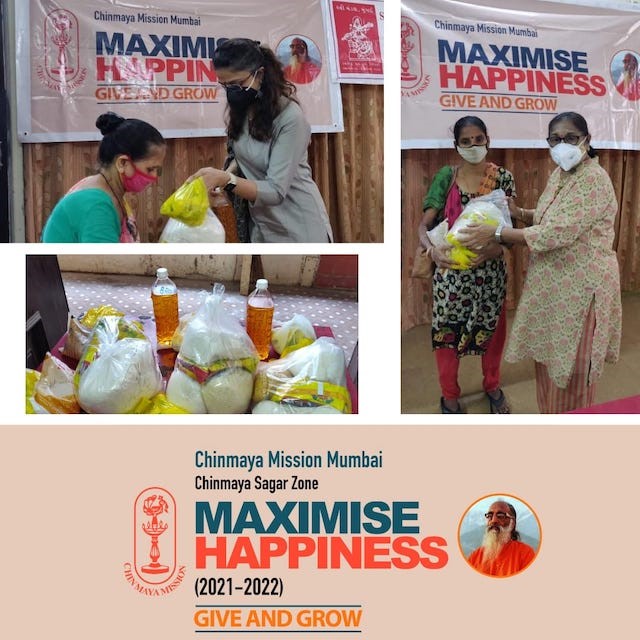 ---
As part of Maximise Happiness outreach, Chinmaya Mission Mumbai, Narayan Zone organised an Annadaan Drive to support around 300 families - consisting small business vendors, auto rickshaw drivers etc., who have lost their sources of earning due to the pandemic.
The Drive is to be held on 3 different days to ensure that the norms of social distancing are strictly followed.
The dry ration kit consisted of rice, atta, tuvar daal, sugar, salt, spices and oil pouch weighing around 15 kgs.
Today 100 rickshaw drivers were given the ration kits at the Bhajan Samaj Mandir, Ghatkopar East. Members of the Zonal committee of Narayan Zone participated in the drive.
Captain Swaminathan kindly supported by verifying the Aadhar numbers and badge numbers of the beneficiaries. He ensured that the distribution was carried out in a disciplined manner.
The rickshaw drivers association thanked Chinmaya Mission for this valuable support in these most difficult times.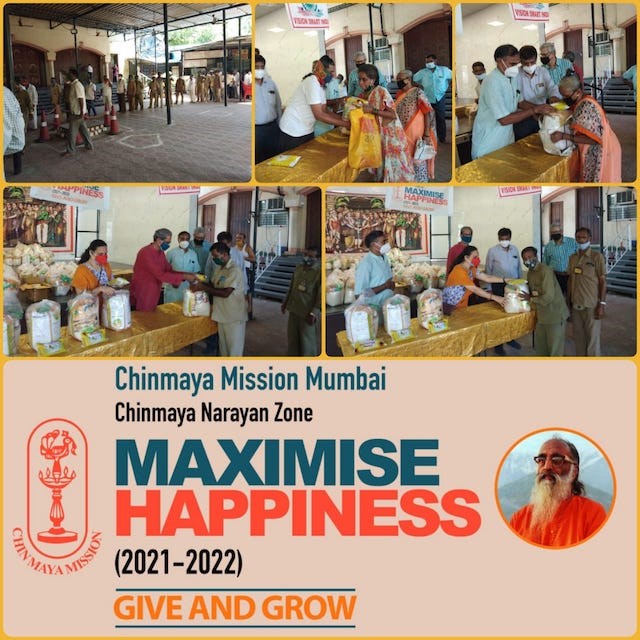 ---
On Saturday 29th May '21 Under the initiative of Maximise Happiness 2021 of Chinmaya Mission Mumbai, Chinmaya Prakash Zone donated kits of ration weighing about 15 Kilo grams which contained wheat flour, daal, rice, sugar, oil, tea, spices and other important edible items.
This donation drive was conducted at the BJP office near Hotel Horizon, Juhu. The Municipal corporator of ward 69, Ms Renuji Hansraj had approached explaining the Annadaan project. The volunteers had identified and shortlisted the needy beneficiaries from Fatherwadi, Nehru Nagar, Patel wadi & Amrutlal wadi located in Andheri West, With the blessings of Pujya Gurudev and inspirational guidance of Swamiji we were keen to reach out to the deserving people to maximise happiness.
Appreciating the lockdown and Covid related precautionary protocols, on behalf of Prakash Zone, President Mukesh Trivedi and Secretary Pankaj Vakil attended in person and handed over the kits to 100 beneficiaries.
Another set of handing over of 100 kits was scheduled on Monday 31st May 2021.
Entire project from initiation to execution was co-ordinated by Mrs. Shashi Binani including the grocers, the volunteers of BJP and members of our zone. Ms Sapna Amit Ramaswamy assisted her for the follow-up, approval with the trustees.
Ms Renu Hansrajji, Mr Ivan Creado and their team members ensured that in a limited space and time the handing over of Ration kits to beneficiaries was completed efficiently and smoothly.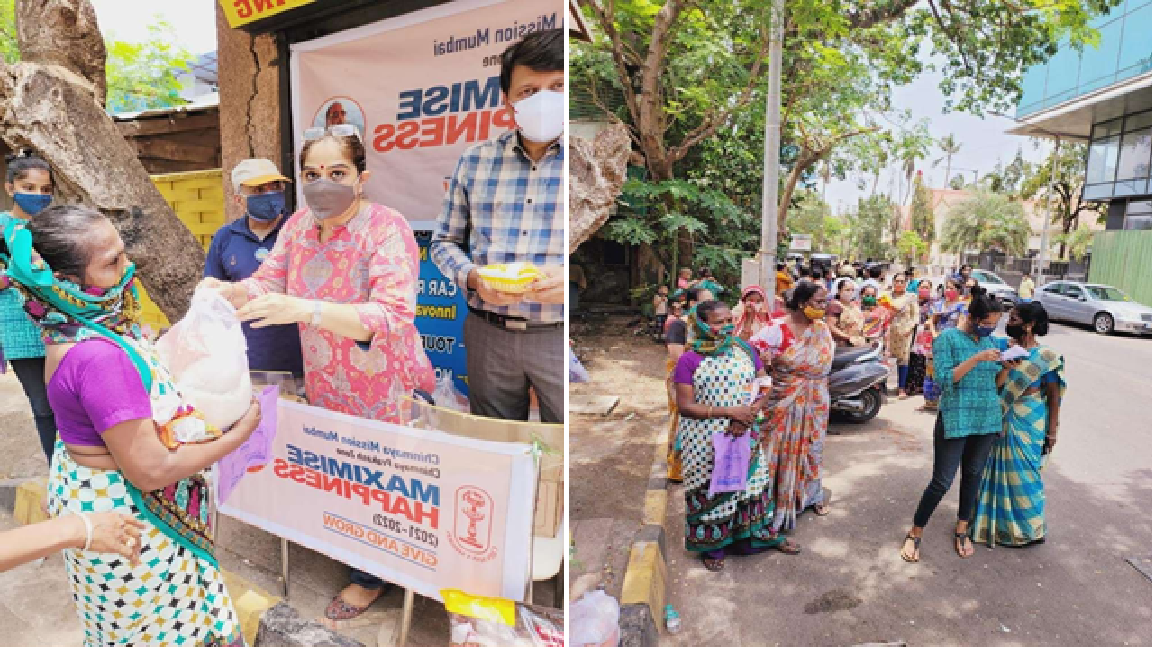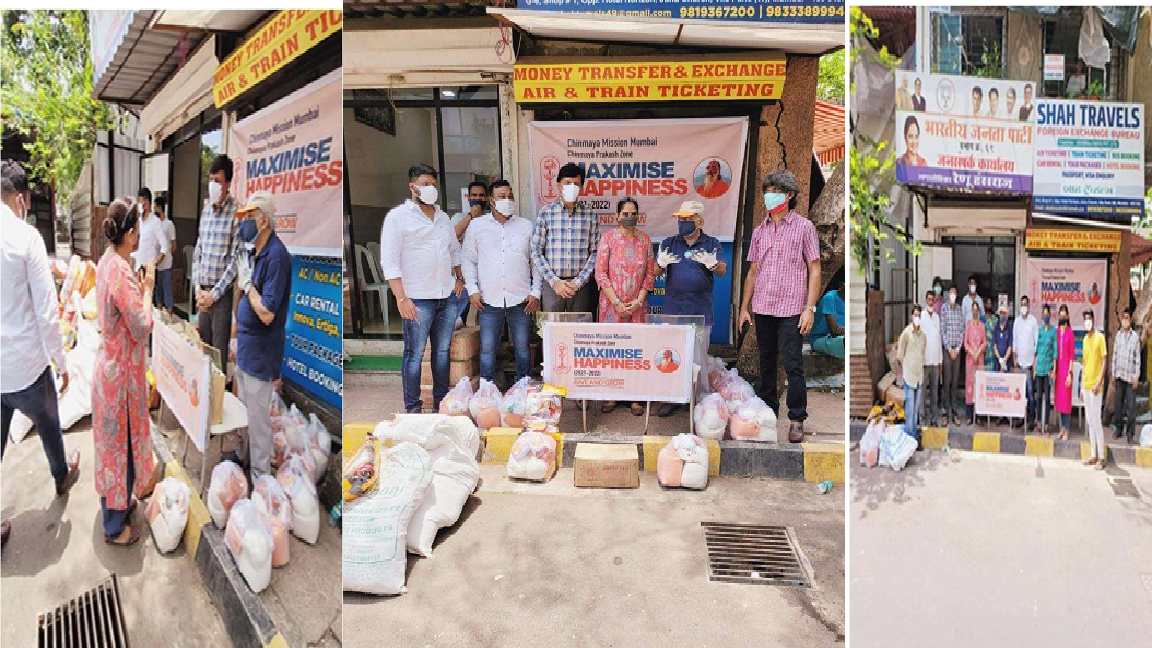 ---
Annadaan Seva on May 21, 2021 at Hanuman Temple, V ile Parle West, Mumbai
By Pujya Gurudev's grace, on the auspicious day of Sita Navmi, 21st May 2021 an Annadaan Seva was done at Hanuman Temple, Vile Parle West for the needy.
The Seva was conducted under our MAXIMISE HAPPINESS 2021 - 2022 Campaign by Chinmaya Prakash Zone. It was coordinated by Smt. Suhasini Lohia and Smt. Ami Agarwal.
Beneficiaries were the daily wage workers, domestic helpers and auto rickshaw drivers who are struggling to survive since they are out of work currently in this pandemic.
Dry Ration kits comprising of Rice, Pulses, Wheat flour , Sugar, Tea, Edible oil and Salt were distributed to 200 needy families. A kit weighing about 15 kgs in all to last them through a month.
We are indeed grateful to all donors and even a very efficient grocer who helped us through quick delivery and packaging and last but certainly not the least the man who sweated it out for about 7 long hours for distribution of these kits in a staggered manner due to restrictions in this lockdown, Mr. Manish Kalyanji of RSS and his team of dedicated volunteers for all the administrative and groundwork support provided by them to enable us to reach the needy in these times of pandemic crisis. Chants of Jai SiyaRam were resounding while handing over each kit!
Unto Him Our Best??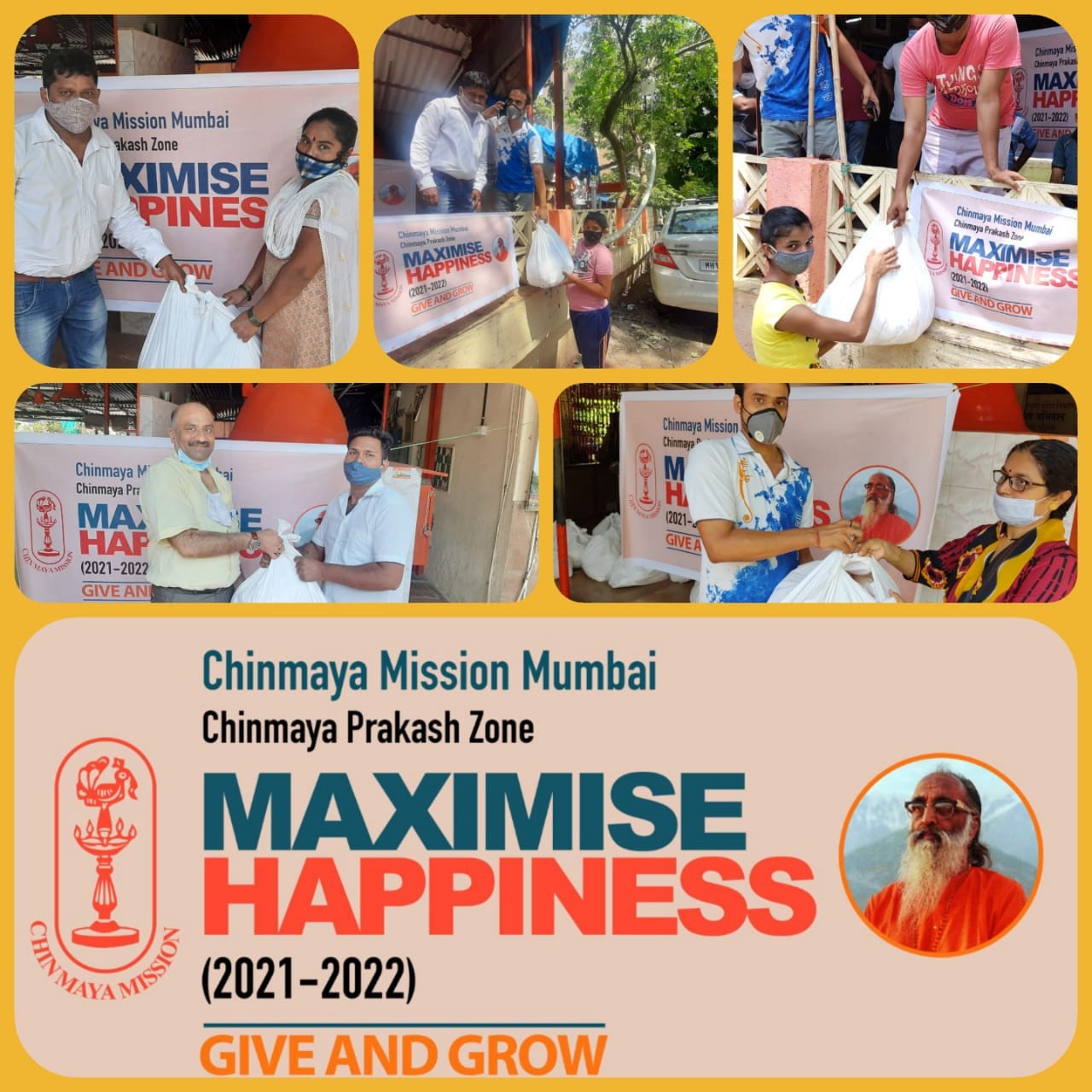 ---
Annadaan Seva on May 16, 2021 at the Shree Gadge Maharaj Mission Dharamsala Trust,Dadar.
Hari Om,
On Sunday, 16th May,Mahima Zone offered fruits at the Shree Gadge Maharaj Mission Dharamsala Trust,Dadar.
This seva was conducted under the Maximum Happiness 2021 - 2022 campaign.
On Sunday 16th May, fruits were offered to 450 cancer afflicted children and their relatives staying at the Dharamsala.
The Seva was offered by Smt Dimple Parekh,her husband Shri Hemant Parekh and sister in law Smt Nisha Parekh.A family friend,Shri Nilesh helped them in offering the Seva.
The fruits offered under the Chinmaya Mission banner were donated by Shri Ajit Tadpatriwala.
The perishables had to be given away at the earliest.Everything fell in place at such a short notice that it was possible only with Pujya Gurudev's grace and blessings.
Unto Him our Best.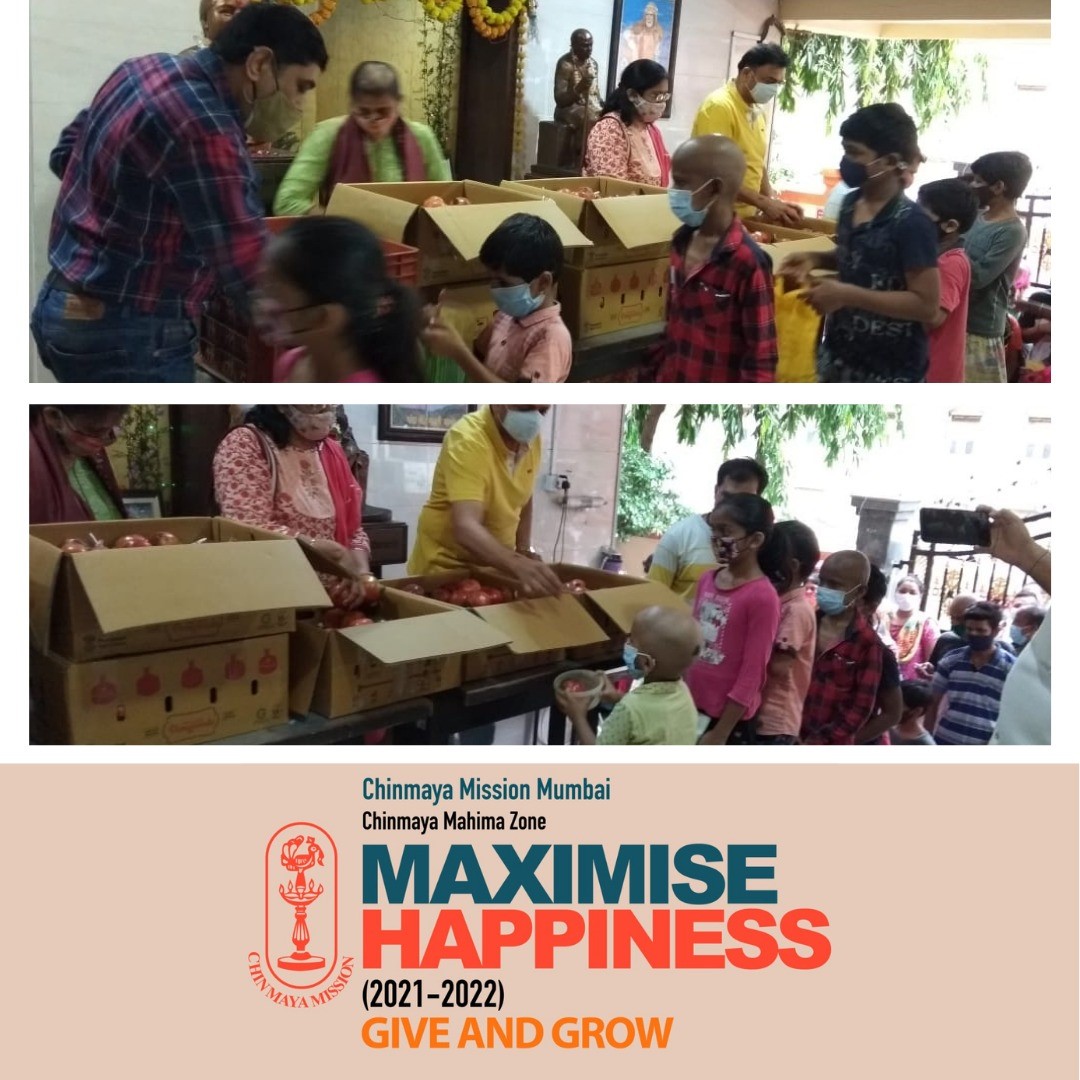 ---
Annadaan Seva on May 08, 2021 at Aarey Forest, Mumbai
By the Grace of God, on Pujya Gurudev Swami Chinmayananda's 105th Jayanti, 8th May 2021 (Seva Day), an Annadanam drive was carried out within Aarey forest, Mumbai.
This Seva was conducted under our MAXIMISE HAPPINESS 2021-2022 campaign. Beneficiaries were the physically challenged and families of daily labourers, who had succumbed to the pandemic and were facing difficult times.
Dry Ration kits comprising of rice, pulses, wheat flour, sugar and kitchen condiments inclusive of turmeric powder, coriander powder, chilly powder and salt were distributed to 59 needy families.
CHINMAYA SEVA TRUST is extremely grateful to all donors, sevaks, the grocer, the transport agency and to NAATA FOUNDATION Chair person, Anuja ji and the team of dedicated volunteers for all the administrative and groundwork support provided by them to enable us to reach the needy in these difficult pandemic times.
#eachonereachone #Chinmaya105 #ChinmayaMission #SwamiChinmayananda #chinmayamissionmumbai #seva #Annadanam #COVID19 #naatafoundation #8thMay2021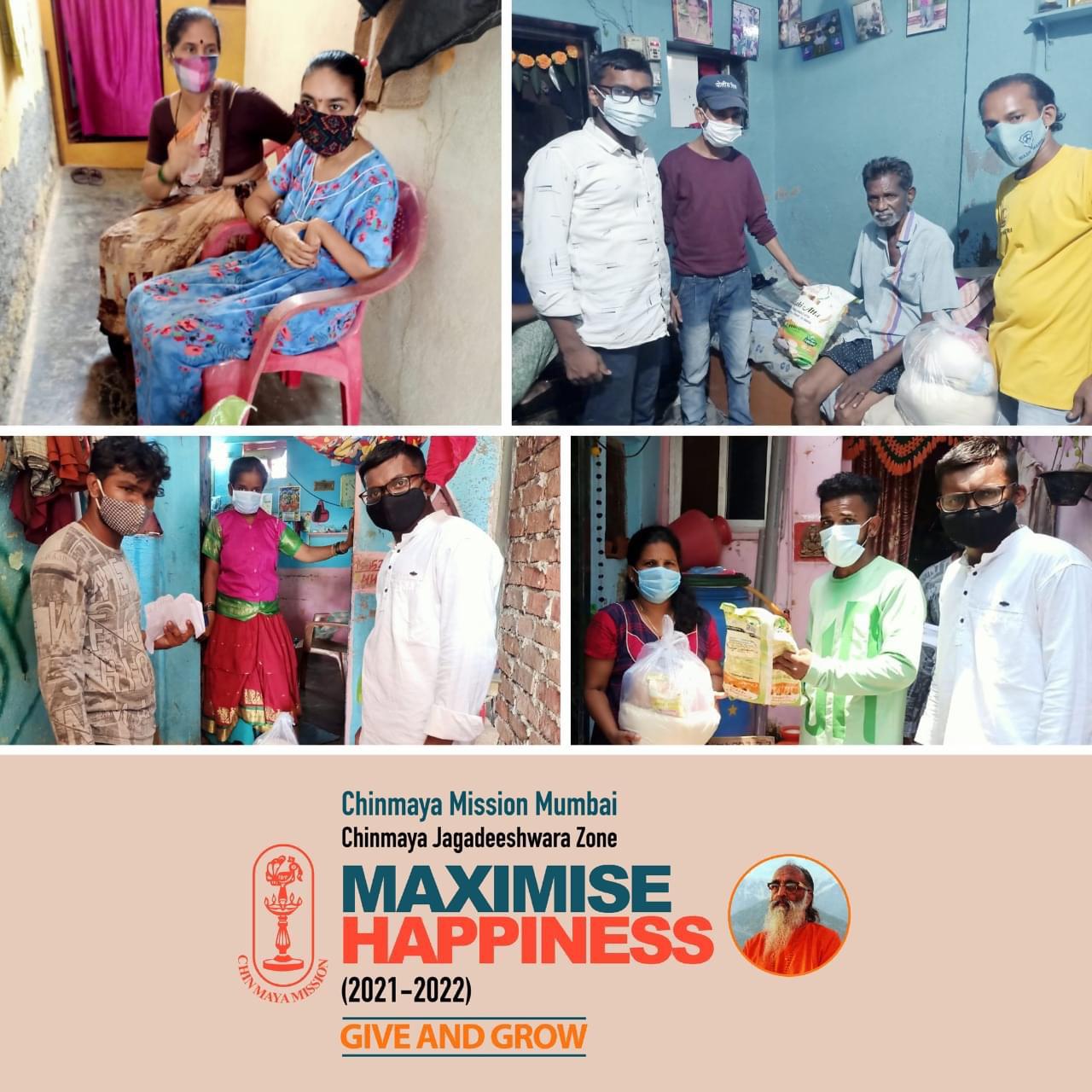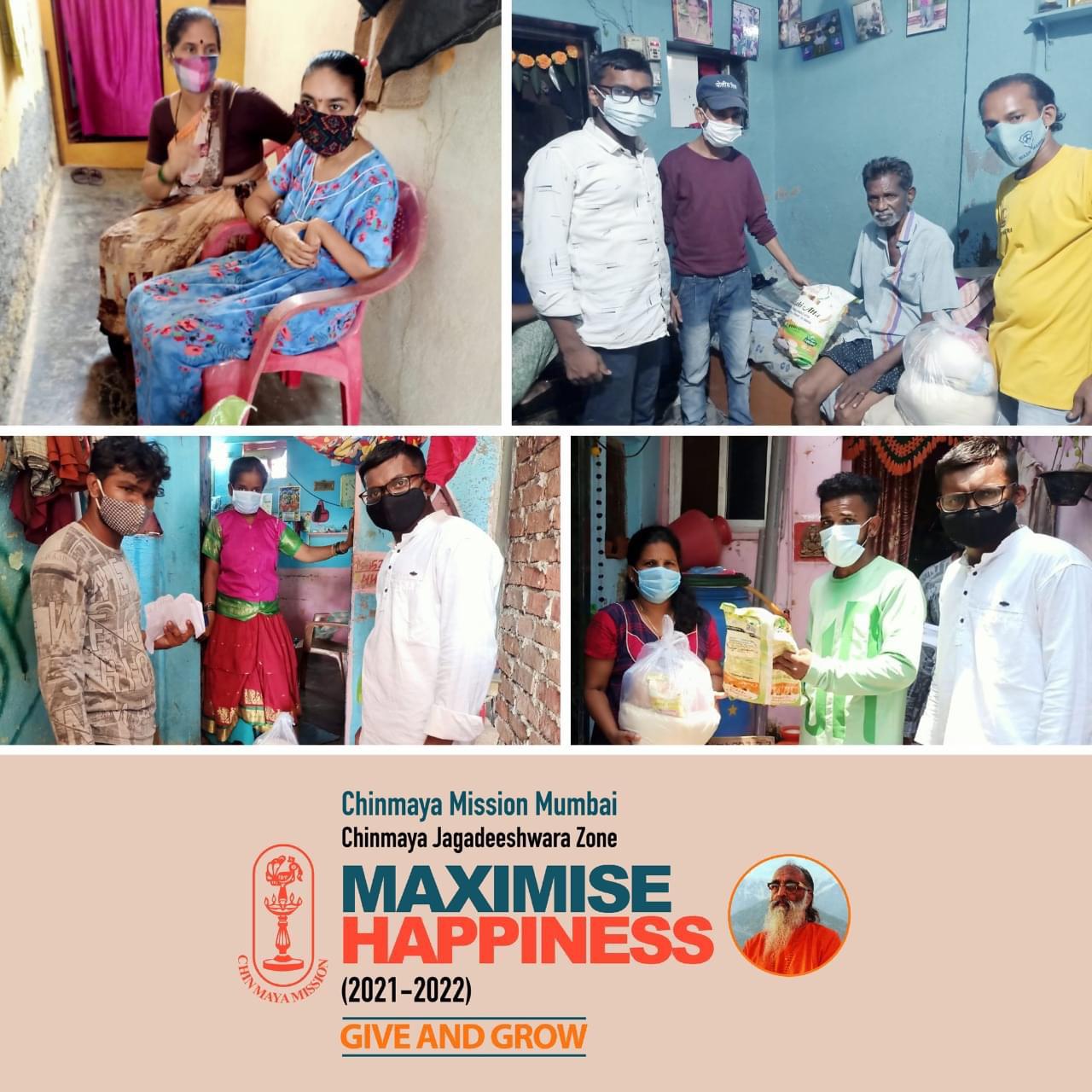 ---
Annadaan Seva on May 08, 2021 at Kalachowki, Mumbai
On the occasion of 105th Jayanti of Gurudev, Mahima Zone, offered Annadanam to 200 people at Kalachowki, Mumbai. The Seva was initiated by Shri Amit Vora and team.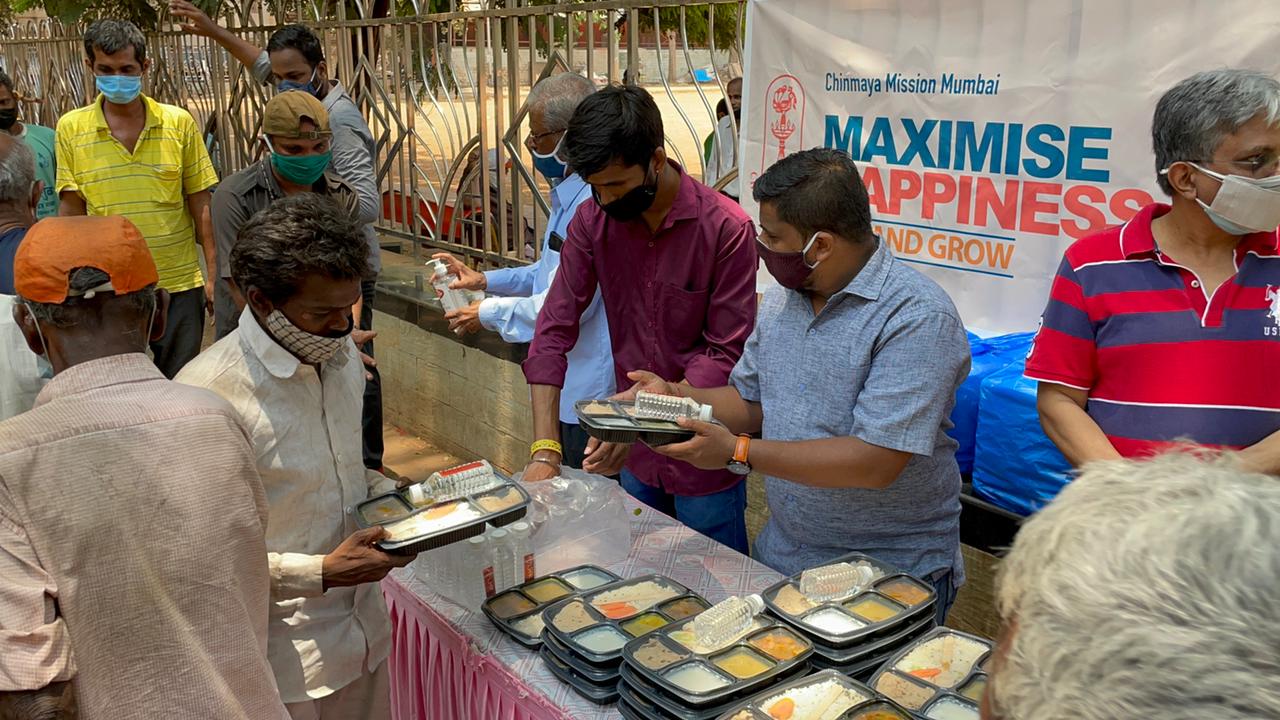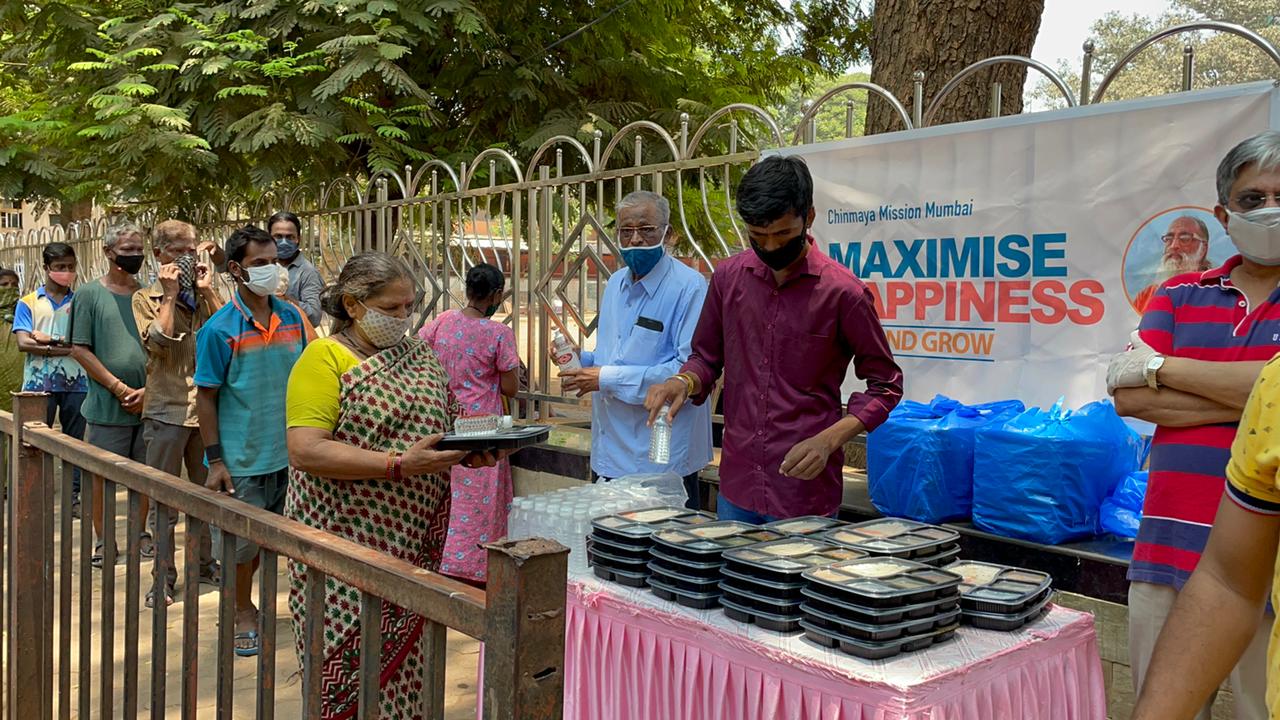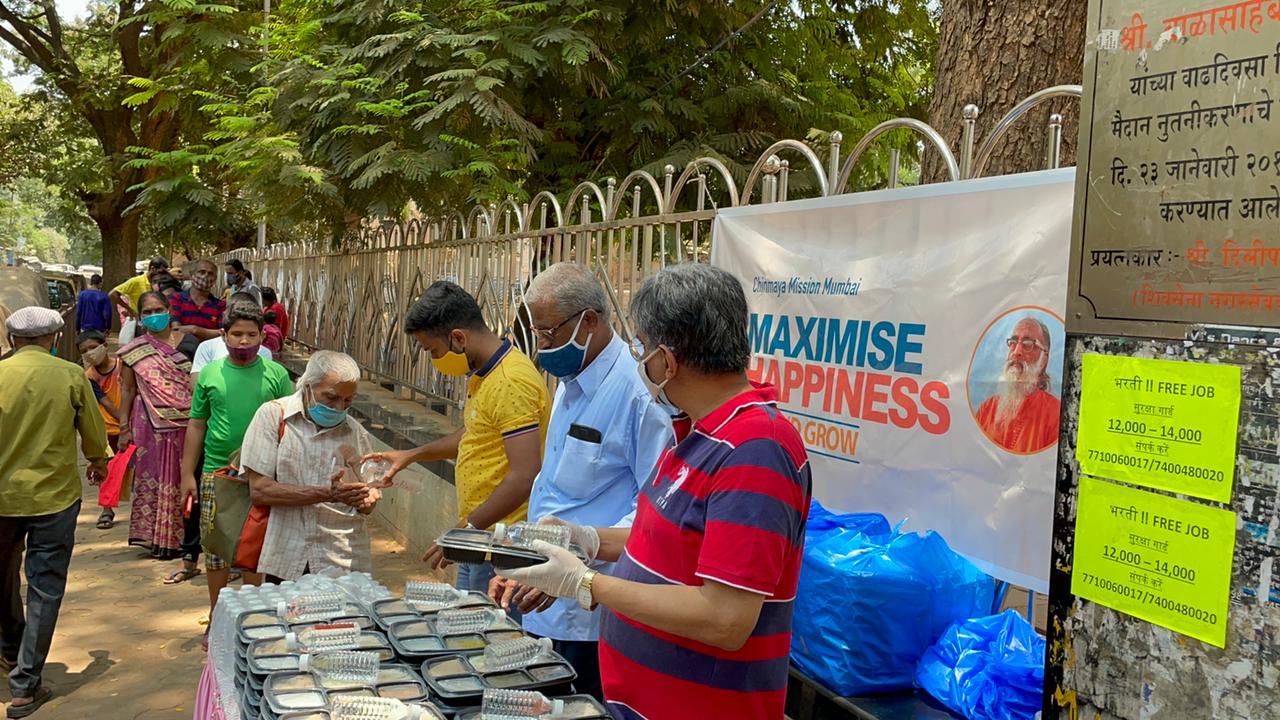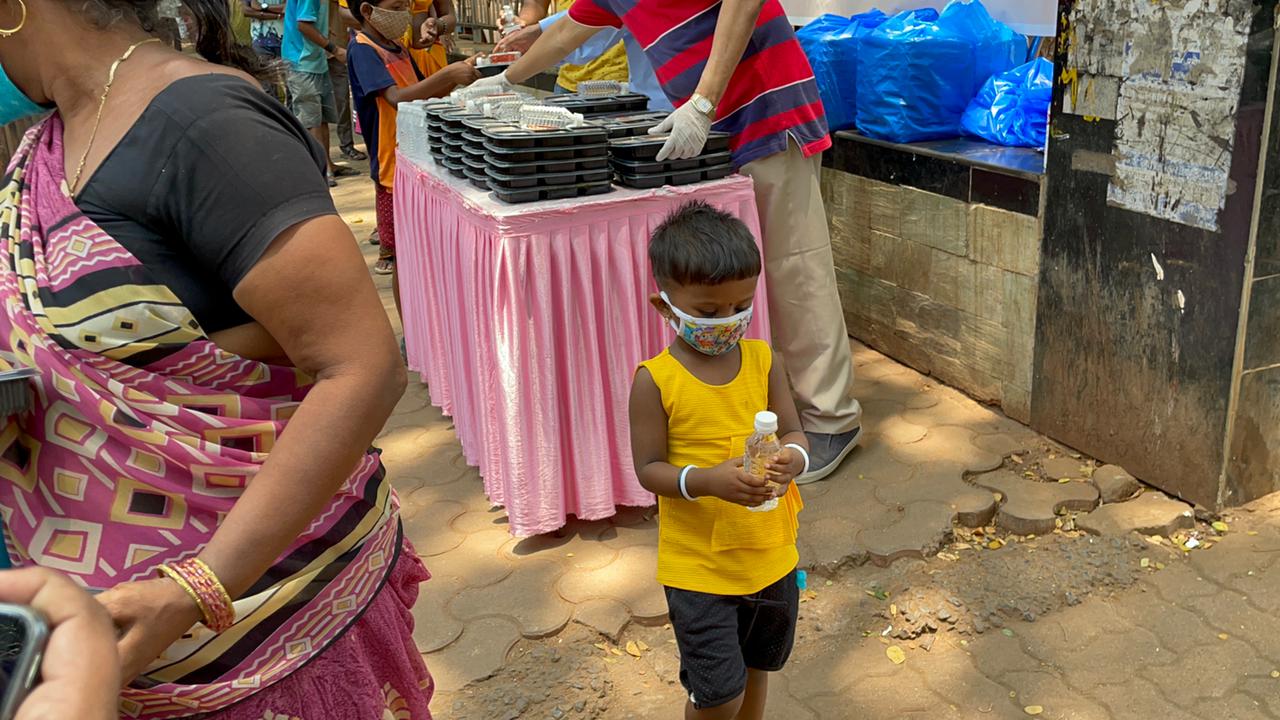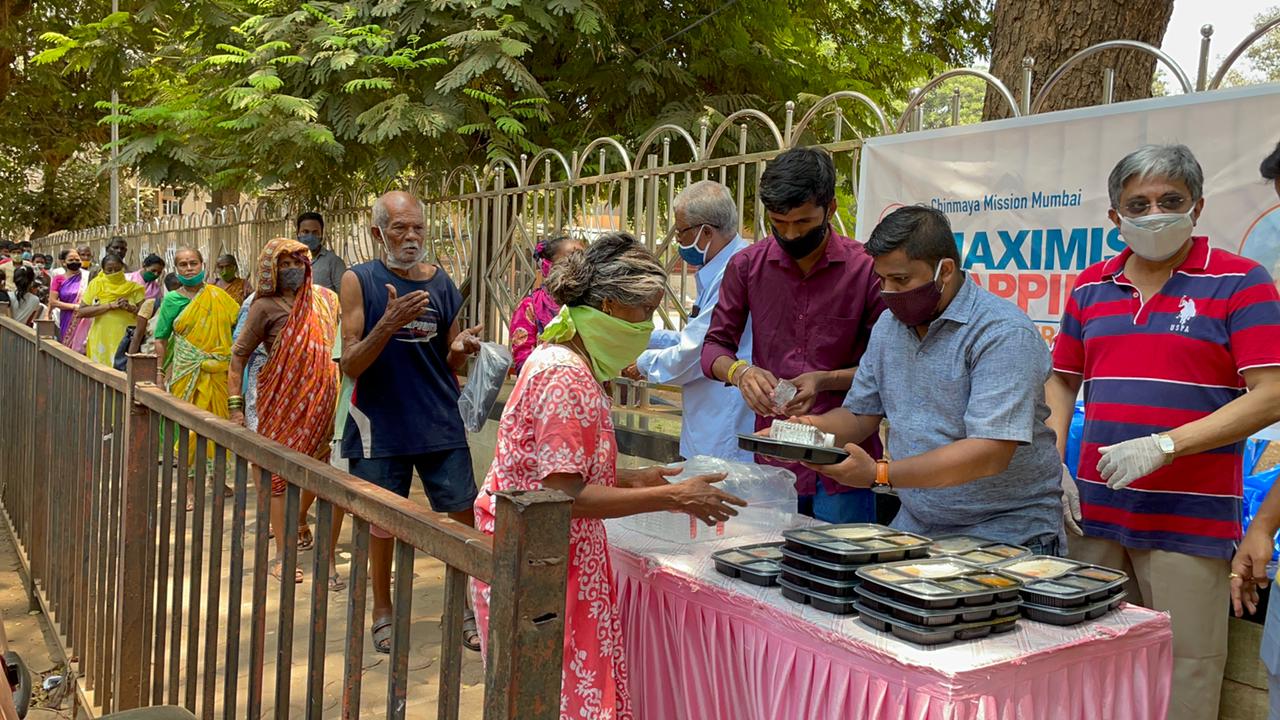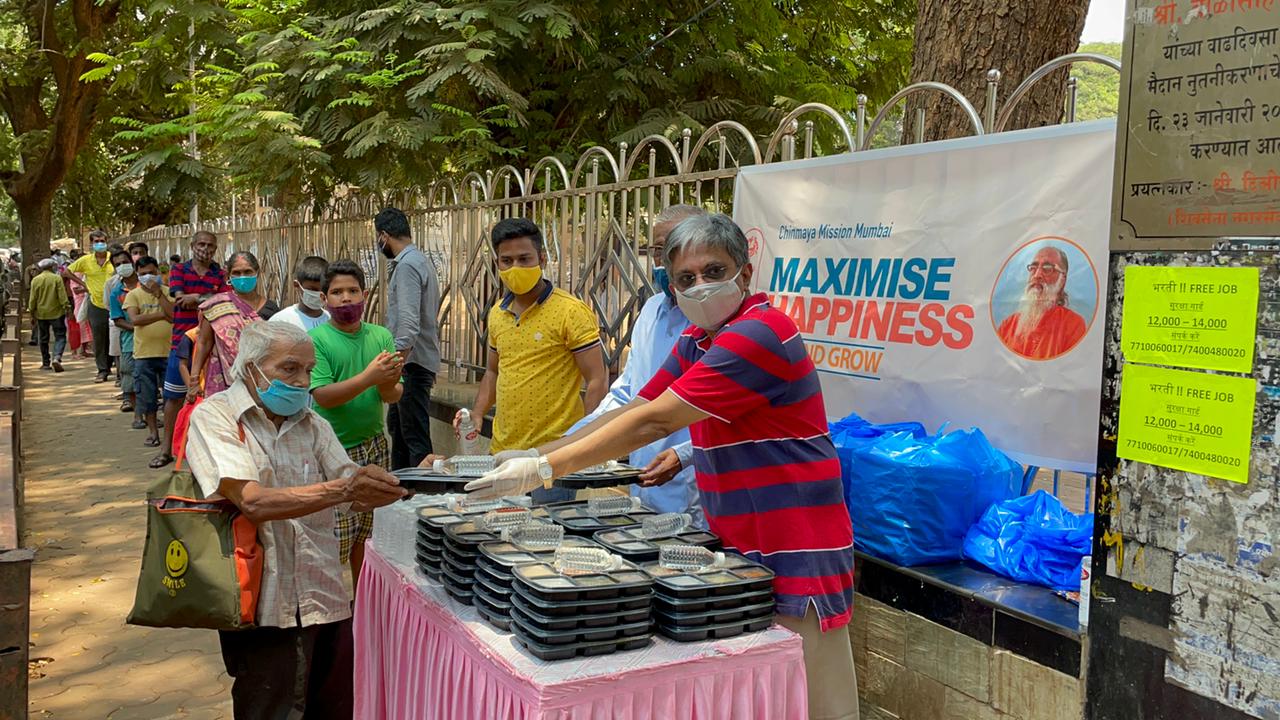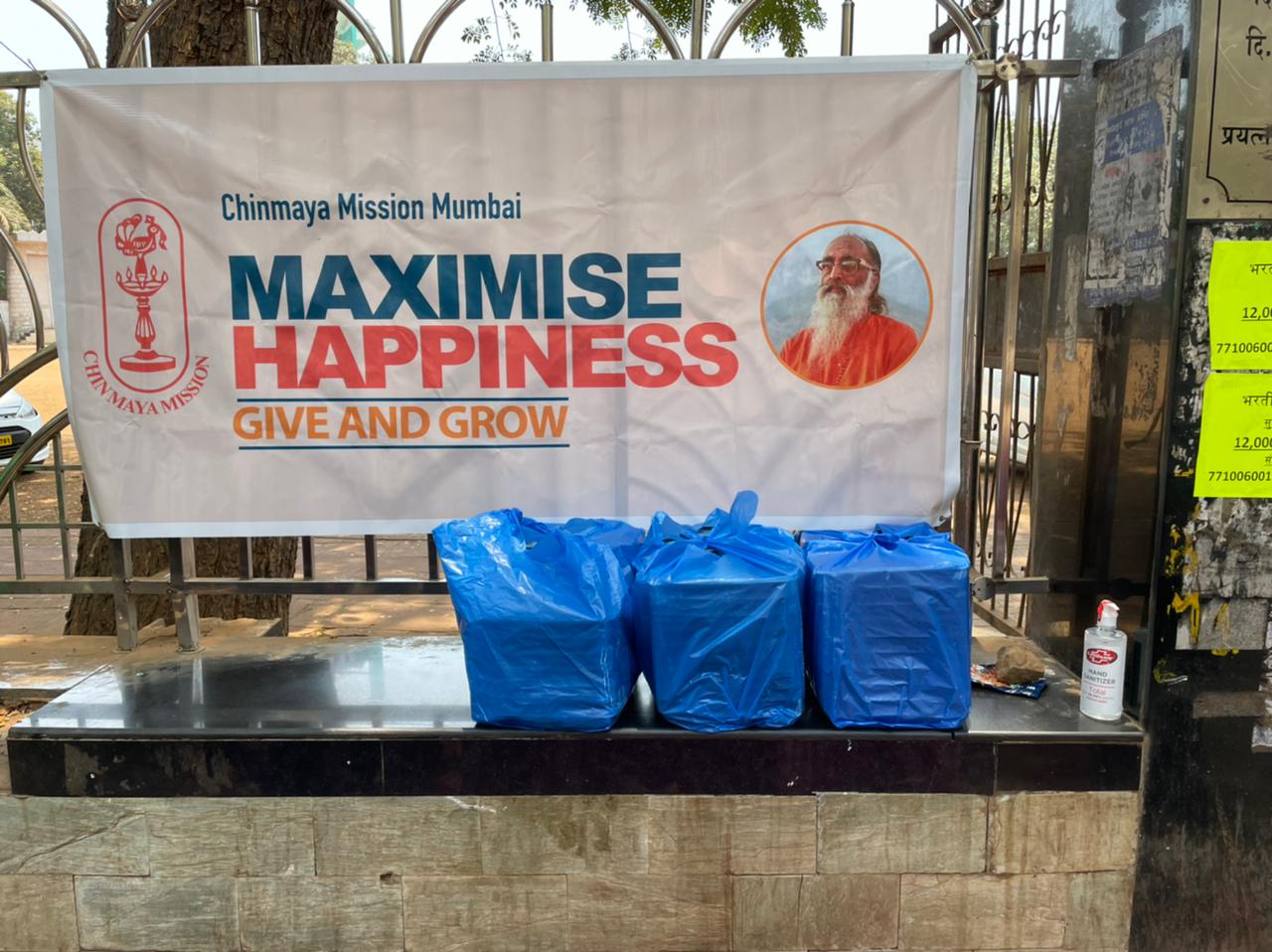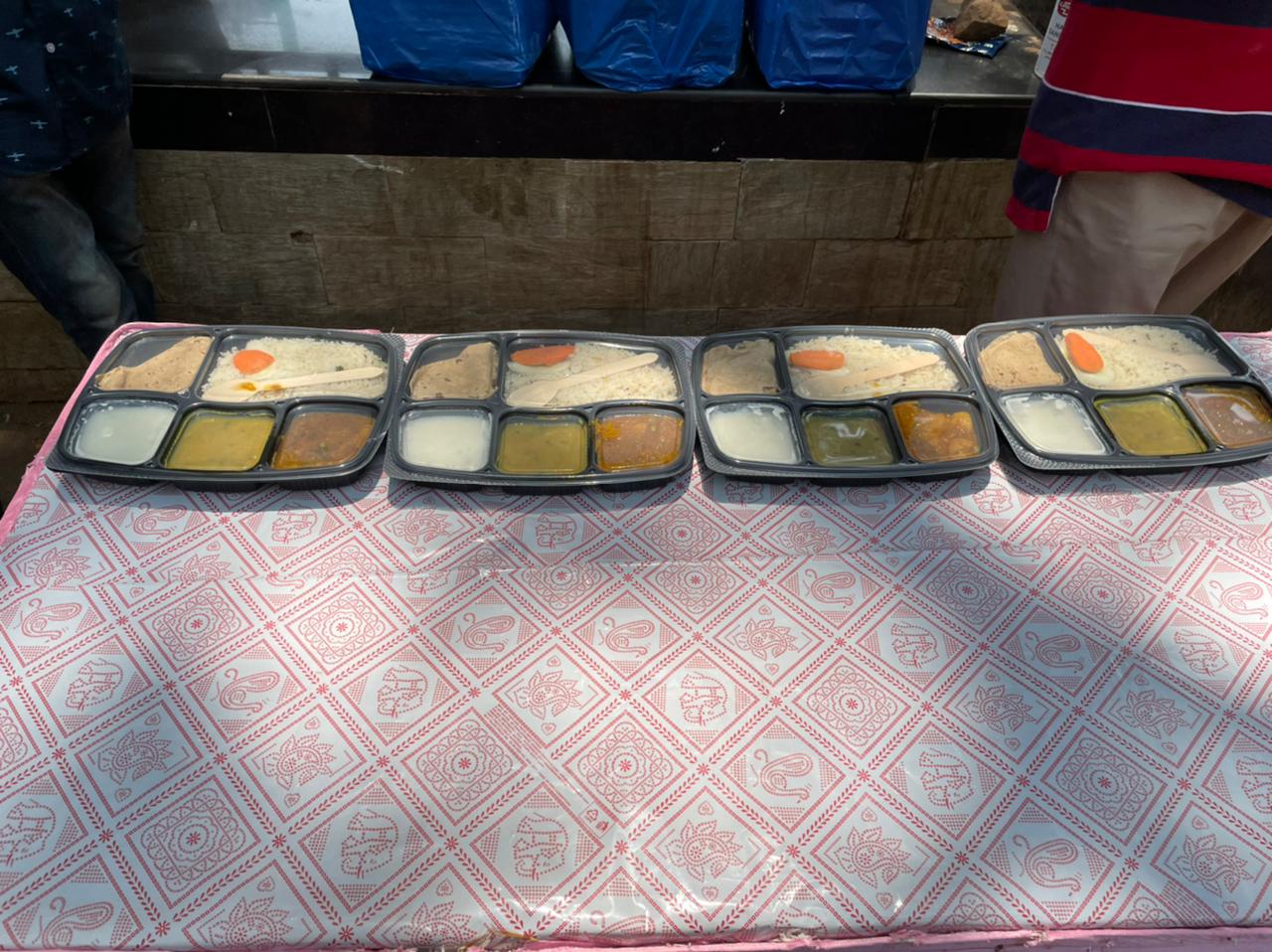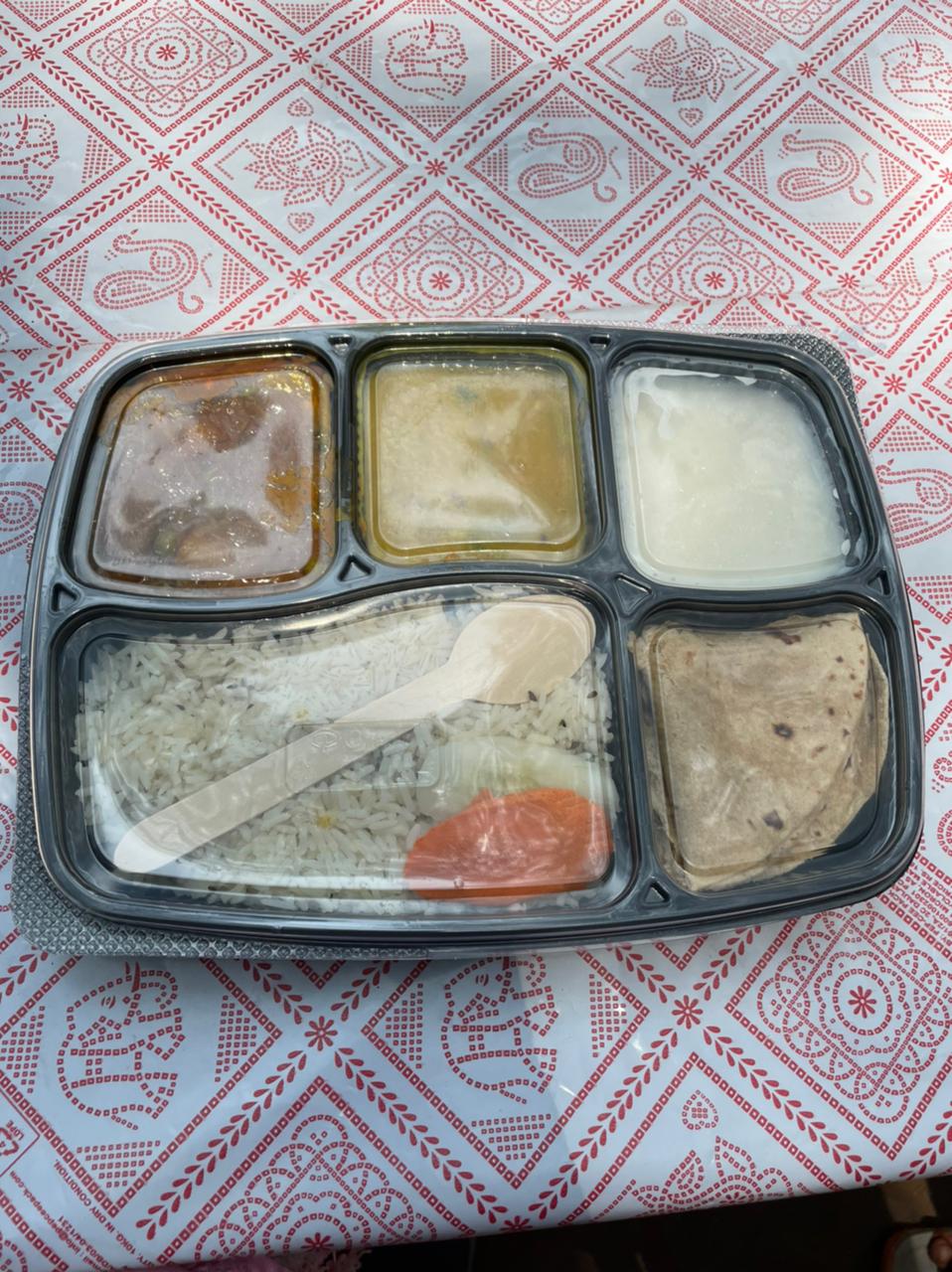 ---
2020-2021
Annadaan Seva on March 22, 2021 at Stree Mandal, Sicka Nagar, Mumbai
"After a full belly all is poetry", apt display on one of the bags of the Annadaan recipients, On March 22, 2021 at Stree Mandal, Sicka Nagar, Mumbai when Chinmaya Mission - Sagar Zone performed the Annadaan seva under the Maximize Happiness initiative for the 3rd consecutive month this year.
The food packets were distributed to 220 low-income-group ladies, as done in the past.
This time around our volunteers were Smt. Geeta Kothari, Smt. Aparna Vipul Dalal and Shri. Jagdeesh Jaisinghani.
The next month's distribution date is fixed for Saturday, April 10, 2021, between 1pm and 3 pm.
We thank all donors who have supported for this cause.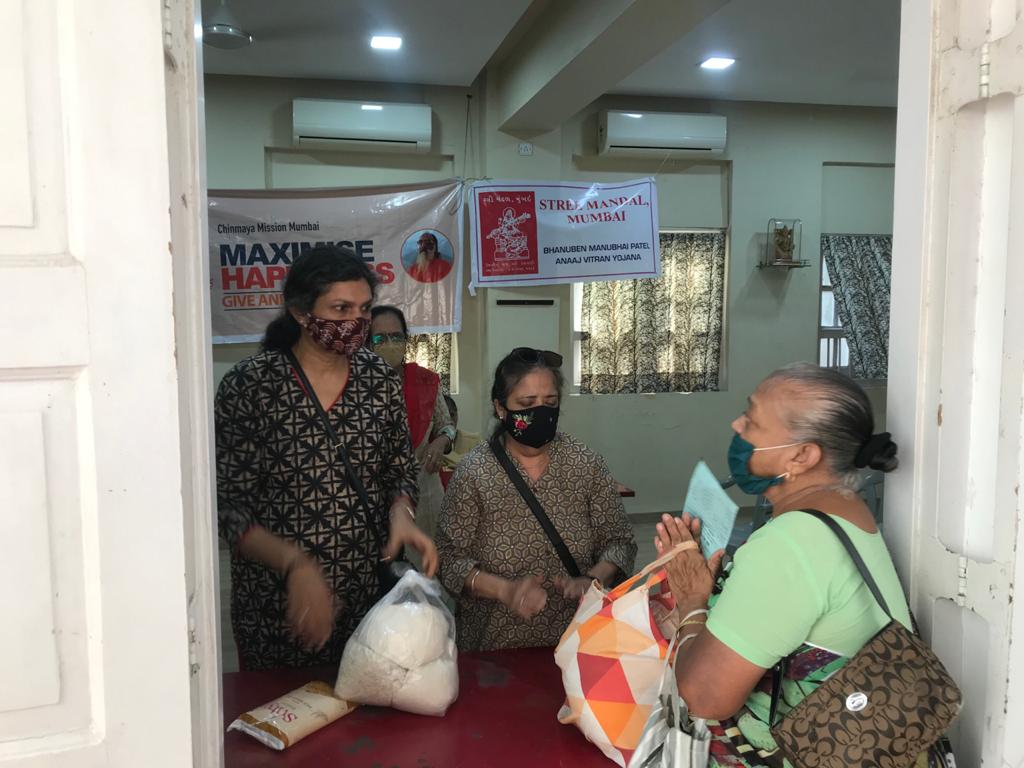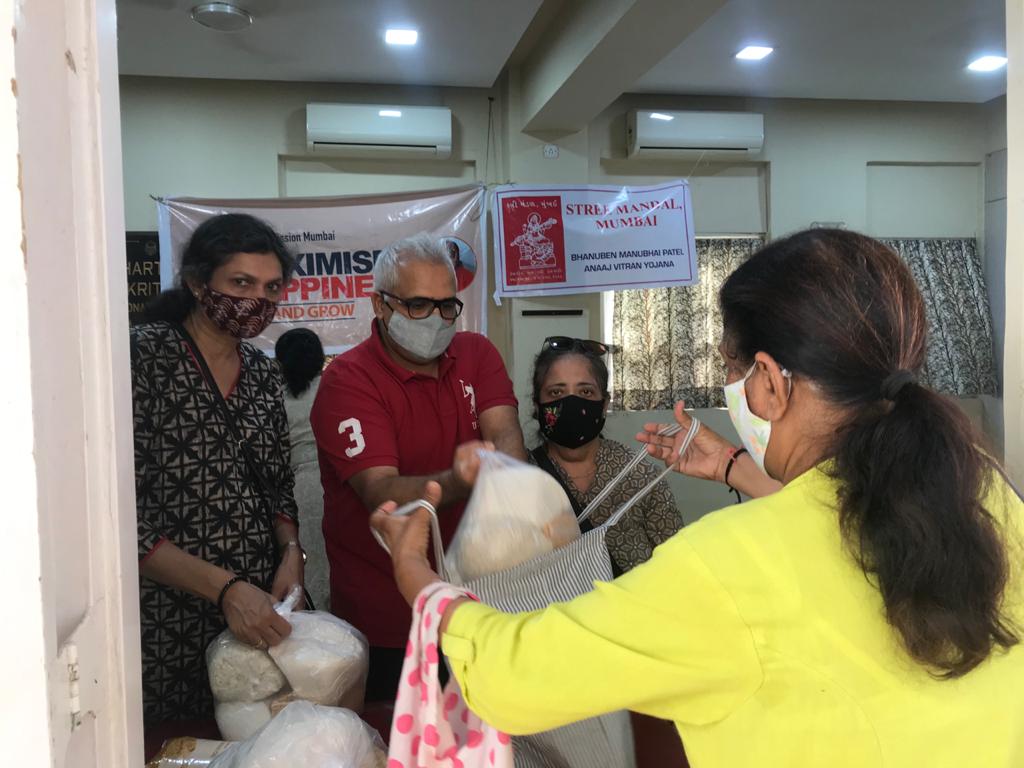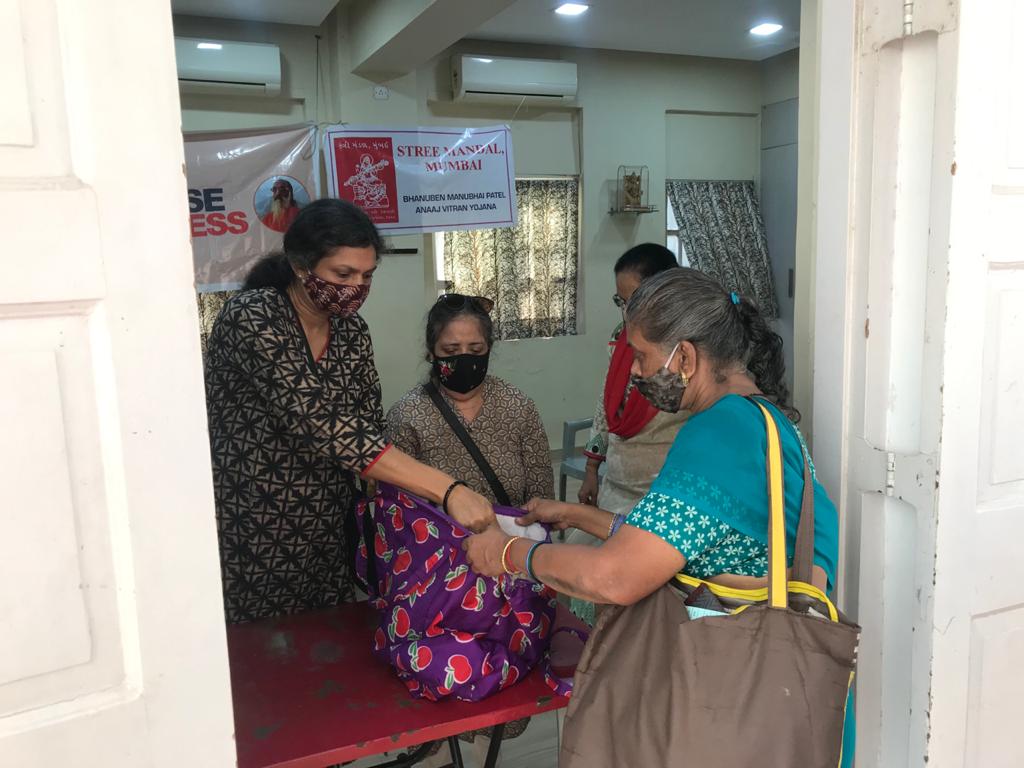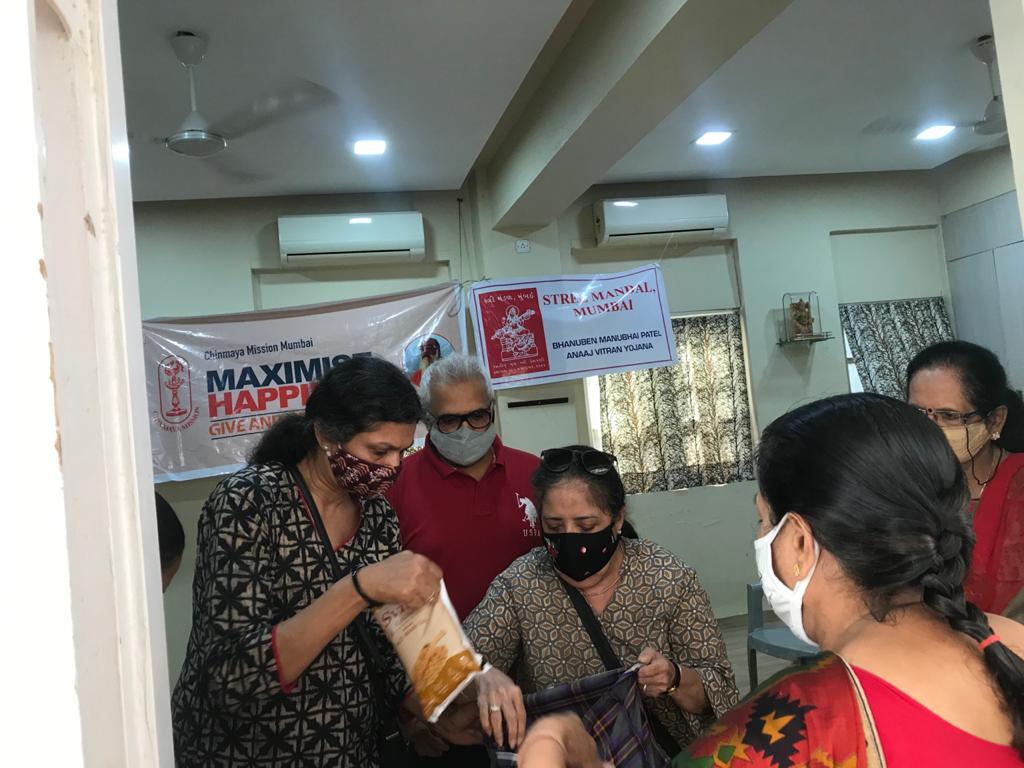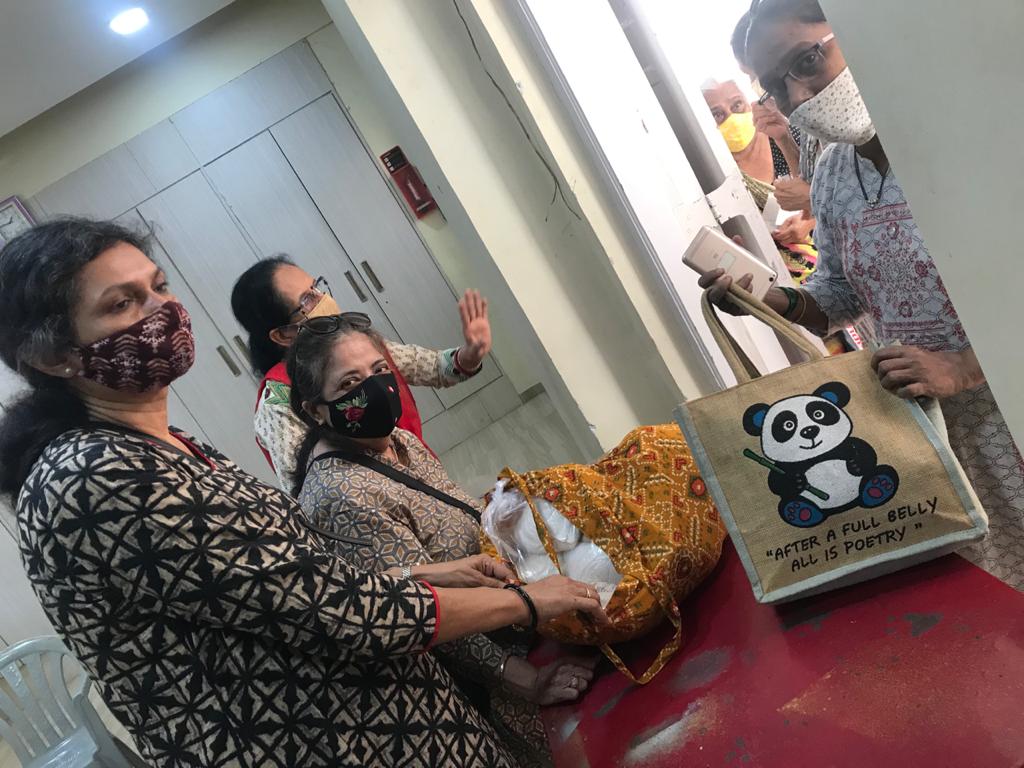 ---
Seva is one of the main keys in our culture and a stepping stone in spirituality
Under the Maximise Happiness, Give and Grow banner, Chinmaya Mission Mumbai, Sagar Zone distributed 220 dry food & biscuit packets (each weighing almost 5 kgs) to the lesser privileged at Stree Mandal, Sikka Nagar on 15th Feb 2021
The event was very well received and diligently organized with all social distancing and hygiene protocols in place. Present were Anjaniben Motiwalla - President, Stree Mandal, along with her other committee members
Stree Mandal has sent leaflets to their members for our Bal Vihar & Geeta Chanting classes that will be conducted by us at their venue. Initially, the classes may start online.
Representing Chinmaya Mission were Smt. Anjali Jhunjhunwala, Shri. Jagdish Jaisinghani and Shri. Vipul Dalal.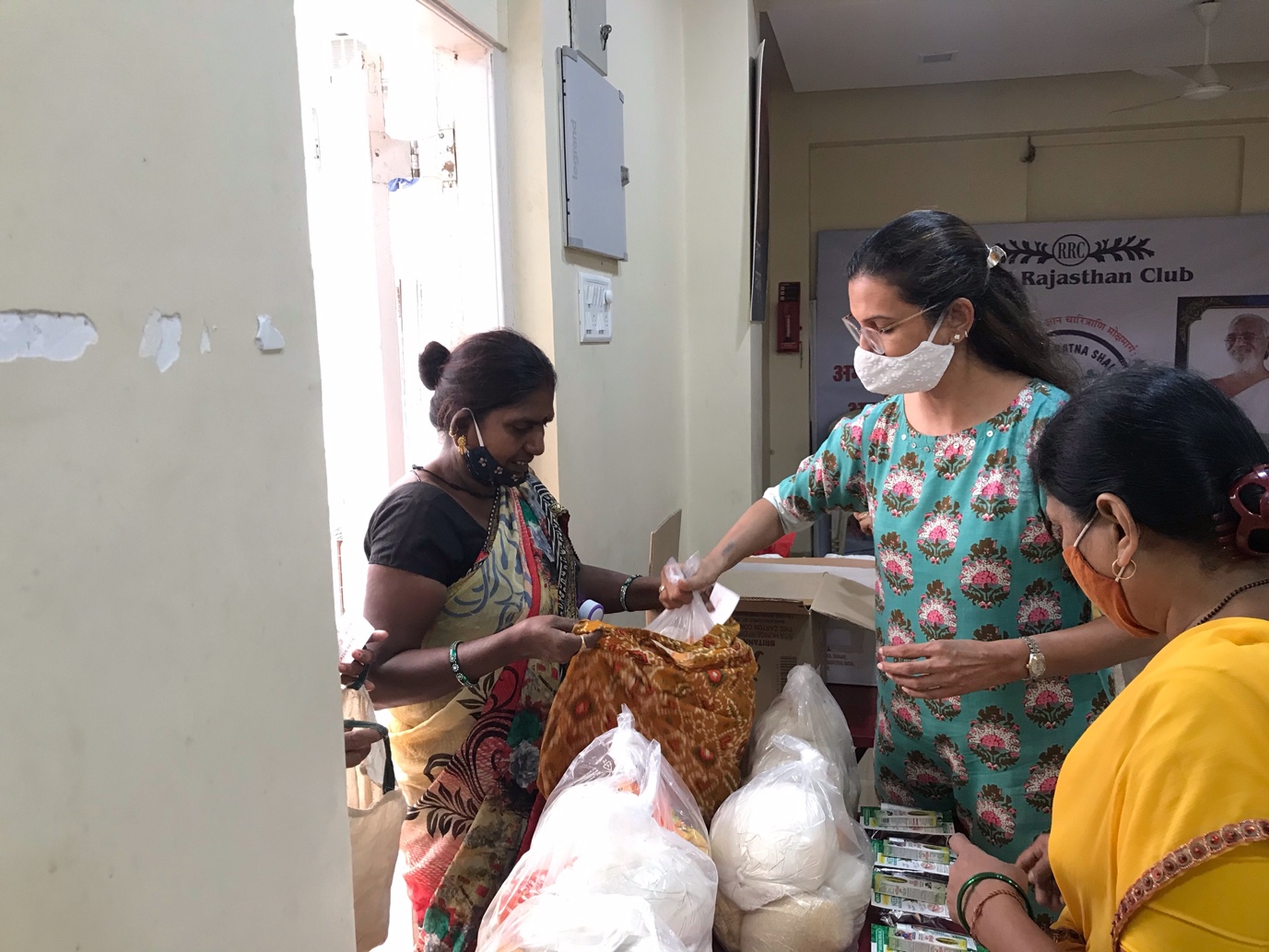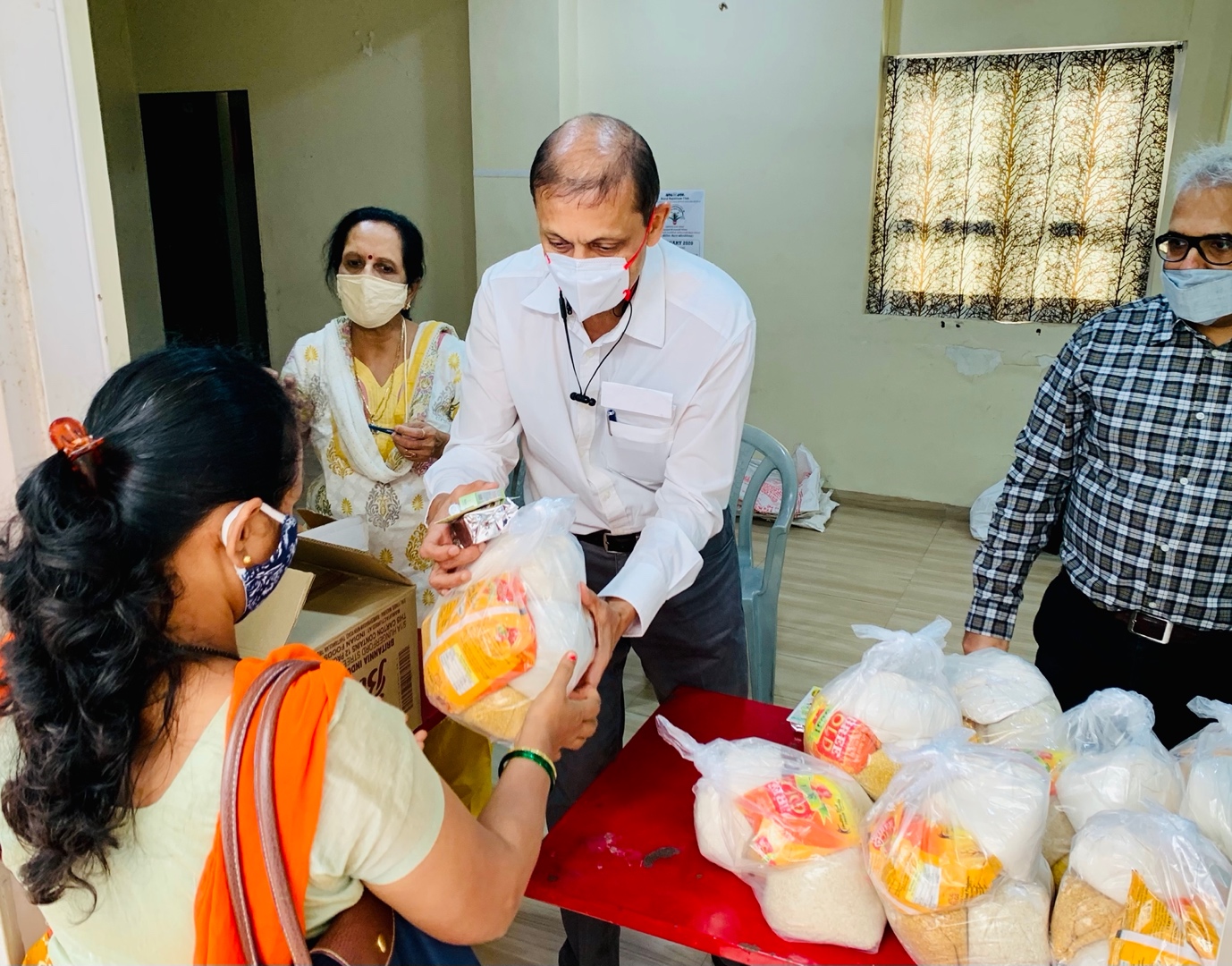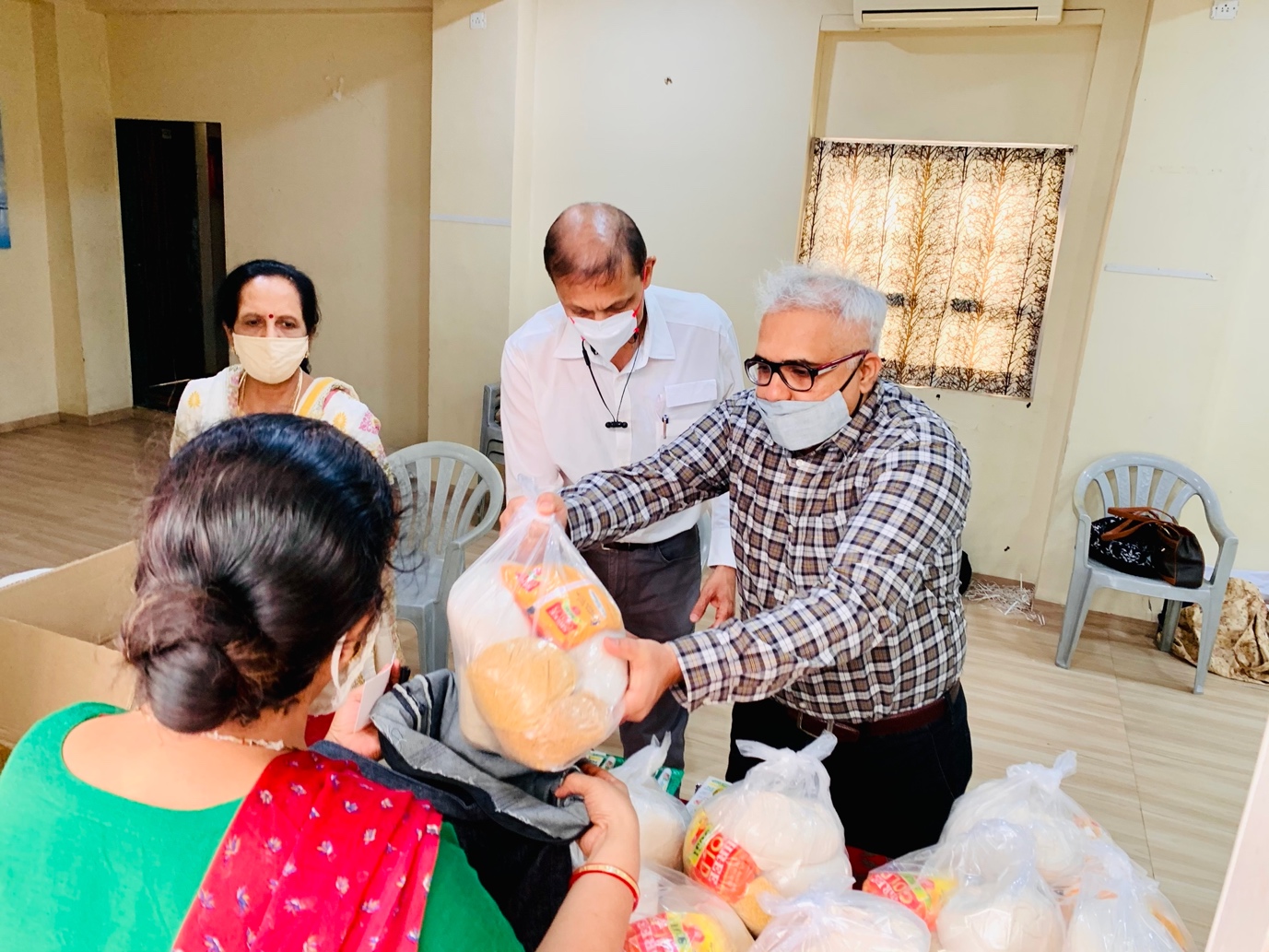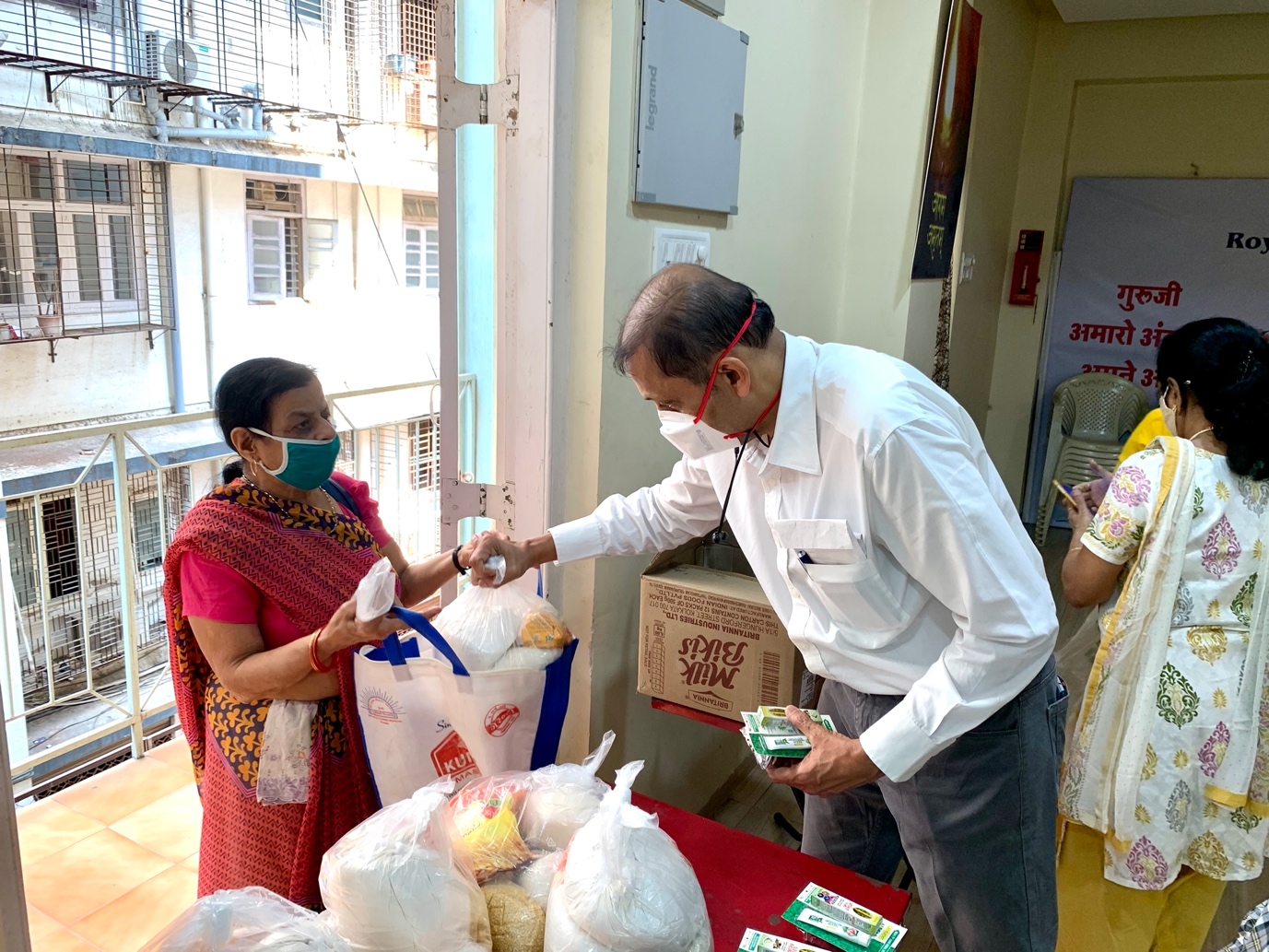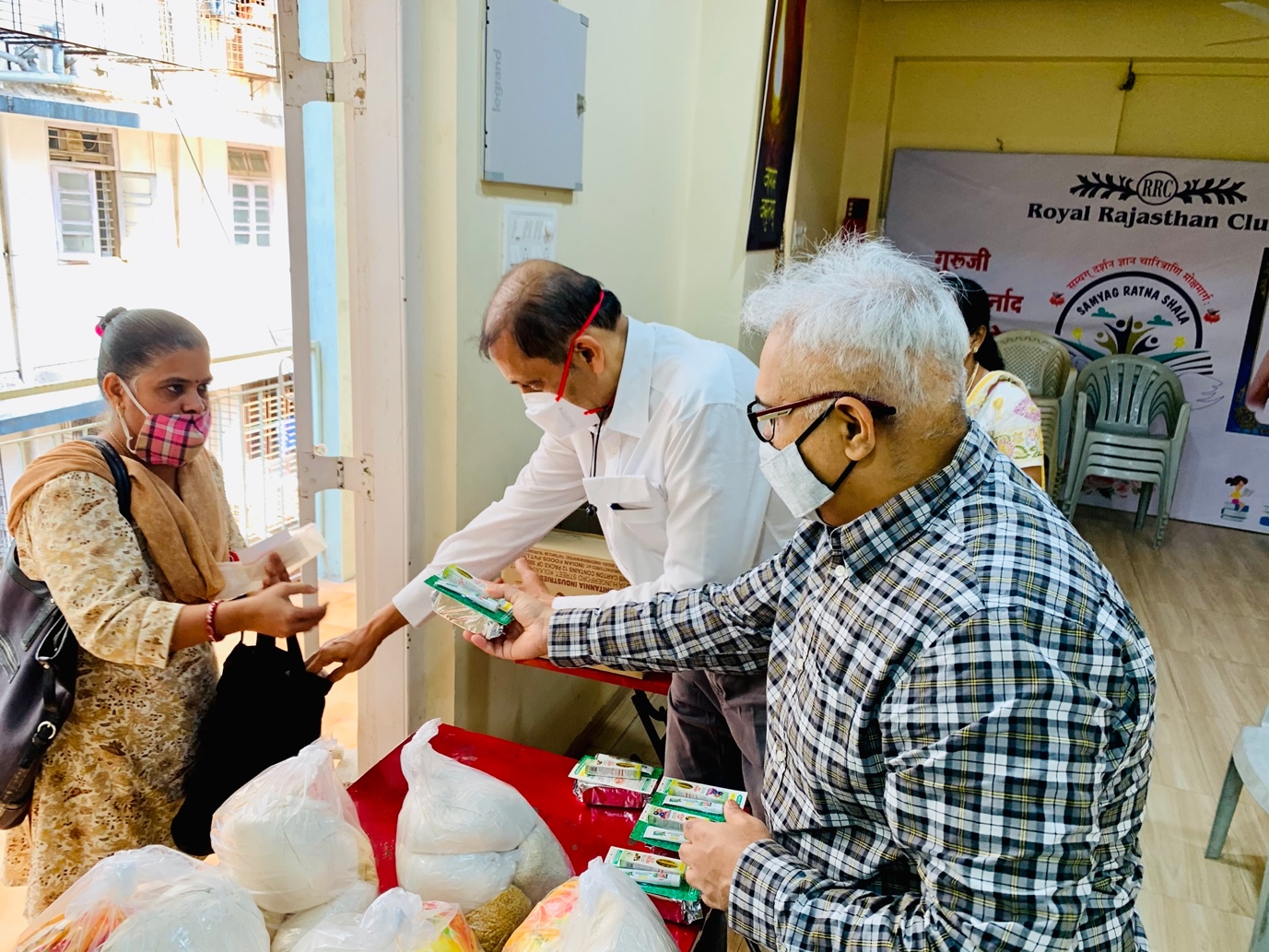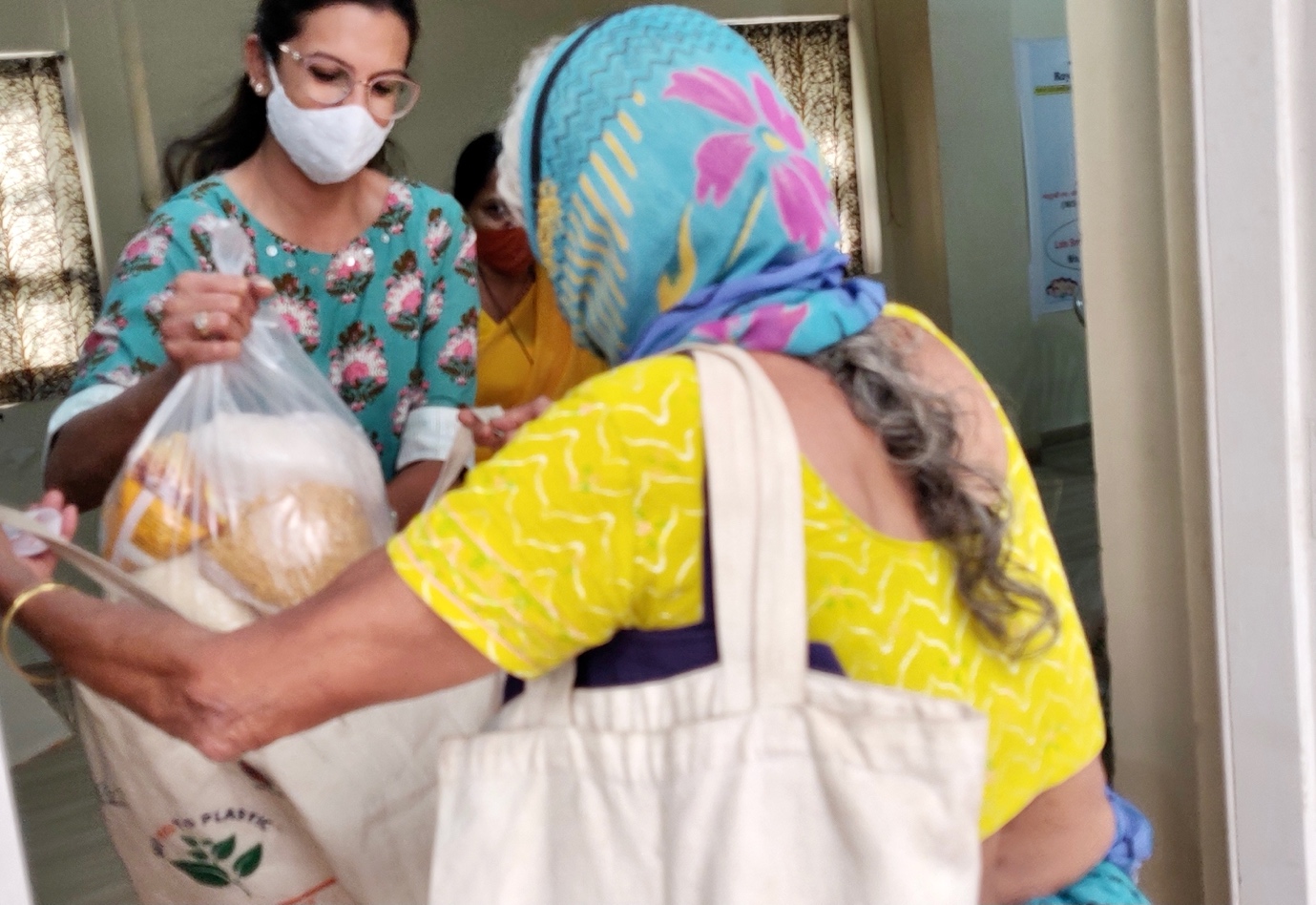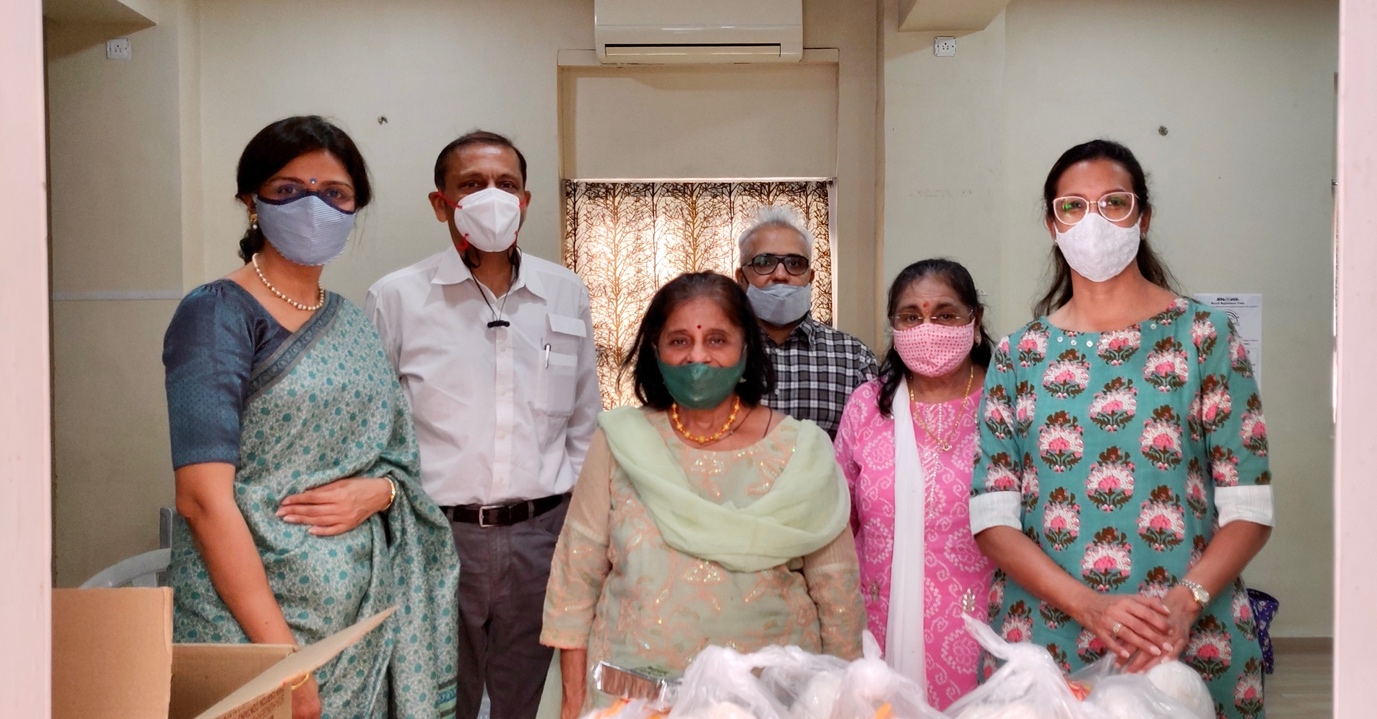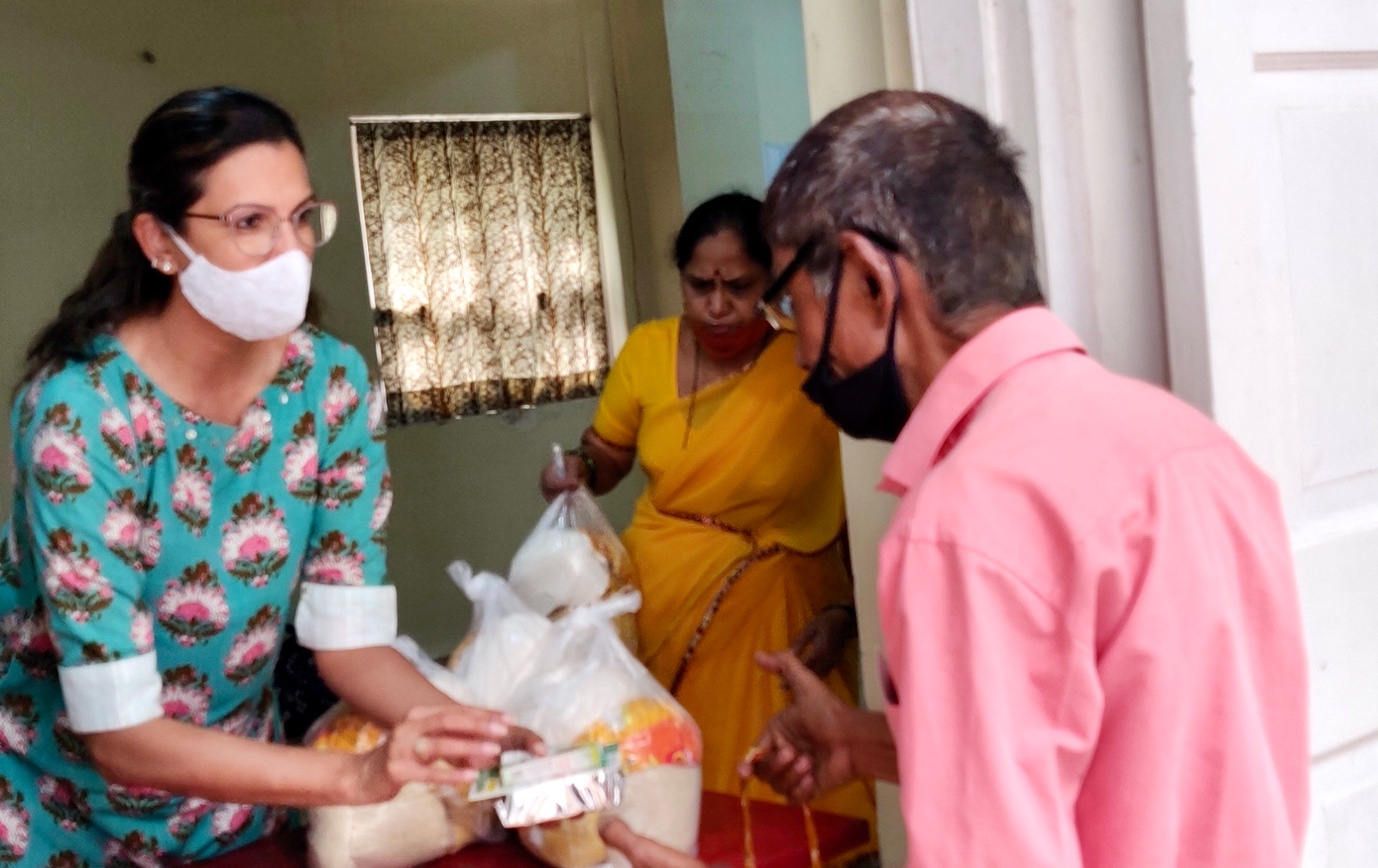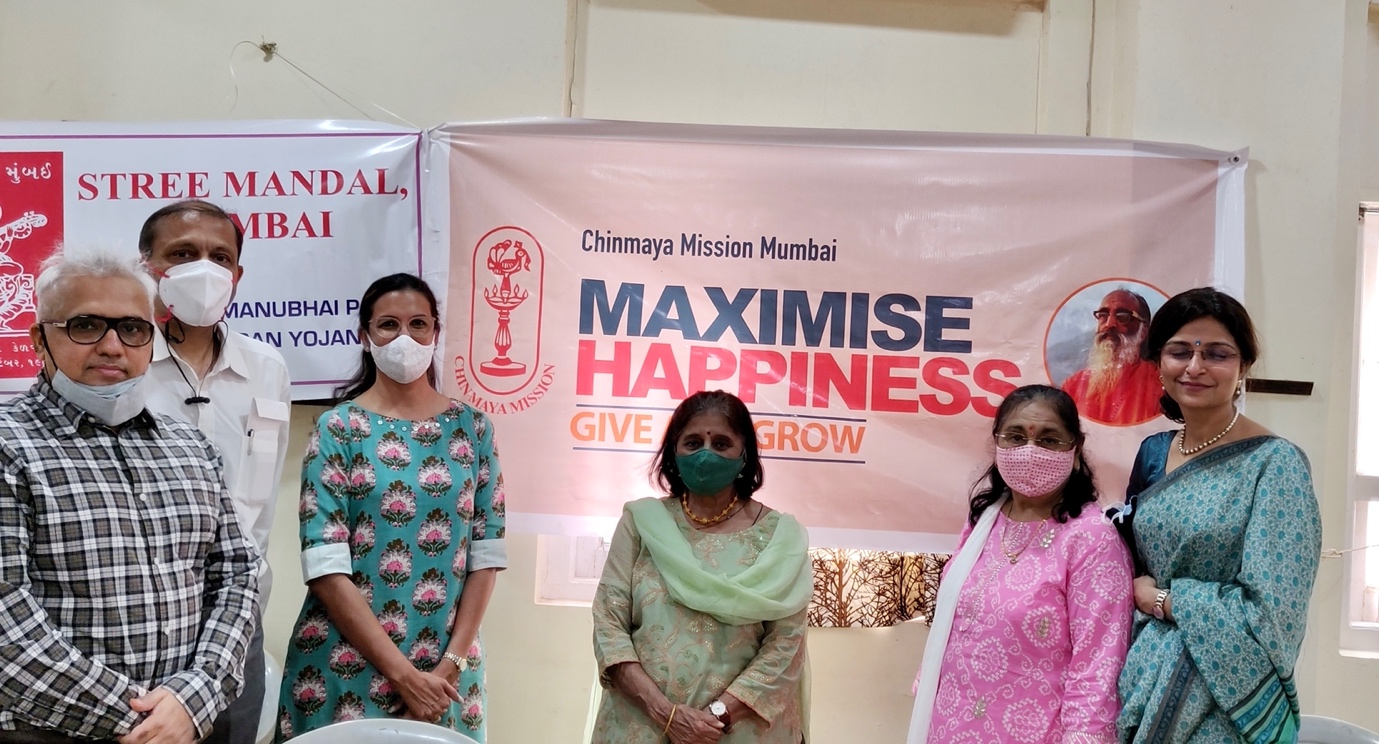 ALL MUMBAI ANNADAAN SEVA
On Sunday, 17th January, 2021, under the Maximise Happiness initiative, an All Mumbai Annadaan Seva was carried out. 4400 + people benefitted from this seva where free rations were given to them.
MAHIMA ZONE
Shraddhanand Mahilashram started in the year 1927 in memory of Swami Shraddhanand ji (Munshiram). The orphanage has separate sections for babies, young girls, and older girls who are attending college. Shraddhanand Mahilashram is involved in their entire upbringing, school, college, and even marriage, in case the girls want to get married. Bal Gruha houses the smallest kids, Adhar Gruha houses the older girls and there is an old age home for women above 60.
On 17th Jaunary, under the aegis of Chinmaya Mission Mumbai, Maximise Happiness, All Mumbai Annadaan Seva was flagged off in all perfection at 3.30pm. The entire zoom event telecasted worldwide showcased Chinmaya Mahima zone providing ration supplies to 180 members of The Hindu Women's Welfare Society's Shraddhanand Mahilashram, Matunga.
The ration supplied was for children and adults aged 0 to 25. Ration provided by Chinmaya Mission were Rice, Wheat Atta, Lapsi, Rawa, Gur, Oil, Tea, Coffee Powder, Toor Dal, Moong Dal, Chana Dal, Masoor Dal, Urad Dal, Poha, Dhana Powder, Chilli Powder, Turmeric Powder, Hing Powder, Garam Masala Powder, Salt, Sugar, Ghee. Dr. Sunil Desai, the Chairman of the institution, Resident Social Worker Miss. Ujjwala and Miss. Reshma welcomed Dr. Sunita Shanker and Mrs. Vidya Harikrishna, with special mention of Mrs. Jayashri Mohan who was instrumental in meticulous arrangement of the Annadaan Seva.
They expressed their deepest gratitude to Chinmaya Mission for their kind gesture of Annadaan during Covid times. Mahima Zone President had spoken to the Chairman about starting Balavihar classes for children, CHYK Workshops and Study Classes for college going students and working adults of the Ashram. With the consent of the Chairman, we on behalf of Chinmaya Mahima Zone choose to have a long standing relationship with students and working women of the institution by incorporating grassroot activities and dissemination of knowledge, true to the motto of Chinmaya Mission.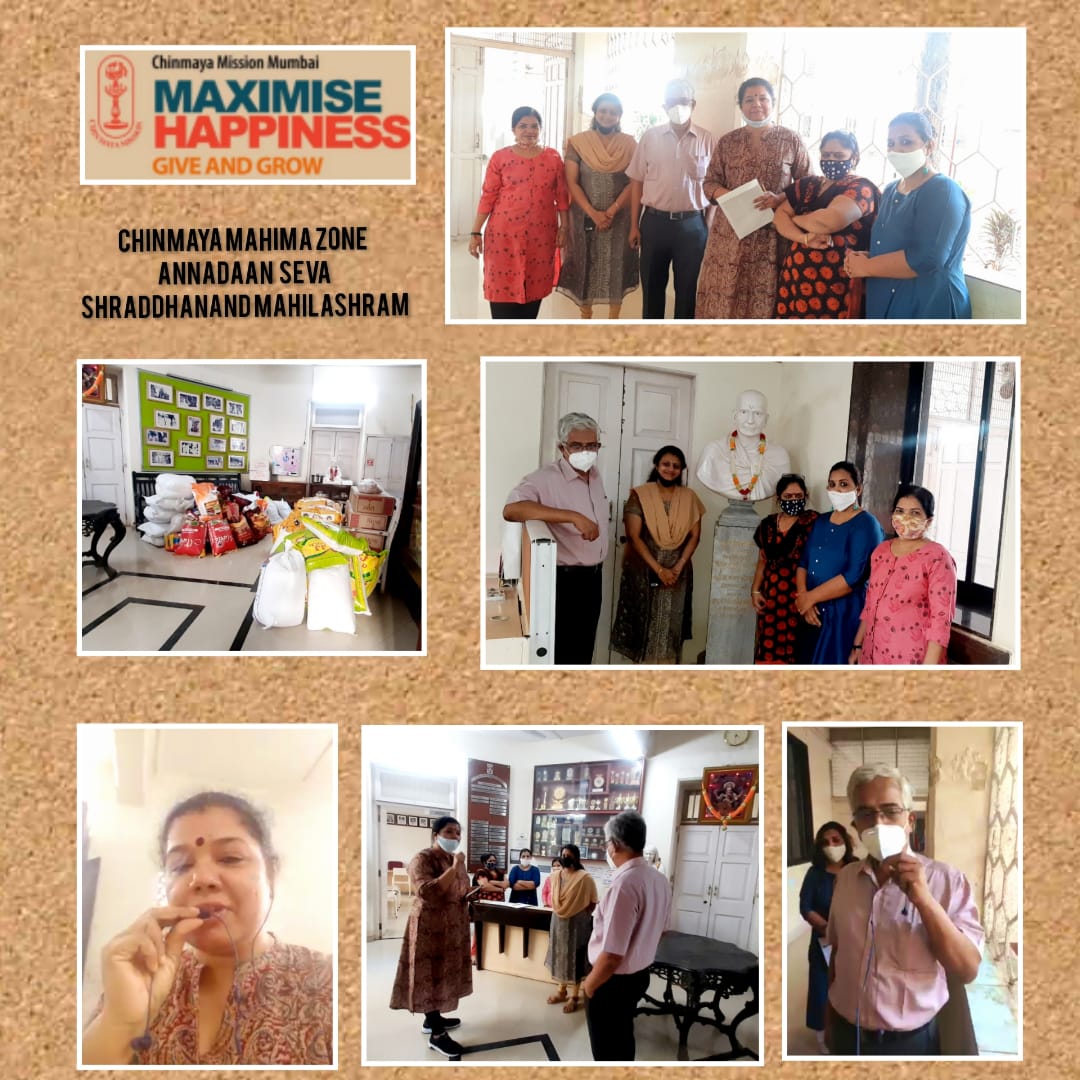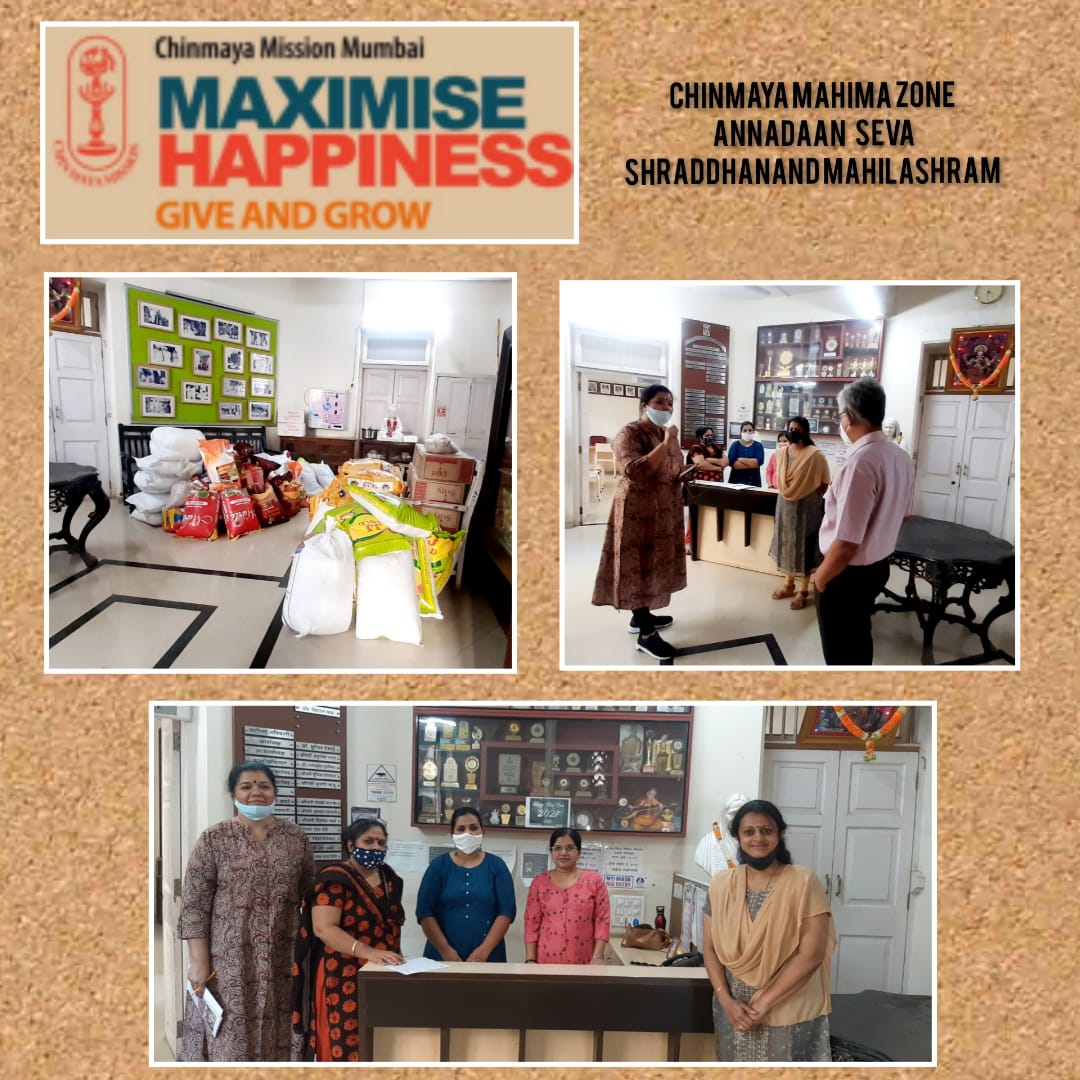 PRAKASH ZONE
Distribution of one month's grocery to 200 needy families was done at various locations in the zone:
Anand Nagar at Oshiwara (50 people)
Shakti Nagar at Oshiwara (50 people)
Shahid Bhagat Singh Nagar at Oshiwara (25 people)
Prem Nagar at Irla (60 people)
Ruia Park at Juhu (15 people).
The recipients were from economically challenged families struggling to make ends meet.
Each grocery kit contained 5 kg Rice, 5 Kg Wheat Atta, 3 Kg Tur Dal, 1 lit Oil, 2 Kg Sugar, ½ Kg Tea and 1 Kg Salt.
The distribution took place in the presence of the Zonal President Smt. Meghana Patel, Zonal Committee and Social Service team members, Shri. Mukul Patel, Shri. Kamal Choudhary, Shri. Pankaj Vakil, Smt. Alka Vakil, Smt. Sitalakshmi Shivram, Smt. Suhasini Lohia, Smt. Ami Agarwal, Smt. Smita Kapoor, Shri. Vedant Choudhary and Shri. Udit Vakil.
Shri. Kamal Choudhary, Smt. Shashi Binani and Smt. Suhasini Lohia had coordinated the seva with local social workers for making necessary arrangements.
Everyone expressed their gratitude to Swami Swatmanandaji for his inspiration and guidance, entire Maximising Happiness team of Chinmaya Mission Mumbai and generous donors for their support.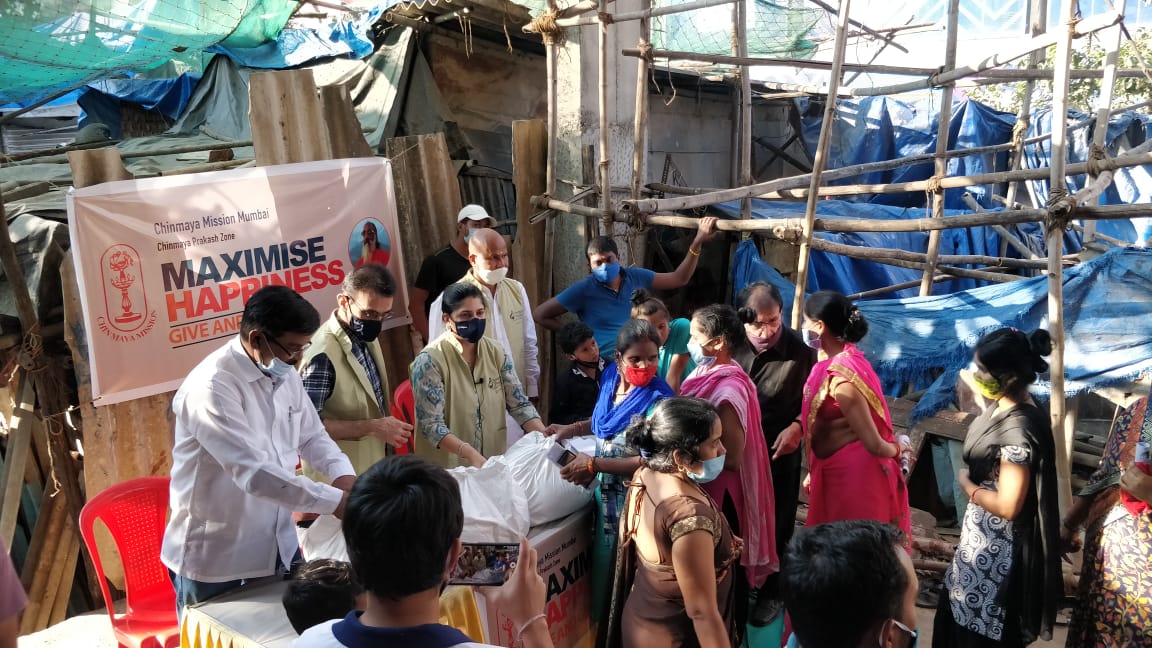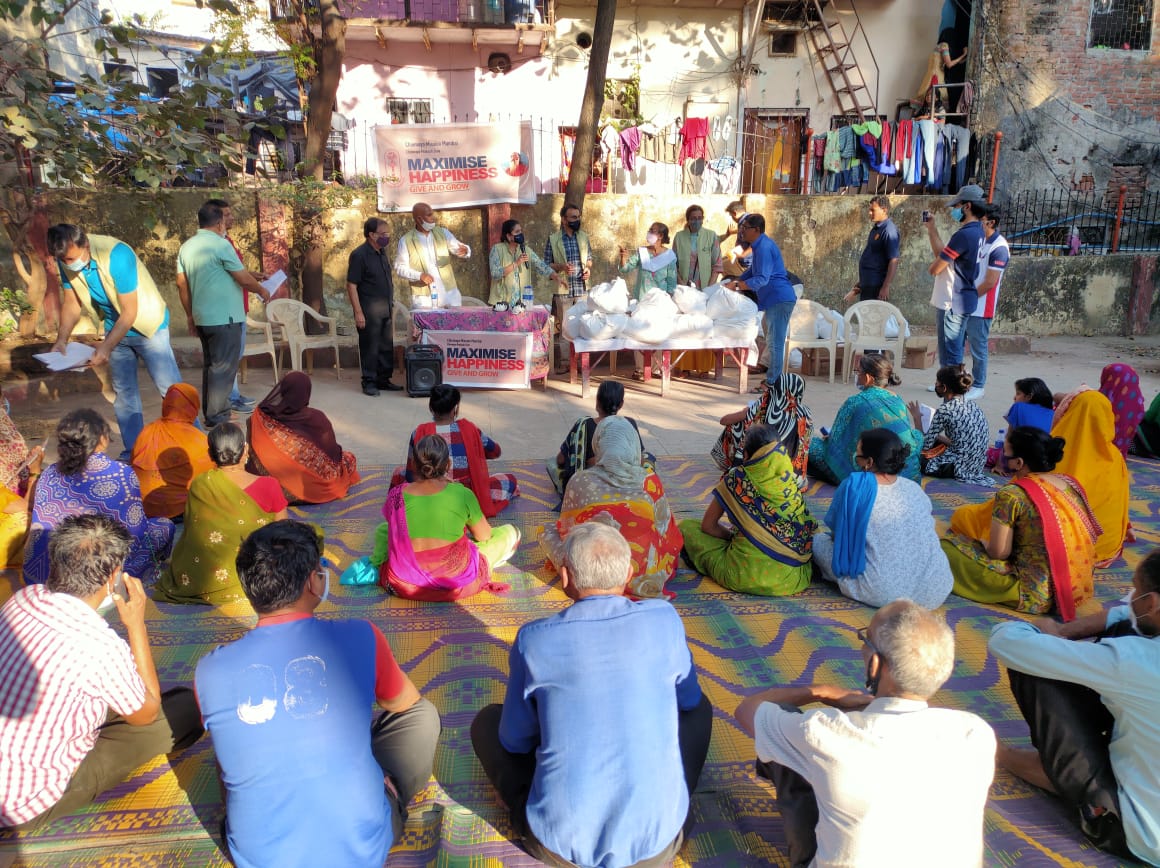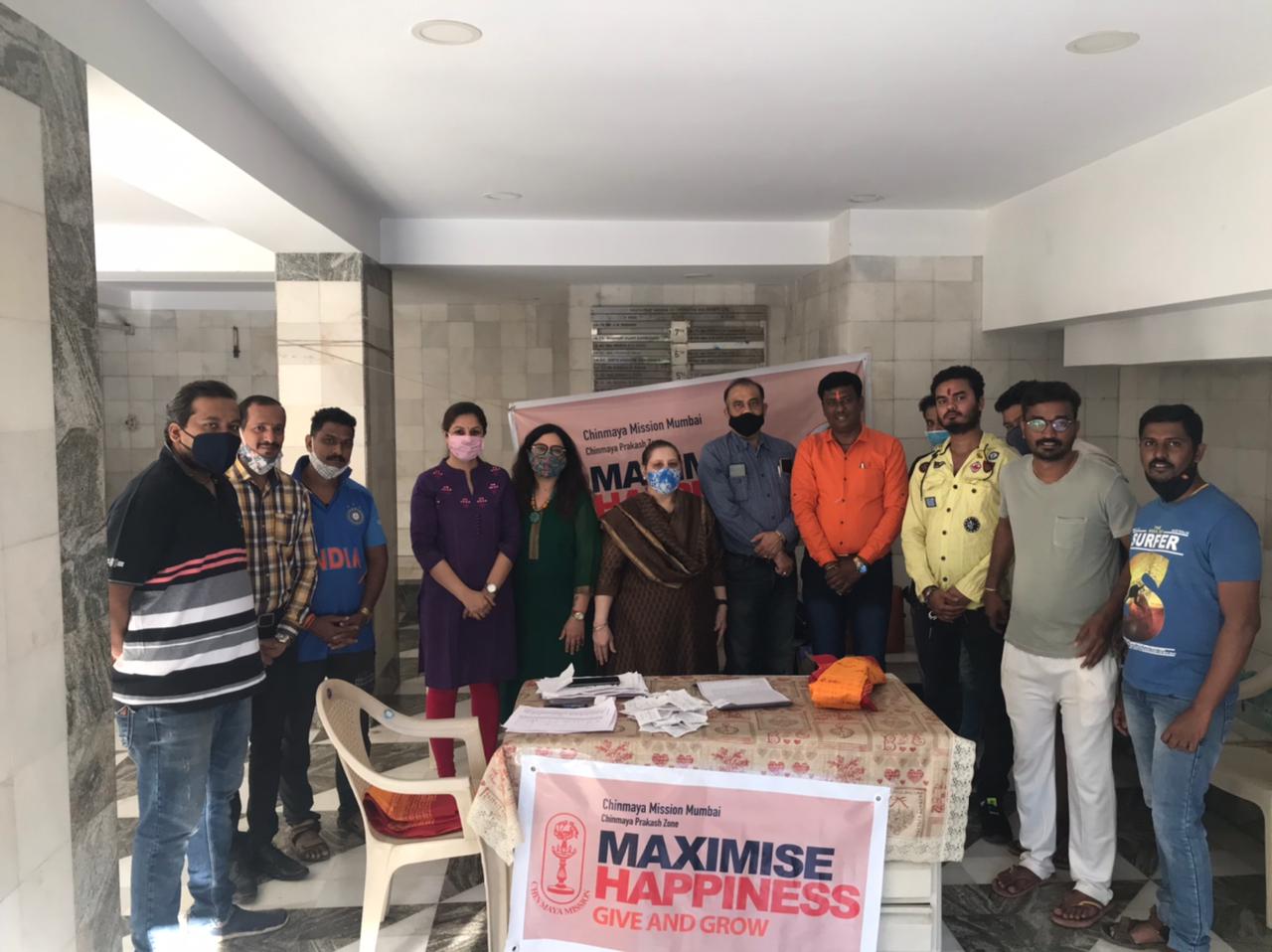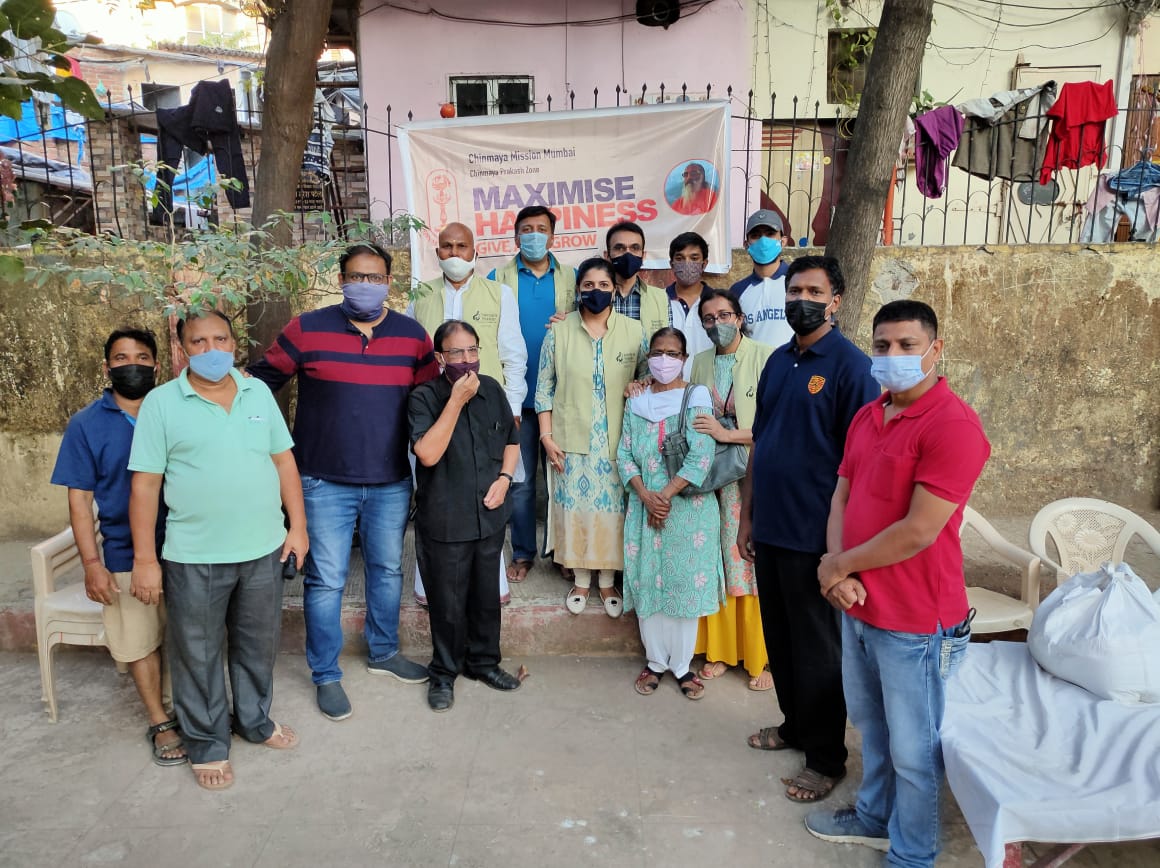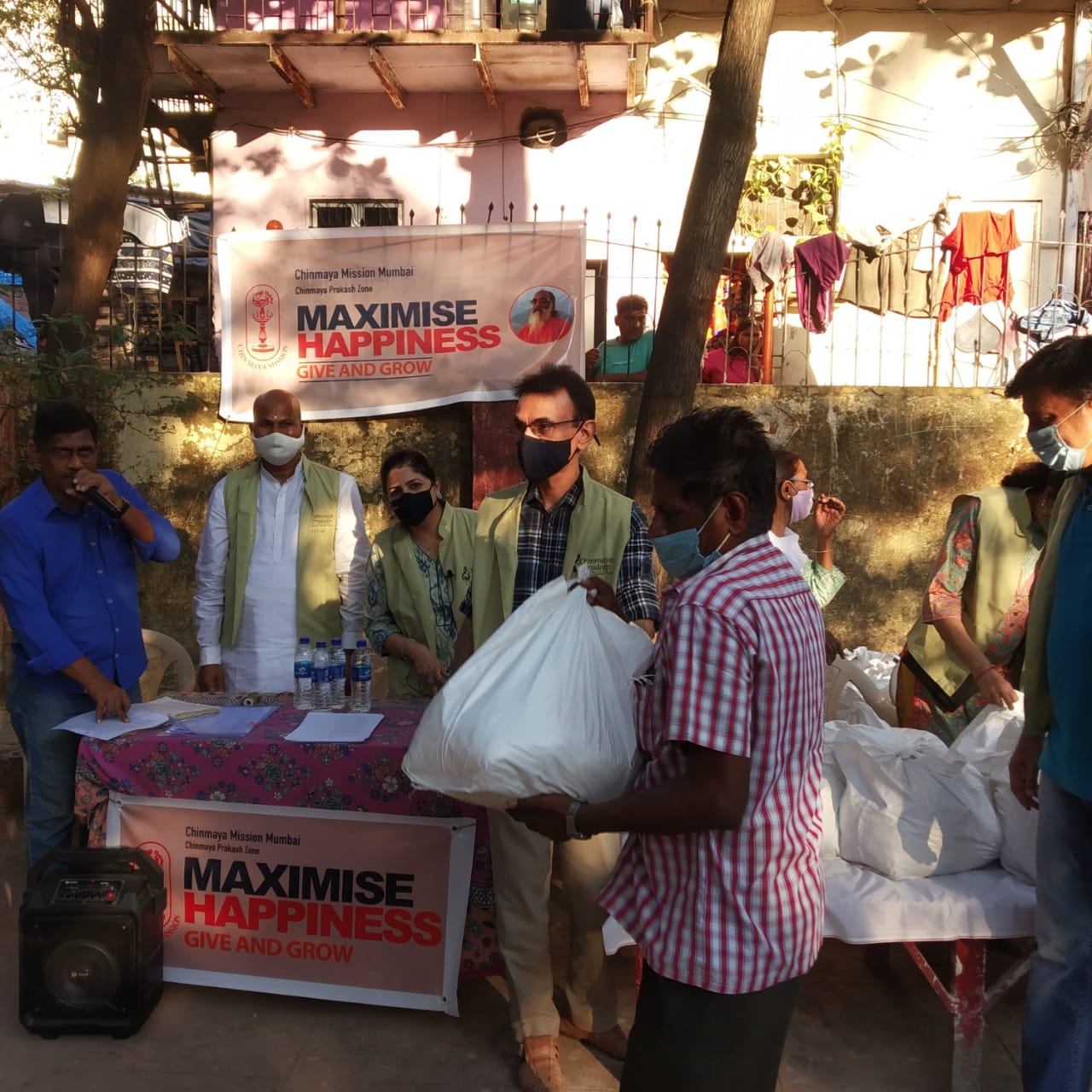 SAGAR ZONE
As part of the Maximise Happiness - Annadaan Seva programme, rations consisting of rice, wheat flour, dals, sugar, oil, rava totalling over 10 kgs each were distributed to 220 needy ladies at Stree Mandal, a 113 year old organisation engaged in the upliftment of women.
It was an extremely memorable occasion as Swami Swatmananda ji highlighted our Mission, the Maximise Happiness campaign, and the deeper aspects of the Annadaan Seva being carried out by our Mission. He also explained the important points that constitute Daan as per our Shastras.
The occasion was graced by Mrs. Neerja Birla and her daughter Advaitesha Birla who joined Swamiji in distributing the Annadaan kits to the ladies. Smt. Neerja Birla expressed her gratitude for being able to participate in this function.
All the lady beneficiaries expressed their deepest gratitude for our Annadaan distribution specially in such trying times. Shri. Vipul Dalal, Smt. Sujata Murali & Shri. Jagdeesh Jaisinghani were also present.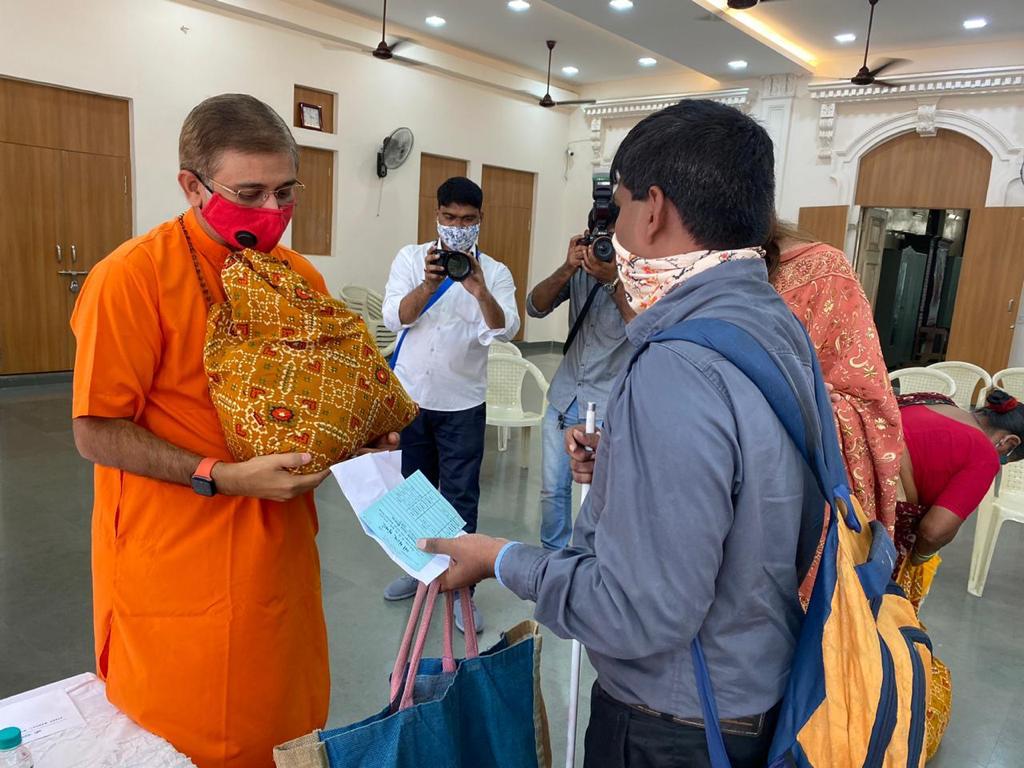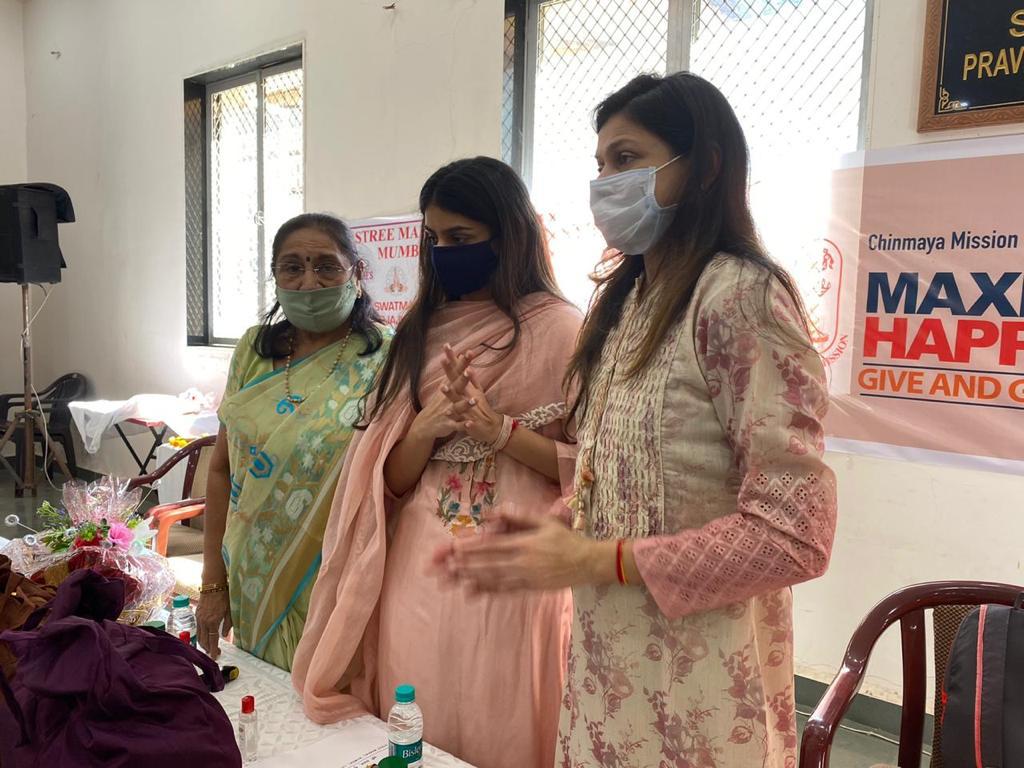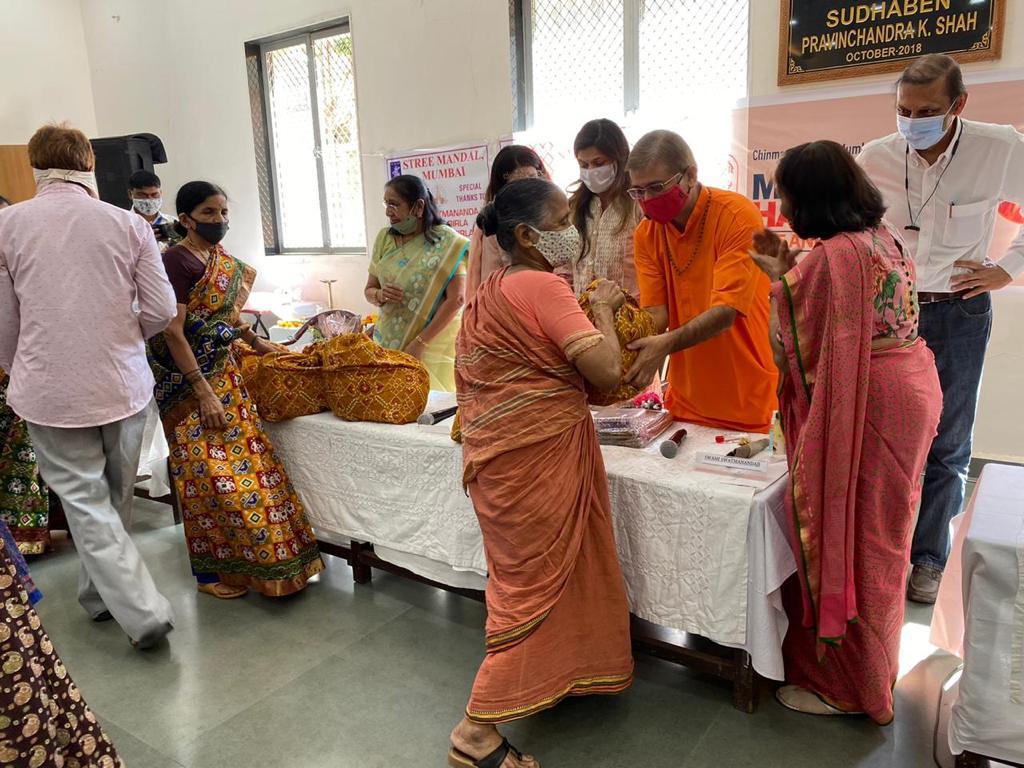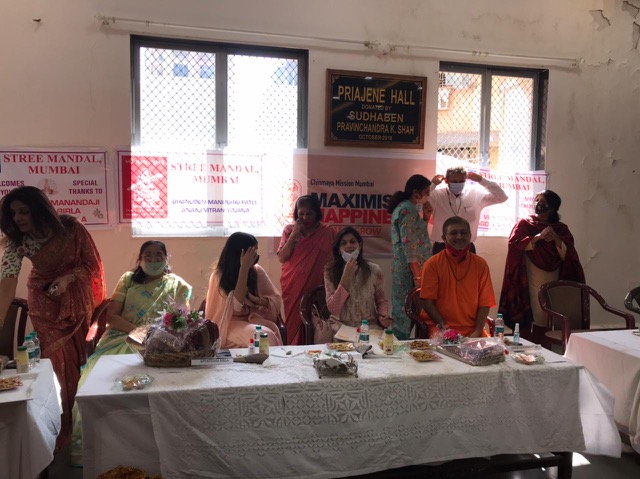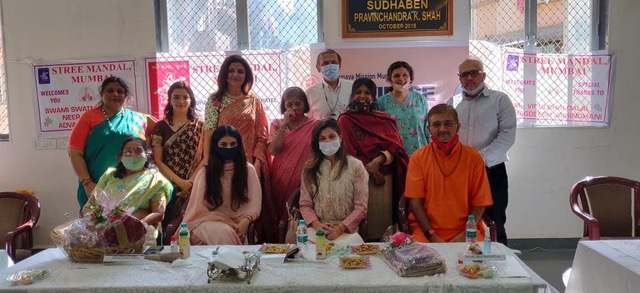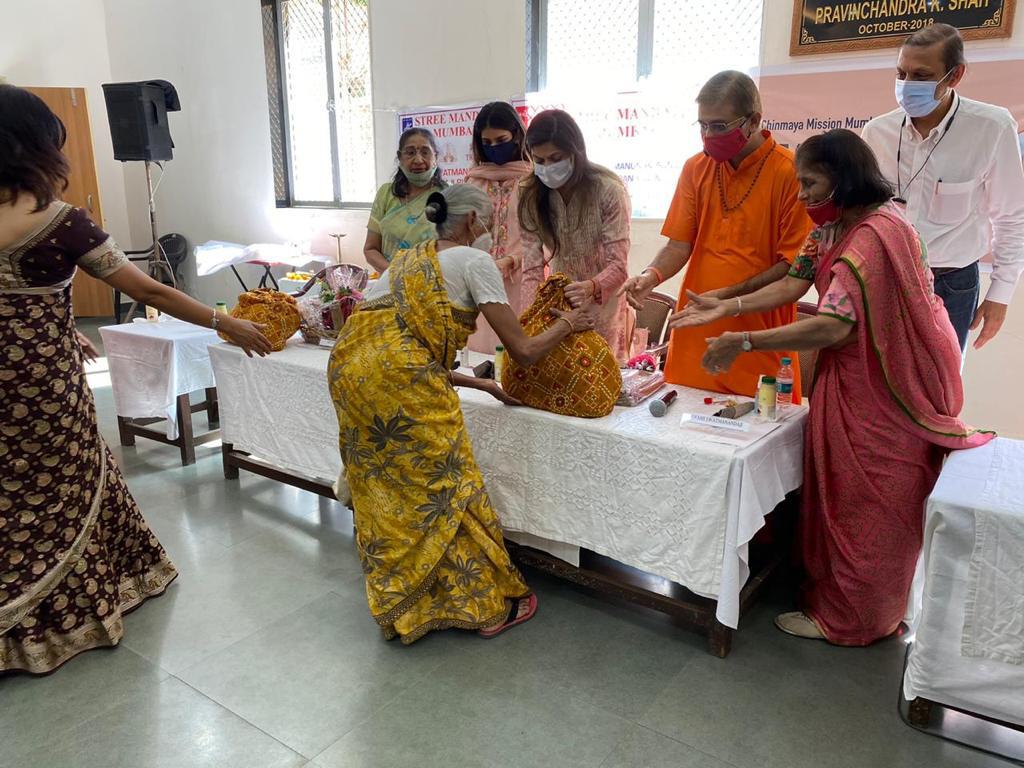 NARAYAN ZONE
"Annadanam" means feeding the hungry and needy". Vedas, Upanishads, Ramayana and Mahabharata - all declare ANNA DAANAM as MAHAA DAANAM. Gaja turaga Sahasram | Gokulam koti danam | Kanaka Rajatha patram | Methini sagarantham | Upaya kula vishuttam | Koti kanya pradanam | Nahi nahi bahu danam | Annadanam samanam || Meaning: Even if one gifts 1000 elephants, horses or gifts 10 million cows or any number of vessels of silver and gold, gifts the entire land till sea, offering the entire services of the clan, helps in the marriage of 10 million women, all this is never ever equal to Annadaan. (Lord Krishna advises Yudhishtira to do Annadaan while explaining the essence of the erudite talk by Bhishma Pitamaha on Daan @ Shanti Parva of Mahabharata, "The World, both animate and inanimate, is sustained by food. The giver of food is the giver of life and indeed of everything else.")
All holy texts of all religions talk about the greatness of feeding the poor. Service to human is service to God. Serving food to the hungry is equal to effect of performing a maha yagna. Chinmaya Mission, Mumbai, Narayan Zone, in view of the above engaged in Annadaan seva in various locations on Sunday, 17th January 2021.
With the Lord's and Pujya Gurudev's grace, Chinmaya Narayan completed Anna Daan project by giving 900 kits to beneficiaries. Brni. Prachiti Chaitanya graced the occasion by handing over the kits at four locations. Everything was planned very meticulously and the seva went off well with military precision & timing, following all safety and social distancing norms. The location in charges took complete charge of the seva and performed it so efficiently with the support of the motivated volunteers.
Annadaan seva was performed in 6 locations in Chinmaya Narayana Zone:
Saraswati Vidyalaya, Chembur
Modern English School, Chedda Nagar
Dharmishta Mitran, Chedda Nagar
Lakshmi Nagar, Ghatkopar East
Kamraj Nagar, Ghatkopar East
Sankalpa Seva Sangh, Ghatkopar East
Shri. Ram Murti Ji, Shri. Rajsekhar Ji, Shri. Vinayak Kamath Ji & Captain Swaminathan were the inspired and inspiring Location in charges. The President of the zone Shri. Prasad Deole along with Smt. Manisha Deole visited different locations and supported the seva initiative. The inspired volunteers include the senior Mission members like Shri. Someshwar, Smt. Indira Someswar, Smt. Latha Rasekhar, Smt. Shyamala Acharya, Smt. Ujjwala Sethna, Sri. Ramkumar, Smt. Sunita Ramkumar, Smt. Suchitra, Sri. Joy Naidu, Smt. Uma Sundaram, Sri. Sundaram, Smt. Nita Kedia, Smt. Anupama, Smt. Jeeja Menon, Smt. Nityamukta, Sri. Sanjit Rao, Smt. Shailaja, Smt. Gayatri, Smt. Sujata and Smt. Suvarna and a few more enthusiastic volunteers.
Chinmaya Mission thanks all the donors of the Maximize Happiness campaign because of whom the Mission could take up such divine and mega projects.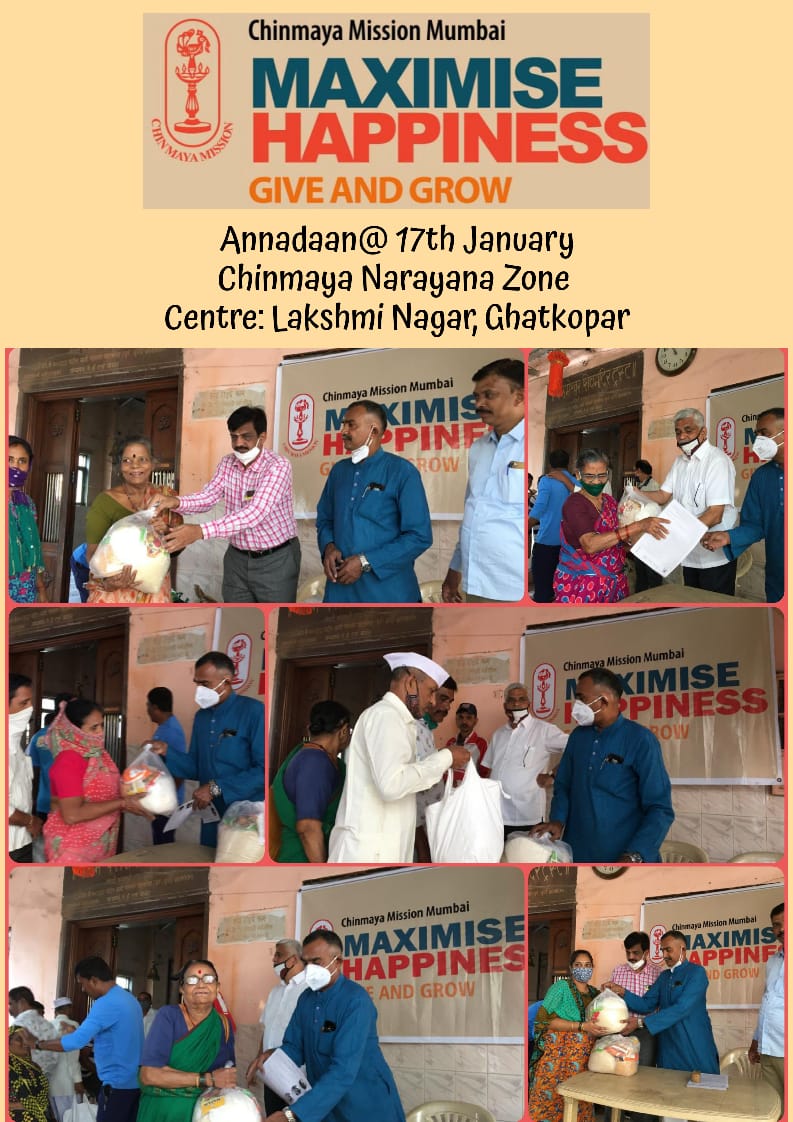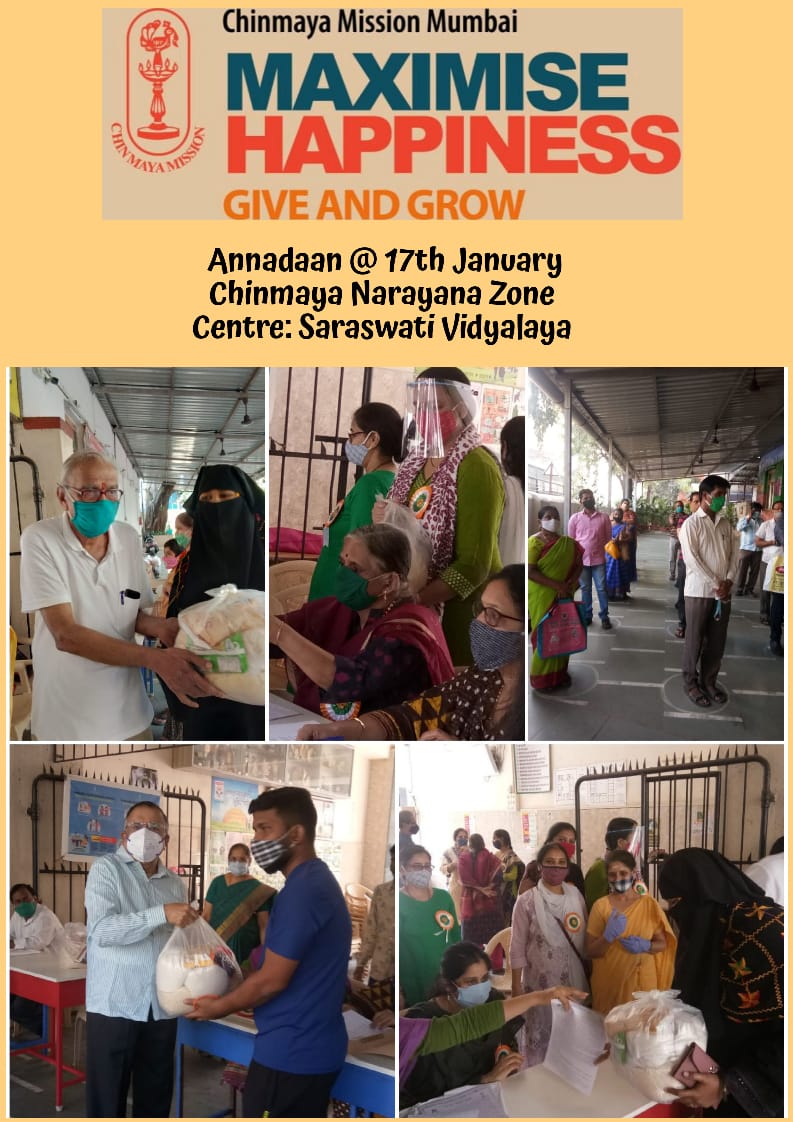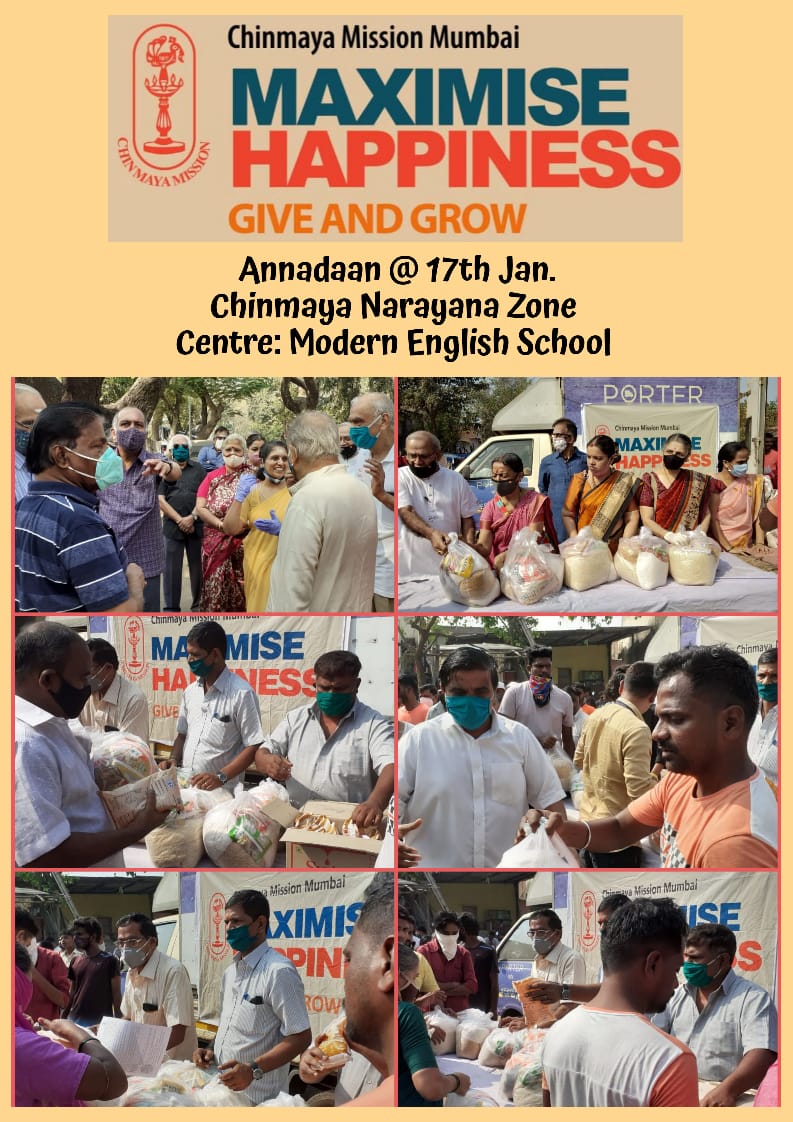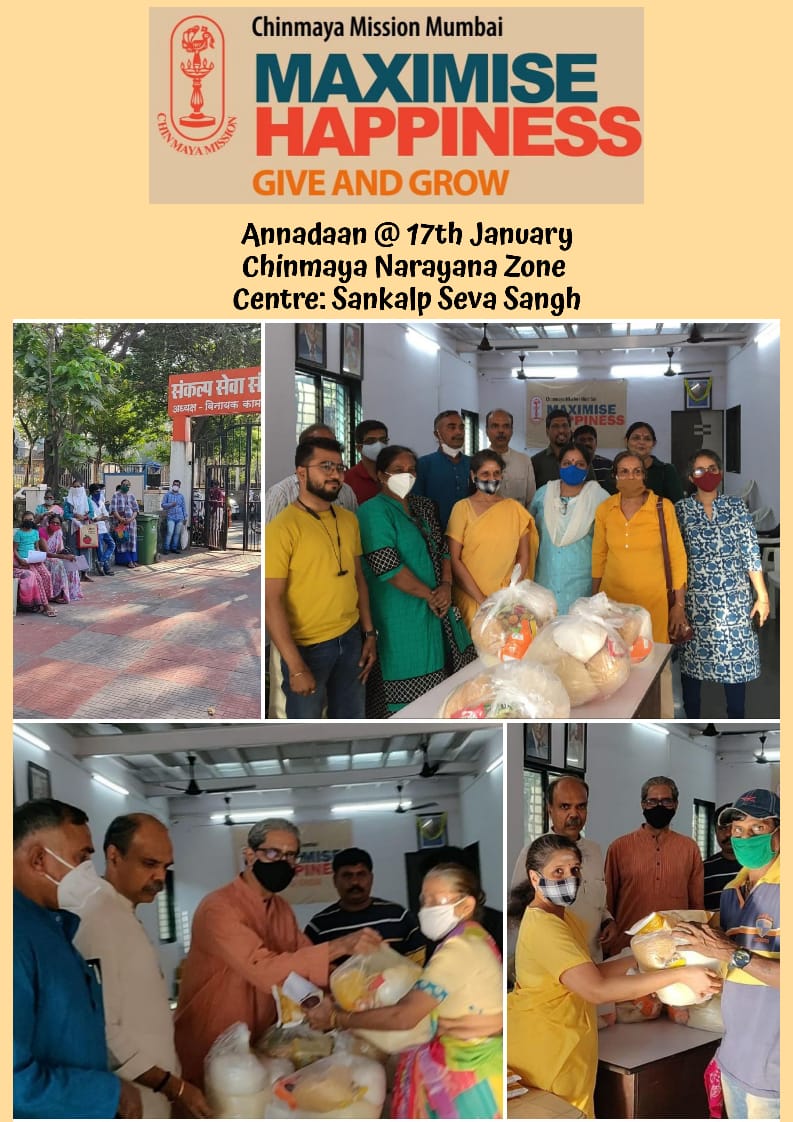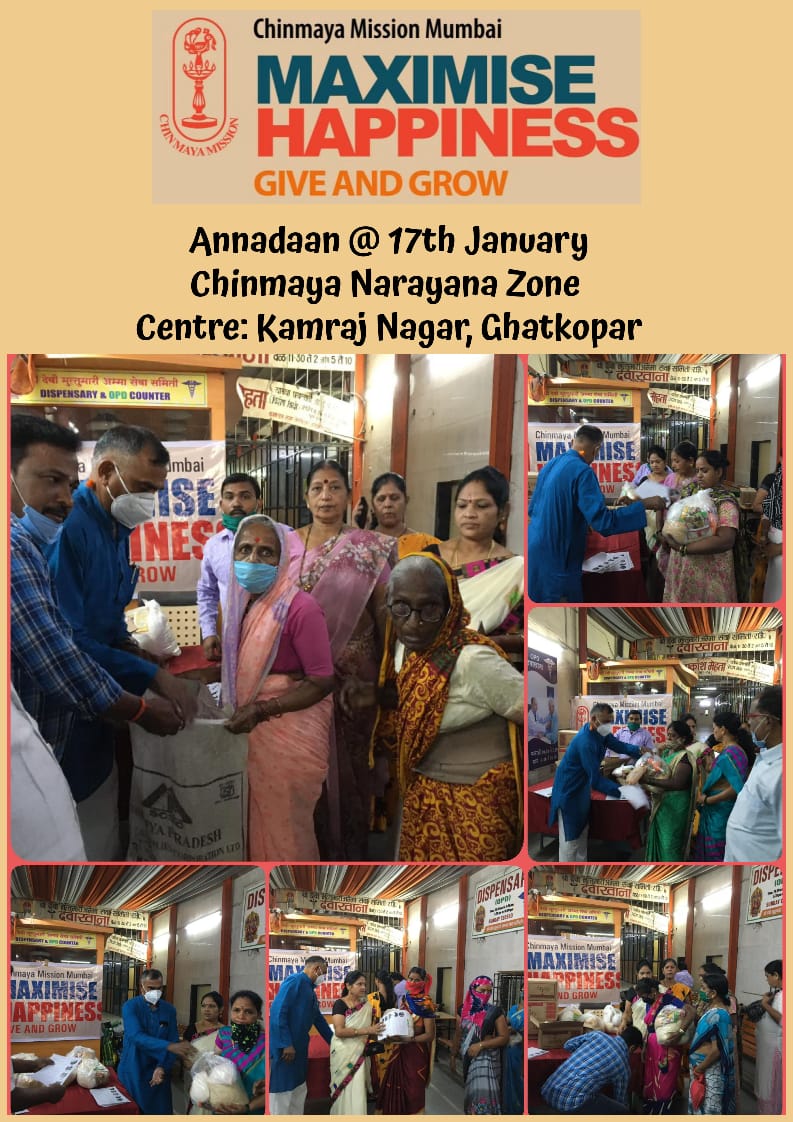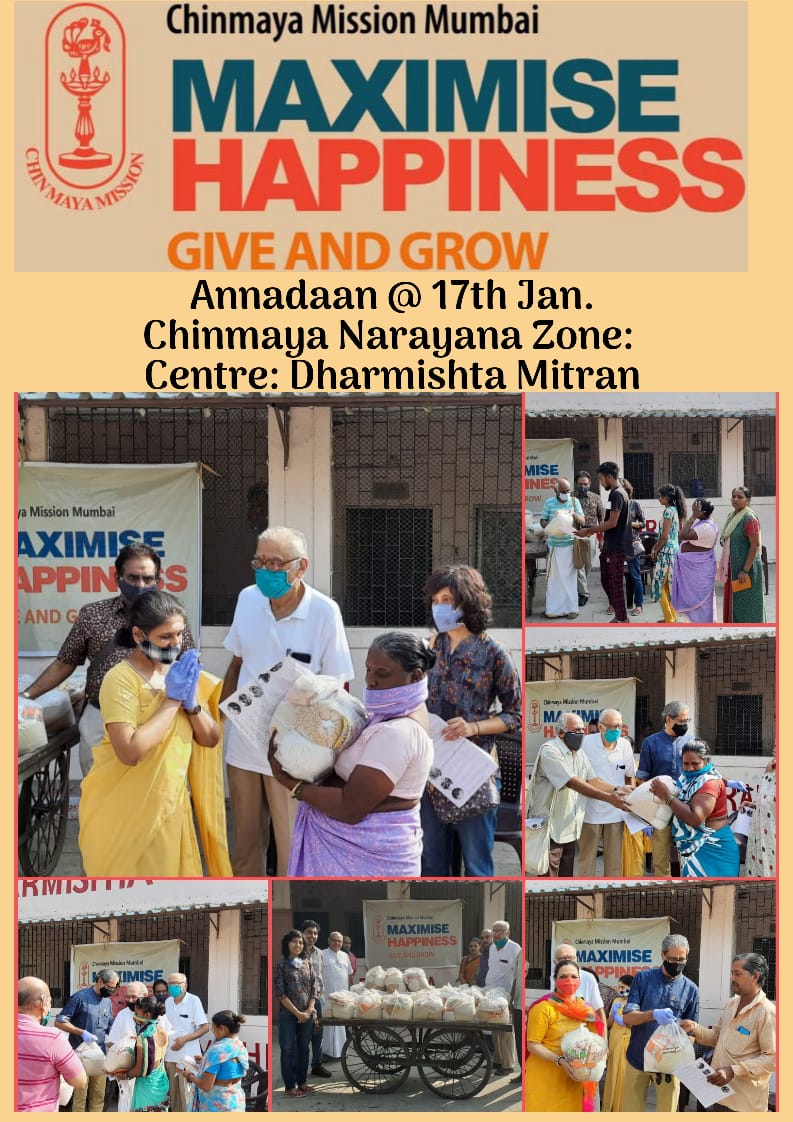 JAYAM ZONE
With the grace and blessings of Pujya Gurudev AnnadaAn seva was done by Chinmaya Mission, Jayam zone as part of its Maximise Happiness initiative on 17th January 2021, at Akhil Hind Mahila Parishad, Santacruz East, which runs a Day Care centre for senior citizen ladies, Balawadi and e-learning center for children of 6th and 7th standards.
Grocery was distributed to 55 needy ladies in the presence of Swamini Krishnapriyanandaji. Looking at their smiling and happy faces we felt that it is the happiest moment of life. It is said that "To be happy give happiness to others. It was a great opportunity for us as volunteers to do the seva. We thank Swami Swatmananda ji for taking up the initiative and guiding us at every level. We thank Shri. Bharatbhai Shah and the entire committee and the donors for their support
As Pujya Gurudev said "Happiness is in giving" . Give......Give...Give!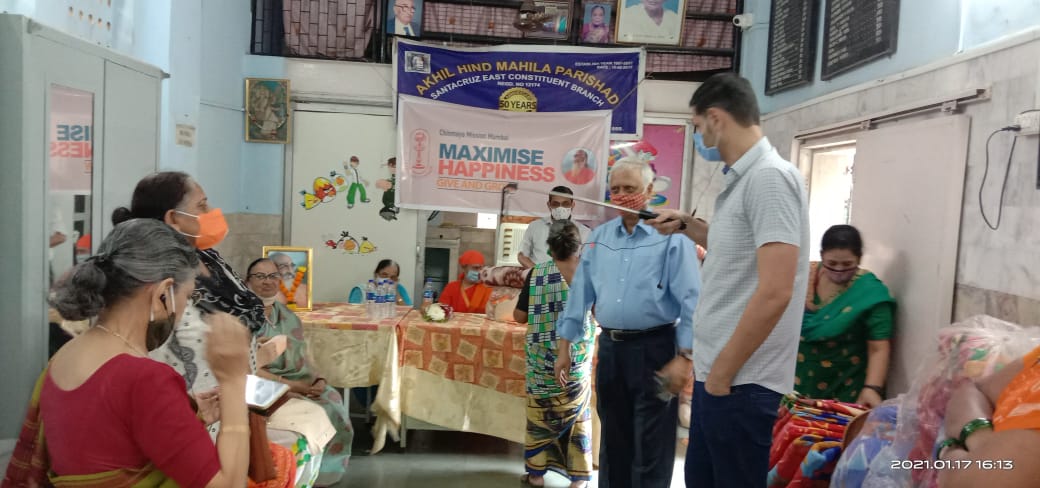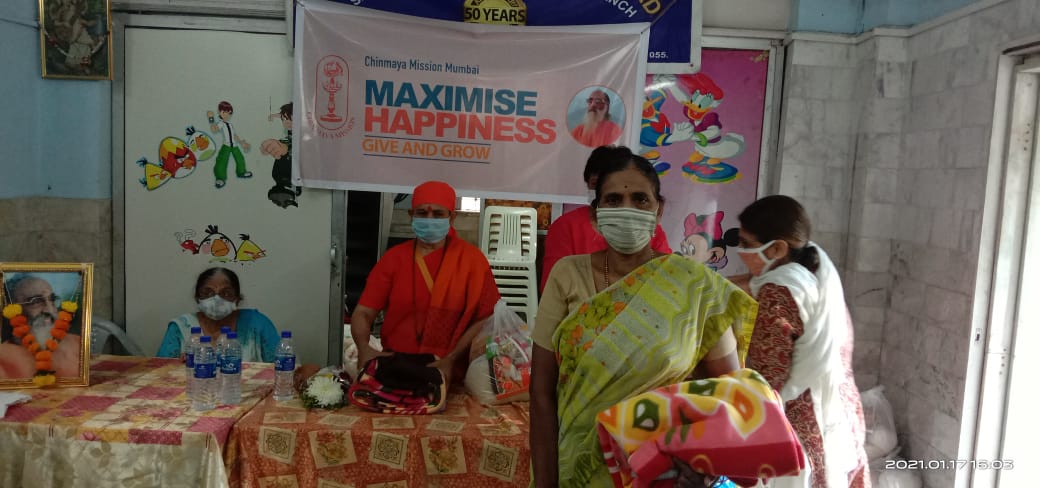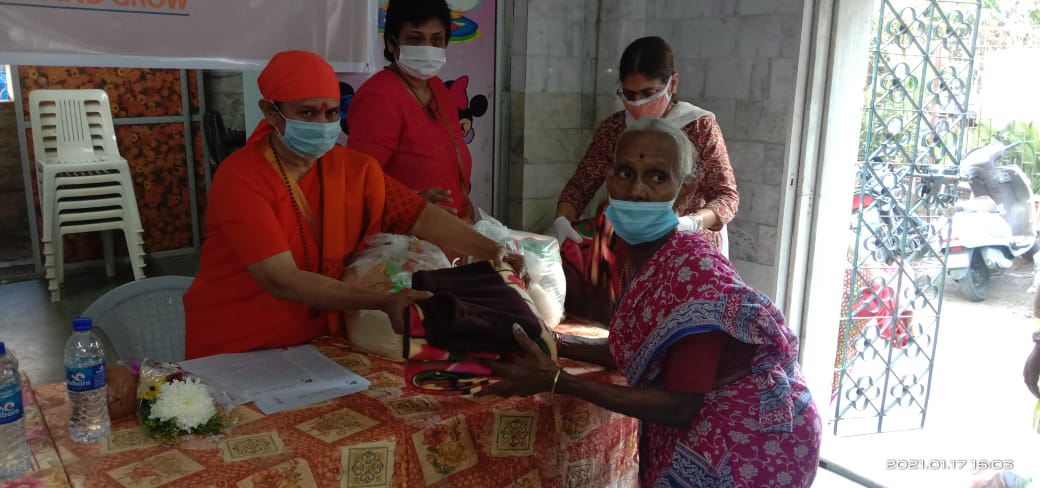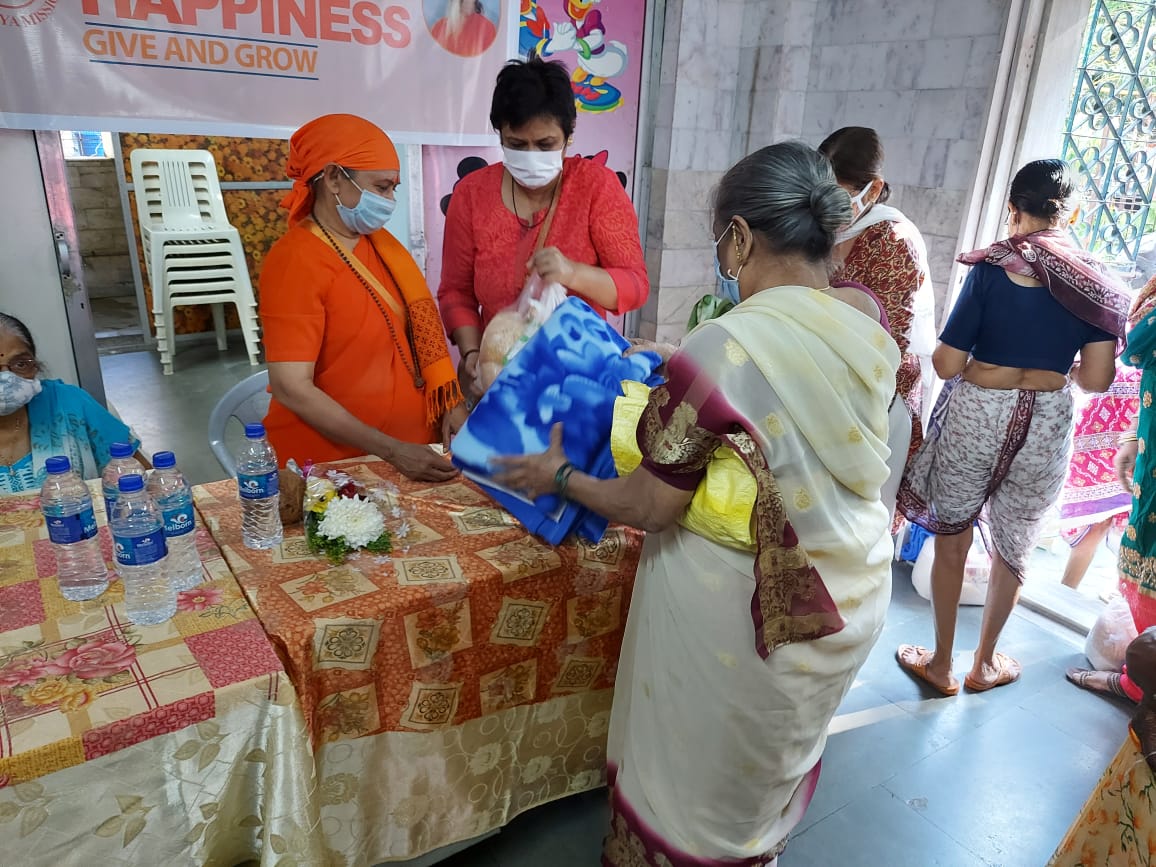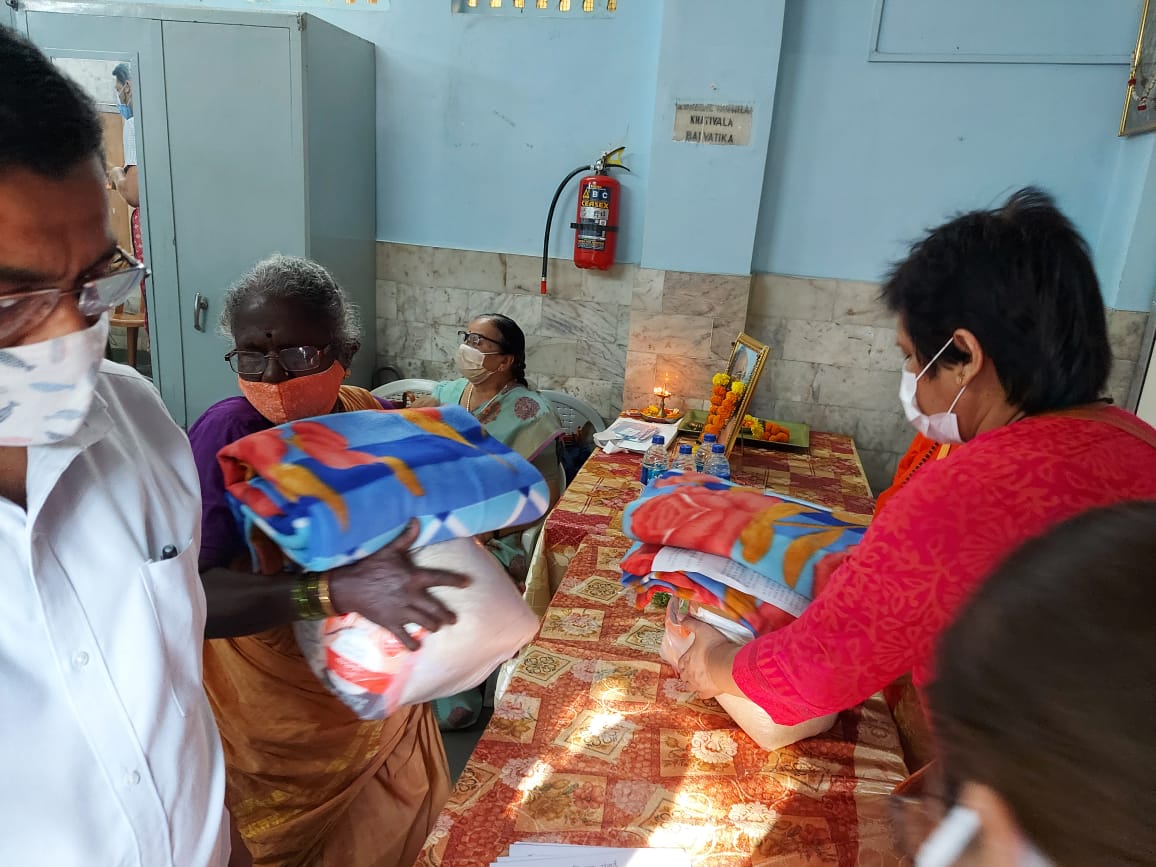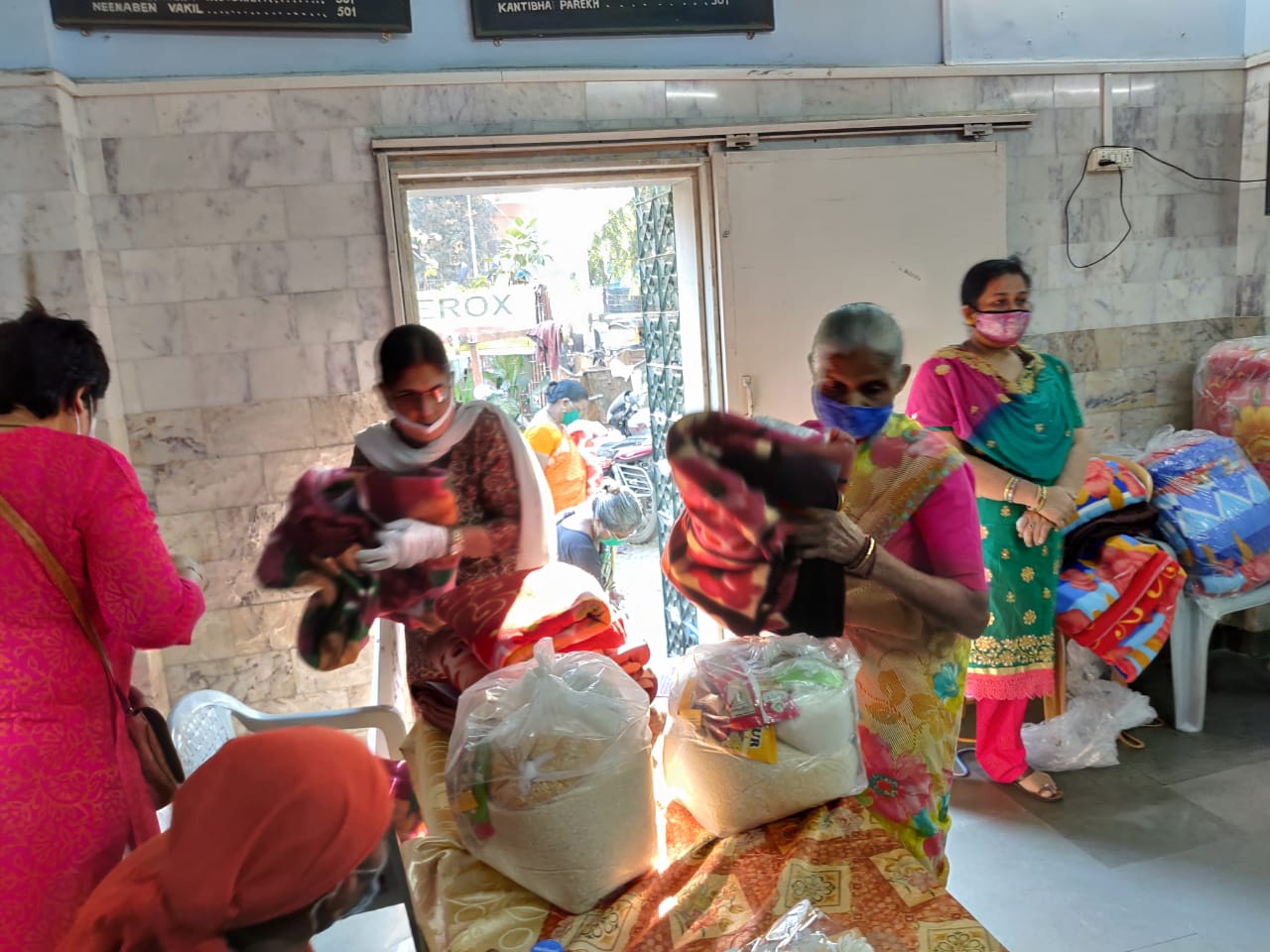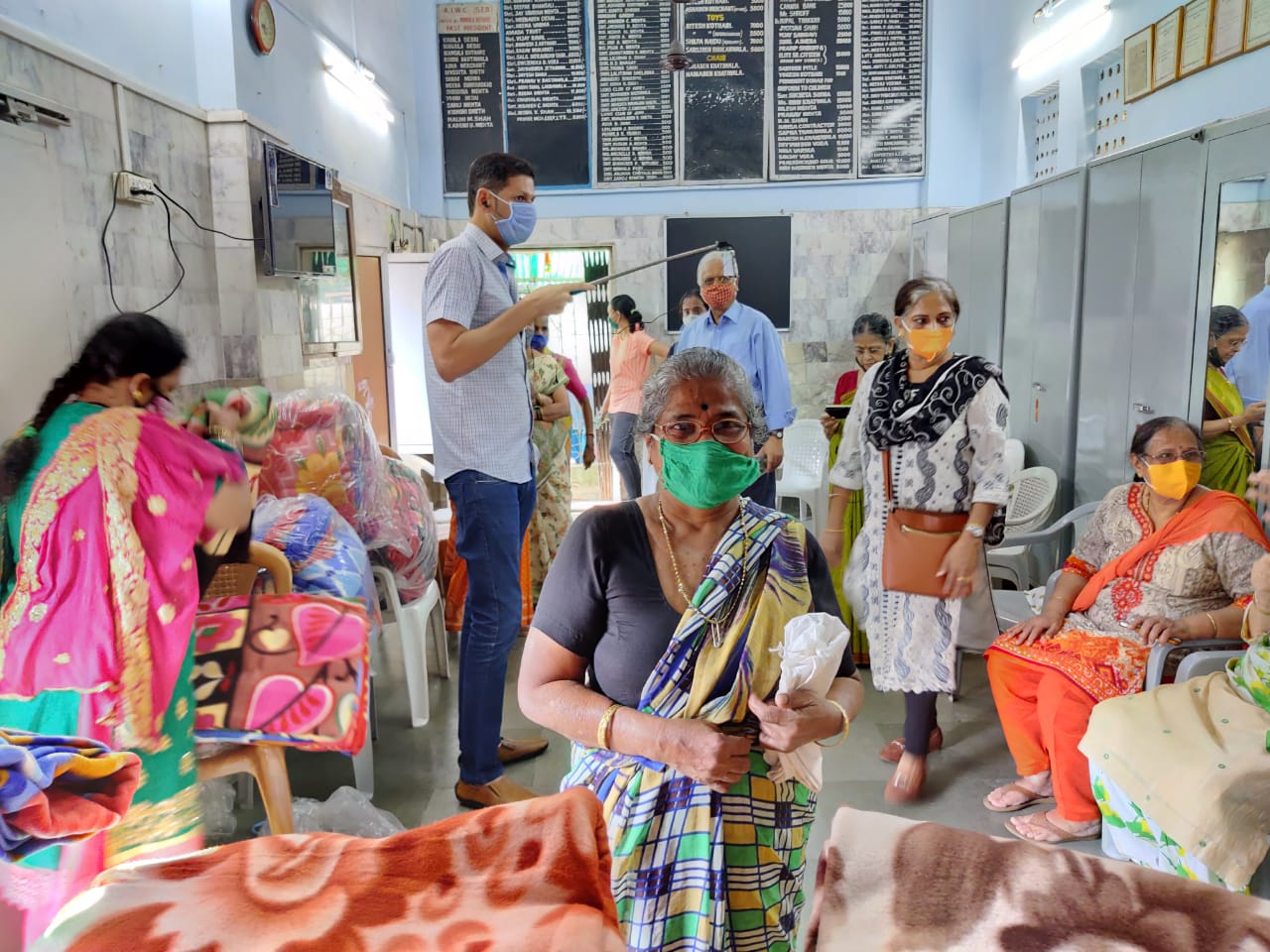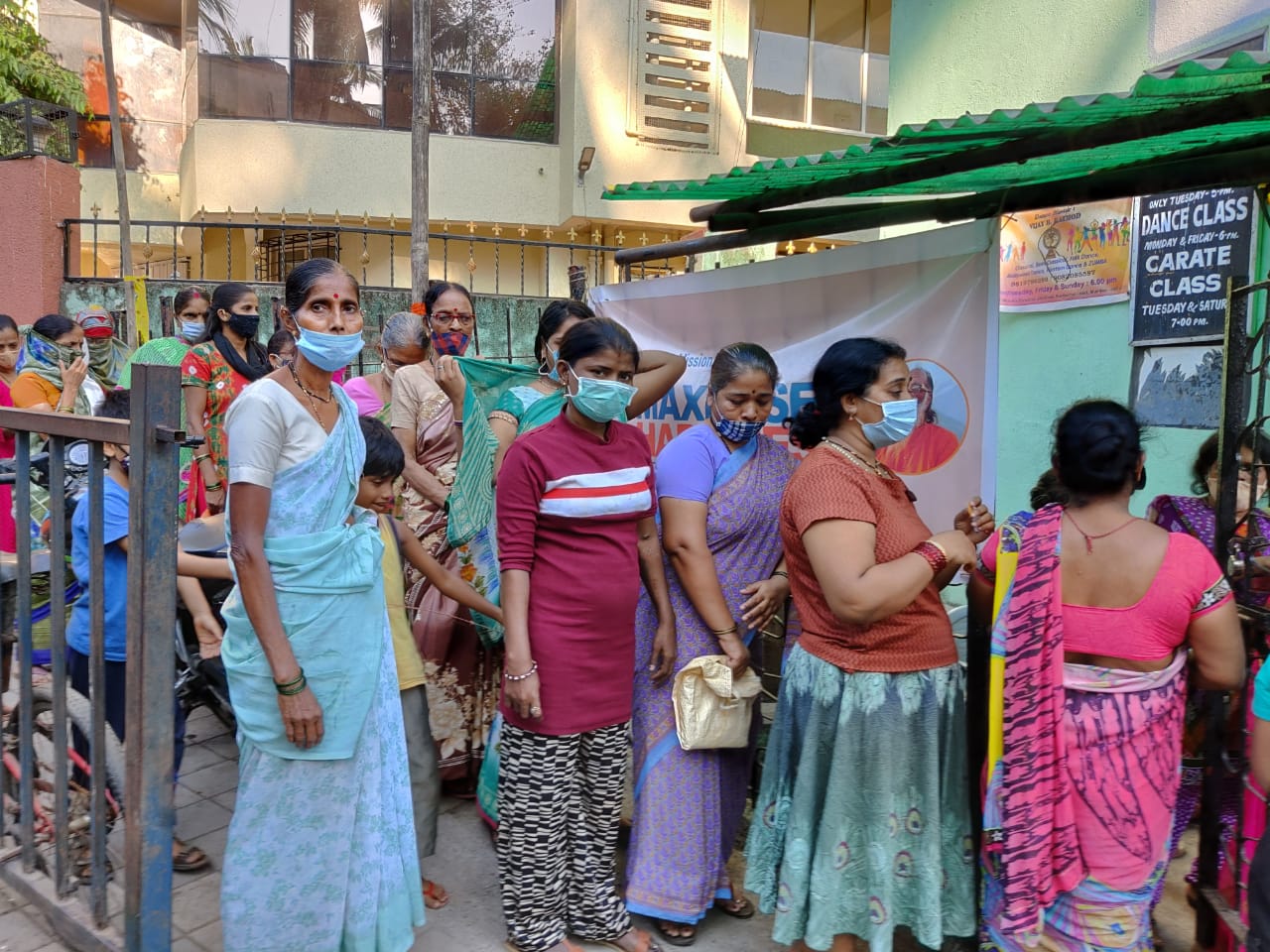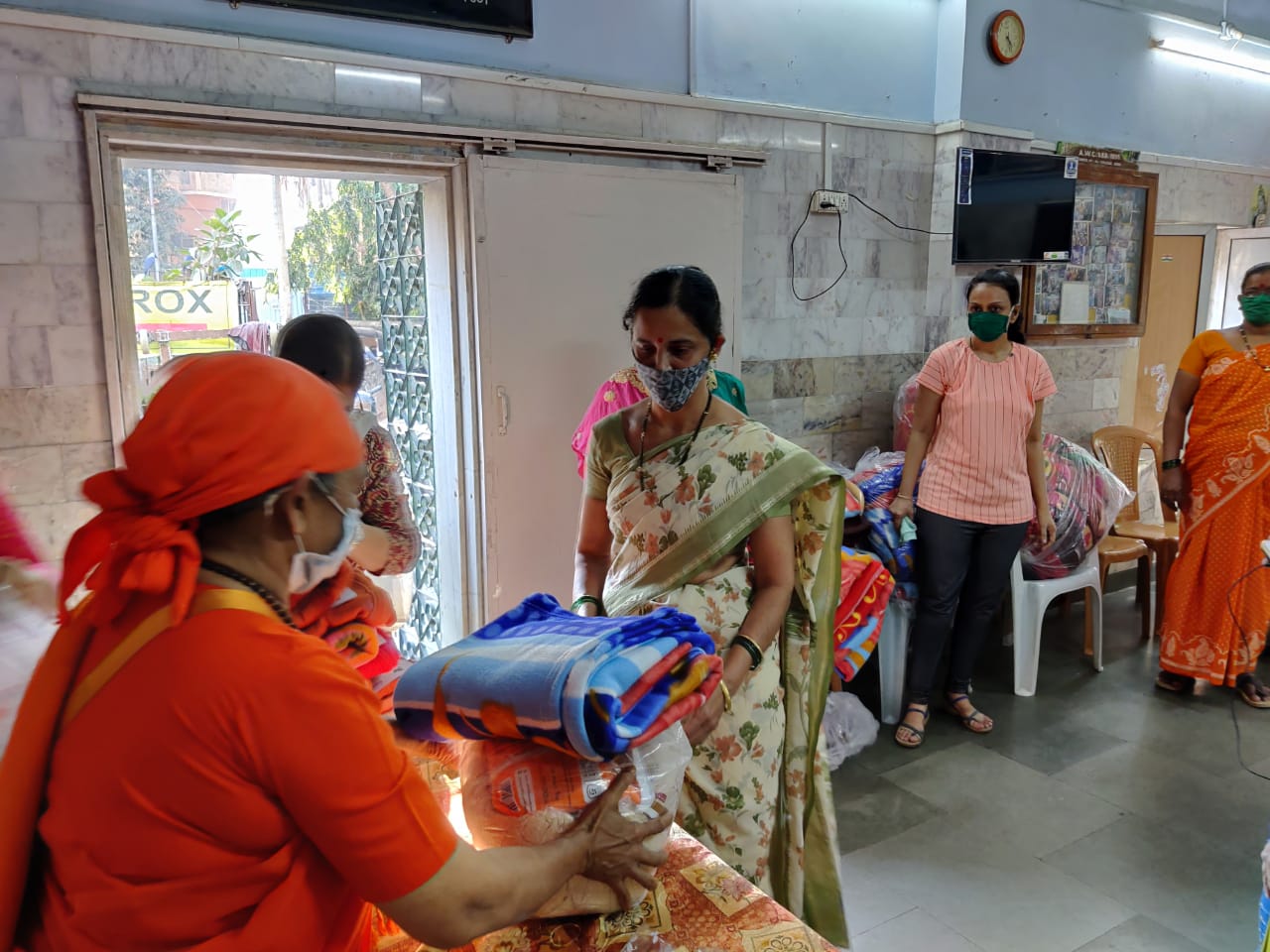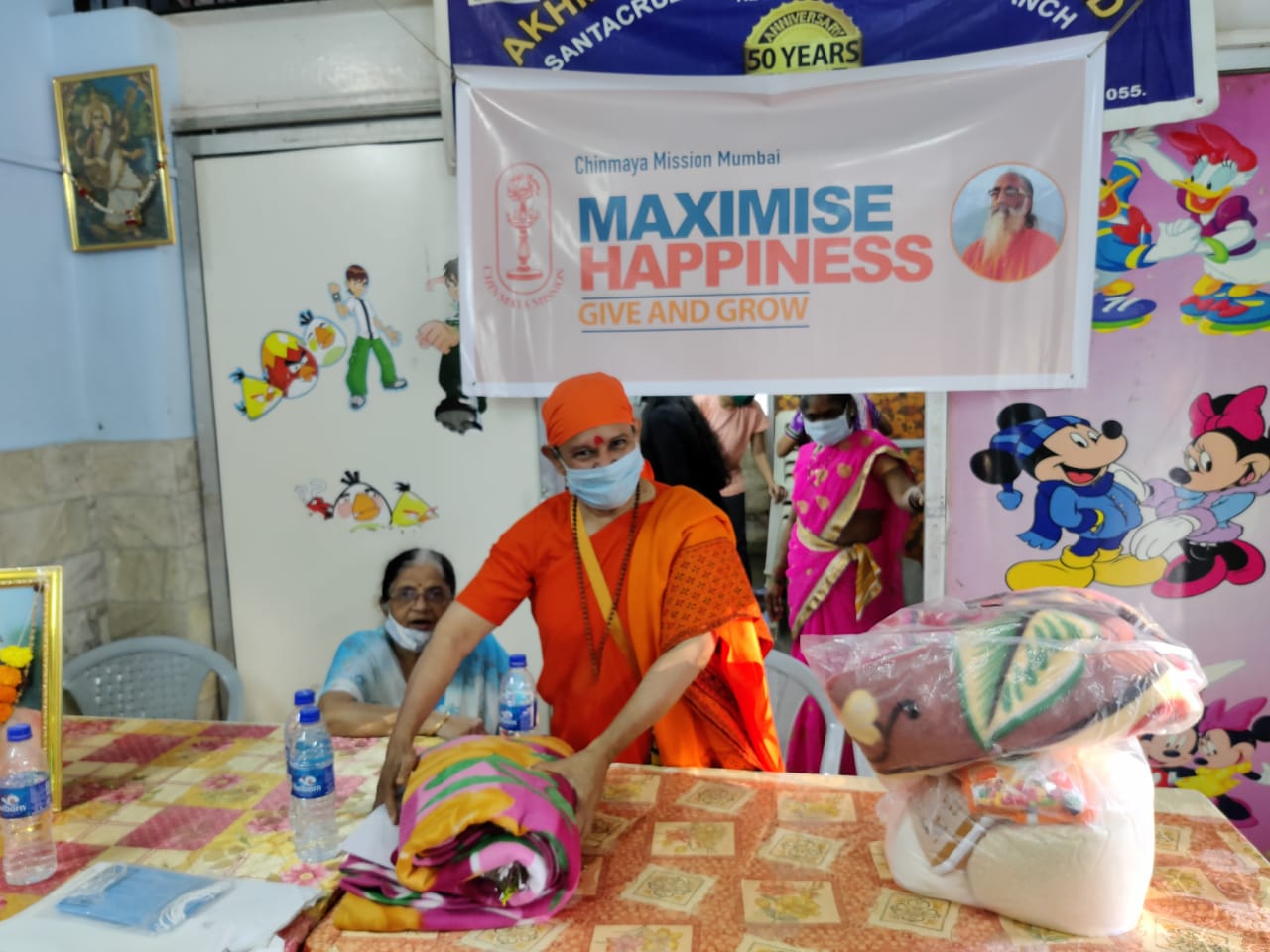 JAGDEESHWARA ZONE
By the grace of God and blessings of Pujya Gurudev, Swami Chinmayananda, an Annadaan drive was successfully conducted on the 17th January 2021, in the auspicious month of Uttarayan as a Seva by the Jagadeeshwara zone of the Chinmaya Mission under the Maximise Happiness initiative.
Ration kits comprising of the following items
DAL 1kg
RICE 5 kgs
SUGAR 1kg
COOKING OIL 1ltr
SALT 1kg
ATTA 1kg
TURMERIC 100gm
CORIANDER 100gm
RED CHILLY 100gm
were distributed.
The beneficiaries of the ration kits are 1400 tribal ladies from the padas of Aarey village, Mumbai and this will last them a month.
These ladies are primarily domestic help , construction site labourers and housewives, whose survival had become challenging on account of the pandemic. In addition 150 policemen of the vicinity, our frontline warriors, were given the same ration kits.
Smt. Nutan Bhalla was in constant touch with Naata foundation, a social organization in Aarey and our endeavour was facilitated by their identification and logistical support .
Prasad Pustikas in Marathi ,Hindi and English were distributed by Swami Swatmananda to the volunteers of Naata foundation and guests who came to visit and lend support to the drive.
Pamphlets defining and highlighting core activities of the Chinmaya Mission are also distributed towards creation of awareness.
Swami Swatmananda ji inspired, motivated and led the seva team of Jagadeeshwara zone committee members Smt. Nutanji, Smt. Prernaji, Shri. Sunilji, Shri. Sudeepji , Shri.Roopeshji, Smt. Sheelaji, Smt. Geethaji, Smt. Anitaji, Smt. Akhilaji, Shri. Ajayji, Shri. Aravindji, Shri. Deepakji and Chyk Seva volunteers Shri.Tapan Ji and Rashmiji.
All were present through the day to serve and see the seva to its conclusive end .
Shri. Amar Jaisinghani supported throughout the endeavour .
Chinmaya Seva Trust is grateful to all donors and supporters, to the volunteers, the grocery agencies, Mahavir Enterprises, and Kamani oils, the transport agency, Saurabh for the wonderful inspiring photographs, Naata foundation and the recipients for this Seva opportunity.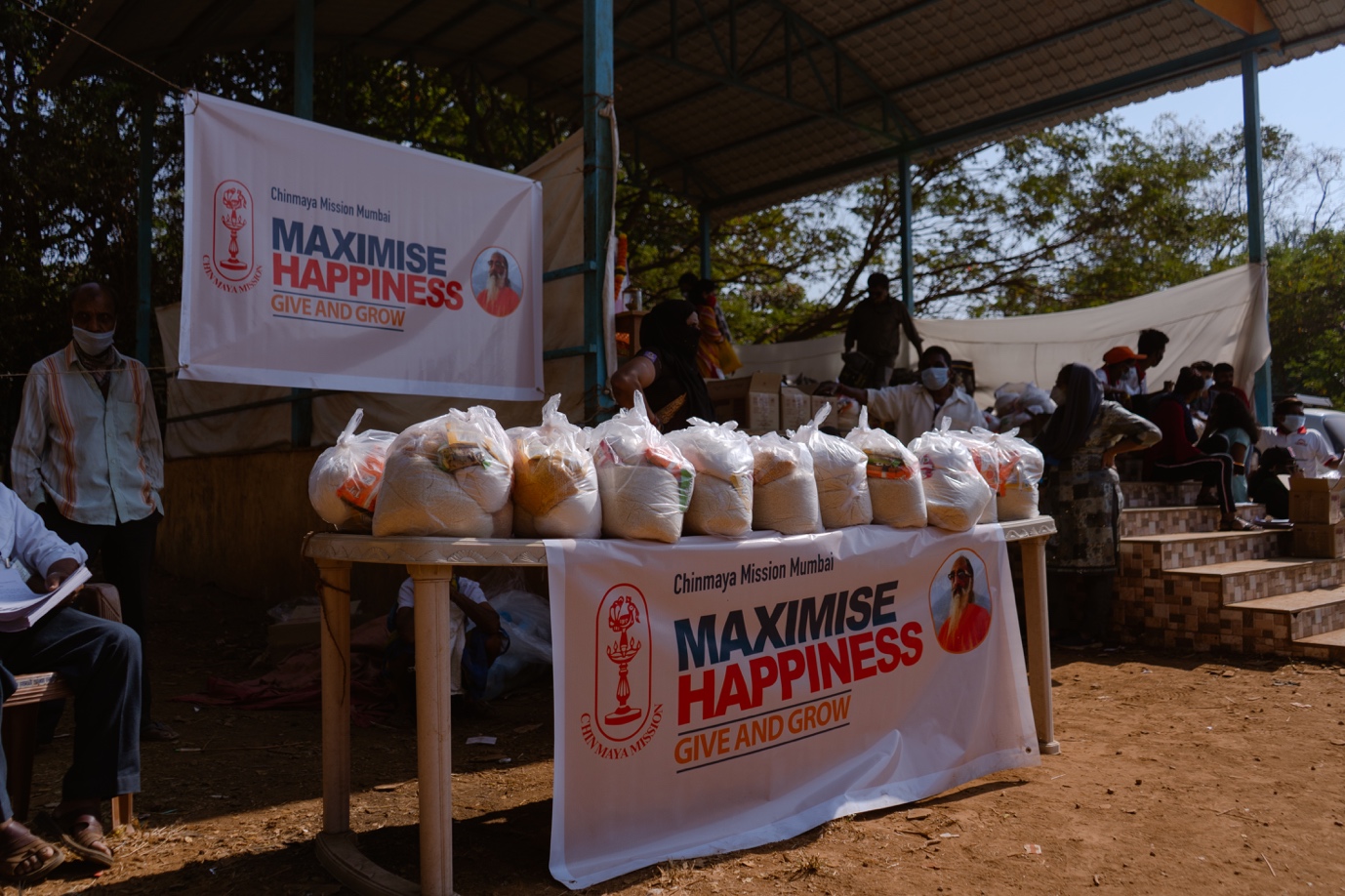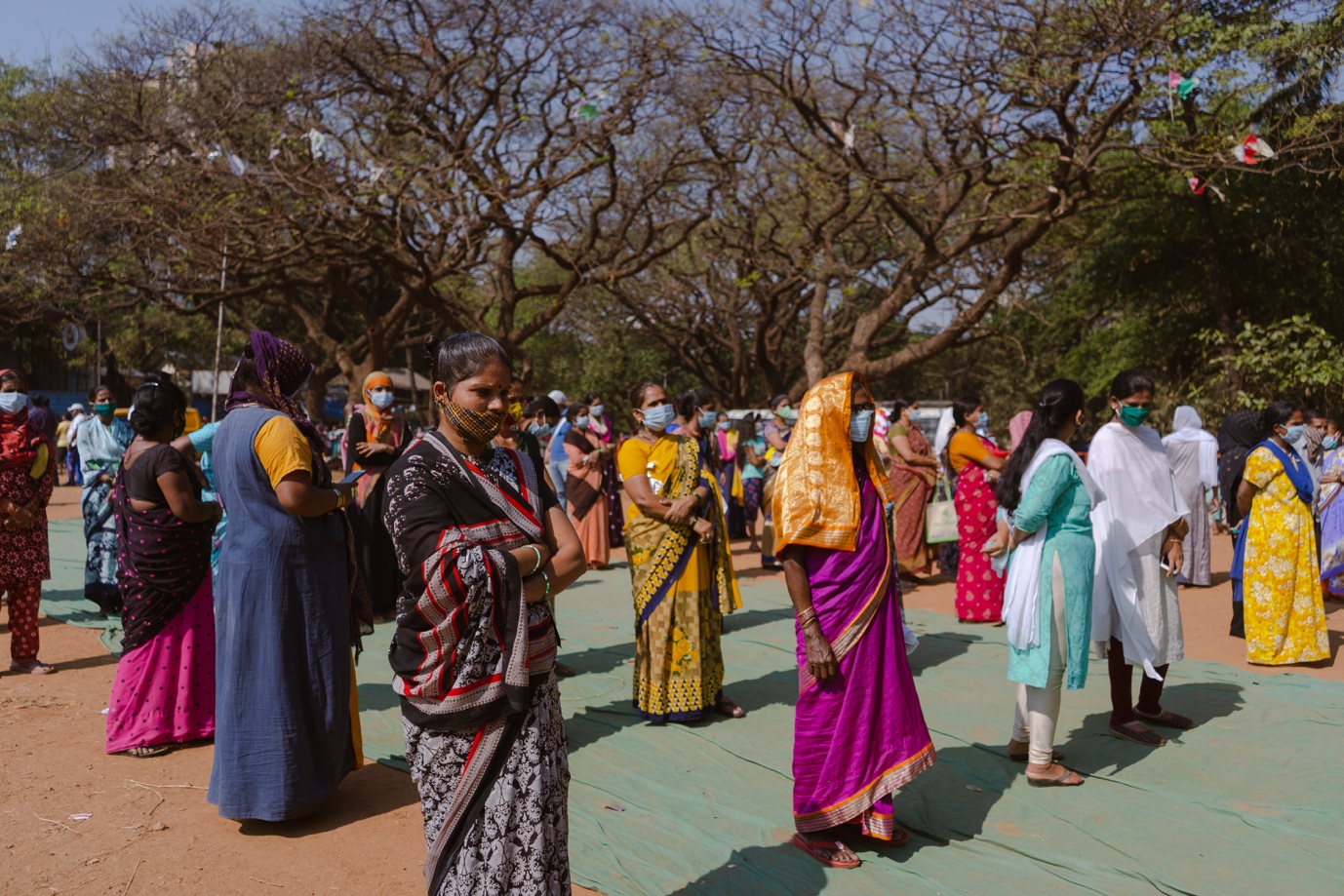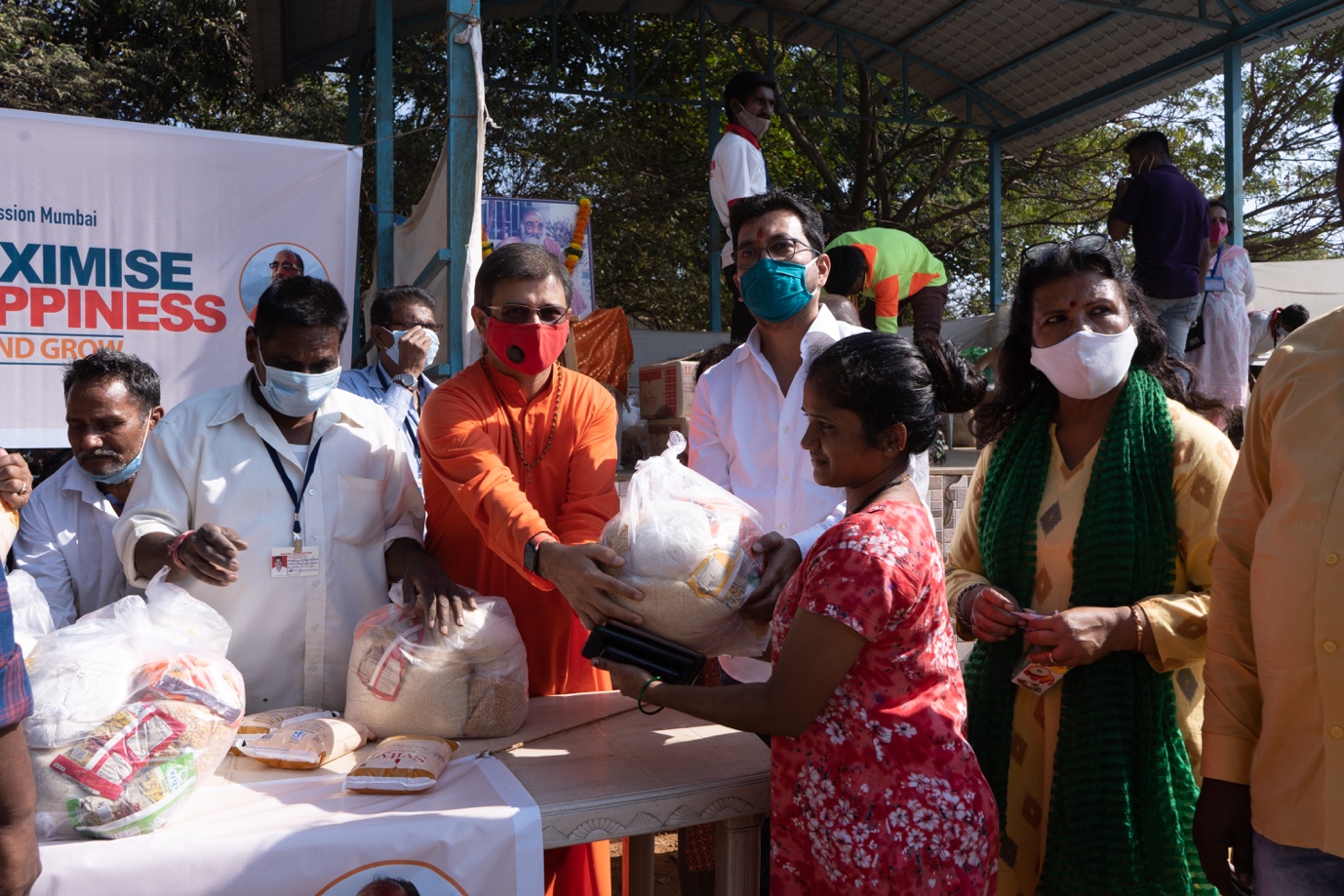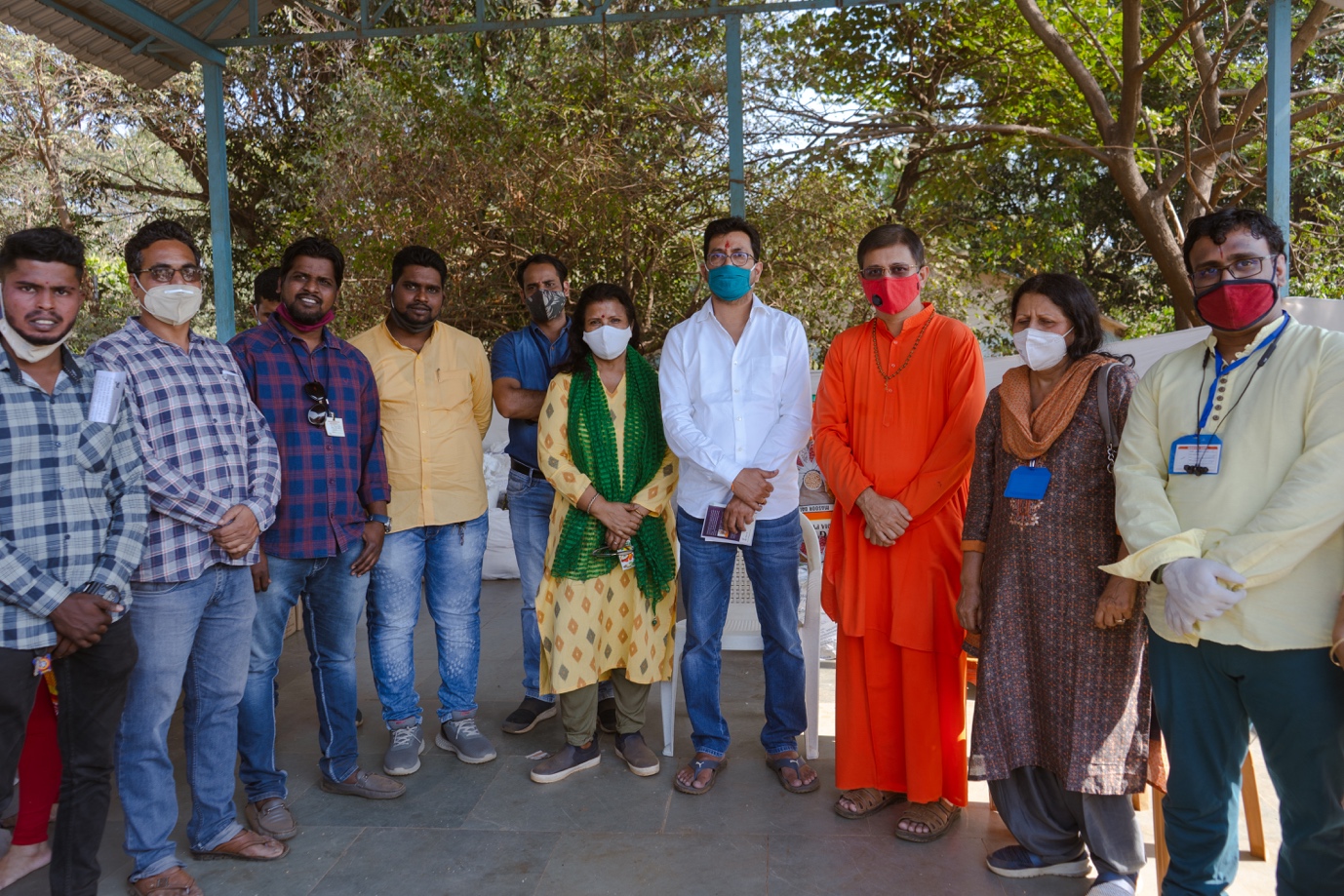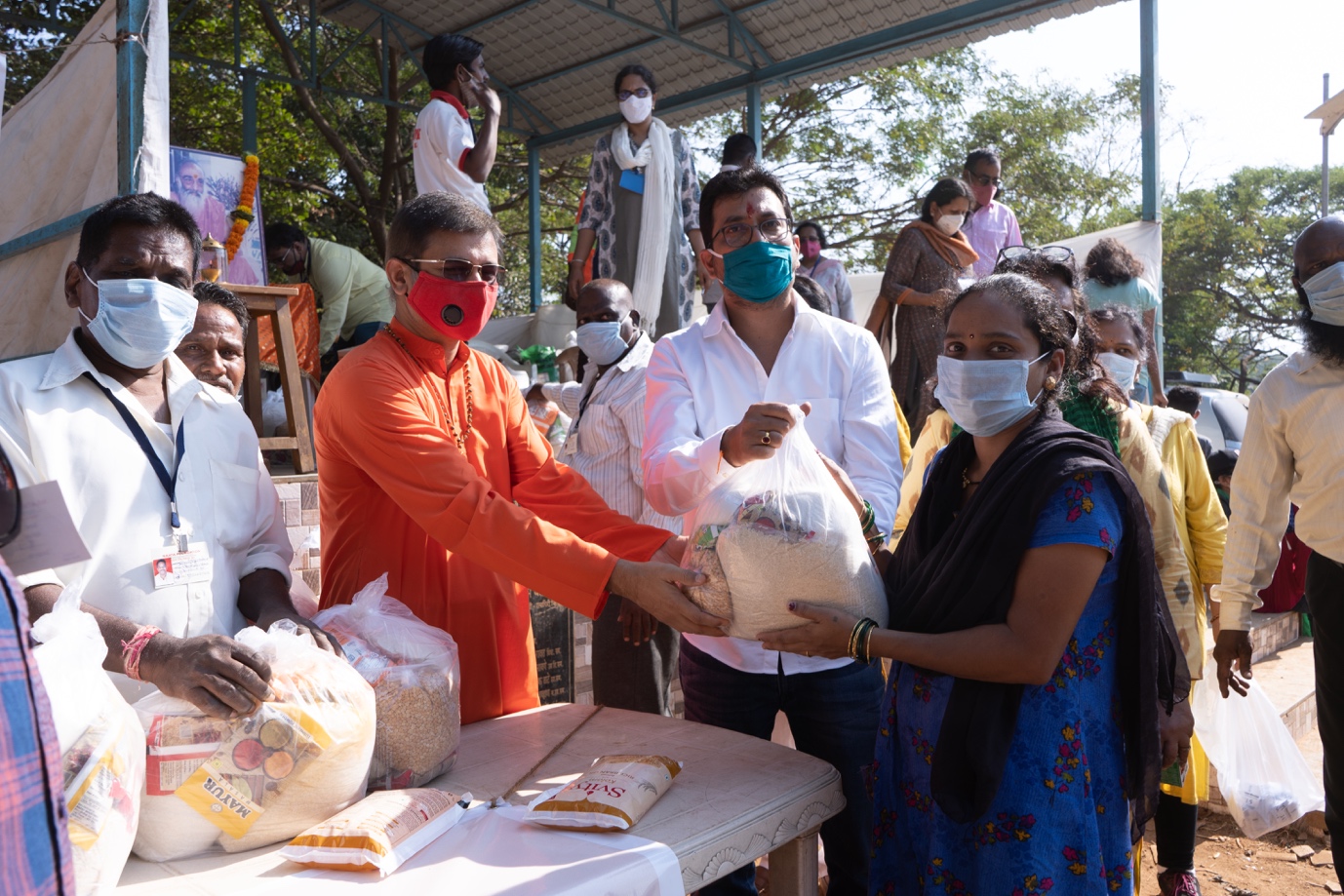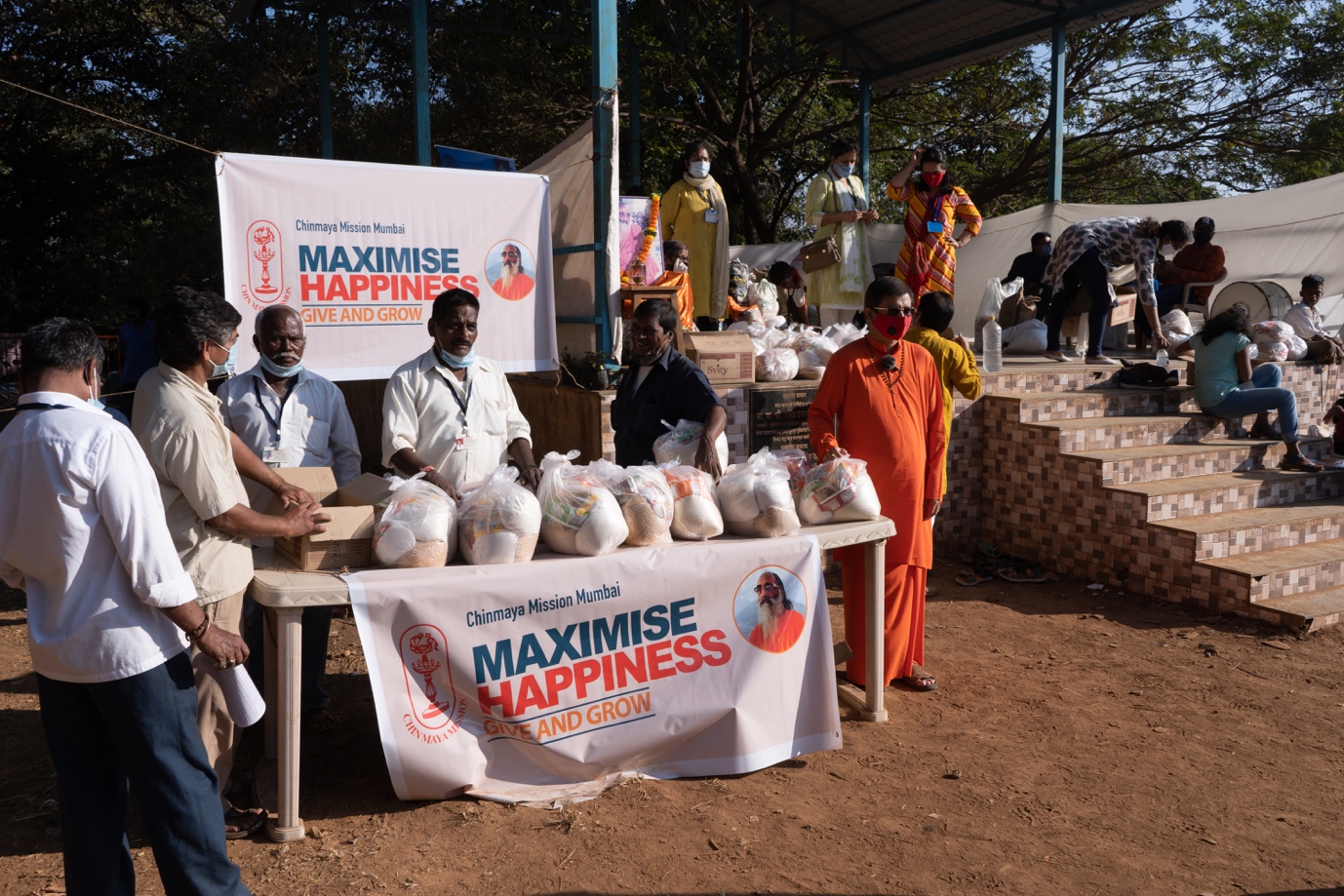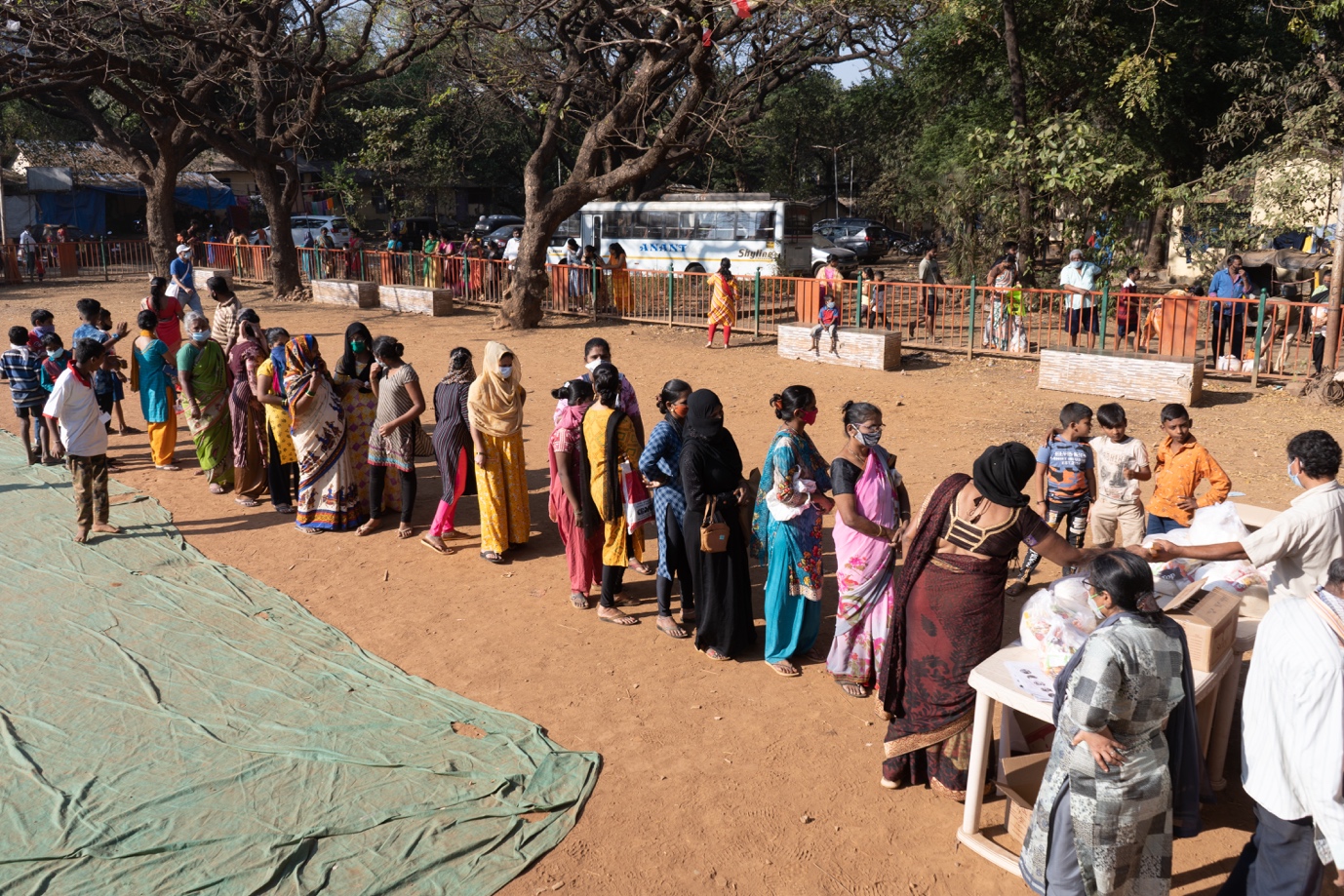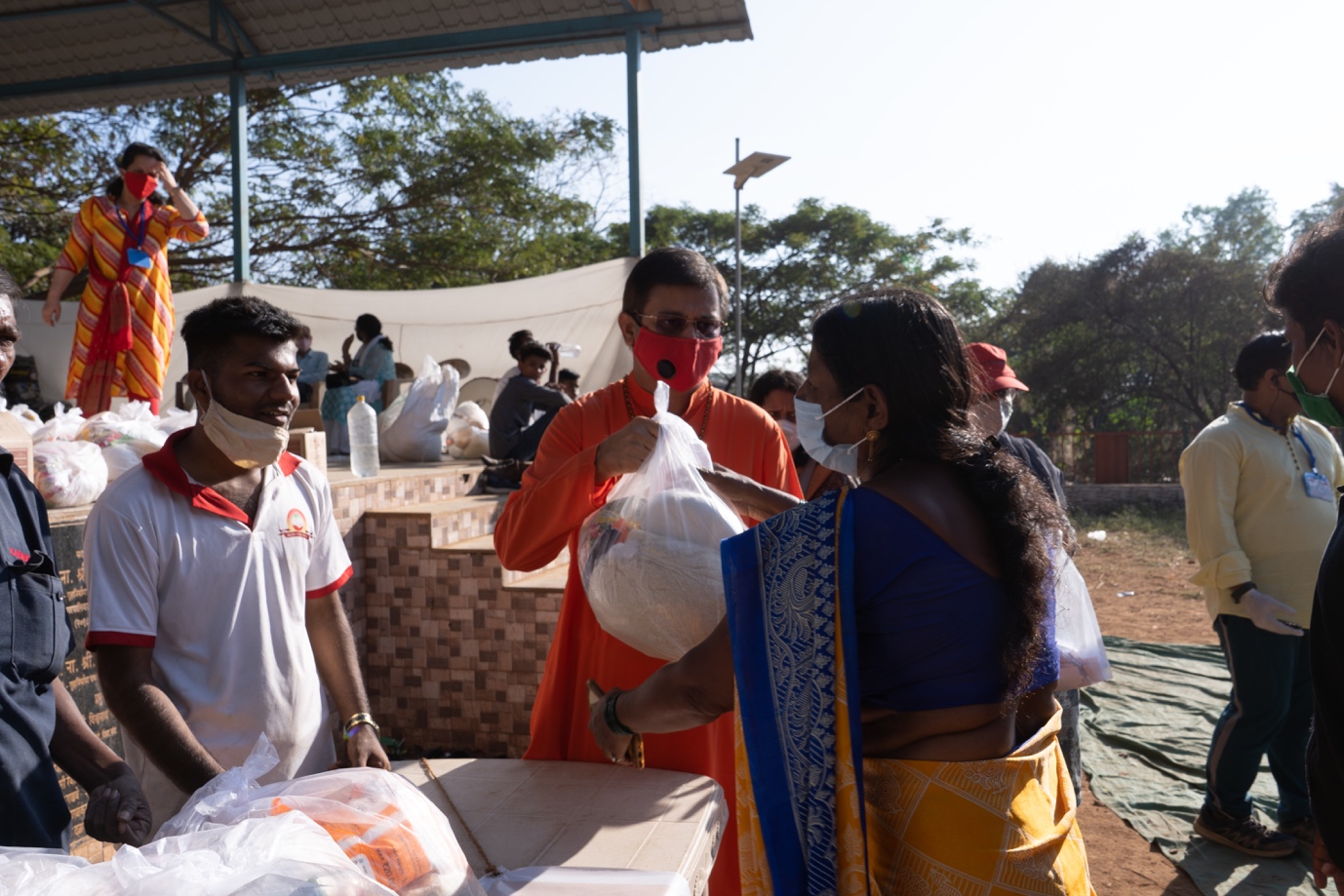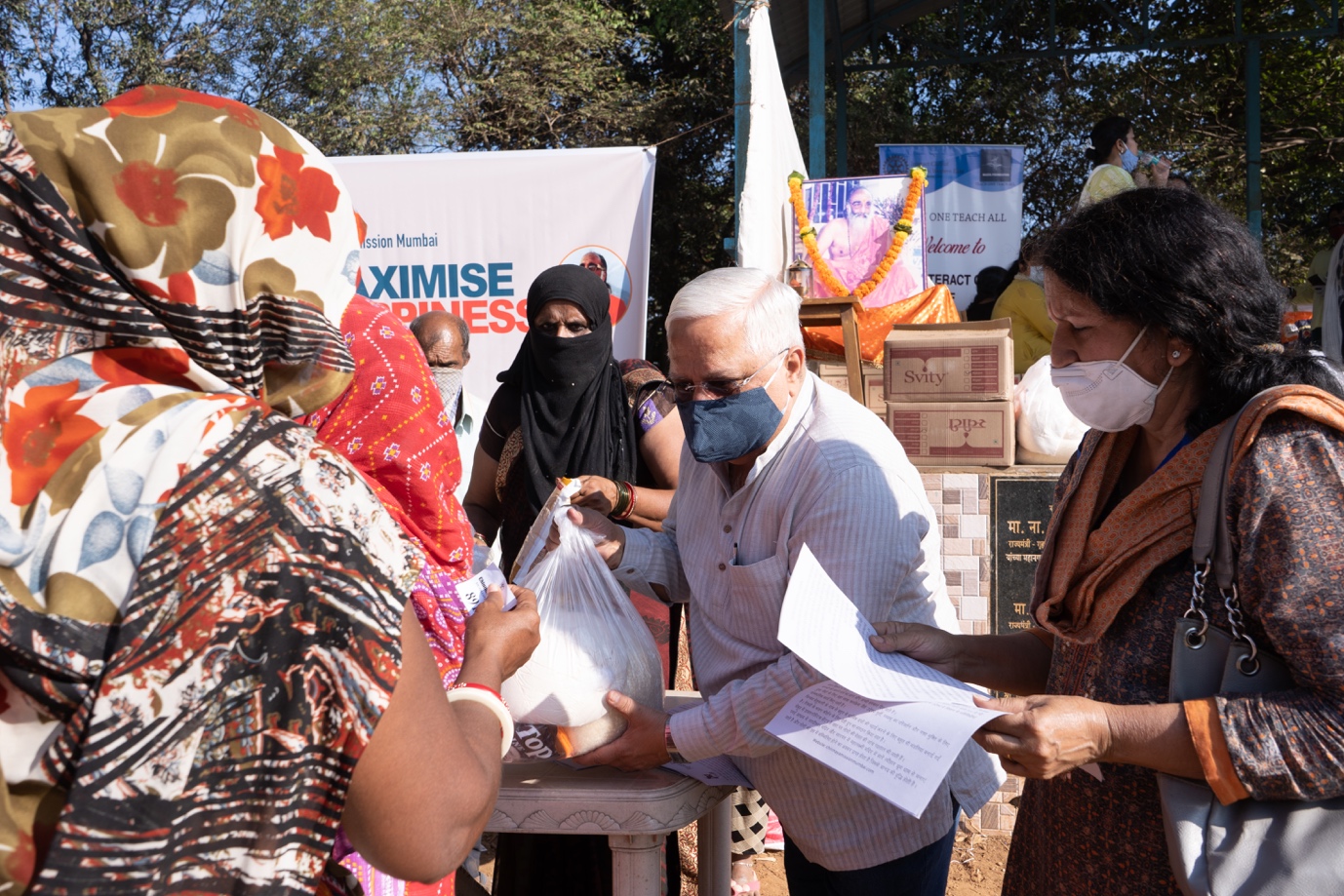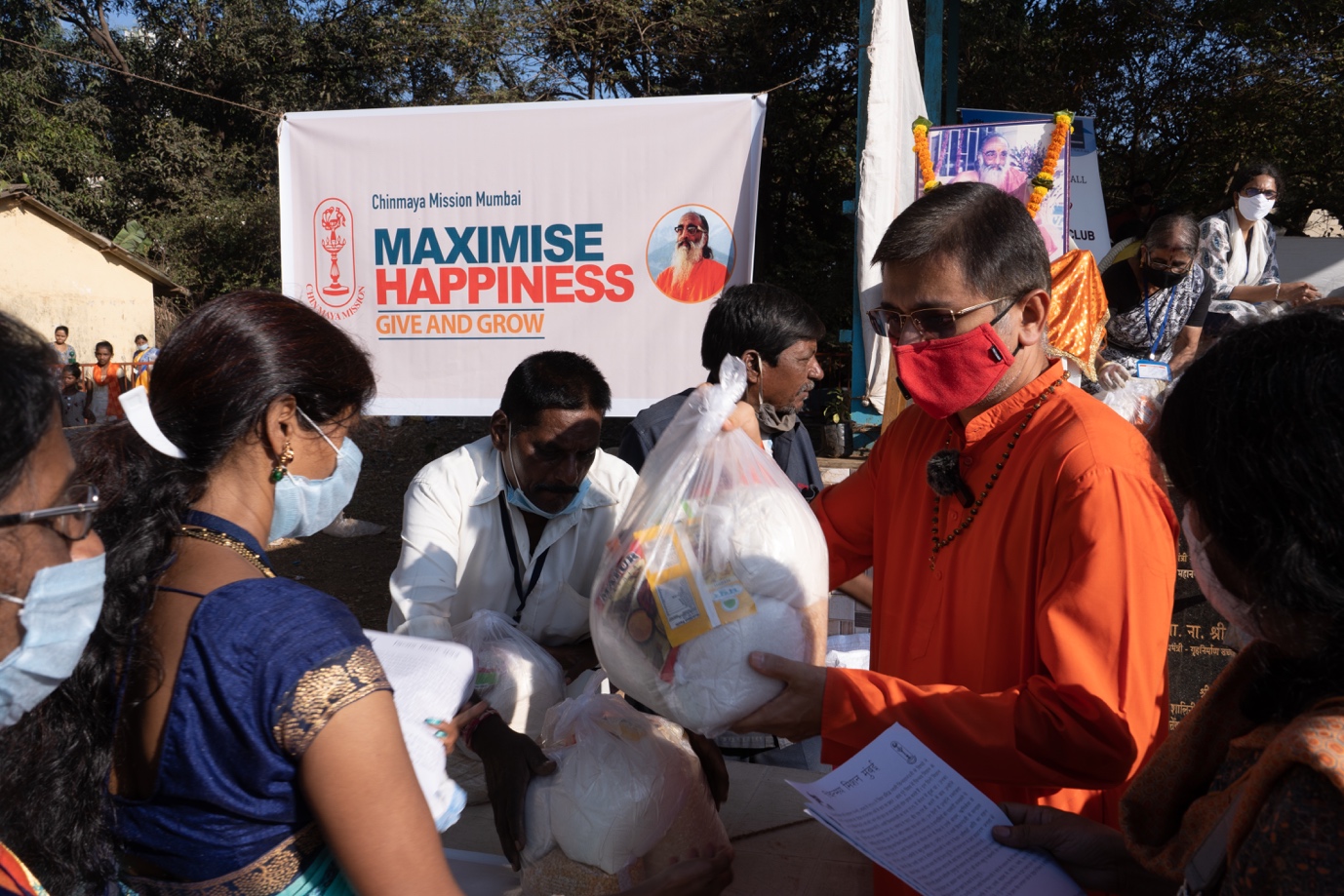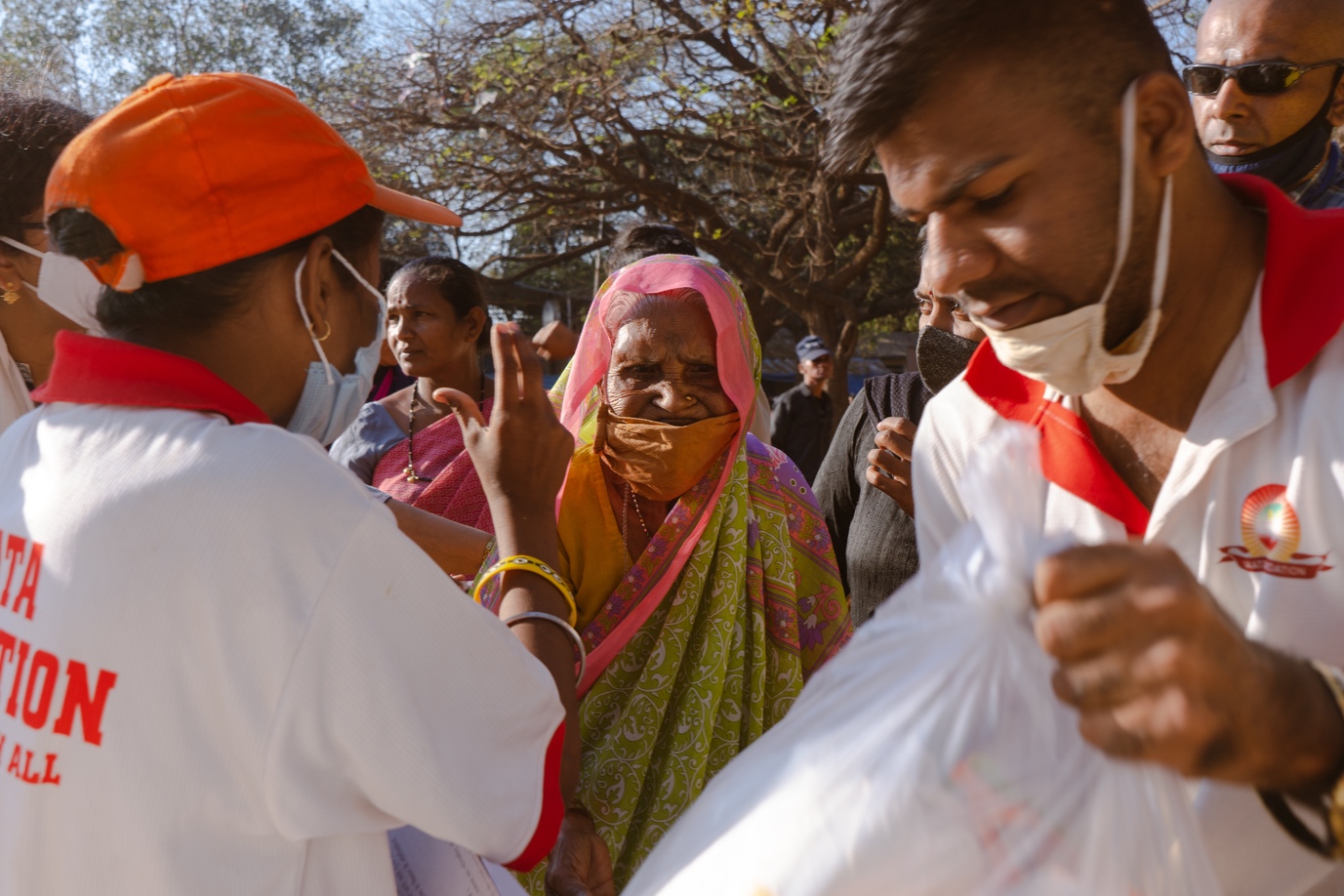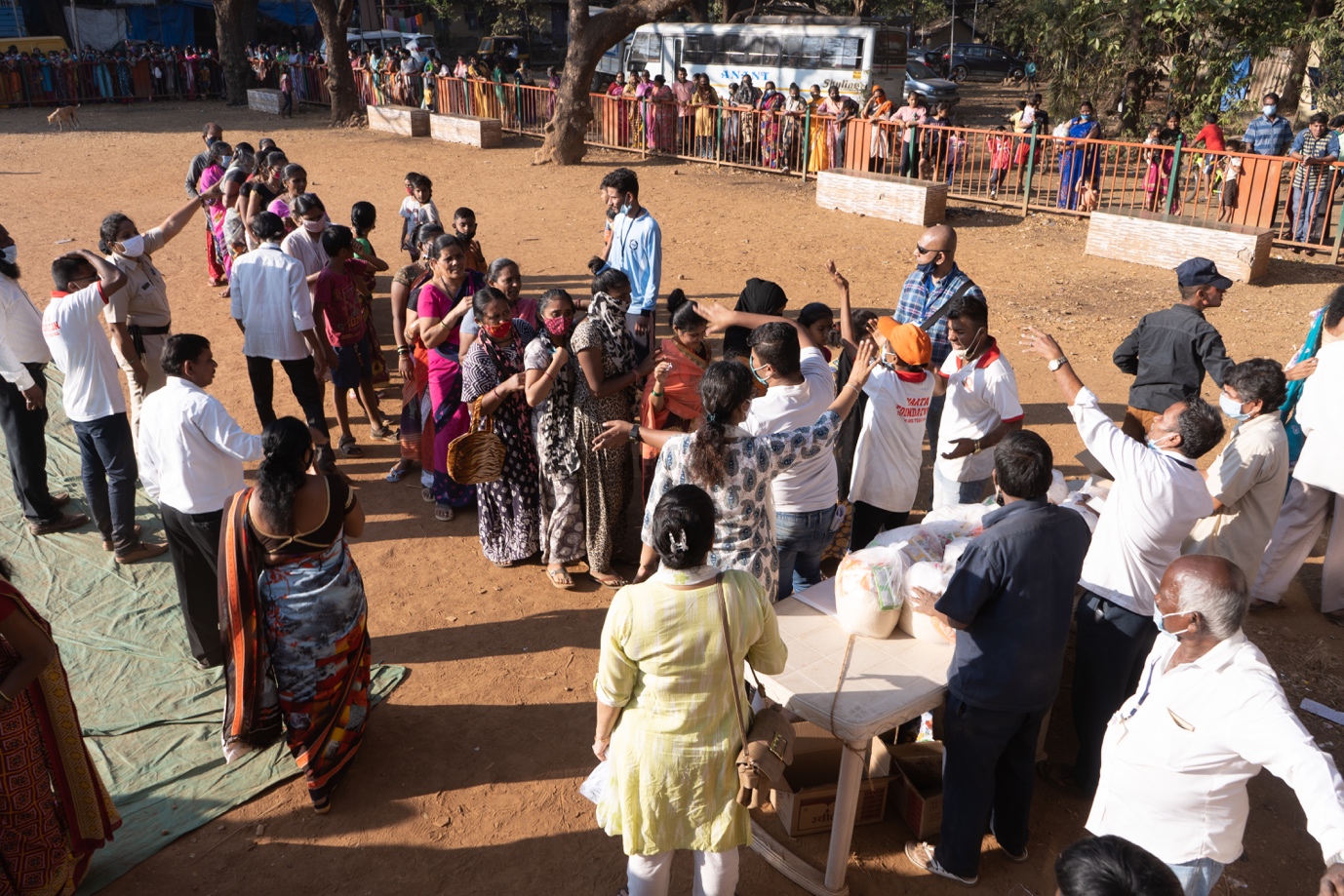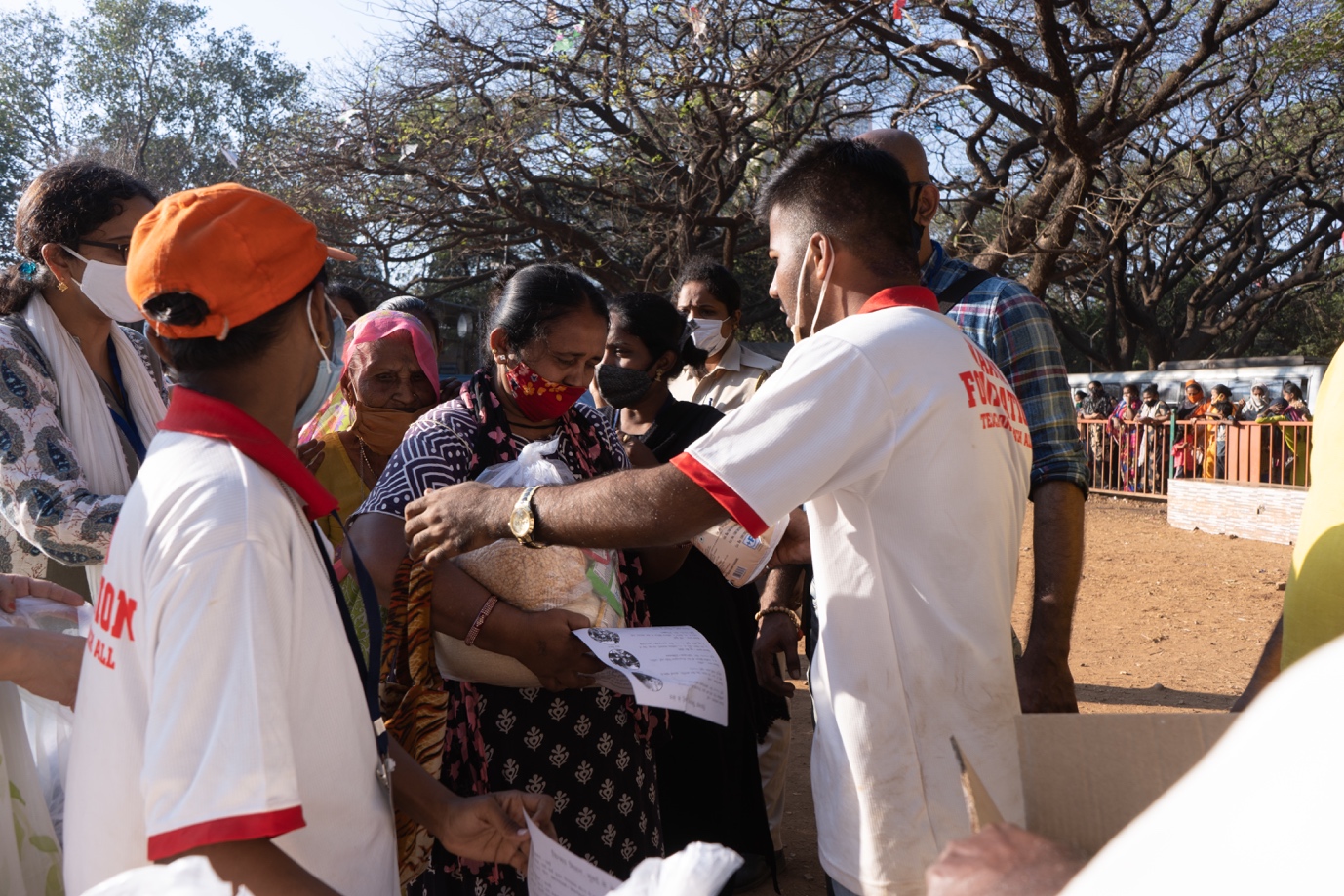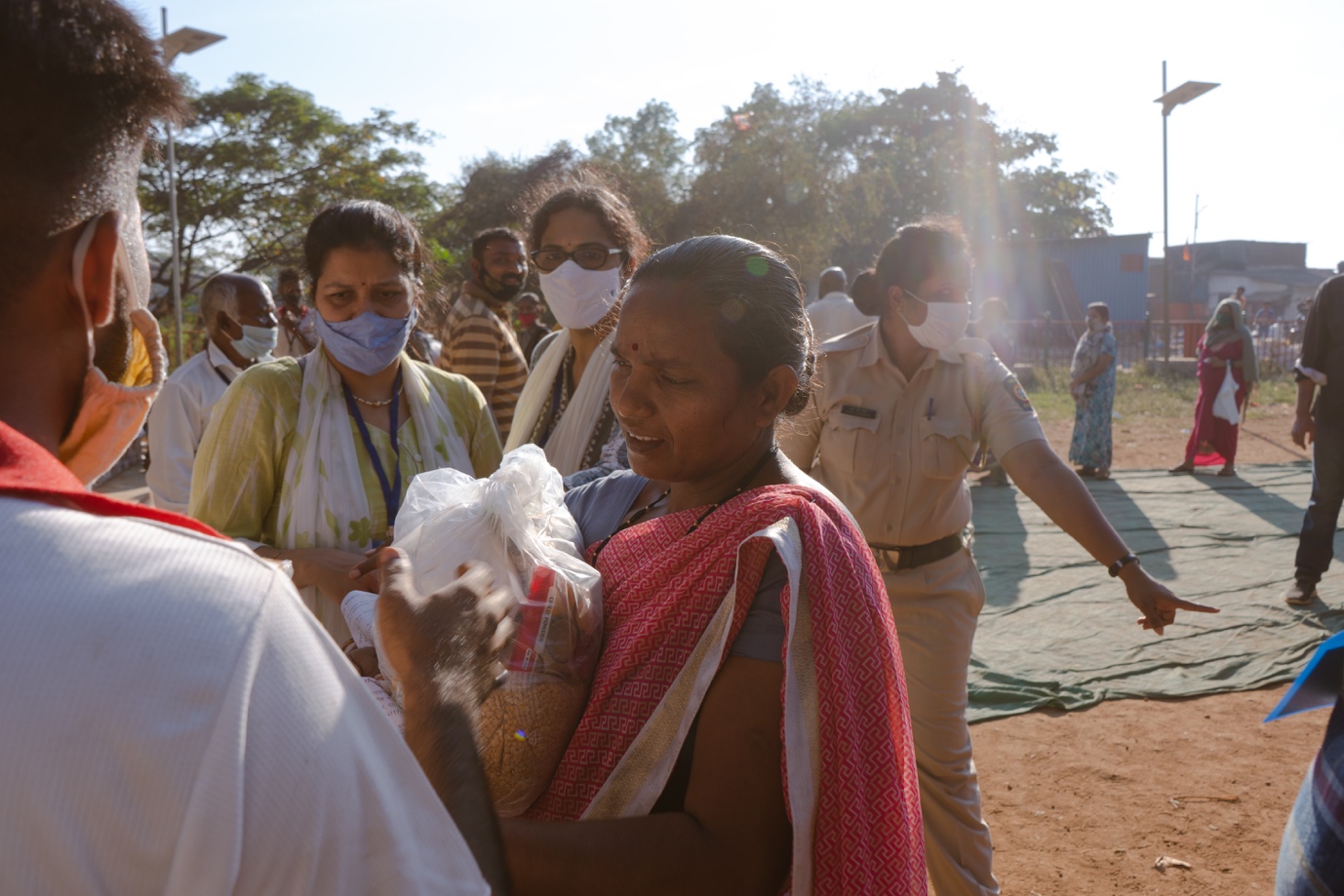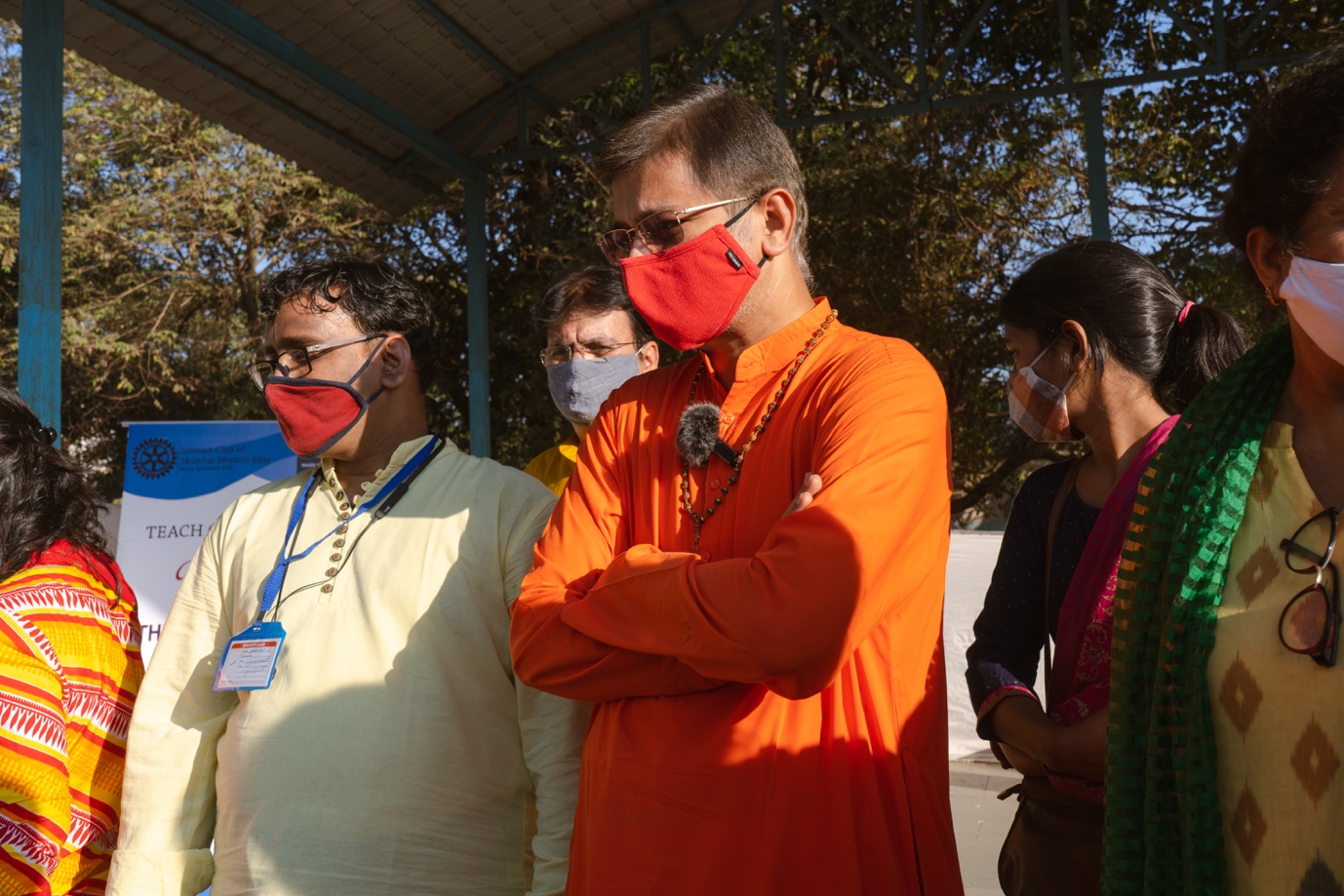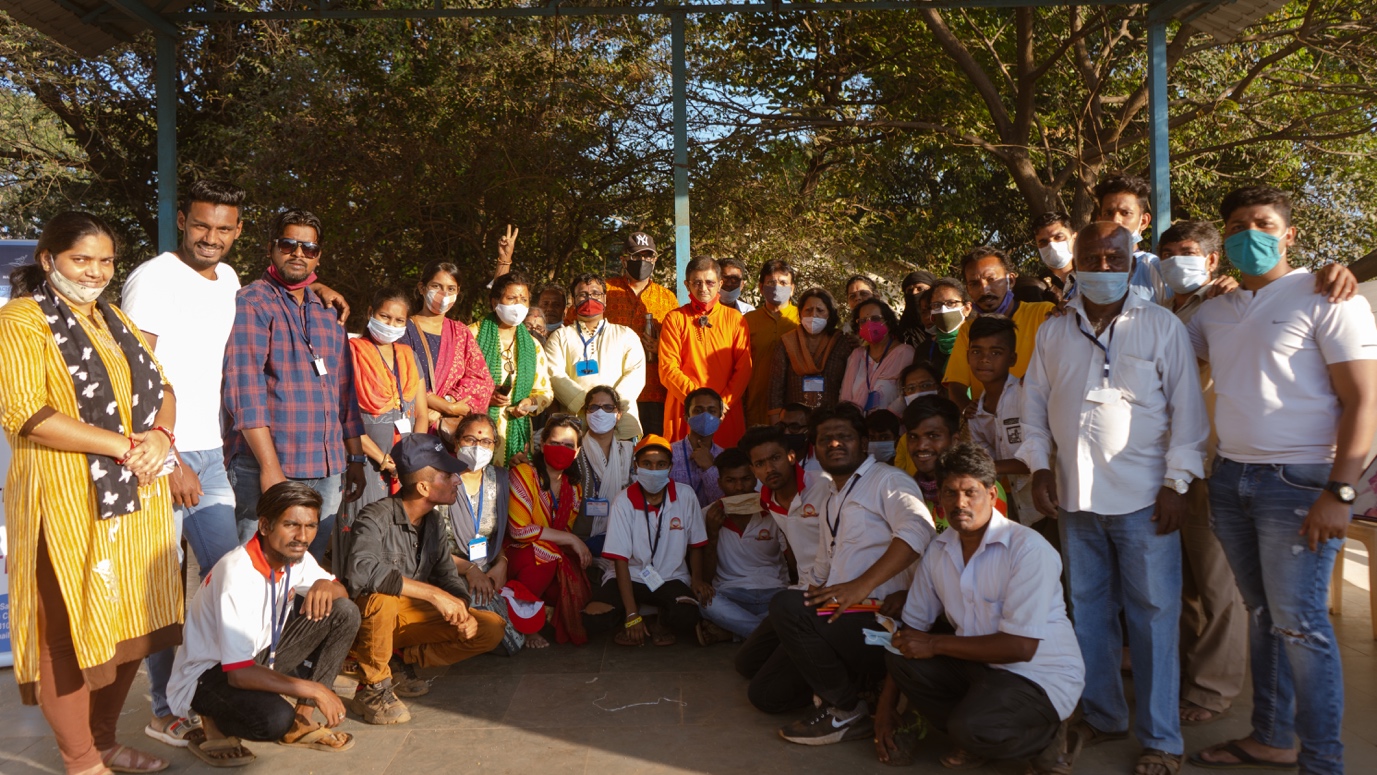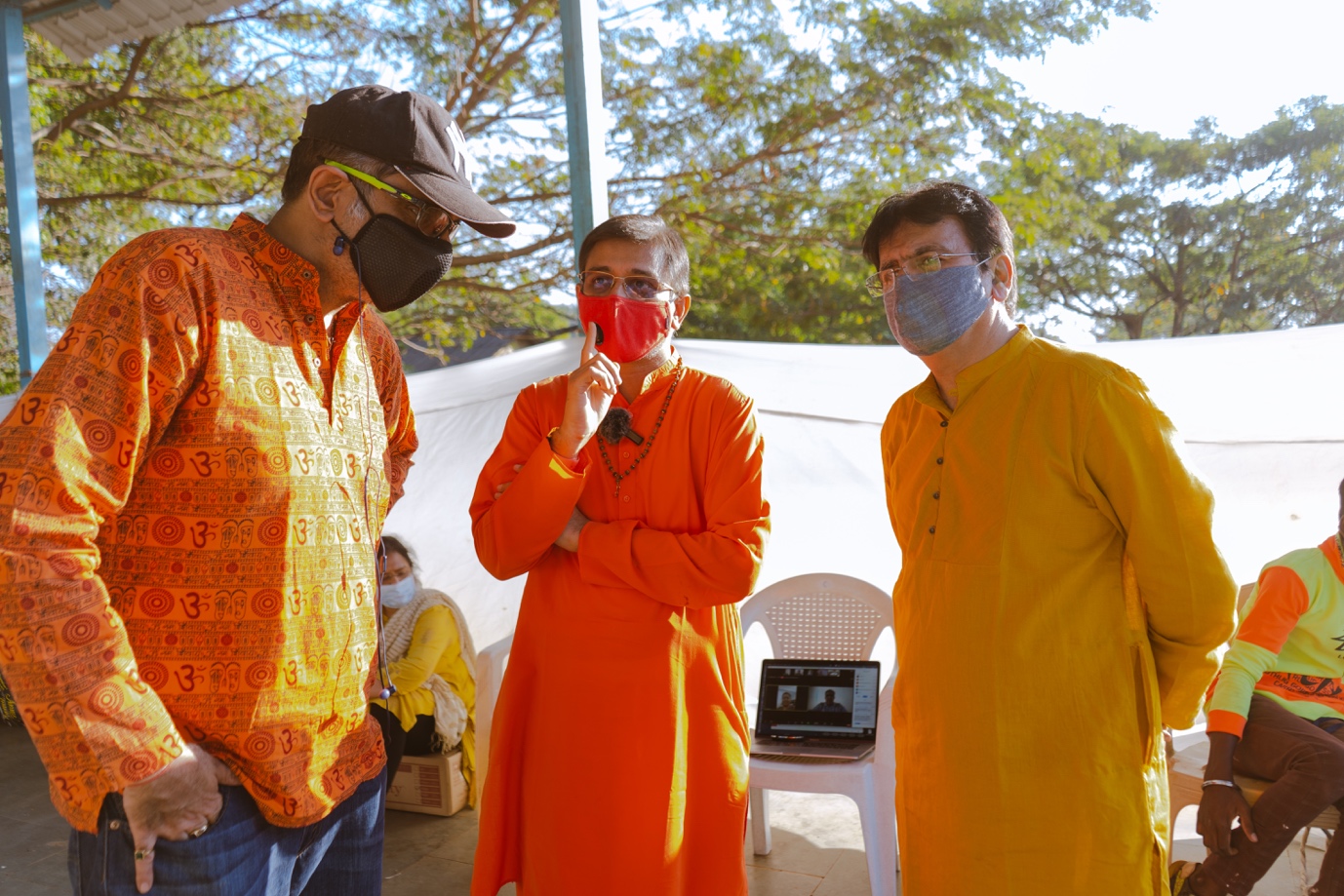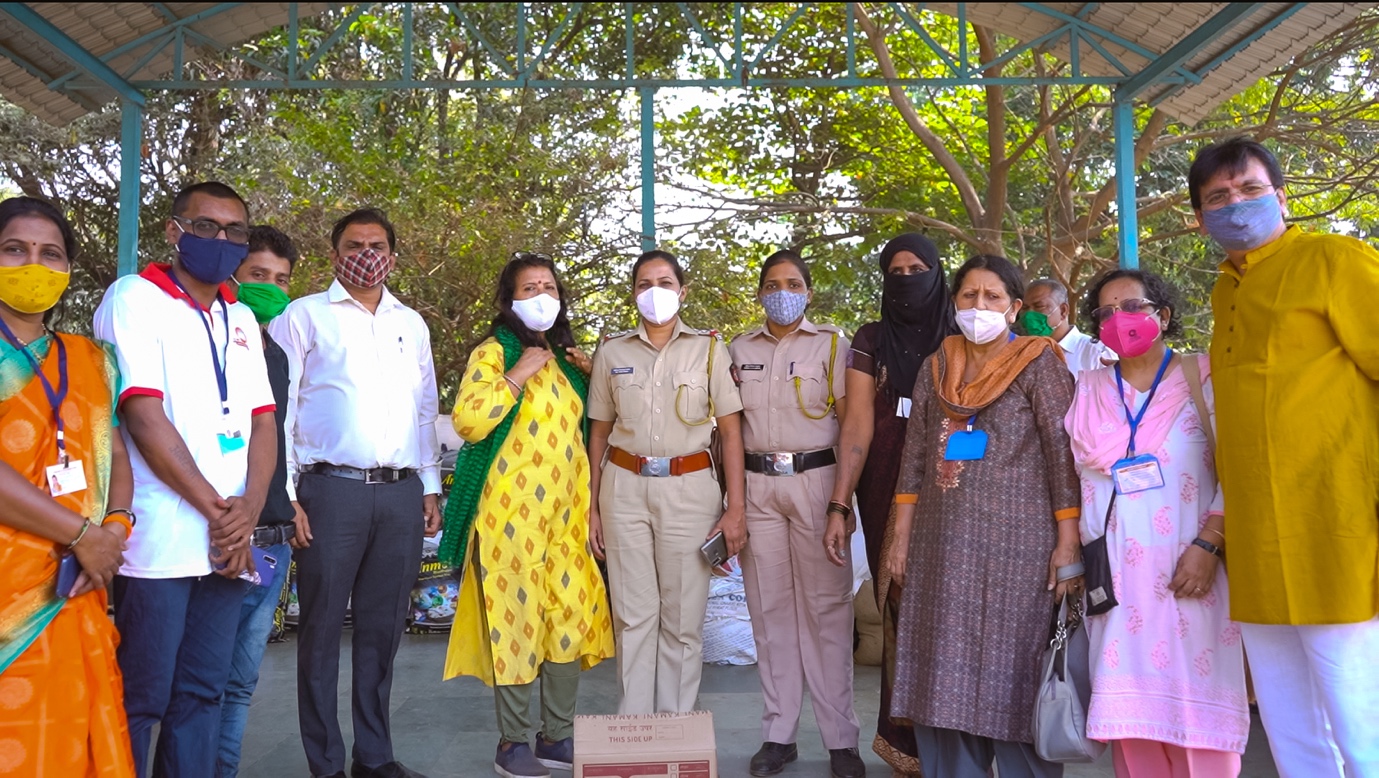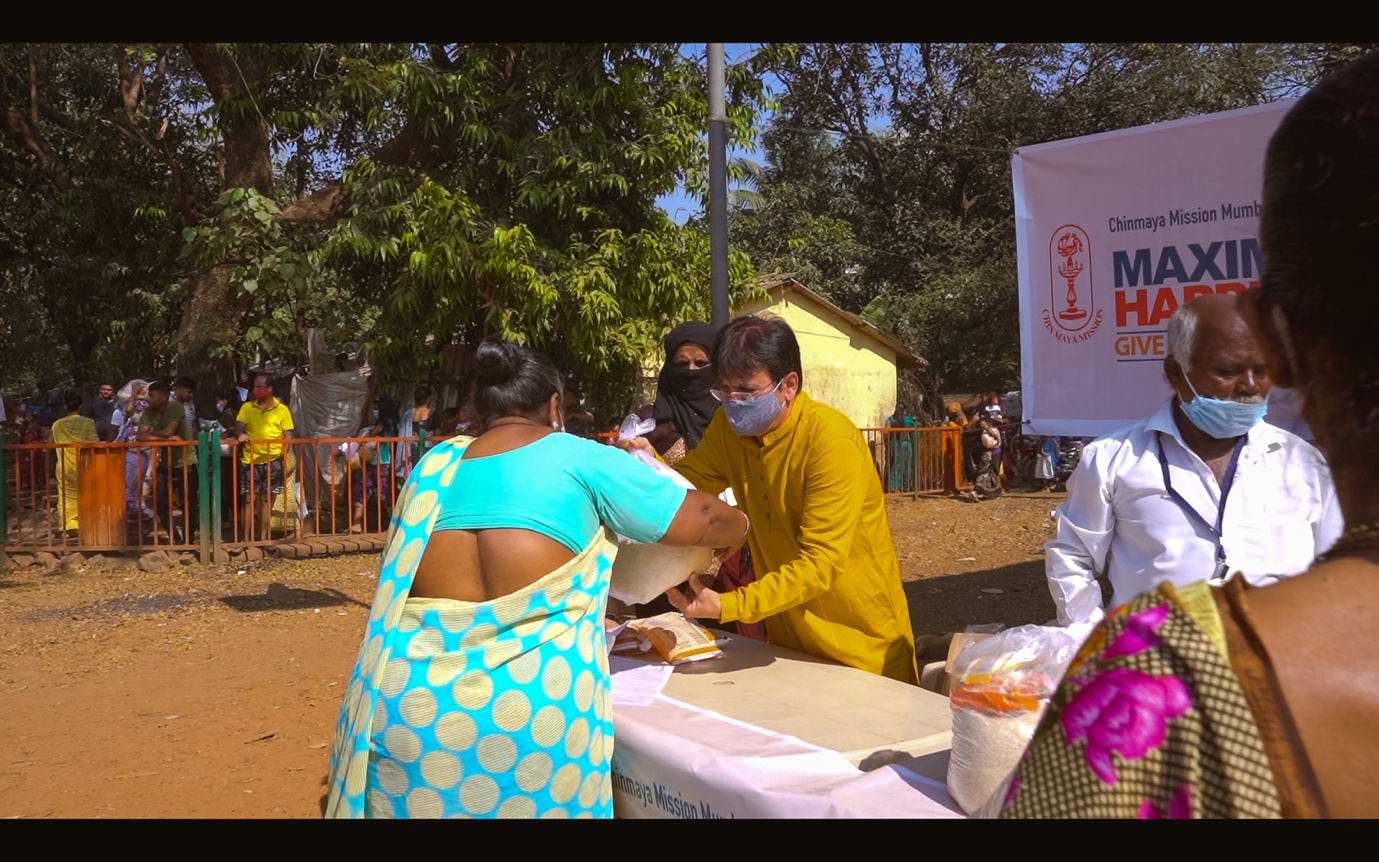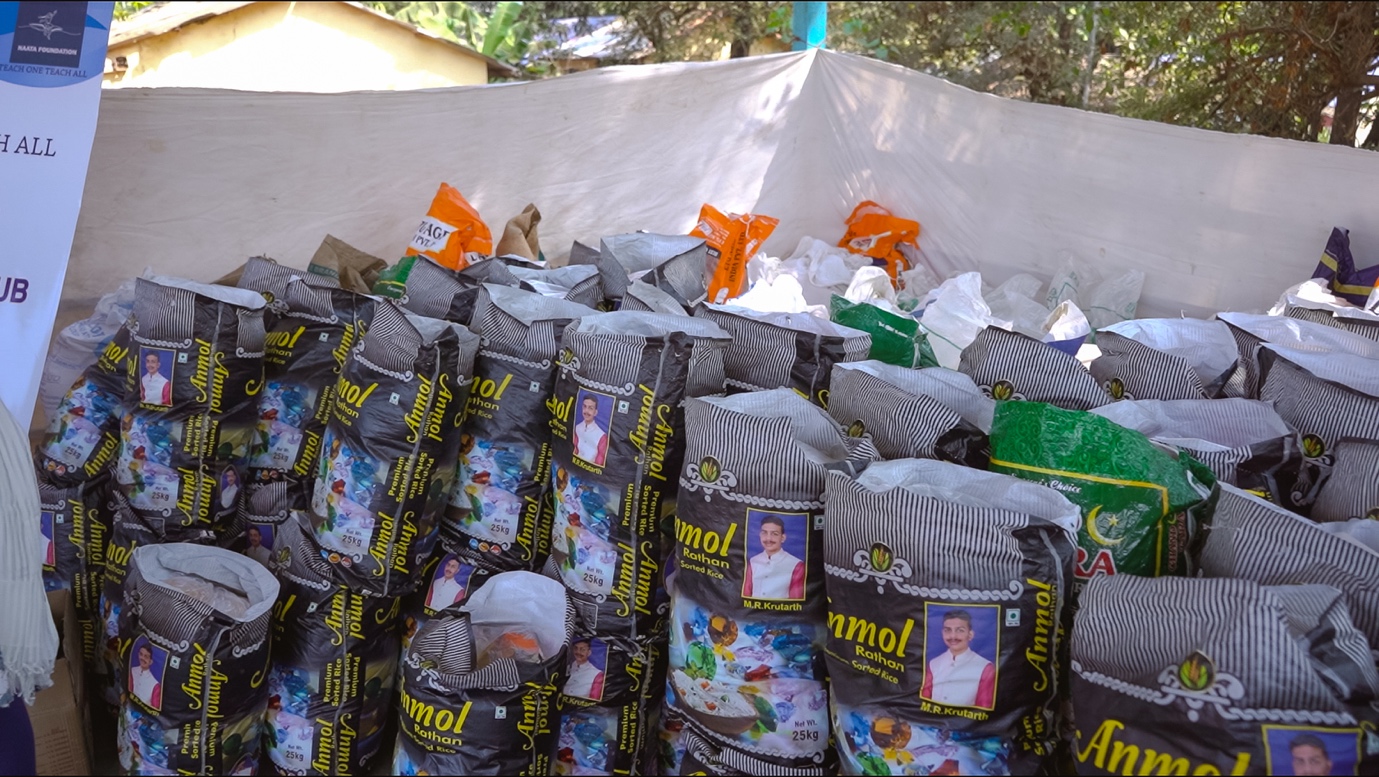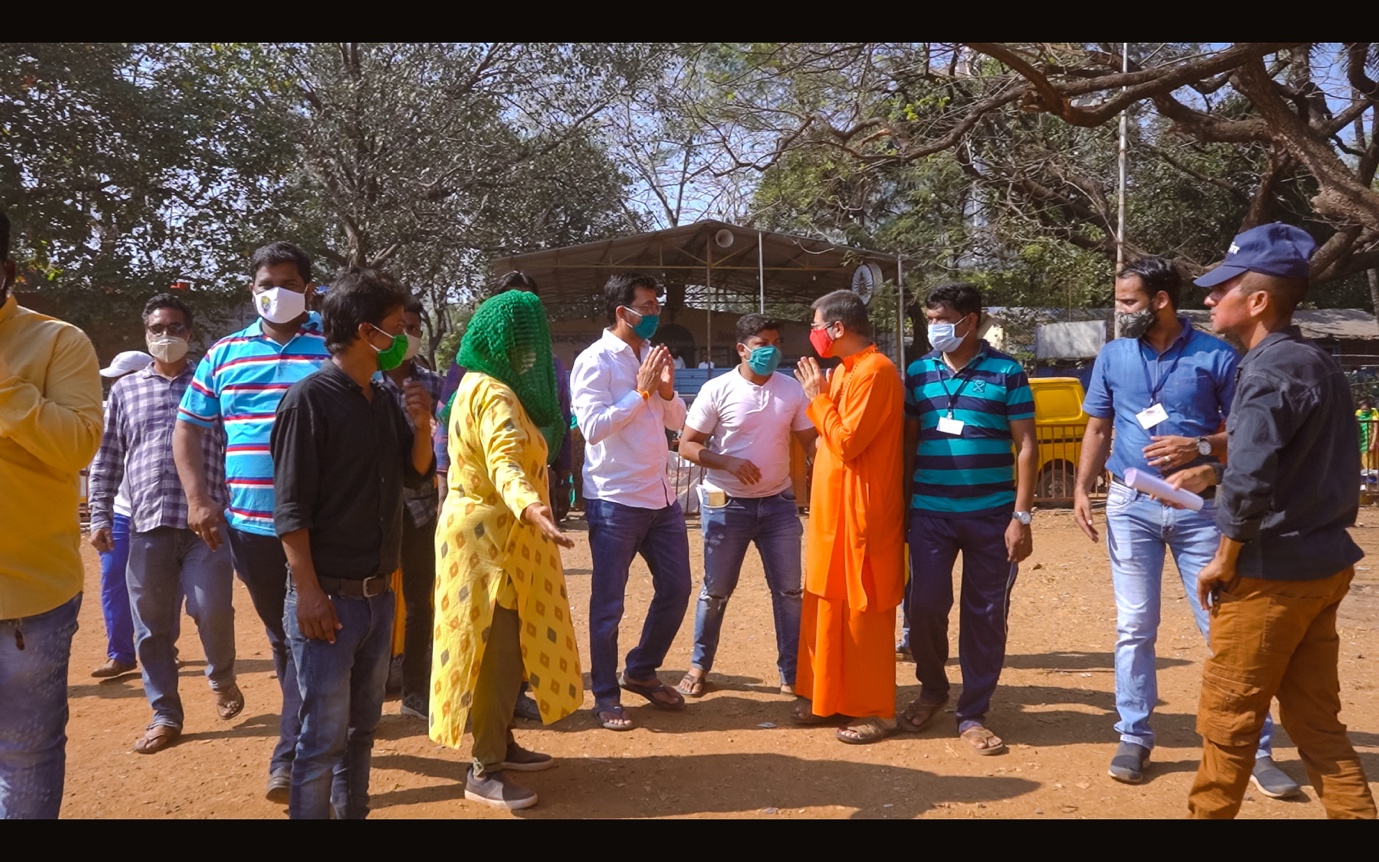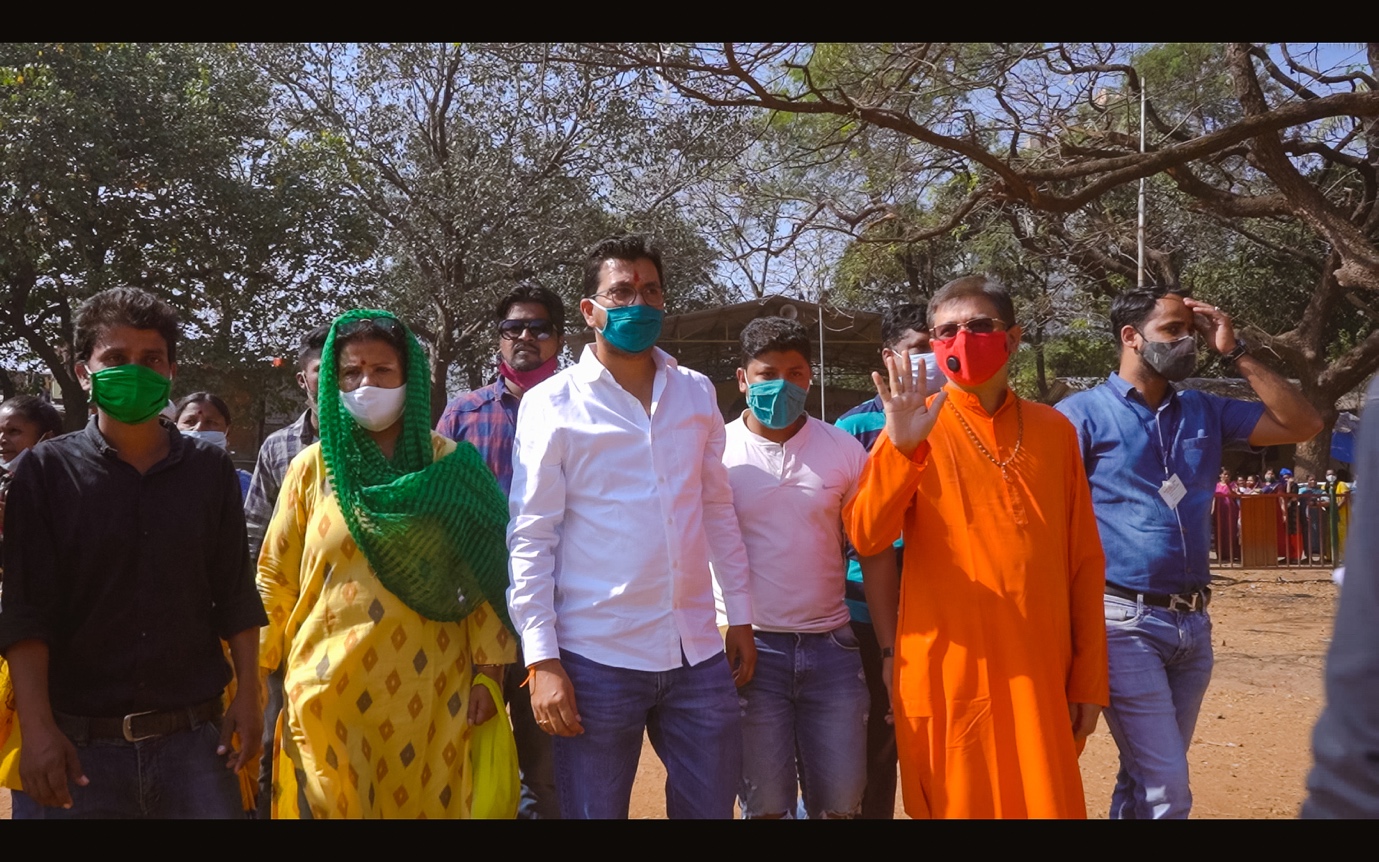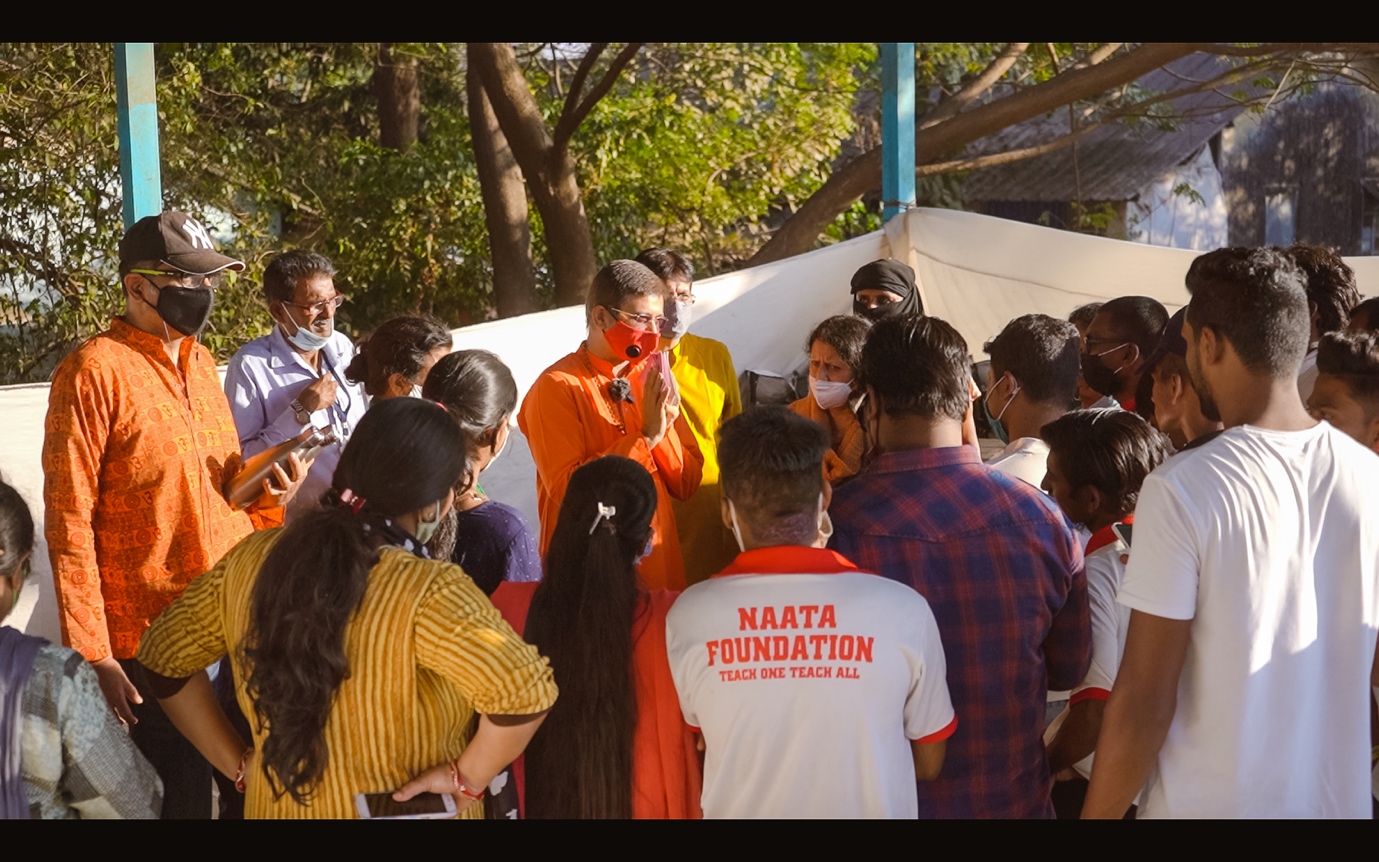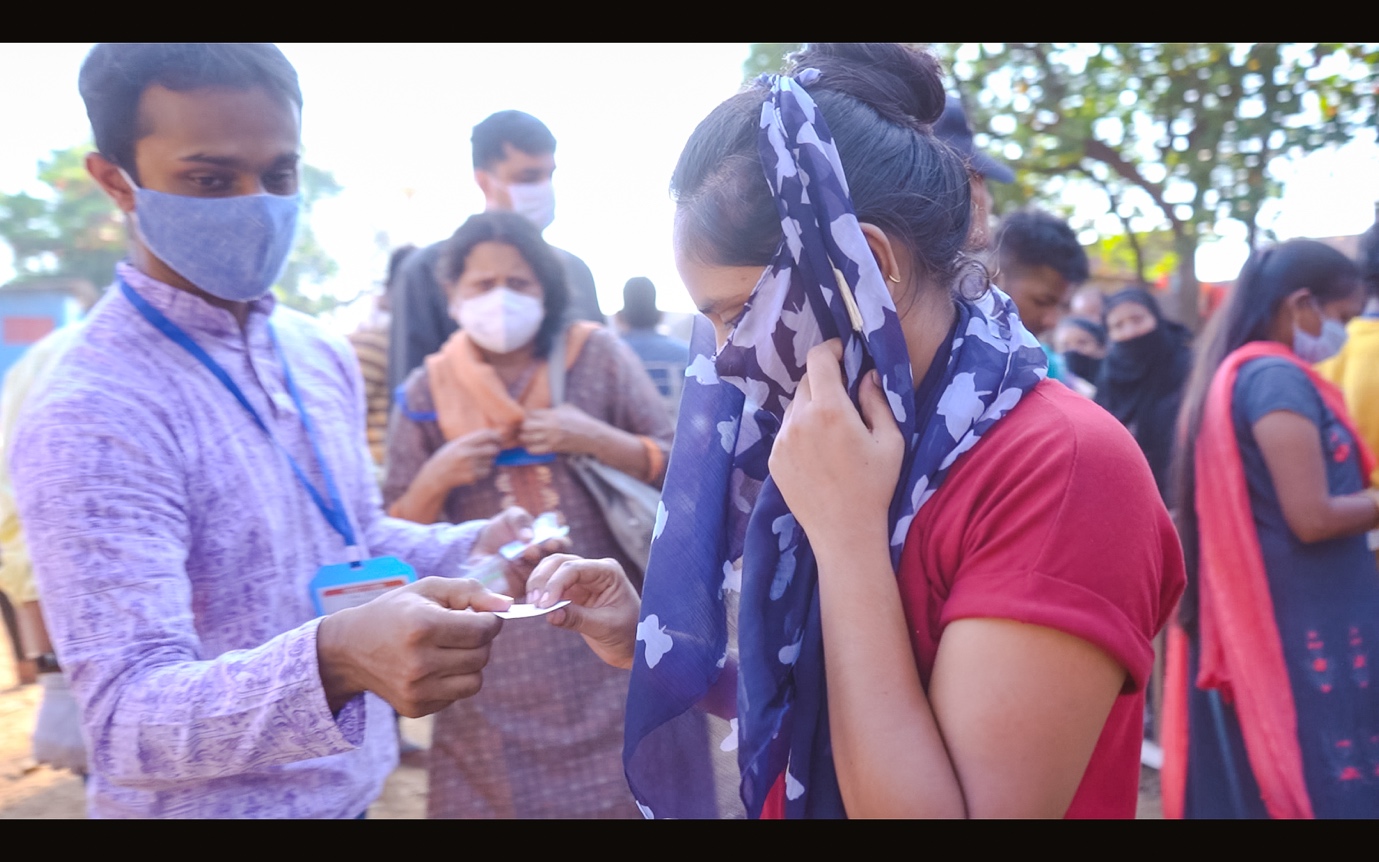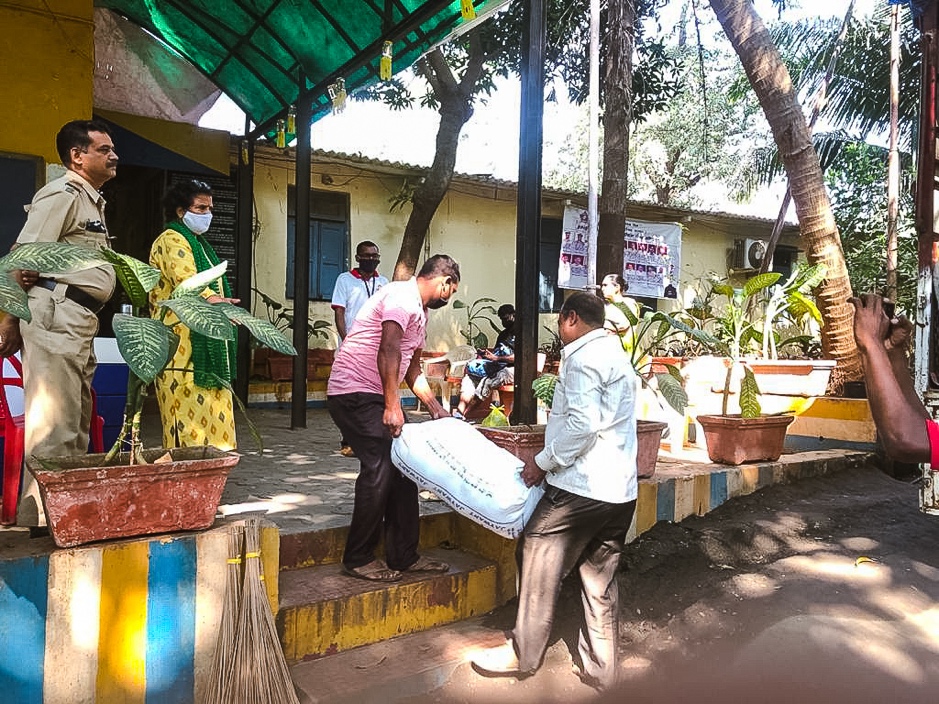 PRERANA ZONE
Today 17th January, was a great day of Seva at the feet of Our Pujya Gurudev. Under the Maximise Happiness program we were able to reach more than 600 beneficiaries. In the morning, we had unique program of Surya Namaskar, Gayatri Havan, and Anna Dan for about 38 Vanavasi Family members. These families visited the Mahalaxmi Temple and did the havan for the first time in their life.
In the afternoon, we had three functions:
Anna Daan (Grocery Packets) at Sai Sanjeevani Hospital for 200 patients/ attendants and 6 tribal girls attending the nursing course for three months
Anna Daan (Grocery Packets) at Deep Sikha for 180 patients/ attendants for three months
Anna Daan (Grocery Packets) at Sector 4 CBD for about 200 under privileged families.
Pranaams to Swami Swatmananda ji for his motivation and encouragement. Shri. Bharatbhai Shah and the entire Maximise Happiness team for their support. Heartfelt gratitude to all those who donated for this project and all those who brought these opportunities of Seva. We are thankful to the entire office team of the Mahalaxmi Mandir for organising these events and making it a successful programs. Pranaams to all the Sevak and Sevikas of Chinmay Mission Prerana Zone for their involvement and support.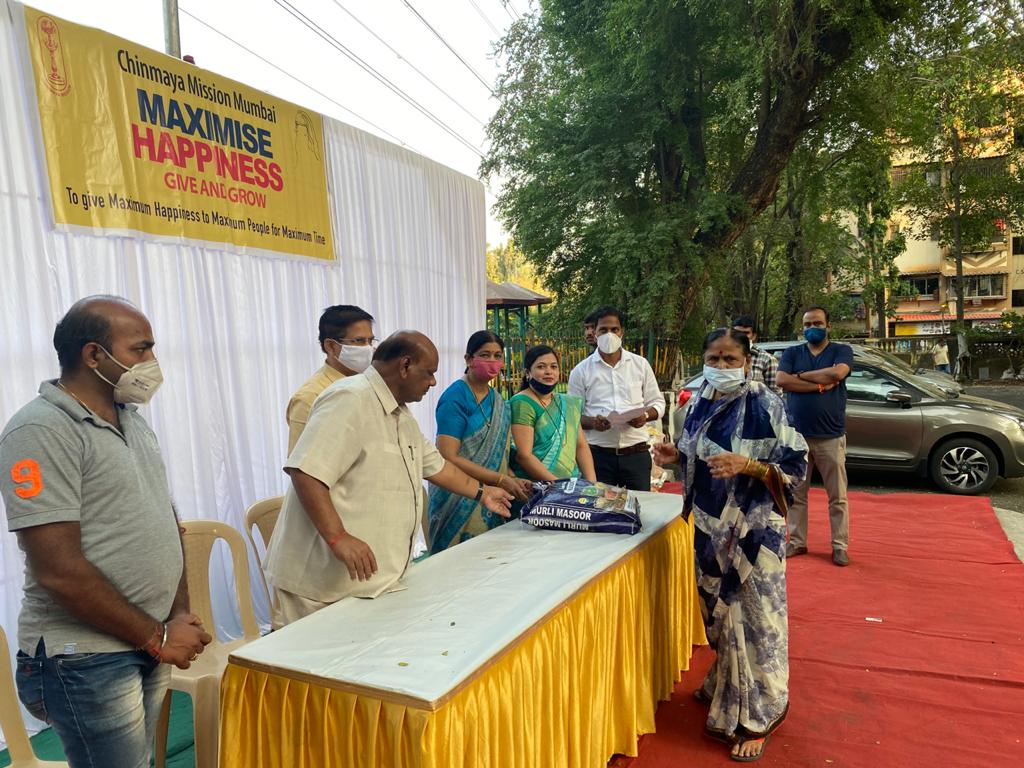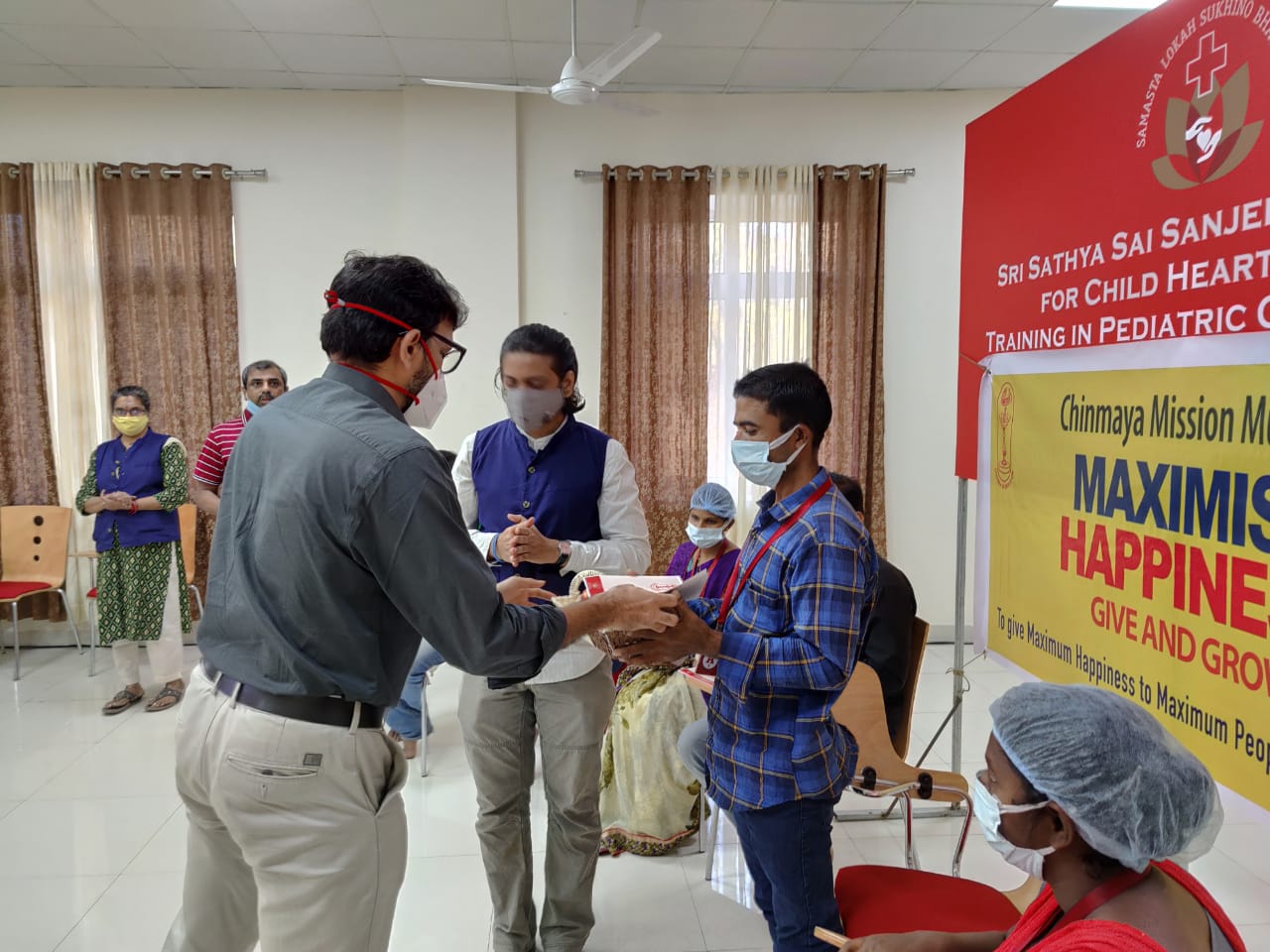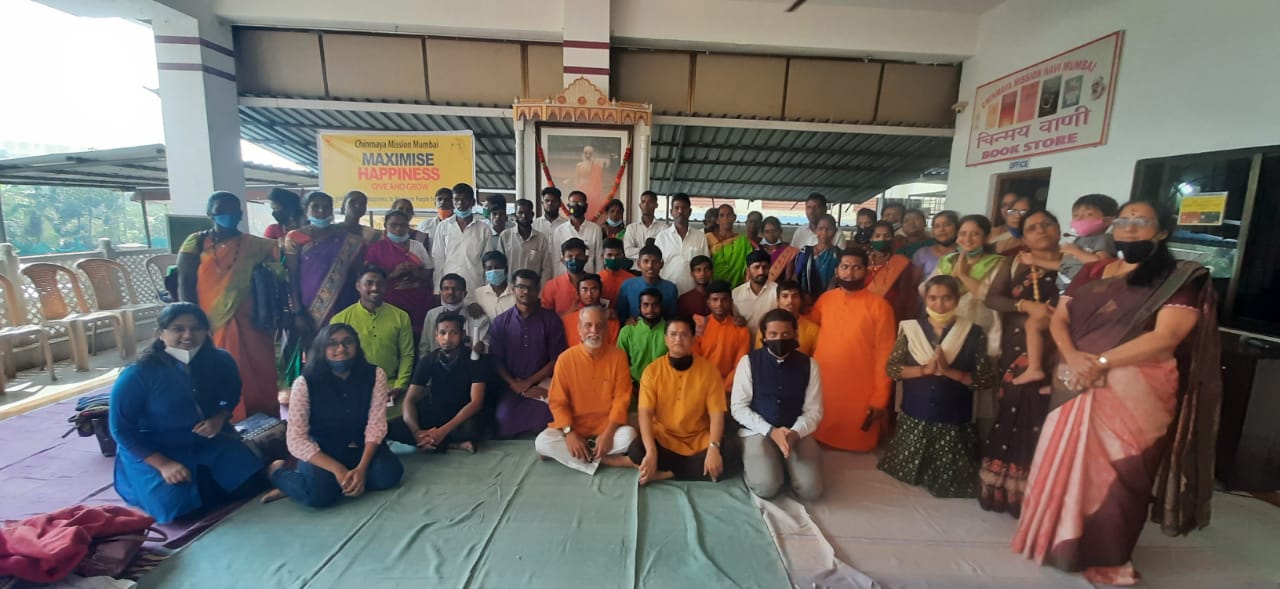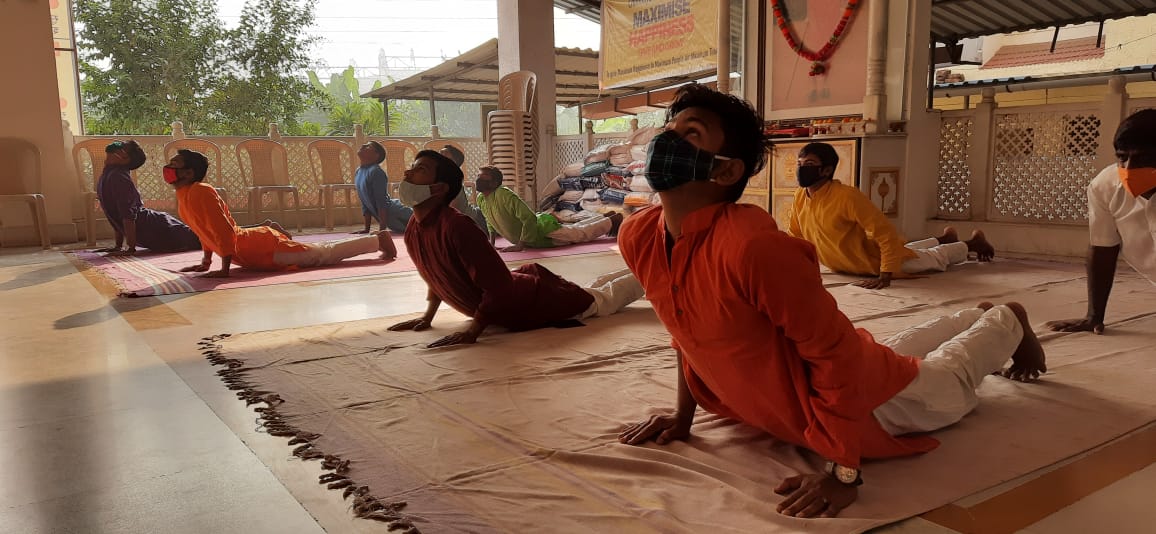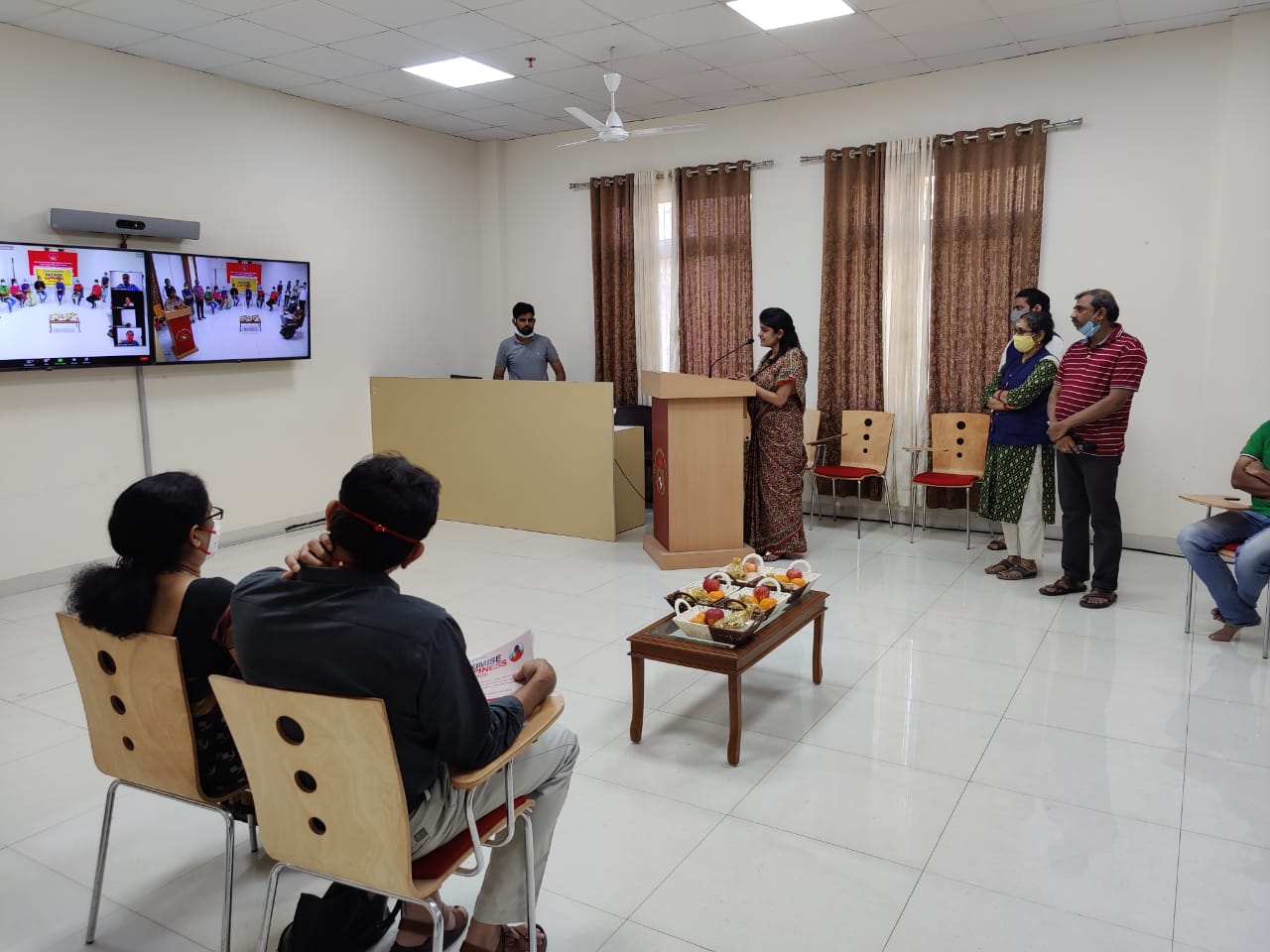 BHAKTI ZONE
Annadaan Seva, as a part of Maximise Happiness campaign, was conducted at Bhakti Zone. Four areas were selected - Dahisar West, Borivali East, padas in the National Park and Akurli Road. One month's ration was distributed to basti dwellers at each place. 400 families were selected as specific beneficiaries. The team at Chinmaya Bhakti, along with local volunteers from RSS and some leading individuals, began the seva with prayers and Hanuman Chalisa chanting, at all places. The kits were distributed, along with books and T-shirts. There was live broadcast from Akurli Road location. The Chief guests who graced the occasion were Shri Shriraj Nair, National Spokesperson, VHP and Shri Vinod Mishra, Mananiya Nagar Sanchalak, RSS.
Volunteers from Bhakti Zone included committee members, CHYKs and Study Group members. There have been discussions on follow-up activities. The zone plans to start grassroot activities at these places. Local support for further seva was identified.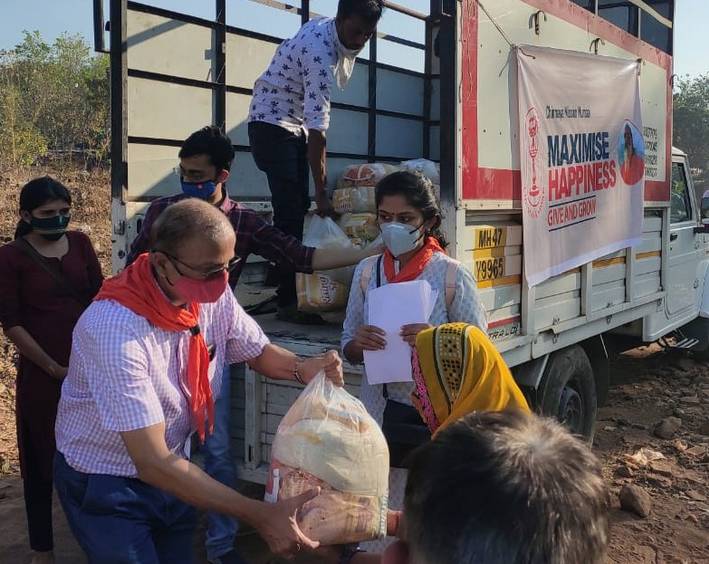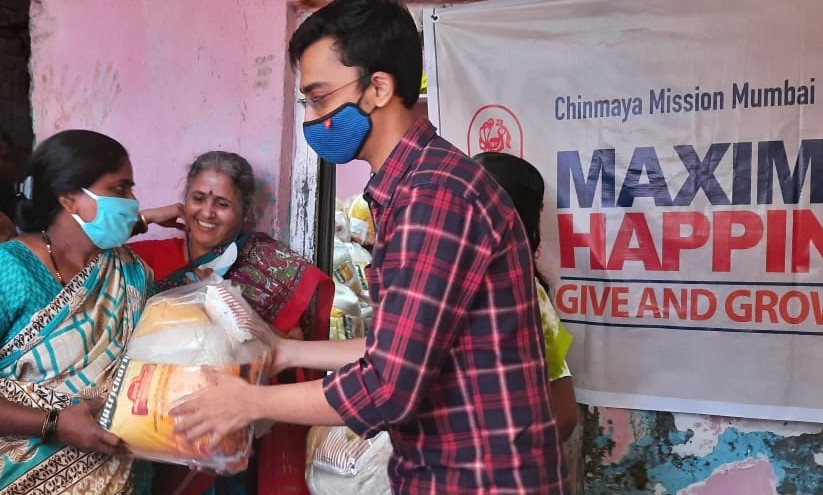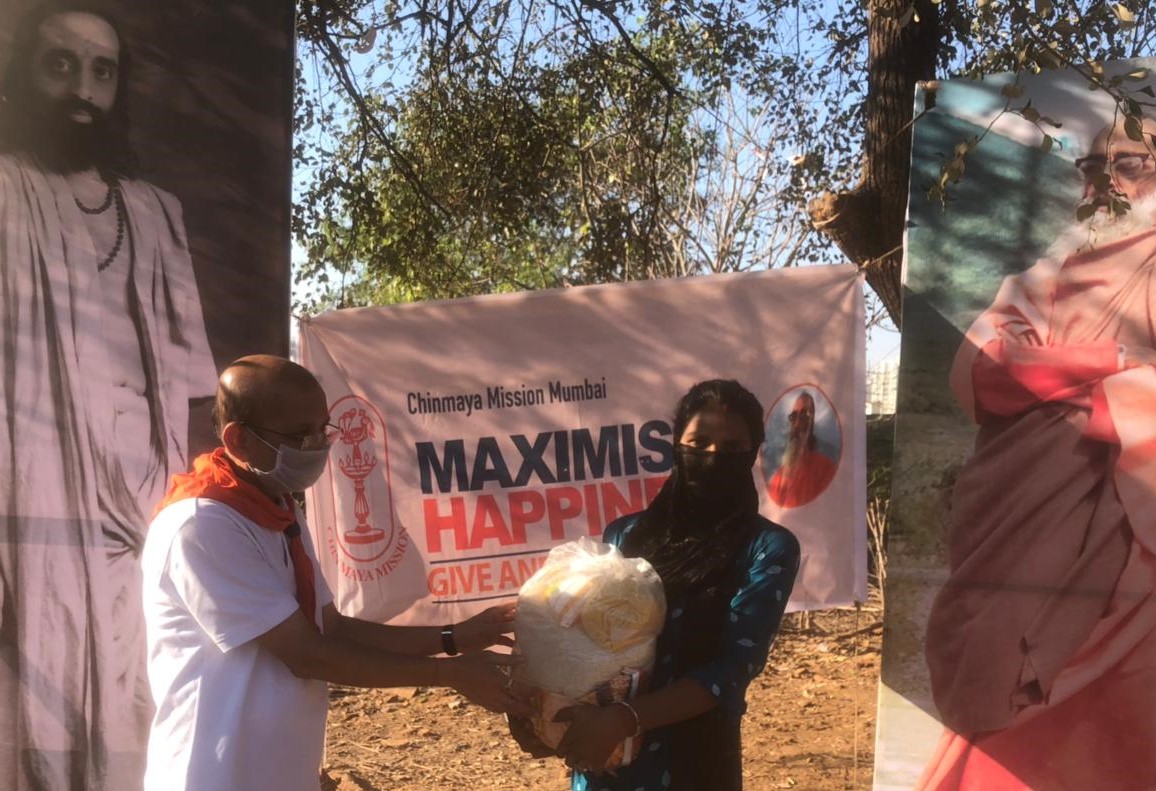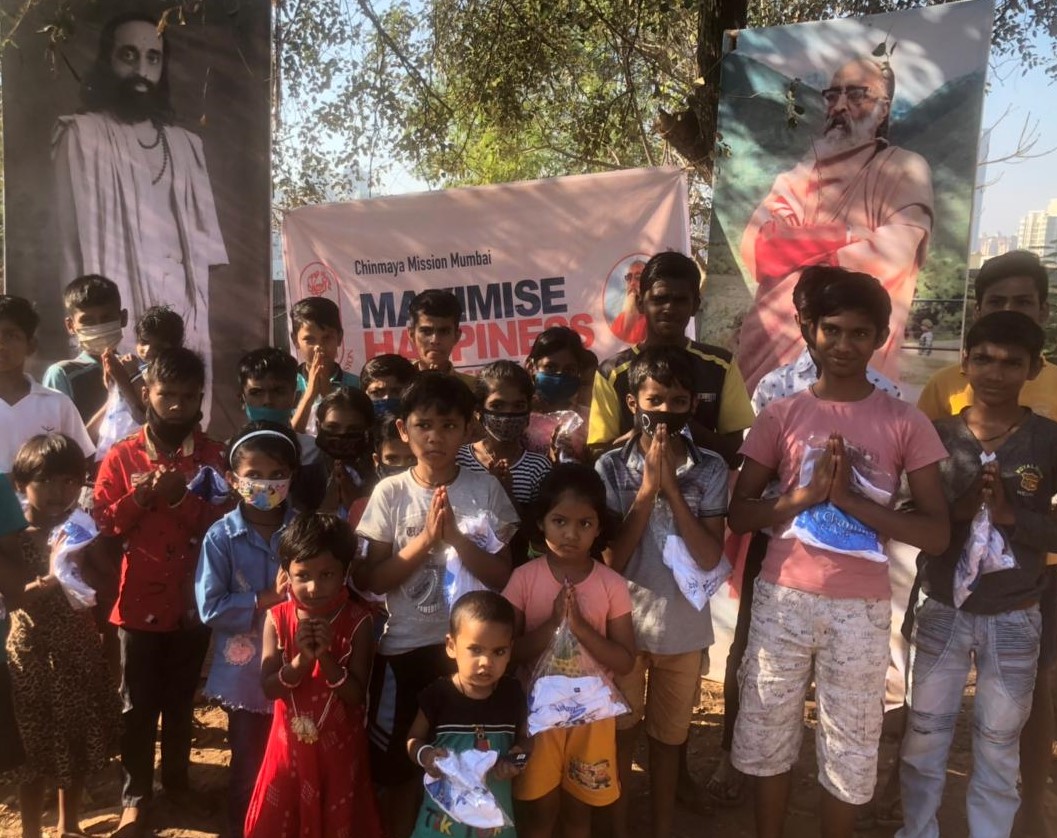 ---
The various causes that are going to be covered under Educational and Social Seva are:
Annual Chinmaya Scholarships of up to 5 lakhs to students from the deserving section of society
Annadaan to orphanages and Girl care Centres at a cost of Rs 30000/- per orphanage
Providing monthly rations to over a 1000 families
Approx. Cost of a month's ration for 1 family of 4 = 800
Approx. Cost of a month's ration for a family of 2 = 610
(Monthly Ration for 2 includes : TUVAR DAL 2kg, RICE 5kg SUGAR 1kg OIL 1ltr SALT 1kg ATTA 1kg TURMERIC 100gm CORIANDER 100gm RED CHILLY 100gm )

(Monthly ration for 4 includes : TUVAR DAL 2kg, RICE 5kg SUGAR 1kg OIL 1ltr SALT 1kg ATTA 5kg TURMERIC 200gm CORIANDER 250gm RED CHILLY 100gm, WASHING SOAP 2 bars, LIQUID SOAP, TEA 250 gms, 2 CARRY HOME BAGS)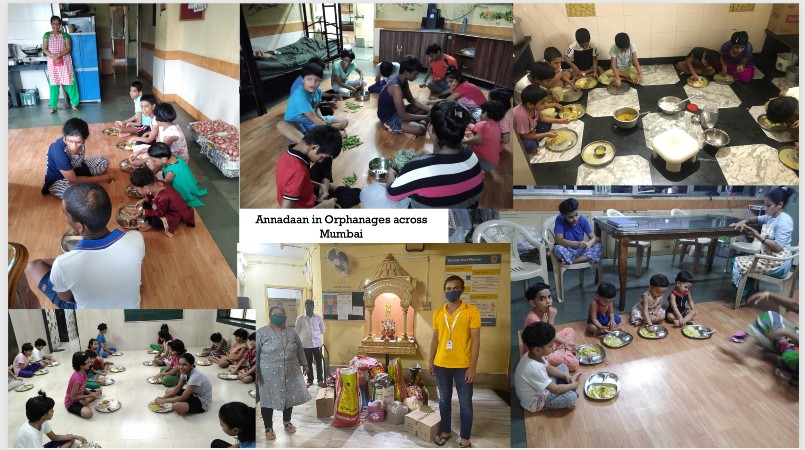 ---
Geeta Jayanti, Vaikuntha Ekadashi & Tapovan Jayanti on 25th December 2020,
Today - 25th December 2020, on the auspicious occasion of the Geeta Jayanti, Vaikuntha Ekadashi & Tapovan Jayanti, as a part of Chinmaya Mission Mumbai's ongoing "Maximise Happiness" initiative, Annadaan was done.
Food packets containing snacks items like Bhel, Kachori, Wafer, Thepla, Gud Papdi, etc. were distributed to 450 Children who are Cancer patients at Tata Memorial & other hospitals and their parents who are staying at Shri Gadge Maharaj Dharamshala at Dadar East. These children come from various parts of the country for chemotherapy and other cancer treatments and stay at the Dharamshala.
Chinmaya Mahima Zone President - Ms. Sunitha Shanker, Zonal members Smt. Dimple Parekh with her son - Benoy and his brothers Jinay & Chinmay and Smt. Lakshmi Narayan distributed the packets.
May the Grace of Sri Krishna, Blessings of Mother Geeta and the love of the Guru Parampara be with the children, parents, volunteers and everyone present there.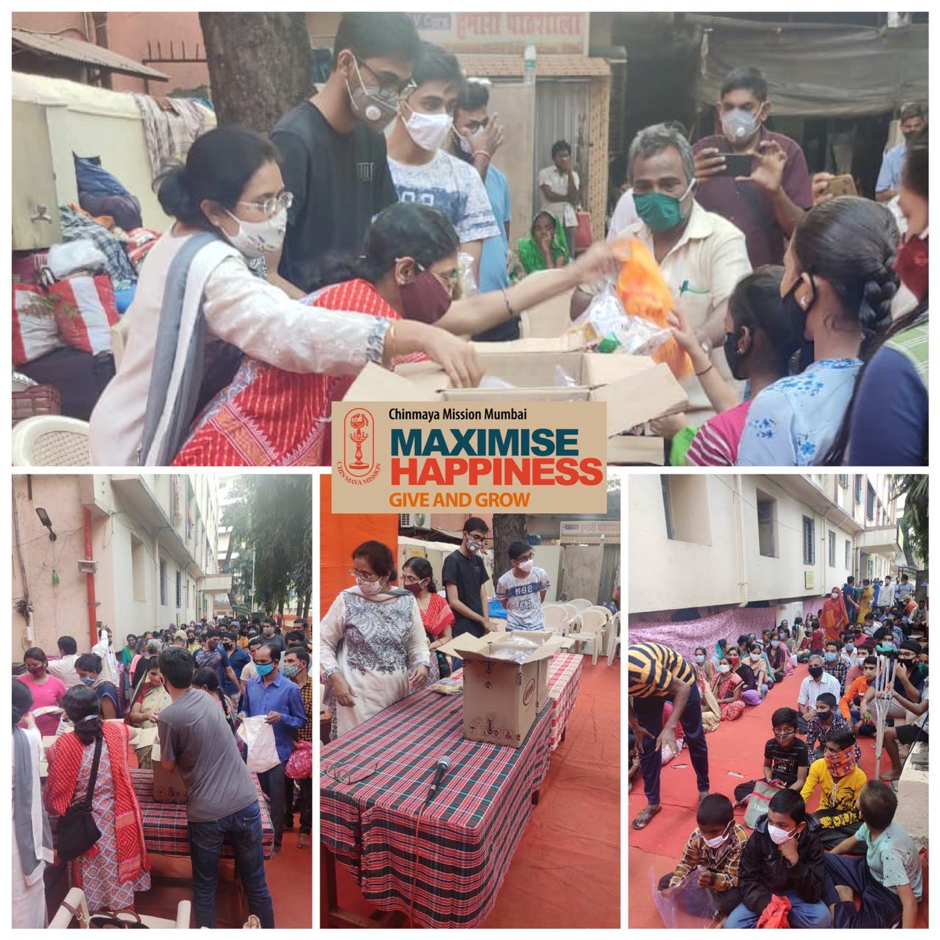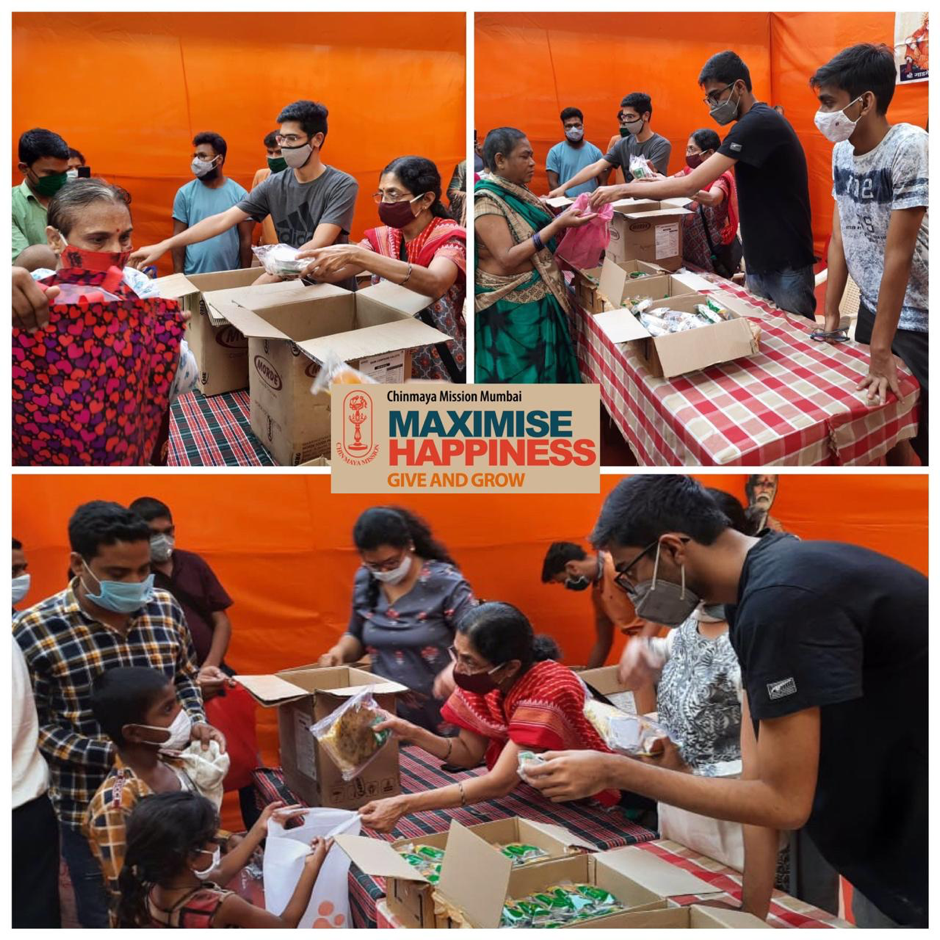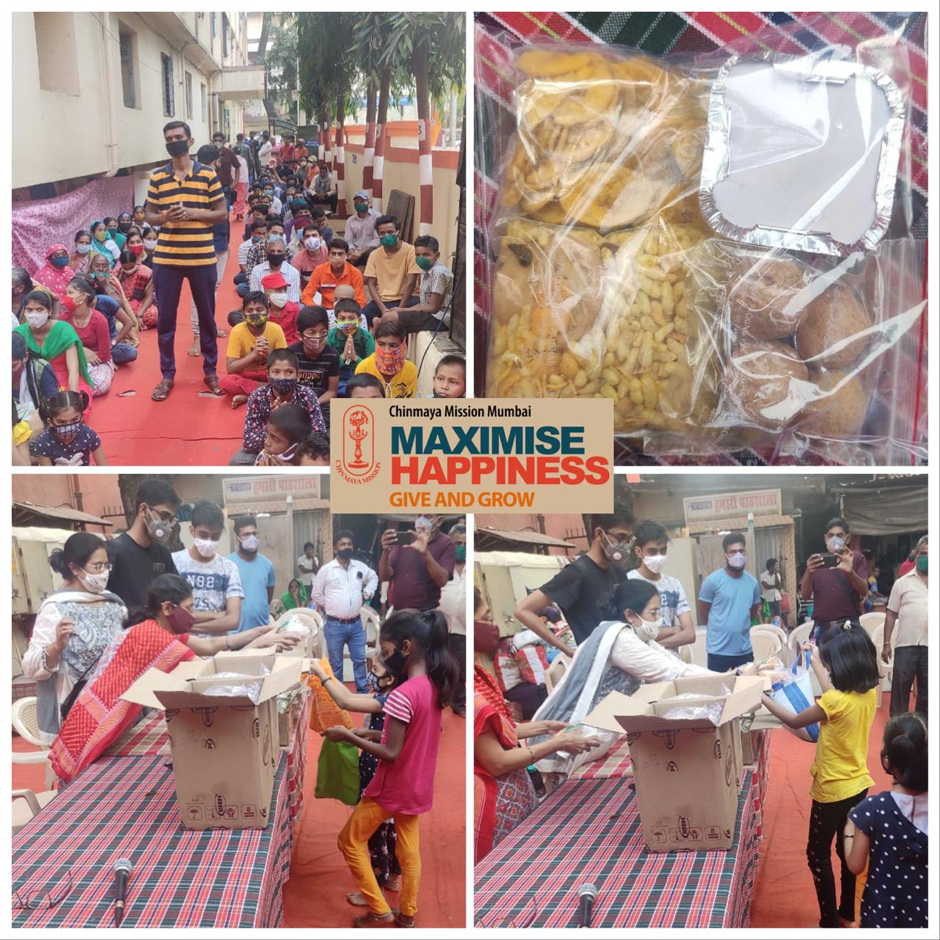 ---
Anna Daan and Vidya Daan Seva in Mahima Zone on 14th Dec. 2020
On 14 th December 2020, Chinmaya Mahima Zone organized Vidyadaan and Annadaan seva at B J Home, Matunga East.
B. J Home is an orphanage for destitute children between the age group of 6 and 12. Swami Swatmananda ji visited the Home and was welcomed by Ms. Roshini Damania, Vice President and Mrs Reshma Hemnani, Administrator of B J Home, Smt. Vidya Harikrishna, Sri Vivek Krishnani (Vice President of Chinmaya Mission Mumbai), Ms. Sunitha Shanker (President, Chinmaya Mahima Zone), Smt. Rajalakshmi, Smt. Nisha Parekh also co-ordinated and participated in this seva.
Children chanted shlokas to welcome everyone. We were glad to see the happy faces of the children. Swamiji cheered the children with an inspirational story of Lord Krishna. He emphasized the importance of cultivating qualities of courage, enthusiasm, strength, knowledge, great vision and happiness in one's life. A cultural event in the form of dance and song was performed by the children.
Under Chinmaya Vidyadaan Seva the items provided were notebooks, drawing books, card papers, project books, school bags, whiteboard markers, fullscape papers, whiteboard dusters, pens, blackboard chalk boxes, glue stick, cello tapes.
Under Annadaan Seva items provided were poha, rice, jaggery, ghee, cooking oil, dal, tea, lapsi, kismis, milk powder, colgate toothpaste, lifebuoy soaps, coconut oil, shampoo, toilet paper rolls, tissues.
Children were glad to receive stationery from Swamiji. The Seva was a happy occasion, time well spent with all the 87 children of B J Home. We thank all the social workers of B J Home , who take care of the children with utmost love and care. We also thank all the donors who contributed to this seva.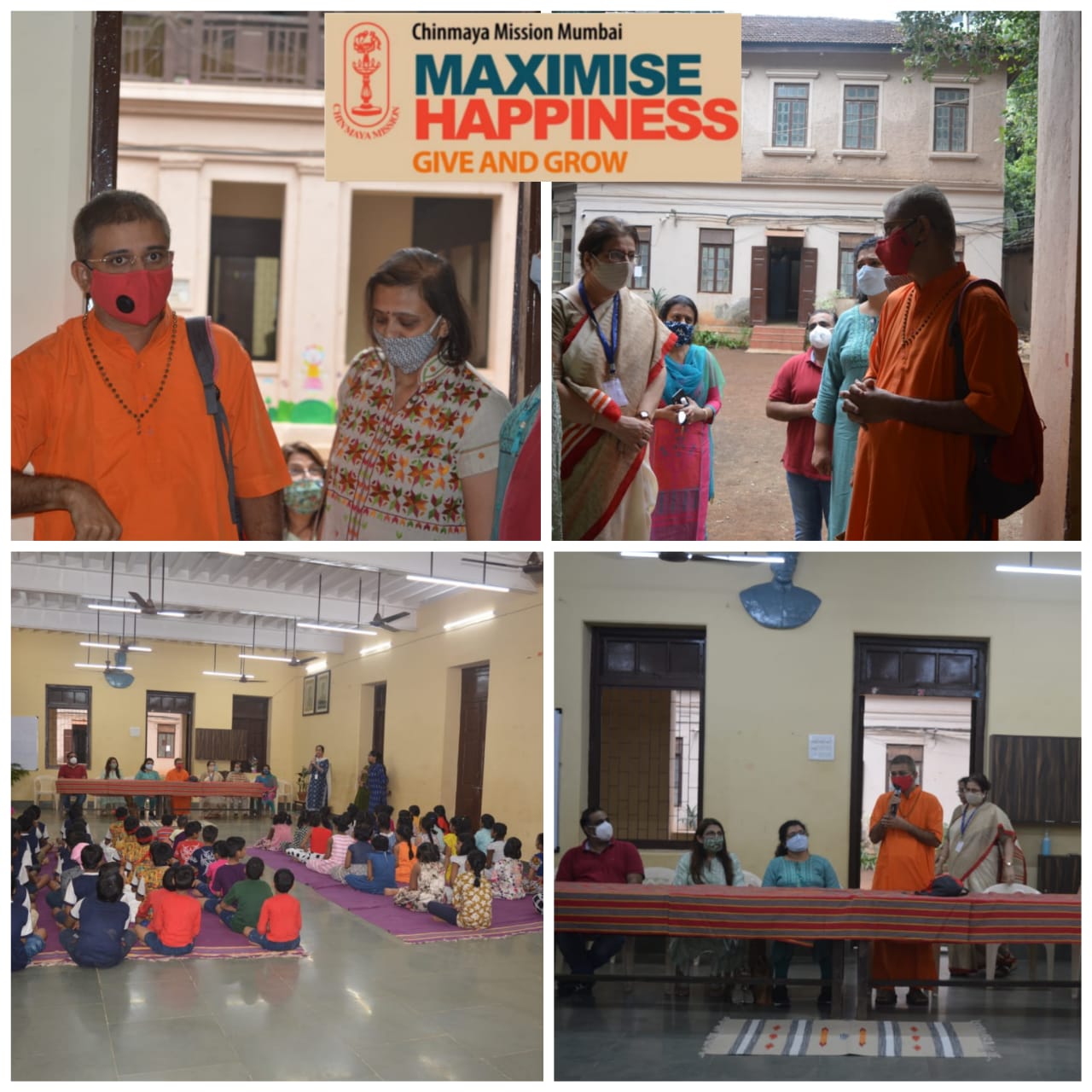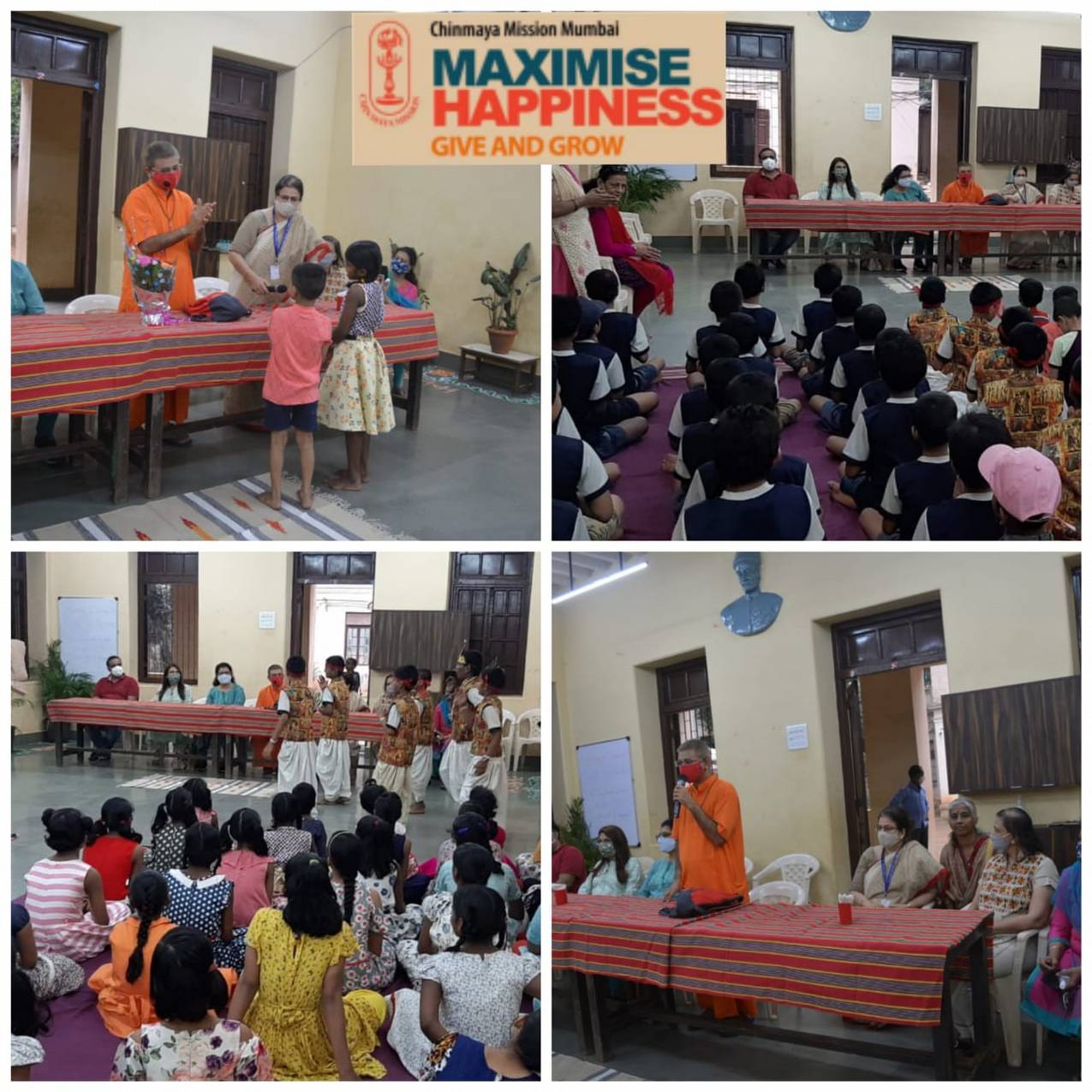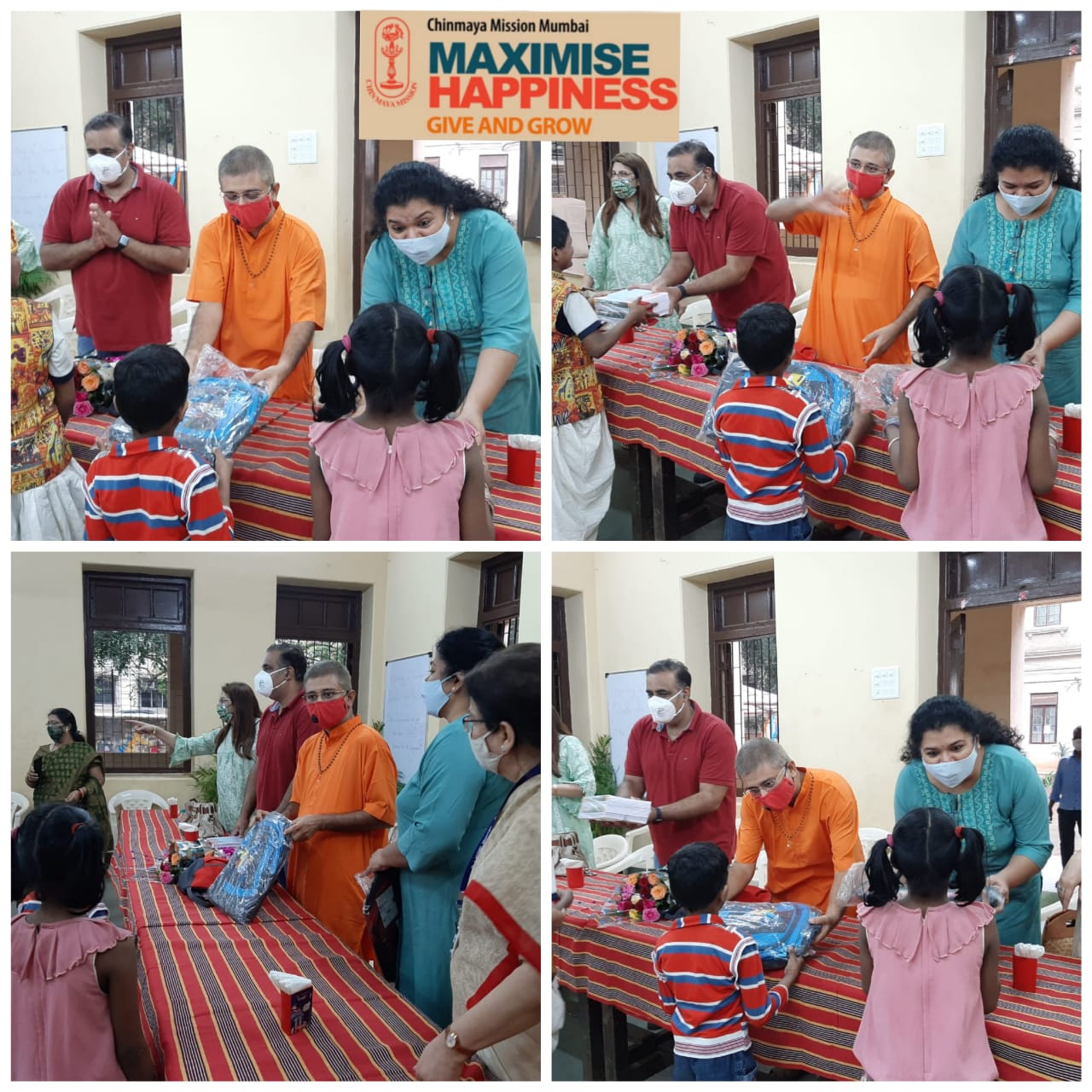 ---
'MAXIMISING HAPPINESS' PROJECT SEVA in Govandi on 5th Dec. 2020
# Seva continues..
# Spreading smiles continues..
# Maximizing Happiness continues..
Chinmaya Mission, Mumbai engaged in educational and healthcare seva on Saturday, 5th December 2020 as part of 'Maximise Happiness' project. Venue for this seva was RST School, Govandi.
A few needy and deserving beneficiaries were identified with the help of Shri. Amit Banage who is the coordinator from NGO VIDYA and also a sadhak attending study classes.
We appreciate his support along with 4 teachers of NGO VIDYA.
If a mother learns, it impacts the whole family. With this in mind, Chinmaya Mission, Mumbai distributed Marathi-English dictionaries to the mothers who attend English speaking classes conducted by NGO VIDYA.
Smt. Manisha Deole conducts life skill classes for the students of VIDYA NGO and has conducted TITI sessions for the mothers.
Online classes for school children are likely to stay on for a while. For better clarity of voice and convenience, headphones/earphones are necessary. Chinmaya Mission, Mumbai distributed them to a few needy students.
Imparting values to the young generation is one of the main objectives of Chinmaya Mission. For this, a few students were given story books of Chinmaya Mission and a few were given Balavihar magazine subscriptions.
Seva was attended by Shri. Prasad Deole, President of Chinmaya Narayana Zone, Smt. Manisha Deole, treasurer of the zone and Smt. Chitra Viswanathan (TITI coordinator/Trainer)
It was heartening to see the joy on the faces of mothers as well as the children who received educational and healthcare support. The Chinmaya Mission team could reach out to 30 plus mothers and 70 plus children by this seva.
We are glad to inform you that Shri. Shankar Mahadevan Ji has wholeheartedly congratulated Chinmaya Mission's Maximise Happiness seva project.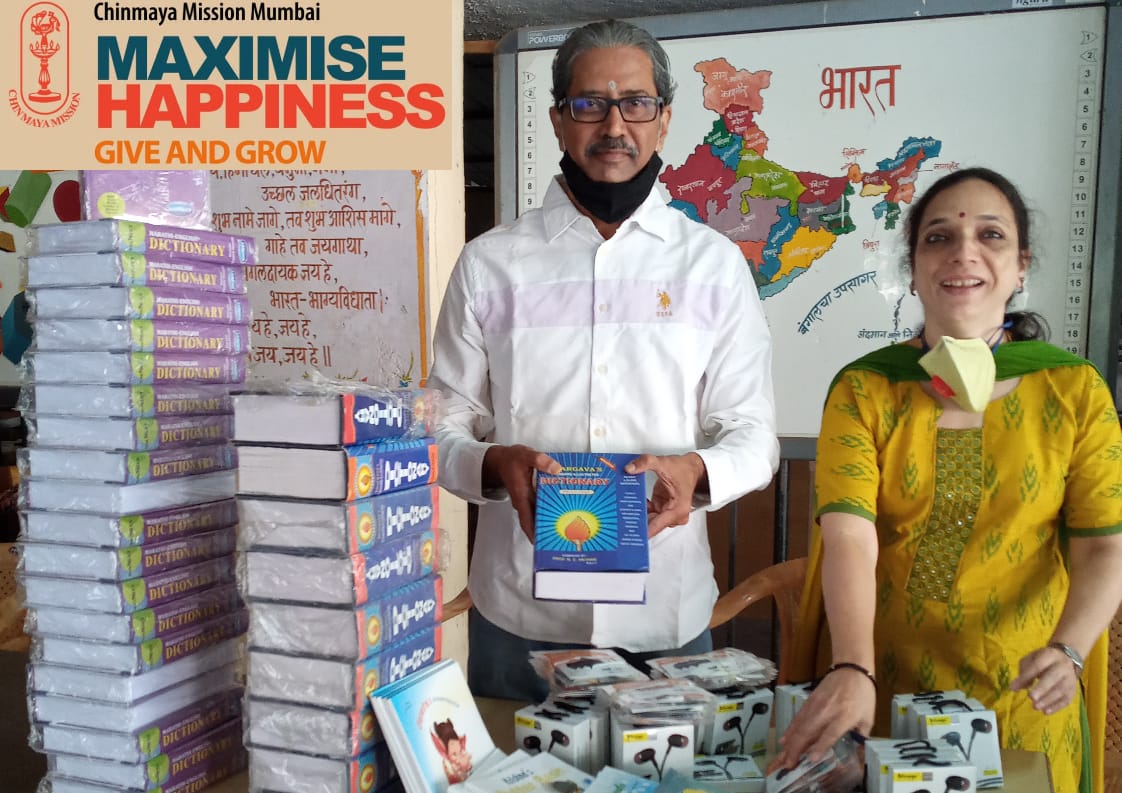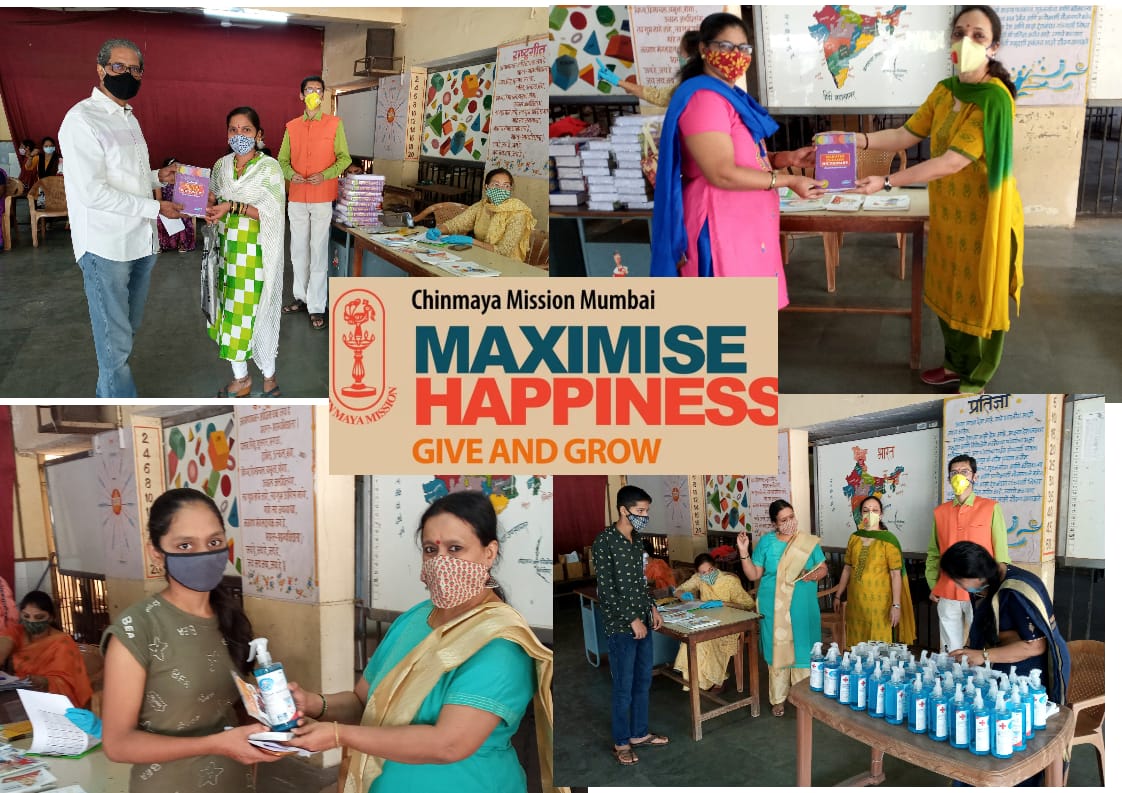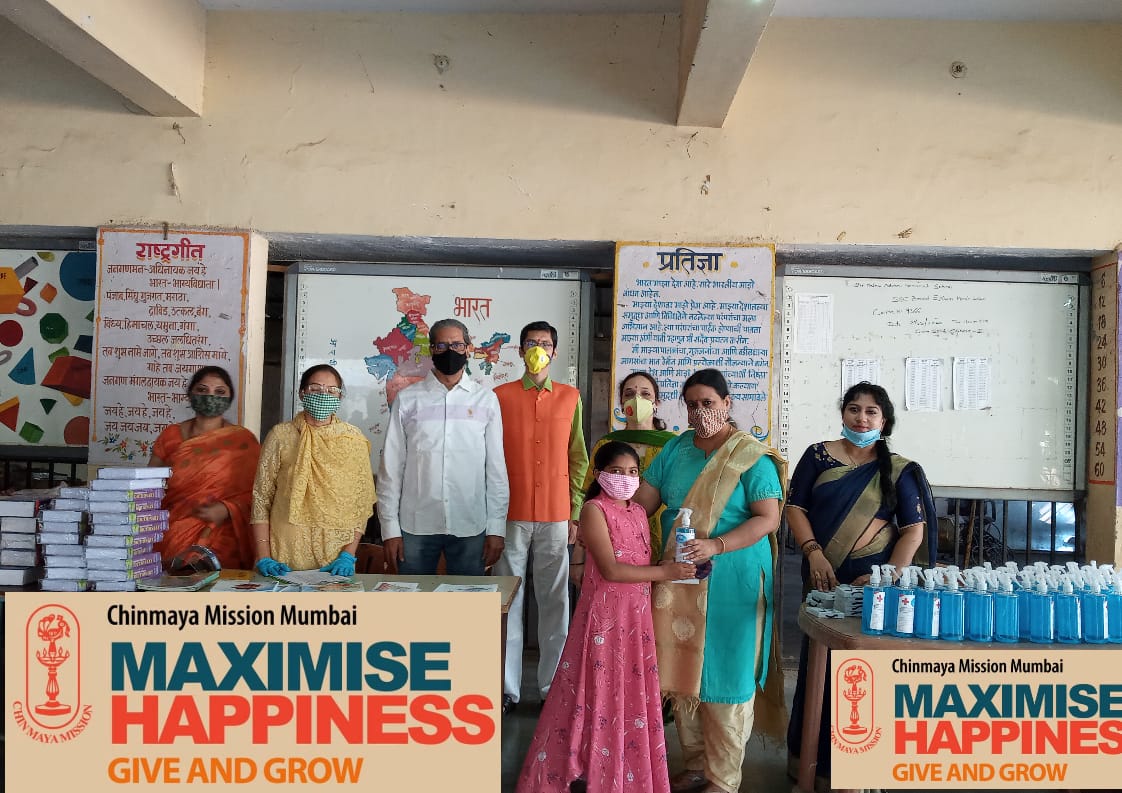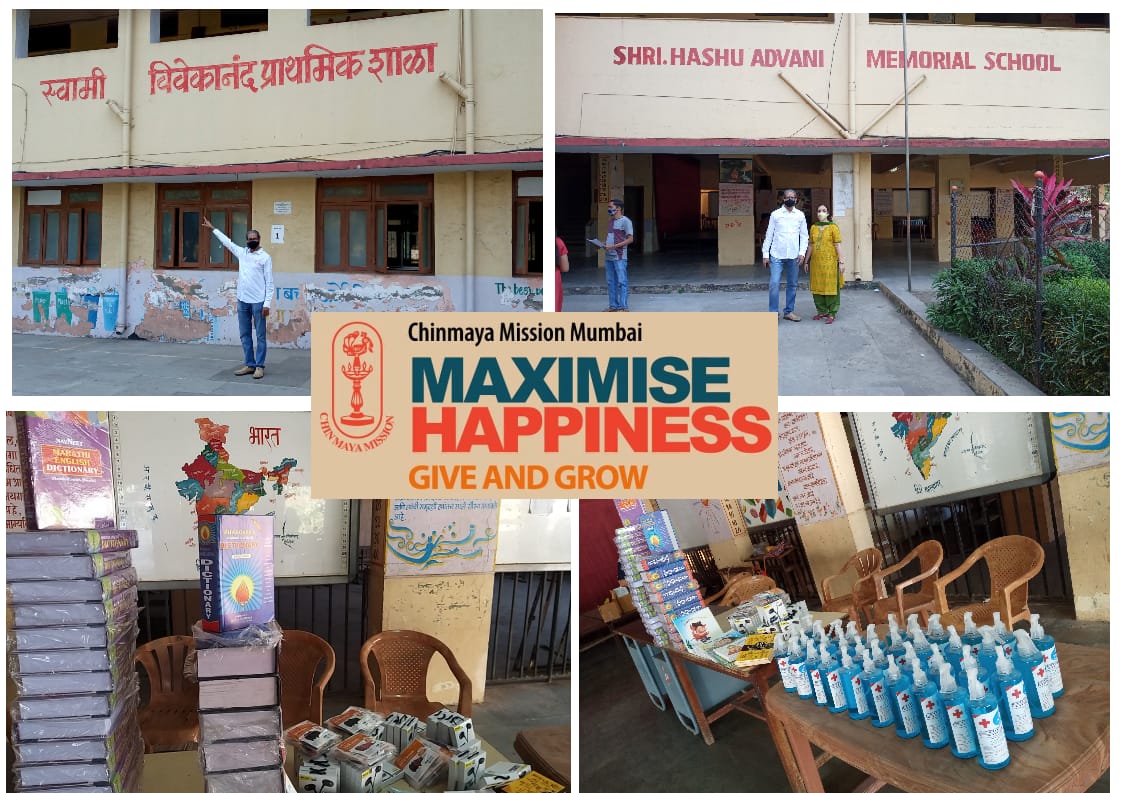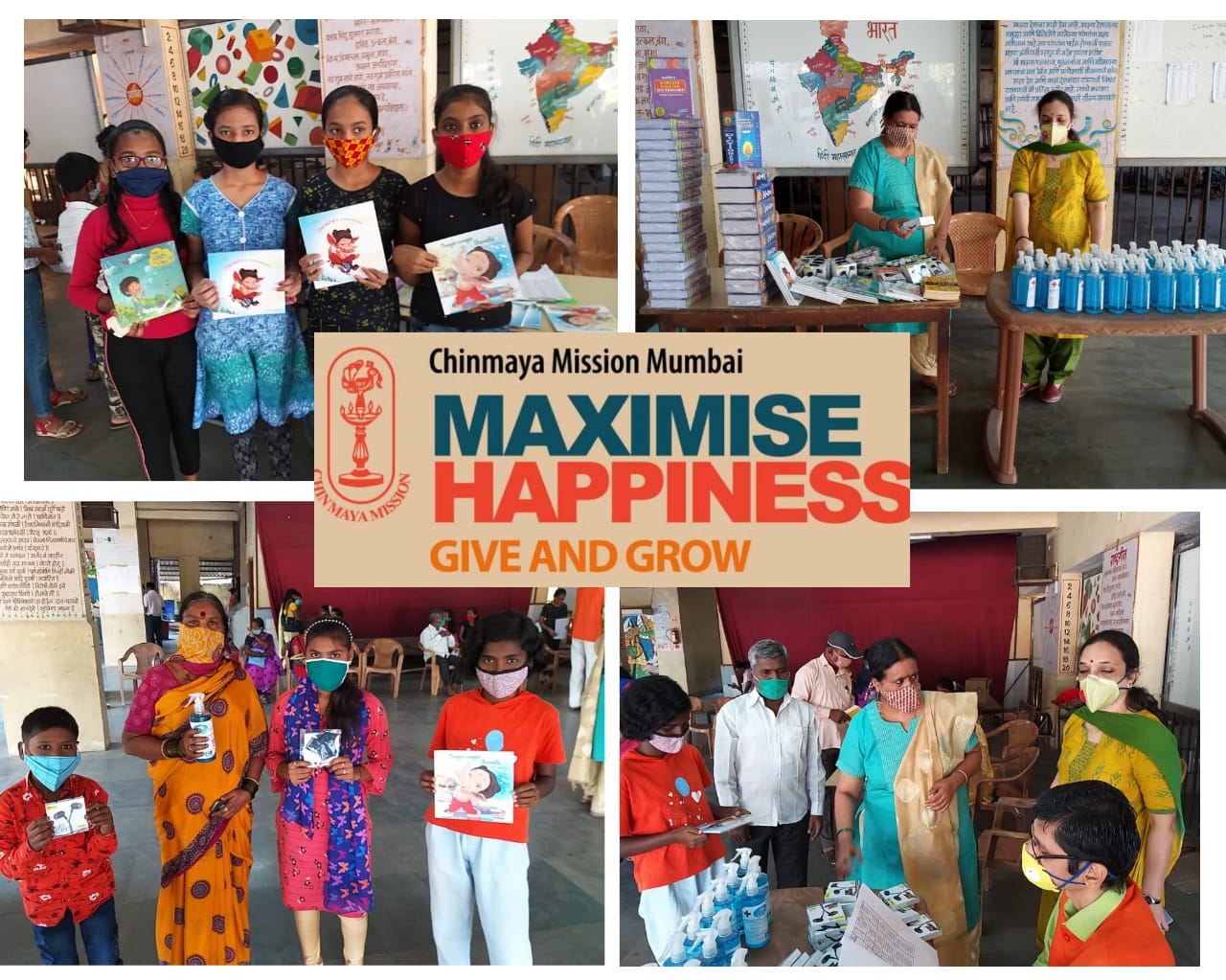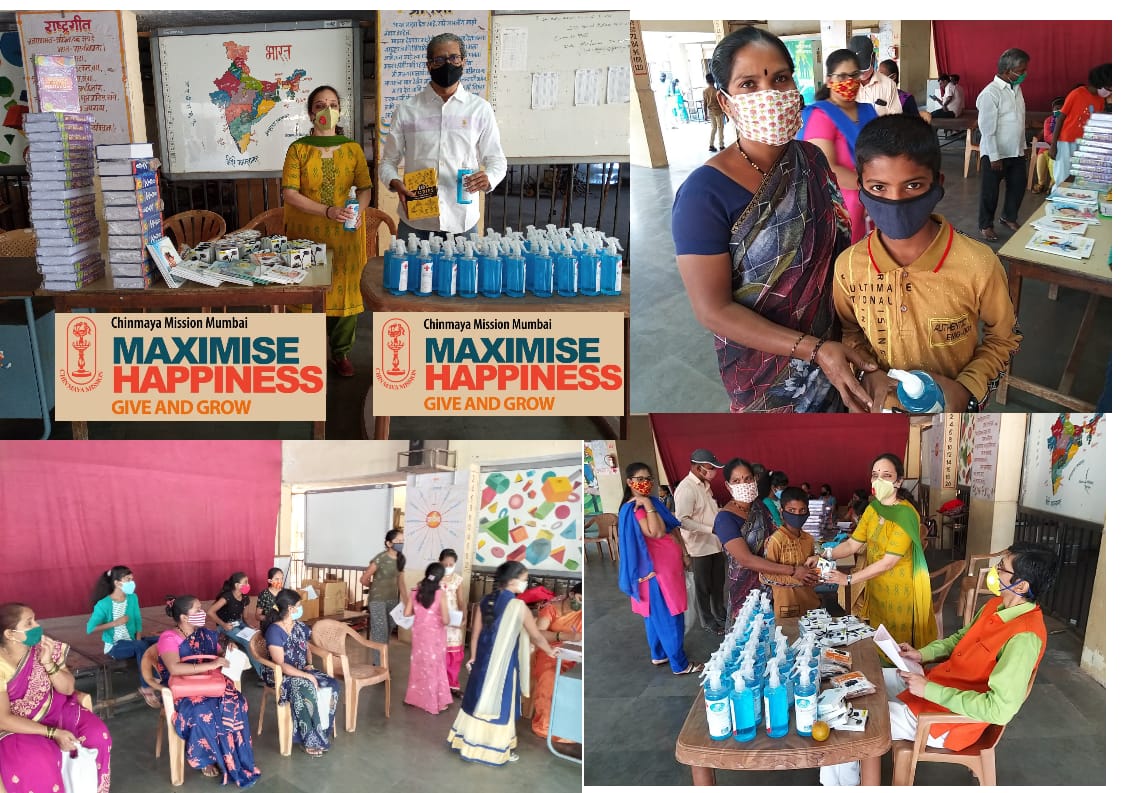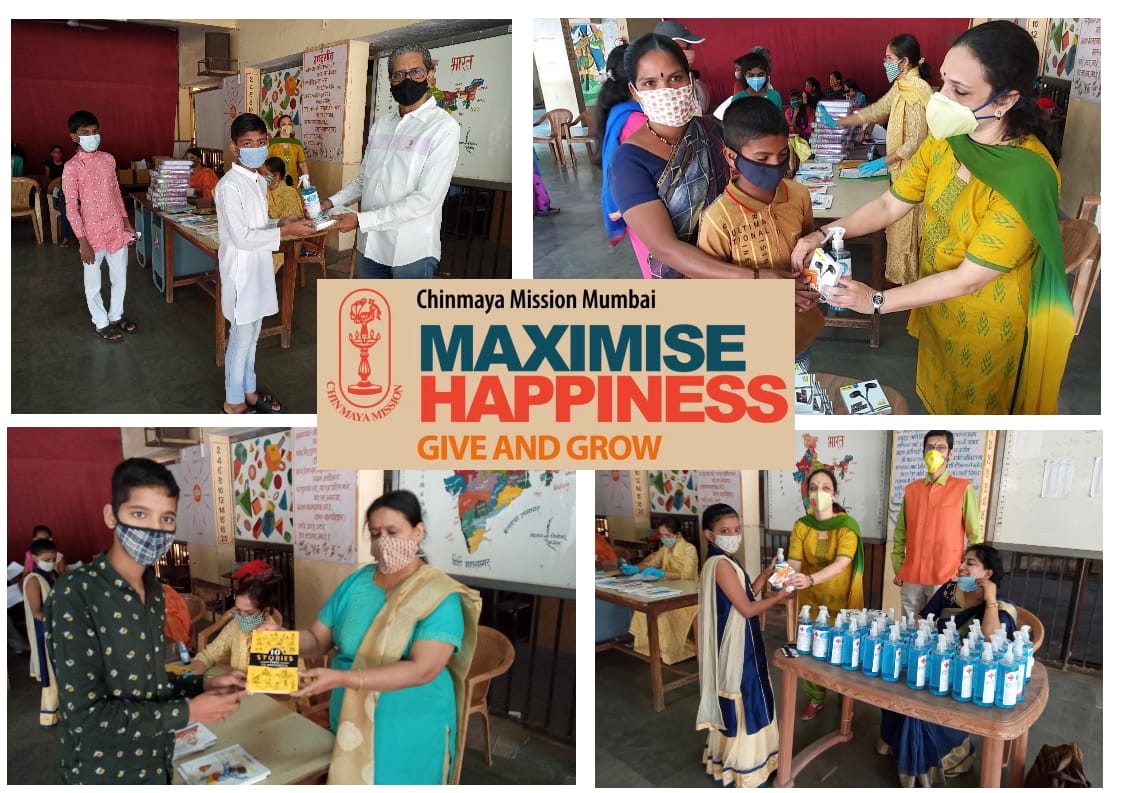 ---
Chinmaya Mission Mumbai, on 27th November, distributed stationary kits to the needy students of Nehru Nagar, Juhu in Chinmaya Prakash Zone, as a part of "Maximising Happiness" initiative. These children are studying in various schools/colleges and their parents are doing work as servants, drivers, labourers, etc. These children, many of them girls, came to collect their kits and could converse very fluently. Local social worker Mr. Muthukumar and a teacher Mr. Nilesh Jogalekar had coordinated with the zonal team of Smt. Shashi Binani, Smt. Suhasini Lohia and Smt. Ami Agarwal. Zonal President Smt. Meghana Patel and Shri Mukul Patel were also present along with Swami Swatmananda.
250 kits which comprised of 3 large note books, 10 pencils, pencil box with eraser & sharpener, a crayon box & a geometry box were sponsored by Shri Anand Kumar Thirani (MD of Kores India). The kit also consisted of 3 ball point pens which were sponsored by Smt. Sonal Jain (Director of Montex pens). Chinmaya Mission Mumbai appreciates their support for the noble cause.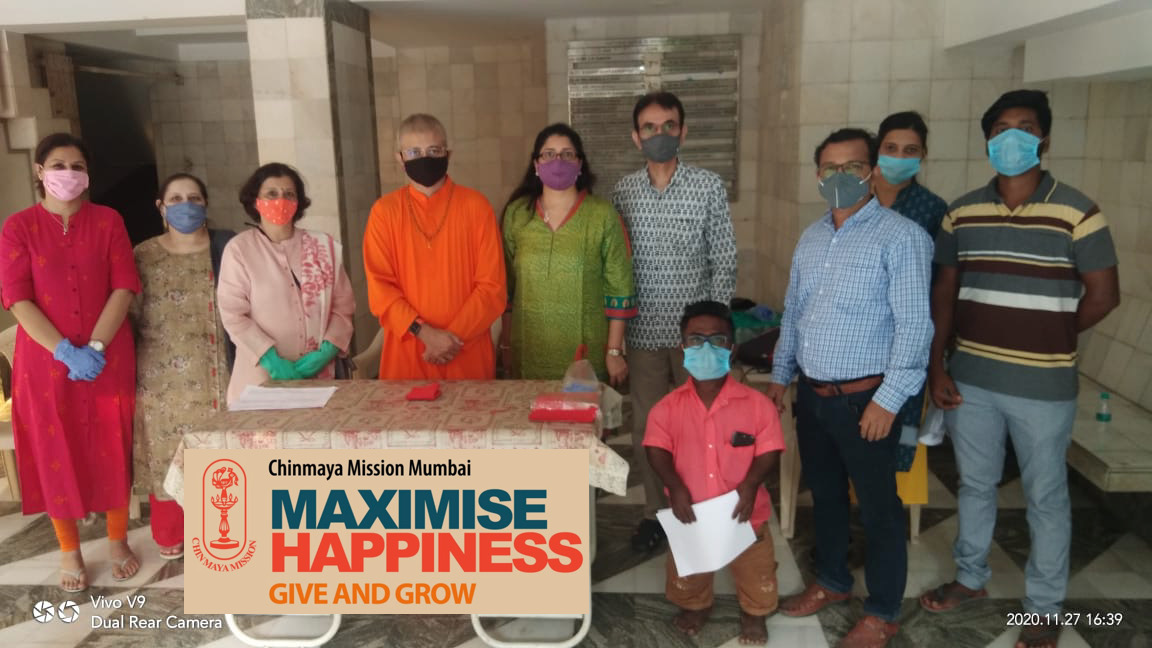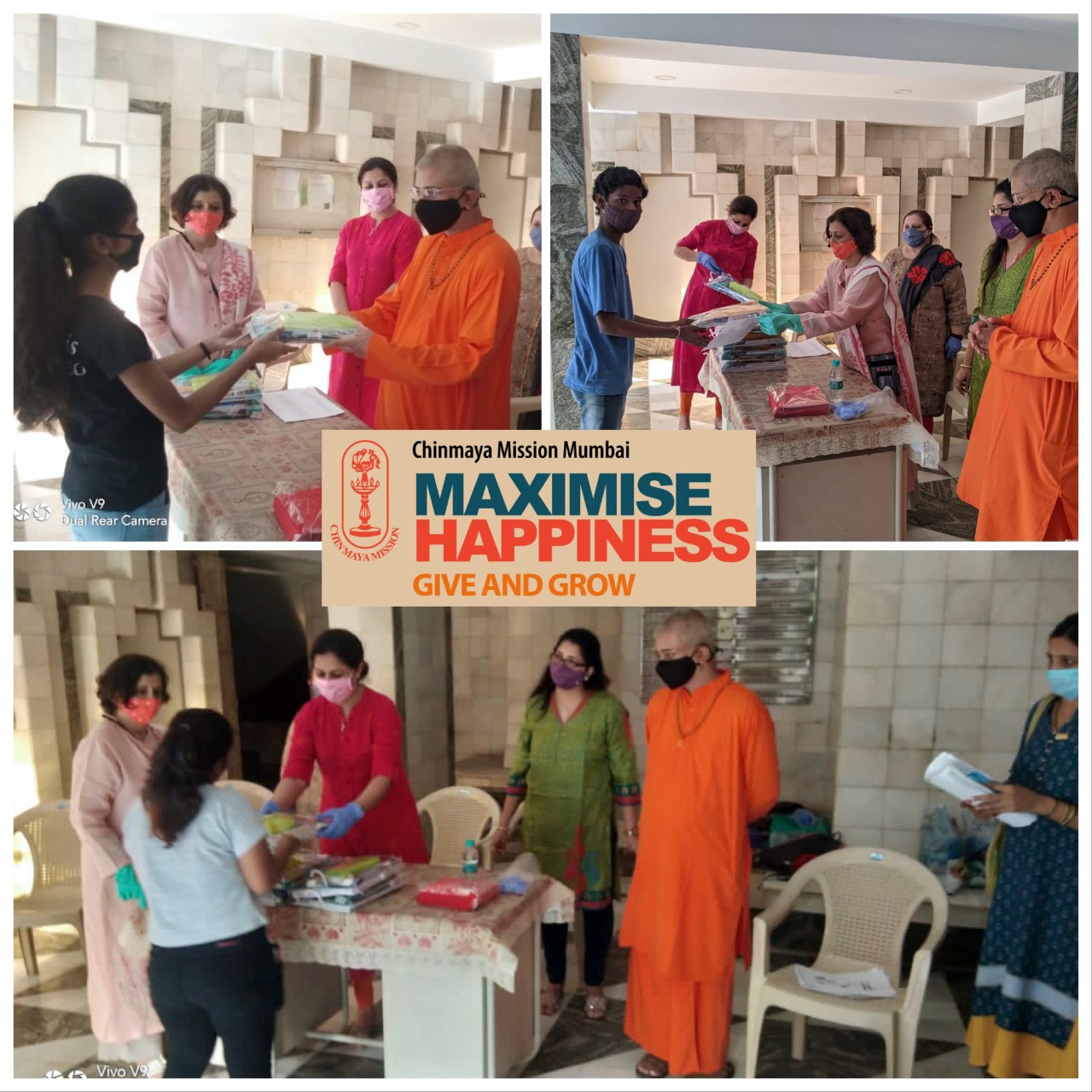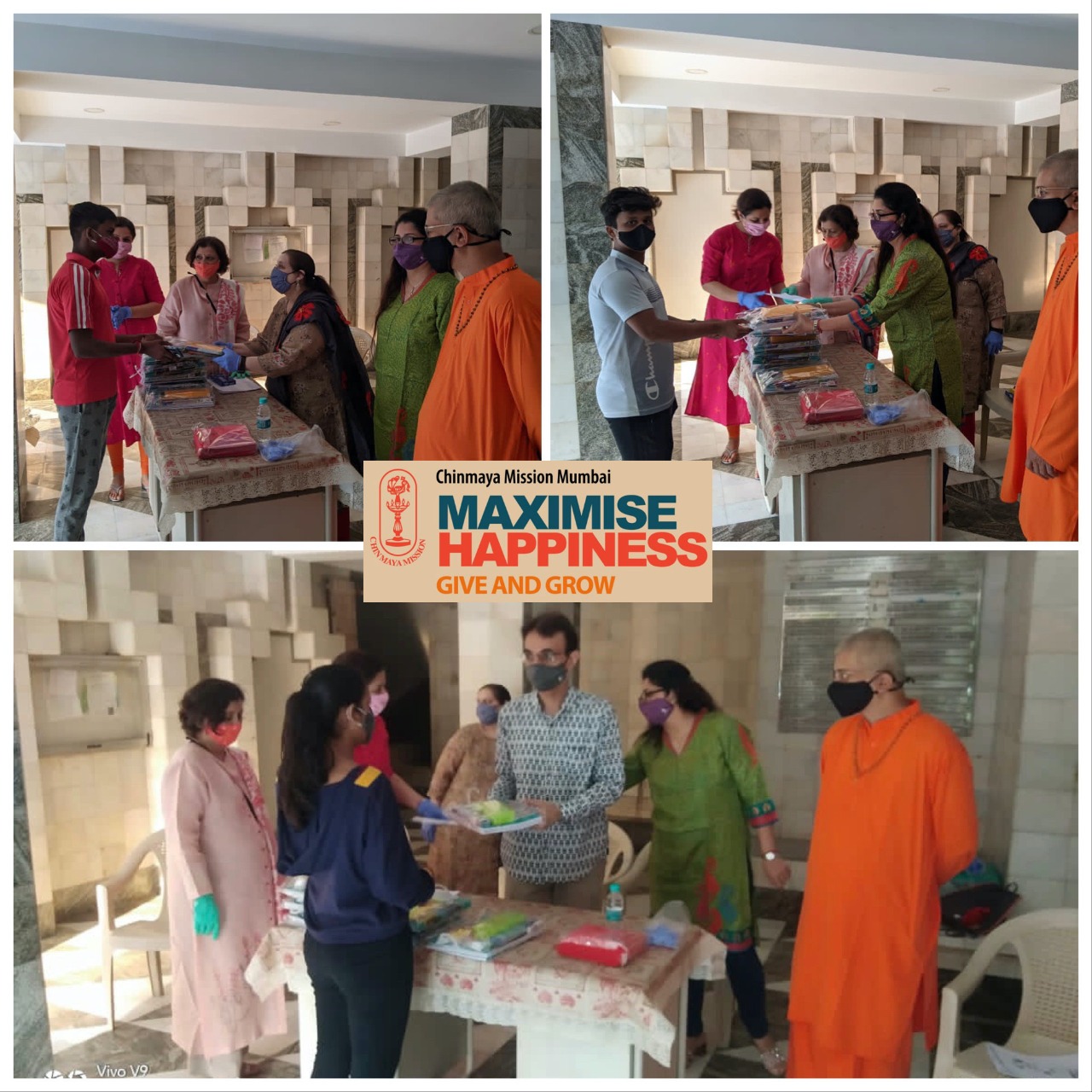 ---
We are happy to inform you that by the grace of God and blessings of Pujya Gurudev, Swami Chinmayananda, and the active support of all the volunteers of Chinmaya Mission and the donors, the MAXIMISE HAPPINESS seva initiative began yesterday (28th October 2020).
A Stationery distribution drive was successfully held by the Chinmaya Seva Trust at Municipal school No. 38 M at Wagle Estate, Thane on 28th October 2020.
The beneficiaries of the kits were 167 students with learning disabilities.
Each kit consisted of 6 notebooks, 10 pencils, a sharpener and eraser, 6 inches scales -2, 4 ball pens, a pouch to carry and a box of crayons.
This will enable them to do their classwork and homework and will hopefully catapult them into positive activity in these otherwise dreary times.
The relatives of most of the young children were invited to collect the kits to maintain safety protocols.
Chinmaya Seva Trust is grateful to the donors and supporters, to the volunteers - Saurabh for the wonderful inspiring photographs, MIMAANSA for helping in the identification process and logistical support and the recipients for this Seva opportunity.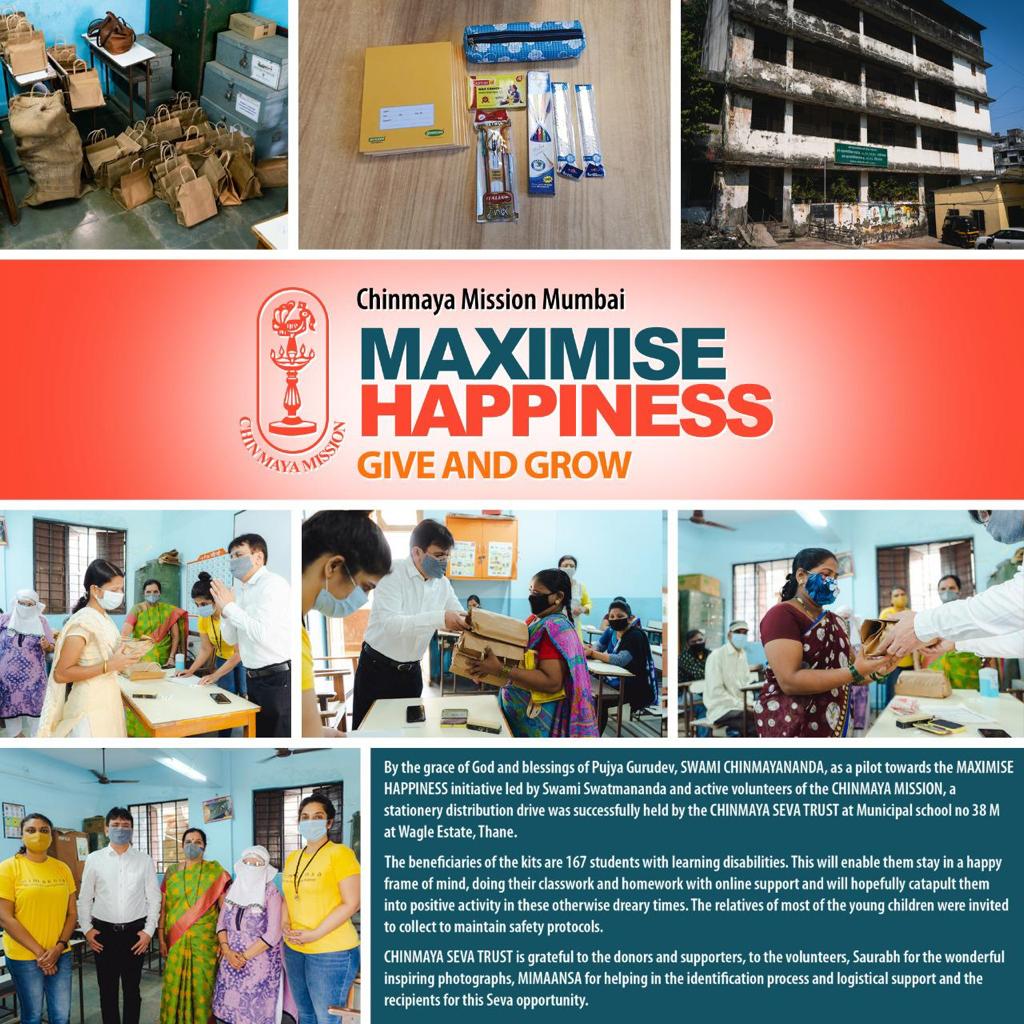 ---
Shriyansh Kadam's mother lost her job and his father his regular salary in the recent pandemic, but thanks to the generous supporters of the Maximise Happiness campaign of Chinmaya Mission, Shriyansh and many other children like him, were able to continue their education.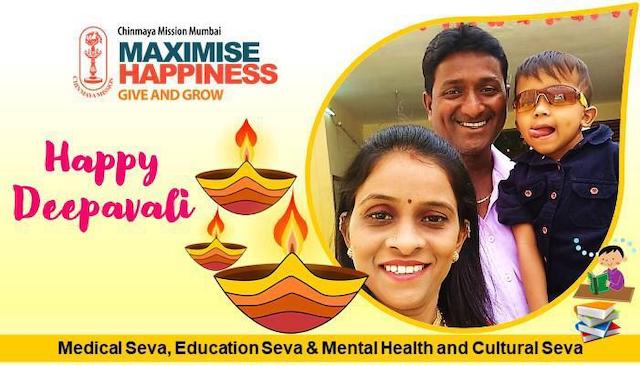 ---
Educational Seva on 11th November 2020 at SPRJ Kanyashala
From November 23rd, schools are re-opening in Maharashtra and so Chinmaya Mission decided to do a stationary distribution drive under "Maximum Happiness" Project. On the auspicious day of Ekadashi on 11th November 2020 we conducted a distribution drive of long note books and stationary essentials, for girl students of Shree Pandit Ratnachandraji Jain Kanyashala, Ghatkopar. The 515 students of class V to class X hail from extremely humble origins and are mostly first generation learners of their families whose parents are economically challenged and many belong to the community of cleaners, ragpickers, drivers, hawkers, servants etc. Incentive of free rations by the SPRJ Kanyashala trust / donors ensures good attendance to them, thereby aiding in education of the girl child. SPRJ Kanyashala trust whose work in the field of women literacy dates back to year 1924, an era when female literacy was at a low ebb, speaks volumes of the trusts' commitment to the cause. The Principal Ms Nanda Nilesh Thakkar, coordinator Pravina Thakkar and a strength of 30 teaching non-teaching staff, in strengthening the cause needs special mention here. Chinmaya mission has been associated with the school for over four years through our Geeta chanting competition and many students participate in the school. The school also makes it compulsory for Std. X students to participate in the chanting.
The sevaks and sevikas of Chinmaya mission - Sri Sunil Gambani, Smt. Nutan Bhalla, Sri Srikant Narsimhan, Sri Ajay, Sri & Smt. Someshwar Indira and Someshwar led by Brni. Prachiti Chaitanya and Swami Swatmananda participated in the programme. The stationary distribution drive continued through a period of two hours ,keeping sanitisation measures and social distancing in place. The pre packed paper bags which contained 12 long notebooks, ball pens, pencils, erasers and crayons were stacked up neatly and handed over to parents or children only after ids were established at the registration desk, coupons provided by the school staff, at the ground floor.
To view the entire event, a zoom link was available for all donors and volunteers to view, thereby ensuring complete transparency at our end. As the event drew to an end the mood was upbeat. It was an afternoon well spent and an apt finale to the event was distribution of sweet packets to the staff for Deepavali, by Swamiji and Brahmacharni Prachiti ji.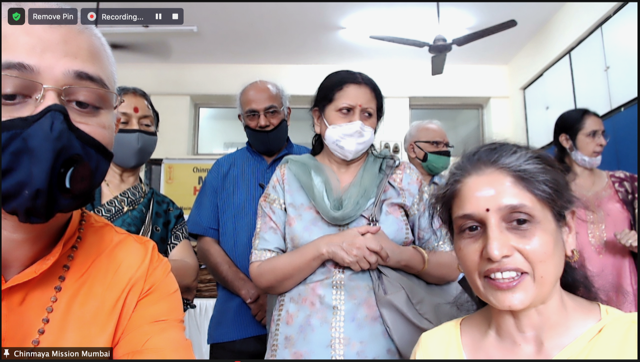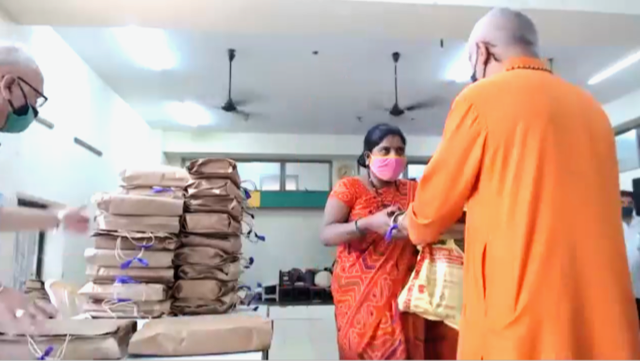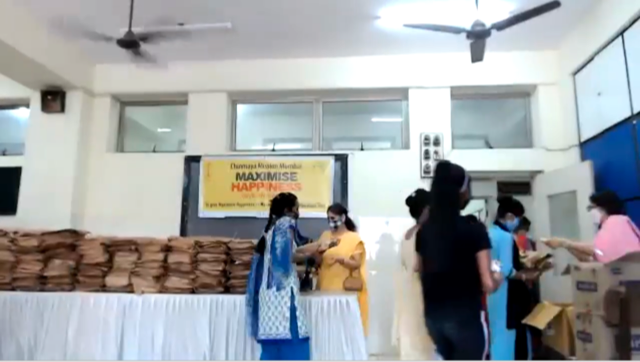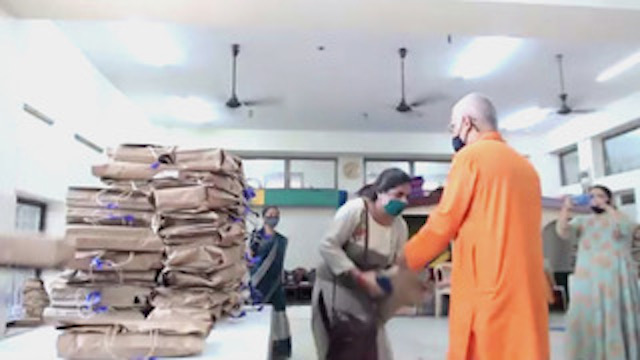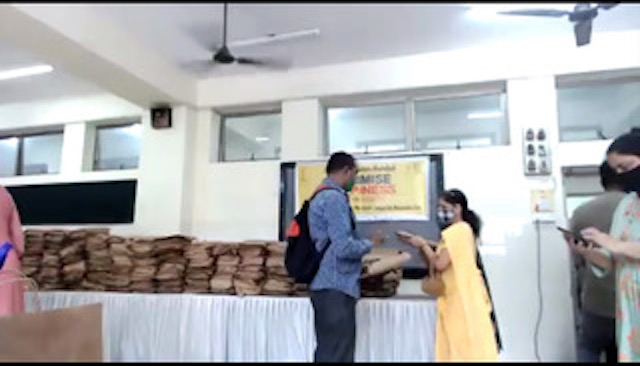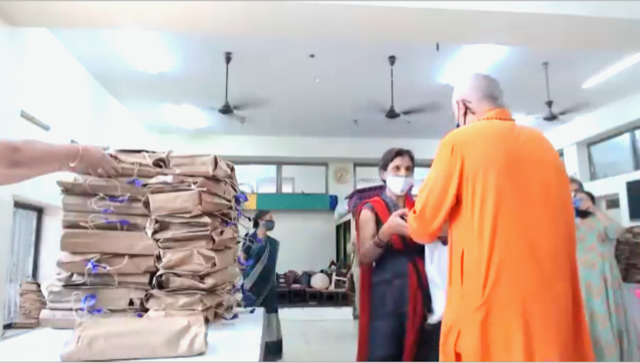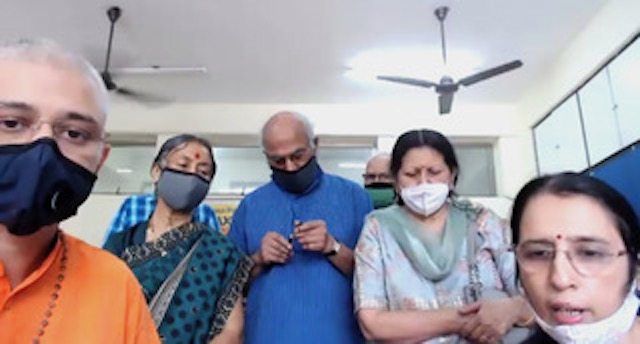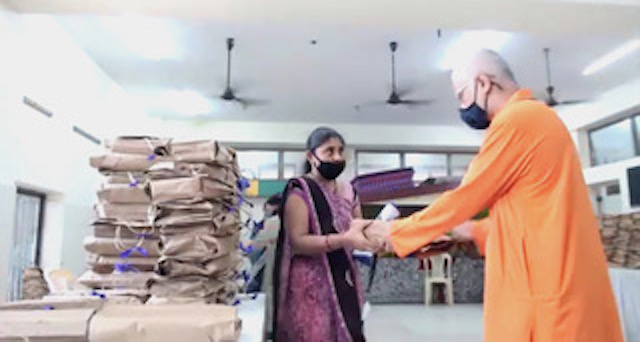 ---