The various causes that are going to be covered under Educational and Social Seva are:
Annual Chinmaya Scholarships of up to 5 lakhs to students from the deserving section of society
Annadaan to orphanages and Girl care Centres at a cost of Rs 30000/- per orphanage
Providing monthly rations to over a 1000 families
Approx. Cost of a month's ration for 1 family of 4 = 800
Approx. Cost of a month's ration for a family of 2 = 610
(Monthly Ration for 2 includes : TUVAR DAL 2kg, RICE 5kg SUGAR 1kg OIL 1ltr SALT 1kg ATTA 1kg TURMERIC 100gm CORIANDER 100gm RED CHILLY 100gm )

(Monthly ration for 4 includes : TUVAR DAL 2kg, RICE 5kg SUGAR 1kg OIL 1ltr SALT 1kg ATTA 5kg TURMERIC 200gm CORIANDER 250gm RED CHILLY 100gm, WASHING SOAP 2 bars, LIQUID SOAP, TEA 250 gms, 2 CARRY HOME BAGS)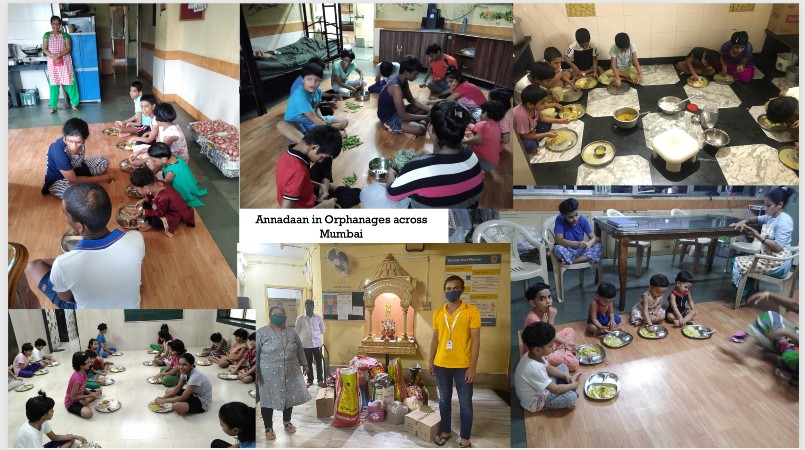 ---
Educational Seva on 11th November 2020 at SPRJ Kanyashala
From November 23rd, schools are re-opening in Maharashtra and so Chinmaya Mission decided to do a stationary distribution drive under "Maximum Happiness" Project. On the auspicious day of Ekadashi on 11th November 2020 we conducted a distribution drive of long note books and stationary essentials, for girl students of Shree Pandit Ratnachandraji Jain Kanyashala, Ghatkopar. The 515 students of class V to class X hail from extremely humble origins and are mostly first generation learners of their families whose parents are economically challenged and many belong to the community of cleaners, ragpickers, drivers, hawkers, servants etc. Incentive of free rations by the SPRJ Kanyashala trust / donors ensures good attendance to them, thereby aiding in education of the girl child. SPRJ Kanyashala trust whose work in the field of women literacy dates back to year 1924, an era when female literacy was at a low ebb, speaks volumes of the trusts' commitment to the cause. The Principal Ms Nanda Nilesh Thakkar, coordinator Pravina Thakkar and a strength of 30 teaching non-teaching staff, in strengthening the cause needs special mention here. Chinmaya mission has been associated with the school for over four years through our Geeta chanting competition and many students participate in the school. The school also makes it compulsory for Std. X students to participate in the chanting.
The sevaks and sevikas of Chinmaya mission - Sri Sunil Gambani, Smt. Nutan Bhalla, Sri Srikant Narsimhan, Sri Ajay, Sri & Smt. Someshwar Indira and Someshwar led by Brni. Prachiti Chaitanya and Swami Swatmananda participated in the programme. The stationary distribution drive continued through a period of two hours ,keeping sanitisation measures and social distancing in place. The pre packed paper bags which contained 12 long notebooks, ball pens, pencils, erasers and crayons were stacked up neatly and handed over to parents or children only after ids were established at the registration desk, coupons provided by the school staff, at the ground floor.
To view the entire event, a zoom link was available for all donors and volunteers to view, thereby ensuring complete transparency at our end. As the event drew to an end the mood was upbeat. It was an afternoon well spent and an apt finale to the event was distribution of sweet packets to the staff for Deepavali, by Swamiji and Brahmacharni Prachiti ji.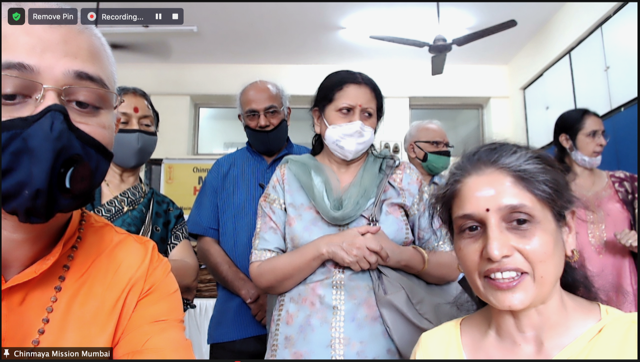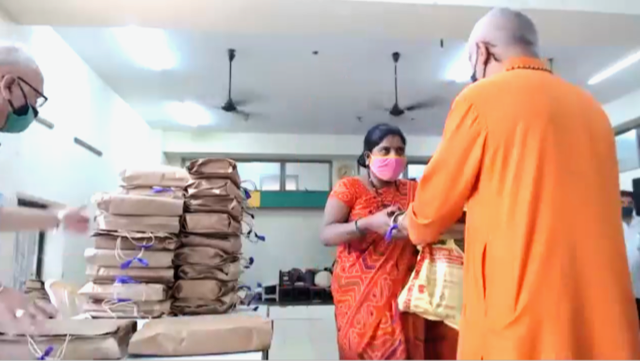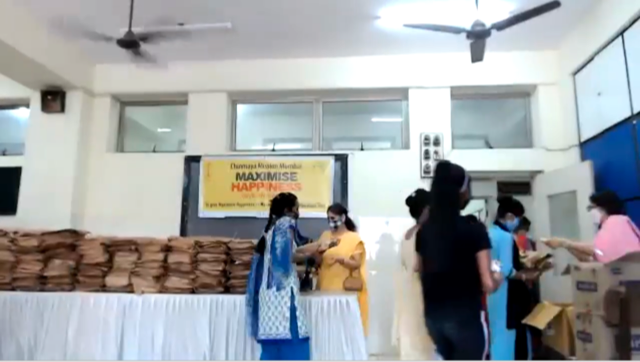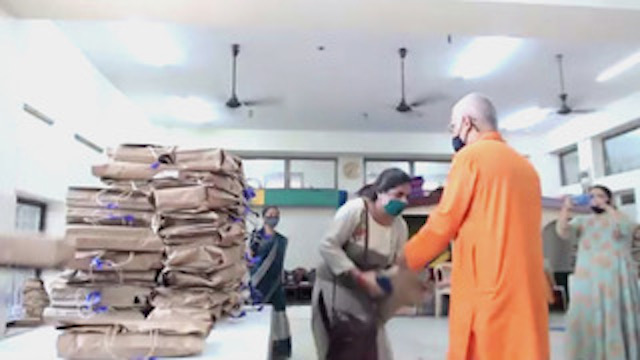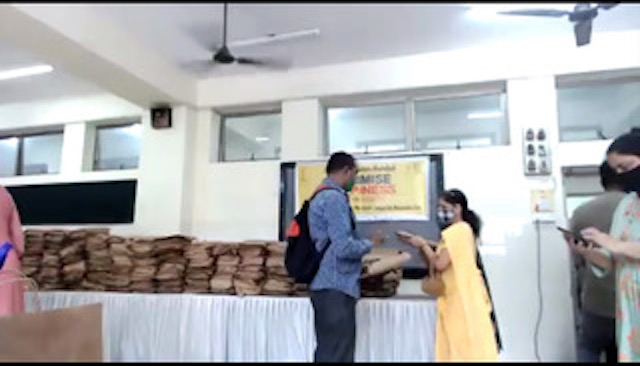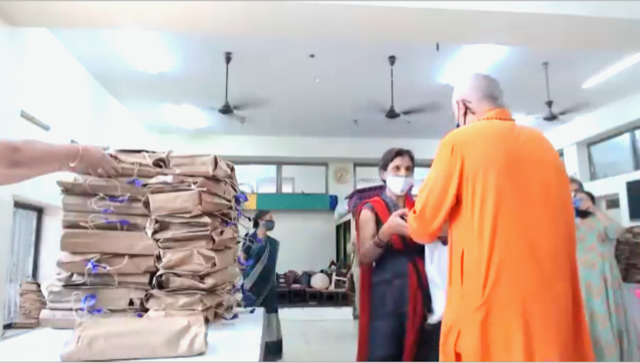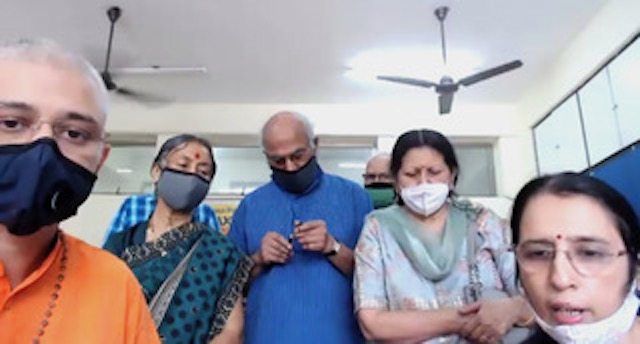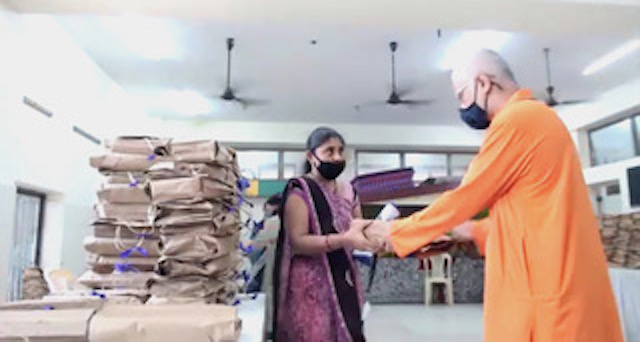 ---
We are happy to inform you that by the grace of God and blessings of Pujya Gurudev, Swami Chinmayananda, and the active support of all the volunteers of Chinmaya Mission and the donors, the MAXIMISE HAPPINESS seva initiative began yesterday (28th October 2020).
A Stationery distribution drive was successfully held by the Chinmaya Seva Trust at Municipal school No. 38 M at Wagle Estate, Thane on 28th October 2020.
The beneficiaries of the kits were 167 students with learning disabilities.
Each kit consisted of 6 notebooks, 10 pencils, a sharpener and eraser, 6 inches scales -2, 4 ball pens, a pouch to carry and a box of crayons.
This will enable them to do their classwork and homework and will hopefully catapult them into positive activity in these otherwise dreary times.
The relatives of most of the young children were invited to collect the kits to maintain safety protocols.
Chinmaya Seva Trust is grateful to the donors and supporters, to the volunteers - Saurabh for the wonderful inspiring photographs, MIMAANSA for helping in the identification process and logistical support and the recipients for this Seva opportunity.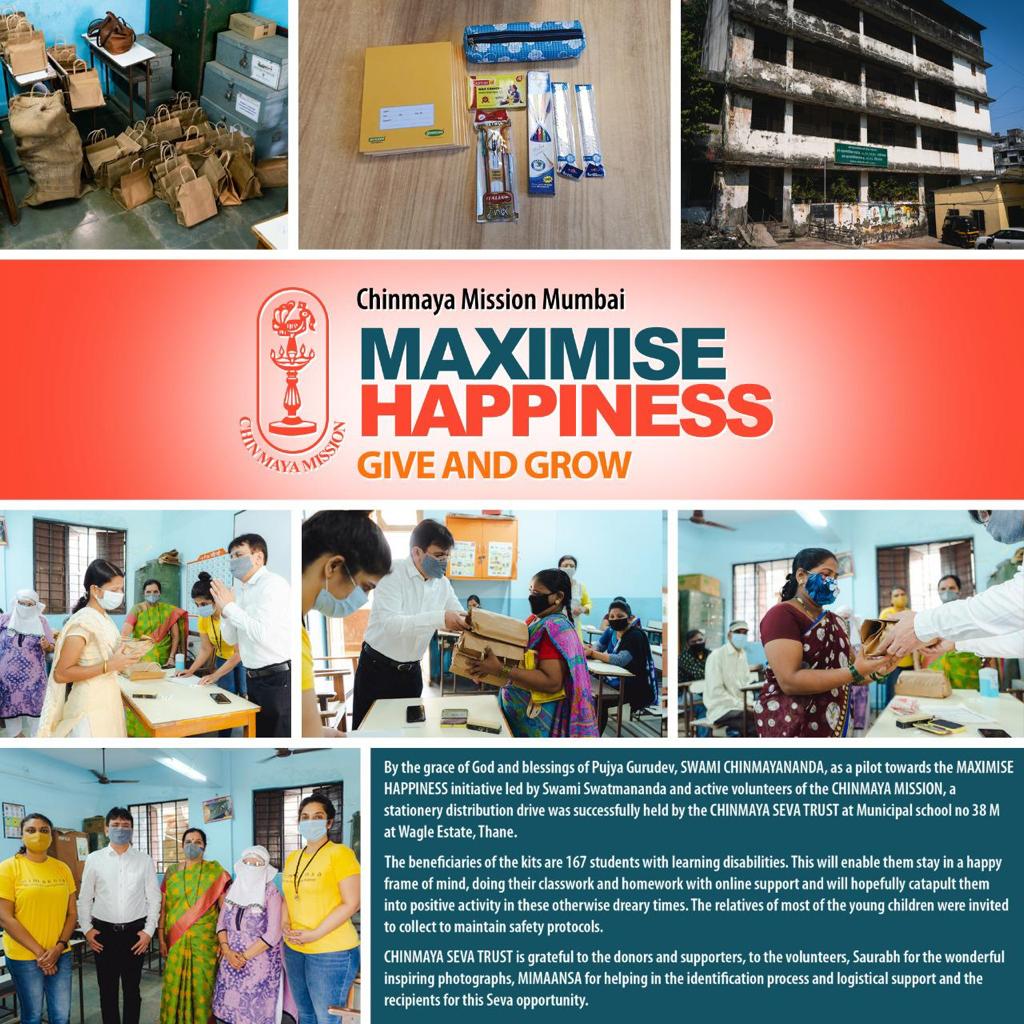 ---
Shriyansh Kadam's mother lost her job and his father his regular salary in the recent pandemic, but thanks to the generous supporters of the Maximise Happiness campaign of Chinmaya Mission, Shriyansh and many other children like him, were able to continue their education.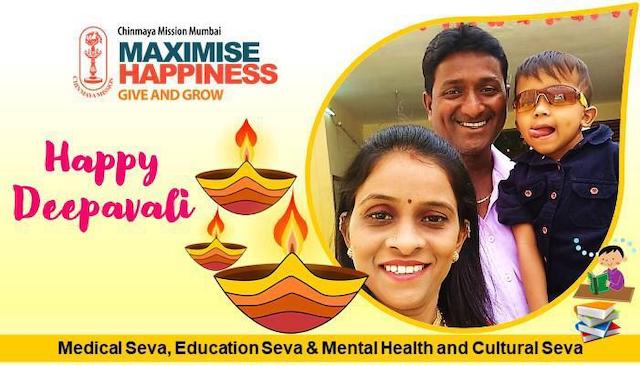 ---
Chinmaya Mission Mumbai, on 27th November, distributed stationary kits to the needy students of Nehru Nagar, Juhu in Chinmaya Prakash Zone, as a part of "Maximising Happiness" initiative. These children are studying in various schools/colleges and their parents are doing work as servants, drivers, labourers, etc. These children, many of them girls, came to collect their kits and could converse very fluently. Local social worker Mr. Muthukumar and a teacher Mr. Nilesh Jogalekar had coordinated with the zonal team of Smt. Shashi Binani, Smt. Suhasini Lohia and Smt. Ami Agarwal. Zonal President Smt. Meghana Patel and Shri Mukul Patel were also present along with Swami Swatmananda.
250 kits which comprised of 3 large note books, 10 pencils, pencil box with eraser & sharpener, a crayon box & a geometry box were sponsored by Shri Anand Kumar Thirani (MD of Kores India). The kit also consisted of 3 ball point pens which were sponsored by Smt. Sonal Jain (Director of Montex pens). Chinmaya Mission Mumbai appreciates their support for the noble cause.