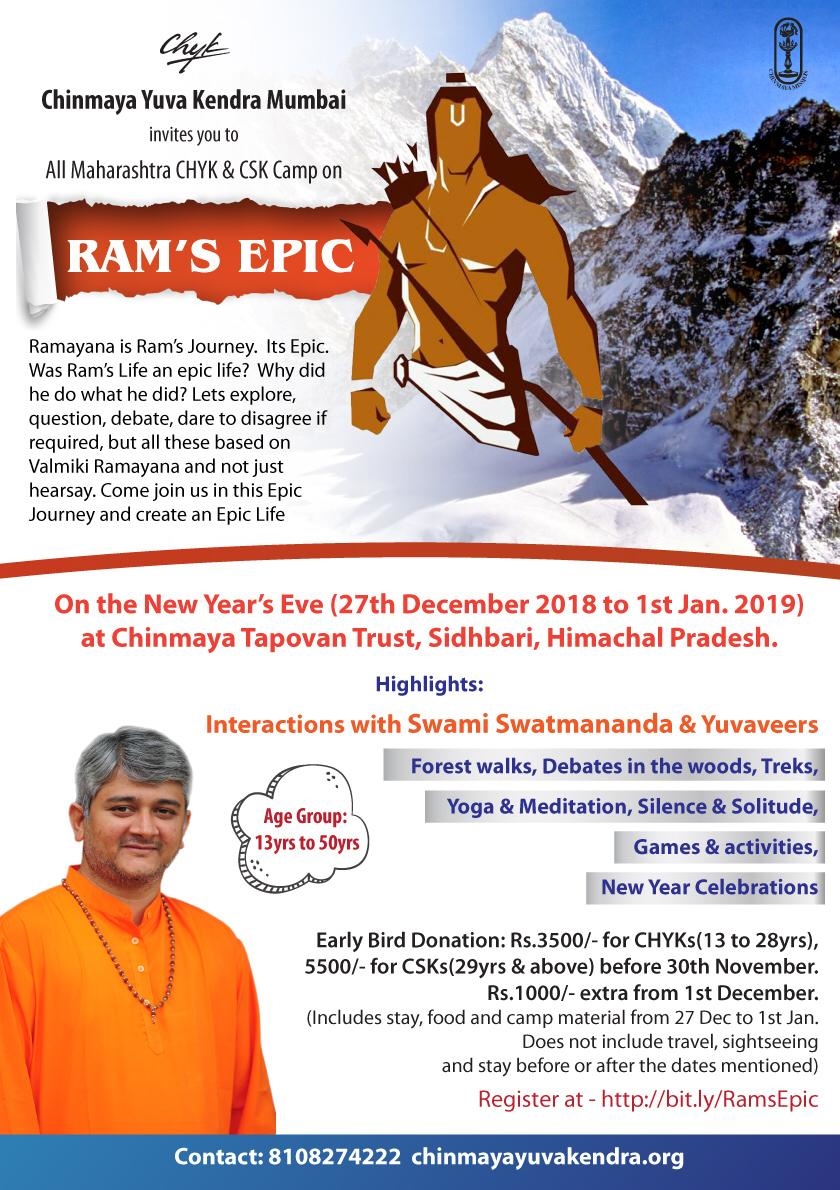 Chinmaya Yuva Kendra Mumbai invites you to All Maharashtra CHYK & CSK Camp on Ram's Epic
Ramayana is Sri Ram's Journey. Its Epic. Was Ram's Life an epic life? Why did he do what he did? Let's explore, question, debate, dare to disagree if required, but all these based on Valmiki Ramayana and not just hearsay. Come join us in this Epic Journey and create an Epic Life
When? On the New Year's Eve (27th December 2018 to 1st Jan. 2019)
Where: Chinmaya Tapovan Trust, Sidhbari, Himachal Pradesh.
Age Group: 13yrs to 50yrs. Anyone from Maharashtra in this above criteria can join. If anyone wants to come from other states, please contact Swami Swatmanandaji at sswatmananda@gmail.com.
Highlights:?Interactions on Ramayana with Swami Swatmananda & Yuvaveers?Parallel sessions for different age groups
Forest walks, Debates in the woods, Treks, Yoga & Meditation, Silence & Solitude, Games & activities, New Year Celebrations
Early Bird Donation: Rs.3500/- for CHYKs (13 to 28yrs), 5500/- for CSKs(29yrs & above) before 30th November. Rs.1000/- extra from 1st December. ?(Includes stay, food and camp material from 27 Dec to 1st Jan. Does not include travel, sightseeing and stay before or after the dates mentioned)
Travel can be booked by flight by individuals. Reach Amritsar by flight by 26th afternoon and take a group transport from there. Some of the campers are doing this. If one wants to come by train, one can book a train to Delhi and take an overnight bus to Dharamsala. Camp starts on 27th morning by 10am and concludes on 31st Dec. midnight. Optional sightseeing on 1st Jan around Sidhbari. Travel can be planned accordingly.
Optional Local Sightseeing - Dharamsala-Mcleodganj, Masrur Temple, Pong Dam, Kangra fort, Jwalamukhi temple. Rs.1000/-
Register at - http://bit.ly/RamsEpic
Contact: 8108274222
chinmayayuvakendra.org