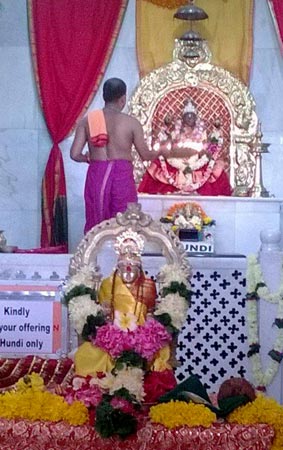 This abode of the Mother Goddess of Wealth, Chinmaya Mahalakshmi Temple in Kharghar is a vibrant temple complex in the industrial township of Kharghar, Navi Mumbai. The black metal idol of Mahalakshmi Devi sits elegantly clad in rich silken drapes, emanating prosperity and grace to every visiting devotee.
Address:
Chinmaya Mission kharghar
Plot 29, Sector 5, ( In front of Adiraj Gardens), Kharghar,
Navi Mumbai - 410 210
Temple Timings:
Daily - 6:30 a.m. - 12 p.m. & 4:30 p.m. - 9 p.m.
Daily Aarti:
8 a.m., 12 p.m., 6:30 p.m., 9 p.m.
Seva List:
| | |
| --- | --- |
| Kumkum Archana | 10 |
| Kapur Arati | 10 |
| Nanda Deepa (One Side) | 25 |
| Nanda Deepa (Both Sides) | 50 |
| Sri Mahalakshmi AShtottara Kumkum Archana | 51 |
| Abhishek | 51 |
| Panchamrit Abhishek | 501 |
| Sreesuktabhishek (8 Times) | 101 |
| Panchasookta Abhishek | 125 |
| Naivedya | 251 |
| Trikala Pooja | 751 |
| Aikamathya Sooktam (7 Times) | 25 |
| Pushpanjali | 21 |
| Kanakadhara Pushpanjali | 51 |
| Swayamvara Pushpanjali | 25 |
| Santhanagopala Pushpanjali | 25 |
| Rajagopala Pushpanjali | 25 |
| Vidyagopala Pushpanjali | 25 |
| Bhagyasooktha Pushpanjali | 25 |
| Sreesuktha Pushpanjali | 25 |
| Ayushyasooktha Pushpanjali | 25 |
| Purushasooktha Pushpanjali | 25 |
| Swasthisooktha Pushpanjali | 25 |
| Prithvisooktha Pushpanjali | 25 |
| Laxmi Sahasranama Archana | 151 |
| Pournami Pooja | 1001 |
| Laxmi Anugrahaprapthi Mandarchana | 101 |
| Vehicle Pooja (4 Wheeler) | 501 |
| Vehicle Pooja (2 Wheeler) | 201 |
| Vehicle Pooja (Cycle) | 101 |
| Naming Ceremony | 251 |
| Vidyarambham | 251 |